"For Every Daughter and Every Son, Resting Beneath the Snow in Arlington"
In spite of a snowstorm that brought record amounts to some areas, the mission to honor our nation's veterans will not be detoured.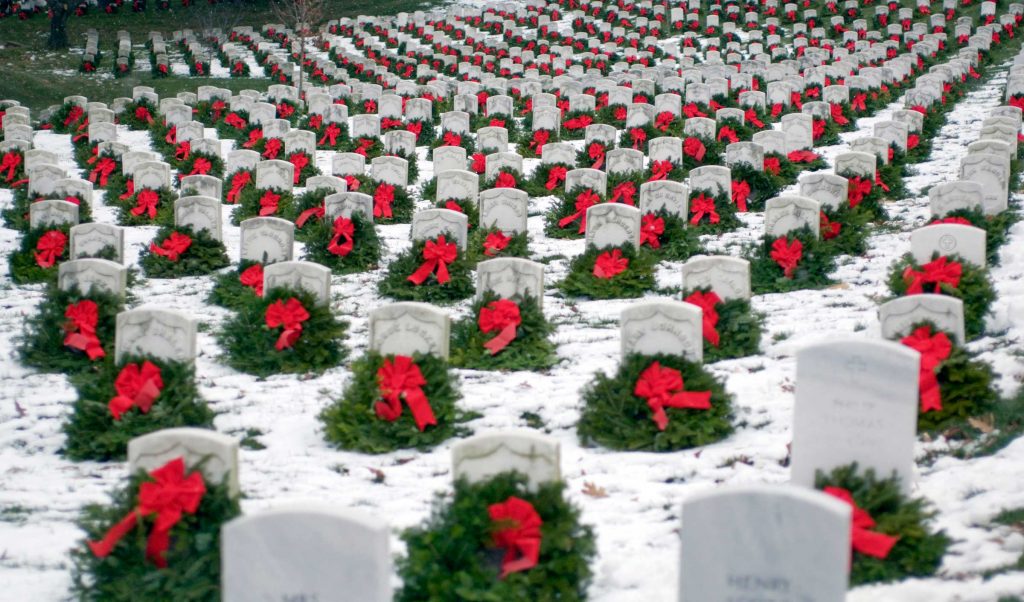 COLUMBIA FALLS, Maine — December 17, 2020 — Wreaths Across America is a national effort that grew thanks to a simple picture of wreaths laid at soldiers graves covered with snow at Arlington National Cemetery. As we head down the East coast from Maine for the 29th time, last night's snow-storm is a humble reminder of how our mission to Remember, Honor, and Teach, got started.
Today, wreaths are laid at 2,557 participating locations across America, most notably, at Arlington National Cemetery, each December. Our annual weeklong, miles-long parade of tractor trailers, wrapped vehicles carrying veterans and Gold Star Families, law enforcement and motorcycle riders, leading the escort of wreaths to Arlington for placement may look a little different this year (as there is only one symbolic semi carrying 4500 remembrance wreaths) but the mission is the same as it was the very first time we saw snow.
This year's annual escort of wreaths will have a different look and feel due to the necessary changes being made throughout the country for health and safety. The physical journey – which will includes one tractor trailer load of wreaths hauled by Gully Transportation professional driver JD Walker, who is also a Gold Star Father and NAVY Veteran, 11 wrapped CHEVY vehicles carrying Gold Star Families, and nine police cruisers is on the snowy road now through National Wreaths Across America Day, Saturday, Dec. 19.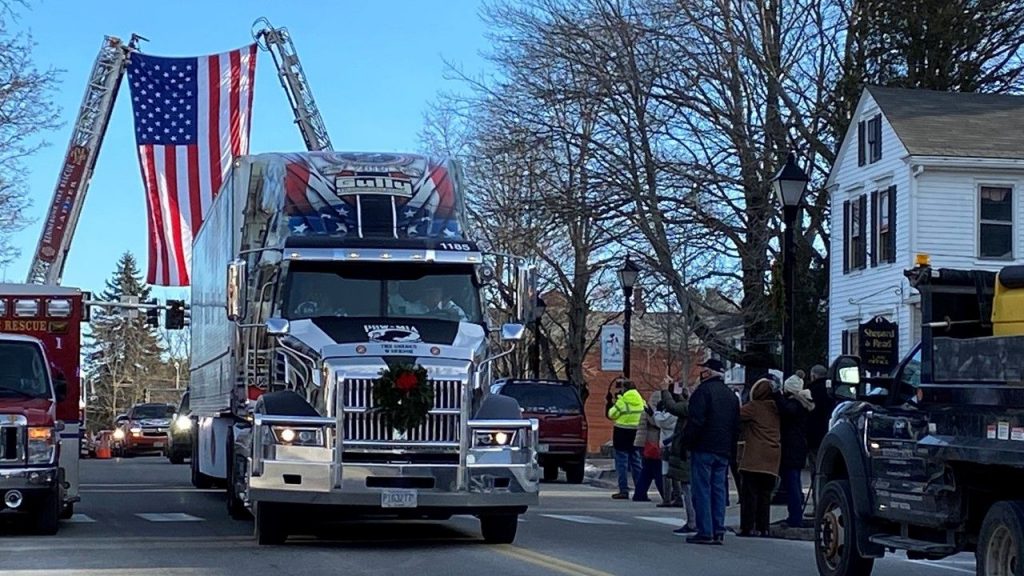 "For those who have had the opportunity to participate in the escort of wreaths over the years, it is truly an experience of a lifetime," said Karen Worcester, executive director, WAA. "The way we have been welcomed into communities, with flags waving and streets lined with children and veterans, is something we always wished every American could witness. And like the wonderful song that our good friend Don Campbell wrote about this effort, we're once again doing this for every daughter and every son, beneath the snow in Arlington."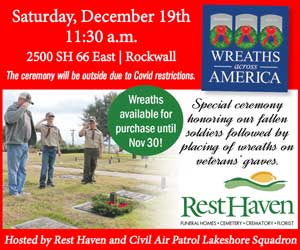 The WAA escort is still traveling the remaining route below – the nonprofit is asking Americans to plan to come out and wave your flags, share your signs and cheers of encouragement, as it travels through your community.
Thursday, December 17
1:00PM Arrive at Holy Rosary Church (The Guardian of the Defenders Memorial) 3200 Philadelphia Pike, Claymont, DE 19703
3:30PM Arrive at Whitehall Village 801 Mapleton Ave., Middletown, DE 19709
6:00PM Arrive at American Legion Post 278 Kent Island 800 Romancoke Rd, Stevensville, MD 21666
 Friday, December 18
These parade stops will be held with safety in mind as we ask citizens to tune in to the local radio dials listed below and hear real-time updates from Wreaths Across America Radio who will be traveling in the escort.
Delaware
Parade past Holy Rosary Church, Guardians of the Defenders Memorial, Claymont, DE – 5 FM
Whitehall Village, Middletown, DE – 5 FM
 Maryland
American Legion Post 278 Kent Island, Stevensville, MD – 3 FM
Washington DC
To find a cemetery near you to support or to learn how local events are being modified for safety in your community click here.
You can sponsor a wreath for $15 at https://www.wreathsacrossamerica.org/. Each sponsorship goes toward a fresh balsam veteran's wreath that will be placed on the headstone of an American hero as we endeavor to honor all veterans laid to rest on Saturday, December 19, 2020, as part of National Wreaths Across America Day. You can text WREATH to 20222 to sponsor a wreath for Arlington National Cemetery right from your phone.
Wreaths Across America: Community welcome at laying of wreaths at Rest Haven Rockwall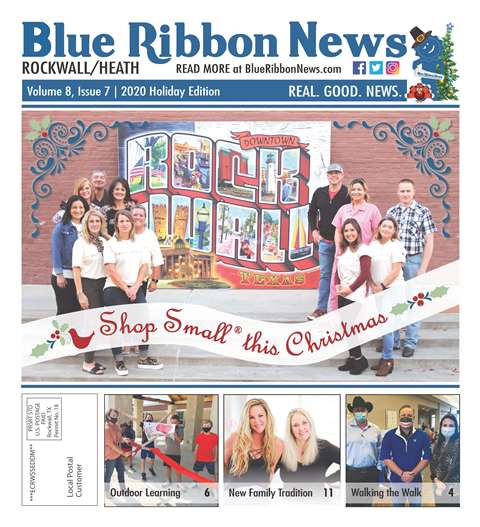 Our print edition is delivered free to ~15,500 homes in Rockwall and Heath, TX.
To share your good news and events, email editor@BlueRibbonNews.com.
Subscribe to our email newsletter here.
Advertising: 214-342-8000 or advertising@BlueRibbonNews.com.