Girl Scout entrepreneurs in Northeast Texas are selling cookies in safe, creative, and socially distant ways, and innovating – including through the organization's first transportation of Girl Scout Cookies with autonomous driving technology company Waymo.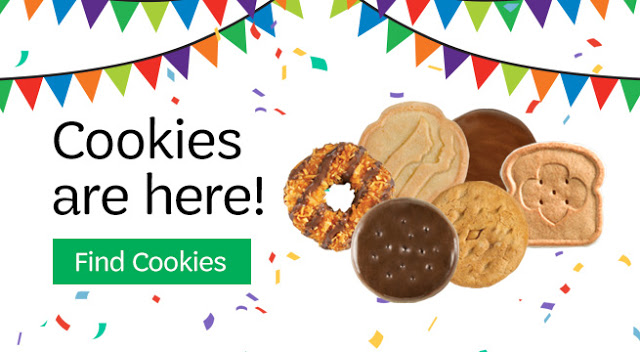 Nationwide online Girl Scout Cookie ordering will be available February 1. 
[DALLAS, TX]— Today, Girl Scouts of Northeast Texas and Girl Scouts of the USA kicked off the 2021 Girl Scout Cookie season nationally, during a challenging time when many Girl Scouts are selling in creative, socially distant, and contact-free ways to keep themselves and their customers safe. Even in light of the COVID-19 pandemic, girls are adapting their sales methods to share the joy of Girl Scout Cookies through the largest girl-led entrepreneurship program—including taking contact-free pickup and delivery orders through a new national collaboration with Grubhub. Additionally, GSUSA is making online cookie ordering available nationwide on February 1 so consumers who don't know a Girl Scout can still purchase cookies from a local troop for direct shipment to their homes or donation to local organizations.
Innovative Girl-led Sales Methods
The Girl Scout Cookie Program has long taught girls how to be an entrepreneur via in-person booths, door-to-door activity, and the Digital Cookie® platform online, which GSUSA launched in 2014. When the COVID-19 pandemic hit in the middle of the 2020 season and girls were faced with the same challenges as other small businesses, girls in Northeast Texas quickly pivoted their sales methods. From running virtual cookie booths on social media to setting up drive-through locations to facilitating orders that ship directly to customers' doors, girls as young as five years old are continuing to embrace their entrepreneurial spirits, stay connected to their communities, and have fun by participating in the cookie program. And, the proceeds from each and every purchase stay local with the troop and its council to power Girl Scouts' essential leadership programming.
"Everyone loves Girl Scout Cookies, but they don't always know how the Cookie Program builds girls into future leaders," said Jennifer Bartkowski, GSNETX CEO. "Girl Scouts are running their own businesses, adapting to challenges brought by the pandemic to reach their goals in a safe manner. Each box of Girl Scout Cookies teaches valuable lessons in entrepreneurship and powers possibilities for girls. The Cookie Program is a perfect example of the resiliency of girls – we're proud to be empowering the leaders of tomorrow."
Girl Scouts and Waymo team up to transport cookies
Today, GSNETX announced it teamed up with autonomous driving technology company Waymo to transport Girl Scout Cookies. GSNETX also announced it is an education partner in the Waymo-led public education initiative, Let's Talk Autonomous Driving, which supports public dialogue around and understanding of autonomous driving technology. GSNETX is Let's Talk Autonomous Driving's first STEM-focused education partner and joins a diverse group of national and state-based organizations that share the belief that autonomous driving can make roads safer and improve mobility access.
"The Girl Scouts' Cookie Program has helped girls and young women recognize and pursue their dreams for more than a century, and we're honored to now be part of that legacy," said Becky Bucich, chief people officer at Waymo. "We're delivering today for tomorrow's leaders, and we're dedicated to inspiring the next diverse and inclusive generation of engineers, coders, programmers and STEM professionals."
In early January, thousands of Girl Scouts' signature treats were transported between warehouses in south Dallas with the help of donated services from Waymo Via, the trucking unit of Waymo. Be on the lookout for Waymo trucks carrying your favorite cookies in south Dallas!
"We are excited about our partnership with Waymo," said Bartkowski. "Girls will experience a practical use for technology that is shaping our future, inspiring them to become the next generation of engineers, coders, and STEM professionals. At the same, the North Texas community will see cutting-edge technology that can improve the world's access to mobility. It is a win-win as Girl Scouts continues to change the workforce pipeline for North Texas."
Ordering Now Available Through Delivery Platform Grubhub
This season, GSNETX is participating in a national collaboration with food ordering and delivery platform Grubhub so girls have an additional way to facilitate contact-free cookie orders. In Northeast Texas, consumers can order Girl Scout Cookies for pickup or delivery on Grubhub.com or the Grubhub app. A hands-on experience in managing e-commerce, local Girl Scouts will track and fulfill orders, manage inventory, and more, all using Grubhub's back-end technology. This method will be available in select areas serviced by GrubHub starting as early as January 15. As always, the proceeds benefit the troop and council while providing another innovative way to safely run the cookie program virtually. GSUSA is grateful to Grubhub for waiving all fees for the organization to make this new delivery option feasible for sales without reducing troops' and councils' proceeds.
Online Ordering Available Nationwide February 1
GSUSA is making it possible for all consumers nationwide who don't already know a Girl Scout to purchase Girl Scout Cookies online for shipment to their door. Beginning February 1, customers can enter their zip code into the Girl Scout Cookie Finder to find a local troop to purchase from through the Digital Cookie platform for direct shipment or donation to local organizations. This additional contact-free method supports local girls while keeping their safety and skill building top of mind.
How to Safely Purchase Girl Scout Cookies This Season
Girl Scout Cookie season is recognized in Northeast Texas from January 15 through February 29. Consumers can support Girl Scouts by purchasing cookies like Thin Mints®, Tagalongs ®, Trefoils®, and more in a few different ways:
If you know a registered Girl Scout, reach out to her to find out how she's selling cookies in ways that meet local and state safety protocols.
If you don't know a Girl Scout, visit www.girlscoutcookies.org, text COOKIES to 59618 (message and data rates may apply. Text STOPGS for STOP, HELPGS for help), or use the official Girl Scout Cookie Finder app for free on iOSor Android devices to find socially distant or contact-free cookie booths if they are available in your area.
Visit www.grubhub.com/food/girl_scoutsto order via contact-free delivery from Grubhub in Northeast Texas. Delivery will begin in select markets as early as January 15.
Girl Scouts of Northeast Texas is grateful to Tom Thumb, Albertsons, 7-Eleven, Kroger, Brookshires and Lowe's for opening space outside their retail locations for Girl Scouts to sell cookies in a safe and socially distant manner, when allowed by local COVID-19 guidelines.
Beginning February 1, enter your zip code into the Girl Scout Cookie Finder at www.girlscoutcookies.orgto purchase from a local Girl Scout troop online for shipment to your door or to donate cookies to first responders and local causes.
---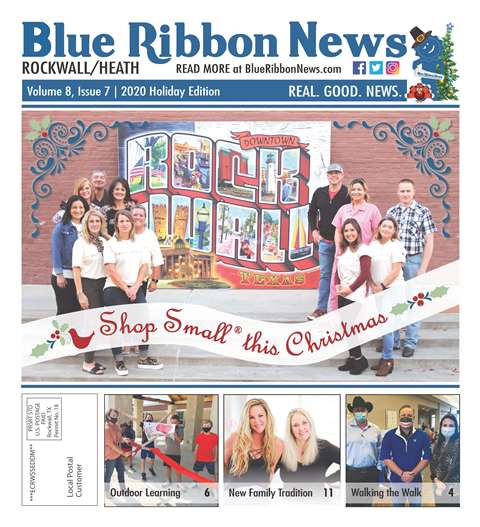 Our print edition is delivered free to ~15,500 homes in Rockwall and Heath, TX.
To share your good news and events, email editor@BlueRibbonNews.com.
Subscribe to our email newsletter here.
Advertising: 214-342-8000 or advertising@BlueRibbonNews.com.