ROCKWALL, TX – March 2, 2021 — The nearly 1 in 5 Texans who are experiencing the mental health breakdown of a loved one need your help! I'm sure you know someone, or know of someone, who is dealing with a family member with a severe mental health disorder. While difficult to understand unless you're living it, we hope to help you understand and care about the approximately 19%* of families who are dealing with this issue across America and here in Rockwall County.
These mental disorders often manifest in highly irrational thinking, fear, speaking to imaginary people/self, and acting out on the things their mind conceives. These situations can arise quickly allowing little time if any to respond with help as coherent submissiveness is very unpredictable. There are as many variations of testimony as there are individuals who are caring for these victims of mental disorder; ours is one.
Our Son is currently experiencing just such a mental disorder, and this is the second time we have had to be involved with law enforcement to get him the medical attention needed. In each of these episodes, we sought for help before any law was violated, only to be told that if he "exhibits no present danger to himself or others", there can be no intervention by the law enforcement community. A Shocking fact! Another fact: An adult can refuse any medical attention at any time for any reason even if he initially requested assistance unless mandated by the Court. As it is with our story, in most cases this is "too little too late."
Our son, now incarcerated for the second time in as many years, acted out again on what his mentally disordered mind considered was "self-defense" when he, unprovoked, assaulted another person. He was arrested, and admitted to a mental care facility by order of a judge and forced to receive medical attention. He was then transferred to Rockwall County jail where he remains to face charges. I wonder if the jail is the proper place for such cases. True, the law was violated in the assault on another and restitution is due to the victim(s), however there is another victim here; the violator; the mental patient who might have been saved from acting out his/her irrational thoughts when the warning signs of this mental distress appeared and help was sought from the authorities. What about his/her rights to be protected as well?
Addressing these issues is no easy task and the slope is slippery. Individual Civil Rights, HIPPA laws, Agency Liabilities, and Privacy Laws among others are all a part of the problem, and the solution. This, as the statistics bear out with 56% of Americans with severe mental illness not receiving any help*, is a Public Health Issue that is touching the whole community and needs to be addressed. There must be a means by which a mentally unstable person can legally be temporally detained in protective custody and medically evaluated as to their need for treatment for their own well being. Common sense says, there just has to be!
Perhaps one way might be to establish a County Behavioral Health Facility here in Rockwall County with professionally staffed Clinical Psychiatrist, Phycologist, Drug/ Alcohol Counselor, Resident Physician, and an Intervention Crisis Prevention Team under the jurisdiction of the Sherriff's Department and a 24/7 on duty Judge to issue the White Warrant.
Rockwall County may be the "smallest county in Texas", but the heart of this Community is large! We are a vibrant business community, economically and vocationally diverse, ethically aware, morally alert and strong people! Perhaps we can enrich our community by reaching out with a helping hand to the one of five of our neighbors who are in need as, "the least of these."
Call your County Judge, County Commissioner, County Sherriff, your Mayor, City Council Rep., and your State Representative and ask what they are doing about this important Community Health Issue. Thank you as we partner together.
*Mental Health American publication: (includes 2020-2021)
https//:www.mhanational.org/mentalhealthfacts
Submitted by mhw- concerned citizen
---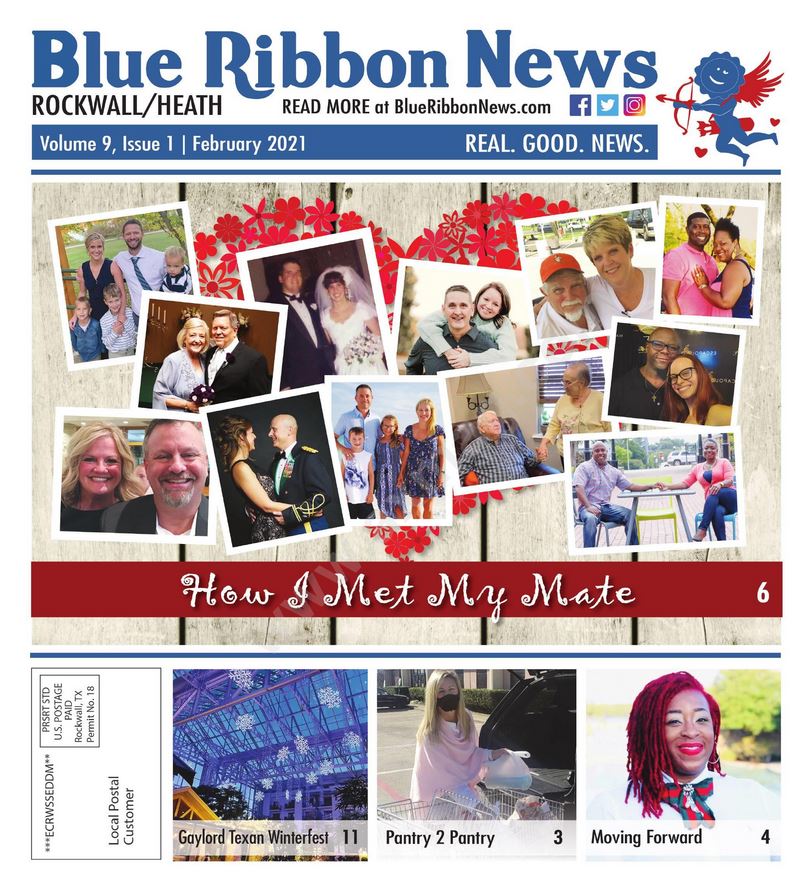 Our print edition is delivered free to ~15,500 homes in Rockwall and Heath, TX.
To share your good news and events, email editor@BlueRibbonNews.com.
Subscribe to our email newsletter here.
Advertising: 214-342-8000 or advertising@BlueRibbonNews.com.