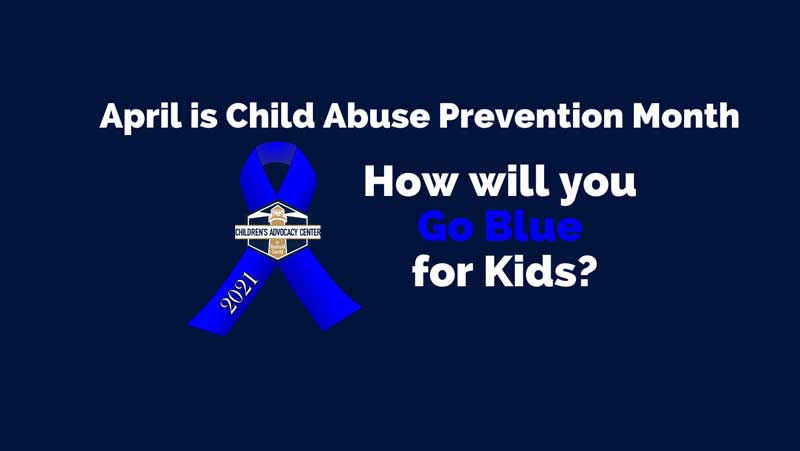 ROCKWALL, TX – March 30, 2021 — As April draws near, Rockwall County prepares to #GoBlueforKids for Child Abuse Prevention Month. The community is encouraged to join in as the following area businesses offer 'Go Blue' promotions to raise awareness and funds for the Children's Advocacy Center for Rockwall County.
Stop by and purchase a CAC Go Blue t-shirt!
Order from 10 a.m. to 9 p.m. April 1 and 20% of all proceeds go the CAC!
Historic Courthouse Pinwheels for Prevention
County Commissioners issue a joint proclamation to the CAC, CASA and Rainbow Room, 6 to 7:30 p.m. April 1.
Go Blue Day
Wear blue on April 2nd to create awareness and submit photos to @RockwallCAC FB/Instagram pages.
Ballet Master Class Saturday, April 3. Beginner 9 a.m., Intermediate 10 a.m., Advanced 11 a.m. $15/participant.
City of Rockwall
Proclamation to the CAC, Rockwall City Hall, 6 p.m. April 5.
April 6 donation classes at 12 p.m., 6 p.m., and 7:30 p.m.
Spirit Day 10 a.m. to 10 p.m. April 7.
On April 8, they will donate 15% of blue cookie sales.
Spring into action and go blue for kids, 9 a.m. to noon April 10. Teams of ladies will compete in physical activities to collect envelopes with brain teasers to win this beauty-and-brains obstacle course. $10/per person, all proceeds go to the CAC. Women only. Membership not required. Call 972-722-5239 or email rockwallinfo@resultstx.com.
Order from Chiloso Rockwall from 5 to 9 p.m. April 13.
City of McLendon-Chisholm
Proclamation to the CAC, 6:30 p.m. April 14.
City of Royse City
Proclamation to the CAC, 7 p.m. April 13.
Spirit Night 5 to 9 p.m. April 15.
Hosting Art for Advocacy exhibit with Rockwall Art League, featuring Reception and Wine Tasting with He Wines, She Dines on April 15. Limited tickets: Eventbrite.com/e/art-for-advocacy-tickets-143390016399
Level 1 Flow Pilates Class at 1 p.m. April 17. 50 min. class. $25 cash only with 100% going to the CAC. Class size limited to 12 people. Reserve by calling 469-718-7787.
Student chefs will host a bake sale from 9:30 a.m. to 5 p.m. April 17.
10 a.m. April 19 donation class.
City of Fate
Proclamation to the CAC, 6:30 p.m. April 19.
Dine at Texas Roadhouse April 27, with a portion of sales to be donated to the CAC.
Free Blue-Out Workouts open to the community every Saturday in April. Cash donations accepted throughout the month will be donated to the CAC.
Mention the CAC and they give 50% of proceeds for all arrangements through April to the CAC.

We are offering Go Blue Icebergs which are floats made with Blue Raspberry Italian Ice in Sprite. Icebergs are a light and refreshing option. $20 of every bucket of blue raspberry Italian ice we sell out of during the month of April will be donated to the CAC
Donating 10% of proceeds to the CAC from all Cowgirl Blues or Simple Man massages booked in April.
Ask for their Blue Crew Cocktail throughout April and they'll donate a portion of proceeds to the CAC.
For every bikini wax in April, they'll donate $5 back to the CAC.
They will donate $2 to the CAC for every Downing Board sold April 1-31.
Look for Go Blue for Kids promotions on all digital displays in the area.
They will give back 10% of April sales to the CAC.
Order their Blue Burger or Frozen Blue Cocktail.
Ask for the Go Blue Tune-Up. $10 of every tune-up in April will be donated to the CAC.
See the CAC Facebook events page for their promos!
Mention CAC when ordering and they'll give 15% of proceeds back to the CAC during April.
Buy a pair of special blue earrings and 100% of the proceeds go to the CAC.
Exclusive giveaways throughout April.
In honor of the CAC's State Fair-themed gala, Dodie's will feature Dan's Famous Fried Oreos on the menu throughout April, giving $1 of every order sold back to the CAC. They'll also be pouring a Blue Lagoon cocktail.
50% of their Wildberry Acai Smoothie sales will go back to the CAC.
A percentage of all blue ice cream sales throughout April will benefit the CAC.
The Bagel Lady will donate a percentage of sales of all blueberry bagels sold in April to the CAC.
Parents Night Out donation session benefitting the CAC, 7 to 9 p.m., April 17.
Order their Give Back Cocktail to benefit the CAC!
Will donate $100 from all jobs completed in April.
Dedicating our April issue to the CAC, turning our pages blue and sharing these promotions to raise awareness!