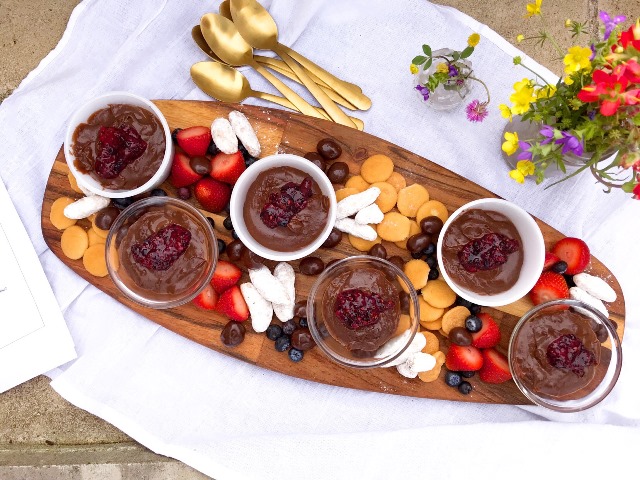 ROCKWALL, TX (May 5, 2021) As Mother's Day approaches, I always think of my mom's favorite things. What can I get her? What can I make her? How can I show her that I have been paying attention to what she likes all these years?
As children, no matter how old we are, our natural desire is to please our parents. That doesn't go away as we get older. I always want to go big for my mom. But honestly, she is easy to please. Her taste is simple and her expectations manageable. She loves a good glass of iced tea, soup, queso and anything chocolate. Especially chocolate pudding. When she was sick back in the winter, her one craving was chocolate pudding.
A few years ago I signed up for a monthly newsletter called IF:Table. On the first of each month, you got a recipe, a blog post and a list of questions to sit down around the table and talk to your friends about. One of the recipes and blog posts we received was Easy Chocolate Pudding by Susie Davis. I loved Susie's writing and message so I began to follow her on social media and purchased a couple of her books. One of the things Susie talks about is how each of us needs a "spiritual mama." Someone that is not our own mother and not necessarily a friend but someone older, wiser, that can give us guidance, pray for us, lend a listening ear and have words of wisdom for us in the end. She talks about being intentional in finding your "spiritual mama." Putting yourself in places where those women may exist. Or maybe for you, it's putting yourself in places where those "spiritual daughters" may exist.
As I begin preparing for Mother's Day I hope you all have someone in your life you can celebrate, past or present, that has helped you along the way. I hope your hearts are filled with memories or future plans with the mamas in your life.
---
---
I was planning to make Easy Chocolate Pudding as part of our first ever Mother's Day Tea at Tate Farms, which was to include a three-course progressive brunch. Sadly, just as this column was headed to press, we had to cancel the event due to an unexpected fire that destroyed our beloved party barn where the main meal was going to be served. We so appreciate everyone's thoughts and prayers. It's a total loss, but no one was hurt and we are going to be okay. Hug your mothers and celebrate them with this Easy Chocolate Pudding recipe. I always put mine in little cups on a board with fruit and cookies. It's such a wonderful dessert board.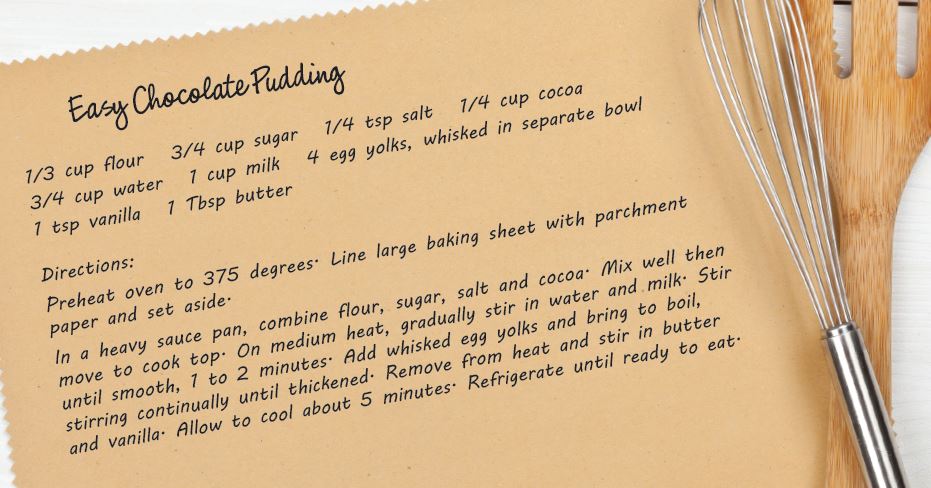 Ingredients:
1/3 cup flour
3/4 cup sugar
1/4 tsp salt
1/4 cup cocoa
3/4 cup water
1 cup milk
4 egg yolks, whisked in separate bowl
1 tsp vanilla
1 Tbsp butter
Directions:
In a heavy sauce pan, combine flour, sugar, salt and cocoa. Mix well then move to cook top. On medium heat, gradually stir in water and milk. Stir until smooth, 1 to 2 minutes. Add whisked egg yolks and bring to boil, stirring continually until thickened. Remove from heat and stir in butter and vanilla. Allow to cool about 5 minutes. Refrigerate until ready to eat.
By Melissa Tate of Rockwall, as published in Blue Ribbon News May 2021 print edition.
*Editor's Note:  Click here to learn about donating to  Tate Farms' fire relief fund.

---
---
RELATED STORIES
Cooking with Ease by Melissa Tate: Easter Banana Pudding Cups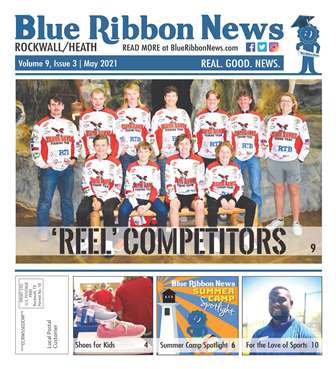 Our print edition is delivered free to ~15,500 homes in Rockwall and Heath, TX.
To share your good news and events, email editor@BlueRibbonNews.com.
Subscribe to our email newsletter here.
Advertising: 214-342-8000 or advertising@BlueRibbonNews.com.