ROCKWALL, TX (May 11, 2021) Meet Devin Hinnant, who was recently hired on as Sports Director for the J.E.R. Chilton YMCA at Rockwall.
The 28-year-old has a B.S.E. in Health Education from the University of Kansas, and a M.S. in Health, Human Performance & Recreation from Pittsburgh State University. Upon graduating from college, Hinnant worked for a healthcare IT company in Kansas City. A few years in he found he missed being around youth and sports, so he began officiating sports at the Kansas City YMCA. After a month he became a part-time coordinator, and a year later was promoted to full-time Sports Director. During his career, he has also been a part of helping to open and manage a large sports facility in Kansas City called Hy-Vee Arena and has worked for the Kansas City Chiefs in community outreach.
Along with each of those roles above, he has served as a high school varsity football and track and field coach for the past several years. Hinnant began his full-time position as Sports Director at the Rockwall Y on April 5th.
Blue Ribbon News caught up with Hinnant to learn more about the new Rockwall Y Sports Director and his love for sports. 
Why the Y? What drew you to the Sports Director position at the Rockwall YMCA?
As a kid I grew up in the Y playing sports and once I aged out, my friends and I would go and lift weights daily. When I became an official and later Sports Director in Kansas City, I thought it was the best job ever being around youth sports and watching them have fun and develop through the seasons/years.
Unfortunately, the pandemic forced many organizations including the Ys across the country to make difficult decisions and my position was eliminated. I was lucky enough to be brought back a few months later as a part time coordinator, but I knew I needed something full time. When the Sports Director position opened here at the JER Chilton YMCA I knew it would be a great fit. I have always wanted to move to the Dallas area and stars aligned for me to do so.
What are you most looking forward to about your role as Sports Director at the Y?
I am merely looking to make an impact on the youth but also the entire community of Rockwall. The great thing about coming from another YMCA association and city is that I can bring program and event ideas that may not already exist. I am always looking for ways to expand and grow.
---
---
In your opinion, why are youth sports important?
When I was a new Sports Director in Kansas City a parent reached out to me to sign her son up for basketball. She was concerned because her son was as she described "overweight", he did not talk much and had a hard time making friends. She was worried that he would not fit in and it could lower his self-confidence even more. I was able to convince her to give our program a try and if it did not work out, I would give her a full refund. That season I placed him with my best coaching volunteer, and I attended every game that season. By the end of the season that kid who was did not talk much, had a hard time making friends and had low self-confidence was now the loudest in the gym, smiling and become a fan favorite. He is now in middle school and one of the star players on his football and basketball team. Examples like this are why youth sports are so important. If done right they will bring out the best in our youth and position them well for the future.
What is your favorite sport and why?
It is a tie between Track & Field and Football. I grew up playing both and was a Track & Field athlete in college. They have both opened many doors for me and still do today.
Who are your favorite professional athletes?
This is another tie between Kobe Bryant and of course Patrick Mahomes.
What do you like to do for fun?
Hard to believe but I enjoy watching sports, I cannot wait to get fully back to in person events. Also, lifting weights and spending time with my girlfriend and our three dogs.
---
---
Who is your idol?
My dad, Gary Hinnant, is my biggest idol. Seeing all the sacrifices he made for our family growing up with him being in the military for over 30 years and a police officer for many years as well. He showed me what it means to serve others which I am continuing through sports and the Y.
What impresses you the most about Rockwall?
How friendly everyone has been. Since moving to Texas and starting my position, I have had many parents from the program reach out and welcome me, offer to help in my transition and even take me to breakfast or lunch. I think that speaks volumes about the community and what a special place it is.
What's one thing that people would be surprised to learn about you?
I secretly rooted for the Cowboys as my second team, but then Tony Romo fumbled the field goal snap in the 2006 wild card game, and I came back to reality.  GO CHIEFS!
Anything else you would like to add?
I'm happy to be here and I'm looking forward to learning more about Rockwall and meeting the community.
---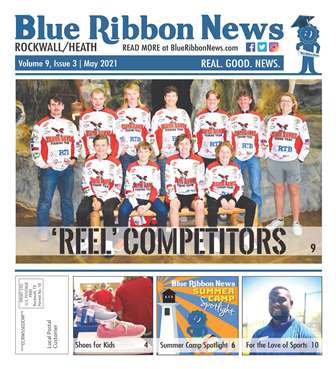 Our print edition is delivered free to ~15,500 homes in Rockwall and Heath, TX.
To share your good news and events, email editor@BlueRibbonNews.com.
Subscribe to our email newsletter here.
Advertising: 214-342-8000 or advertising@BlueRibbonNews.com.