ROCKWALL, TX (May 26, 2021) Virginia Reinhardt Elementary student Ellie Estes studied business in her social studies class this school year, inspiring her to host a lemonade stand this Saturday, May 29 to raise money for the Robyn J. Barst Pediatric Research and Mentoring Fund. Ellie hopes the community will support this come-and-go fundraiser in honor of her seventh birthday, to help find a cure for her severe Idiopathic Pulmonary Arterial Hypertension, or PH – a progressive and ultimately terminal disease.
Ellie's family lovingly refers to Ellie's condition as having a "special heart" – and that's certainly evident to friends and followers of her journey on the Facebook group, Adventures of Ellie and Jules – PHighting Back Against PH.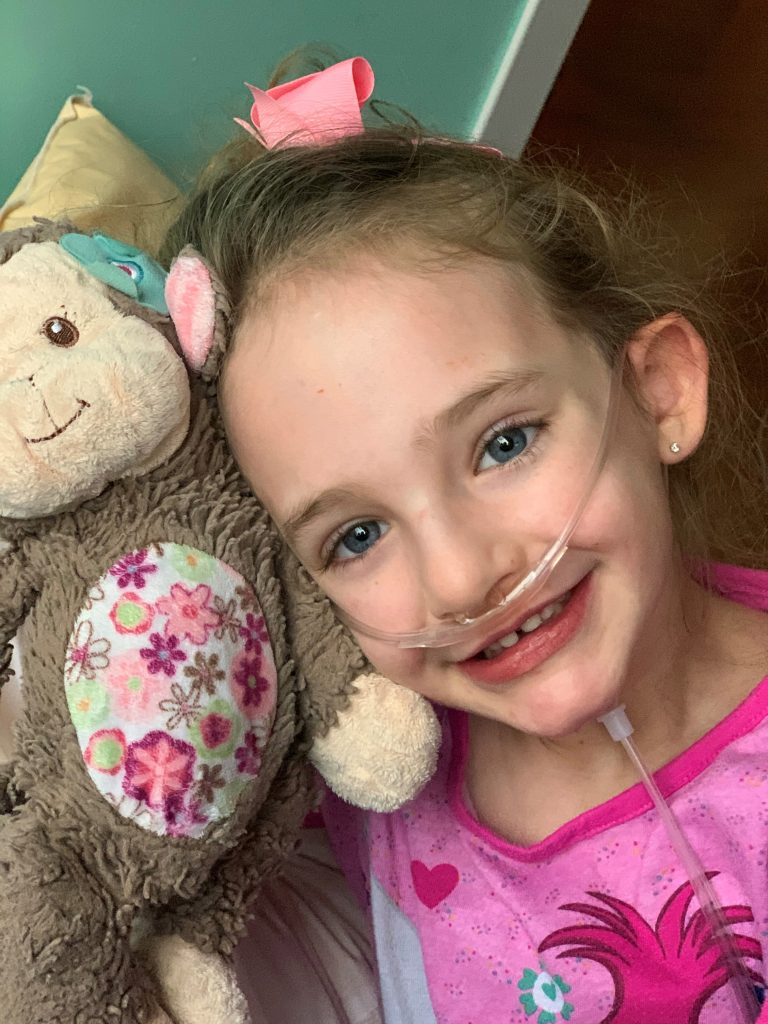 "For those that know Ellie, they know she doesn't do anything medically without her sidekick monkey Jules right by her side, a smile on her face, and big dose of positivity and joy to all she meets," said Ellie's mom, Amy Estes.
Amy explained that Jules also has a "special heart" and sometimes gets blood draws, IV's, subcutaneous site changes, and surgical procedures before Ellie so Jules can tell Ellie the steps and what will happen ahead of time.
"Jules also tells Ellie how she is feeling about certain things in life. We find Jules has been a very successful way for Ellie to communicate her feelings and fears to her medical team and even to us as parents in a safe way during times of extreme anxiety surrounding her symptoms and medical treatments. Ellie is truly a hero and stronger than anyone I know to push through everyday despite feeling bad and enduring medicine, procedures, and pain."
Amy added, "It is for all of these reasons that as a family we are focused on not only making every day the best we can for Ellie, but celebrating her birthdays as a huge event. Every additional year we get with her is a blessing."
"When Ellie was diagnosed we didn't know if we would see her start kindergarten. The fact that she is getting ready for second grade, is thriving at school and making friends despite her daily challenges, and turning seven this year is something for us to celebrate. For all the reasons above, Ellie wanted to spend her birthday raising money for a fund that specifically supports mentoring education and training for doctors and researching treatments, medications, and devices for pediatric PAH." ~ Ellie's mom, Amy Estes
The lemonade stand fundraiser will be 12 to 6 p.m. Saturday, May 29 at 3314 Royal Ridge Drive, Rockwall, TX 75087.  Click here to see the Facebook event page. 
"We are trying to take every precaution to not bring illness to Ellie during this event, so it is come-and- go and socially distanced. Ellie is extremely susceptible to everyday viruses and colds which can send her into a spiral of distress. She wore masks to school in 2019 even before COVID-19 made it necessary," said Ellie's mom, Amy Estes.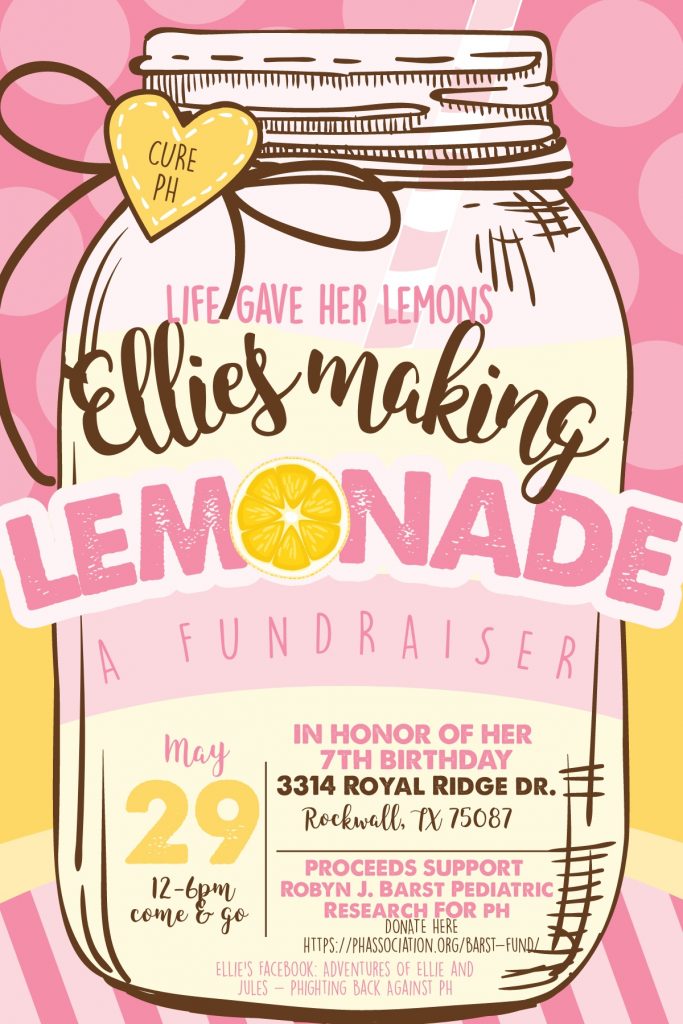 Donate Virtually
Those who cannot make it out to Ellie's lemonade stand personally may donate online in her honor at https://phassociation.org/barst-fund/.
Ellie's Story
Ellie was always a tiny kid, her mom explains.
"My husband and I constantly would hear doctors tell us that we were not getting her enough nutrition. We were at a complete loss on what to tell doctors, as even though she did eat, she just was not a kid that ever asked for food and meals took a long time for her to get through even with the smallest amount on her plate. When she was 2.5 years old she passed out running in preschool gym class. She was running, her body turned blue and gray, and she dropped to the ground. She revived shortly after and returned to normal with oxygen assistance from EMTs.
Over the next year following her syncope event, as Ellie grew taller she became more weak and could barely walk from the car to her classroom for preschool without stopping for breaks along the way. We continued to advocate for answers for over a year of many doctors appointments and tests, misdiagnosis, and trials of different drug treatments until Ellie was finally able to communicate with us enough to say, "I can't slow my heart, Mommy". We got her into a cardiologist and immediately a final diagnosis became very clear. We learned Ellie was born with a large sized Arterial Septum Defect (ASD)—a hole in the heart between the top two chambers. Further testing revealed that Ellie also suffers from a progressive and ultimately terminal disease of pediatric Idiopathic Pulmonary Arterial Hypertension (IPAH)—high blood pressure of the lungs."
PH can be caused or secondary to a lot of conditions, but in Ellie's case the origin or cause is unknown at this time.
---
---
"Ellie's lungs have more narrow veins than normal to carry oxygenated blood to her heart causing a build-up of blood pressure in her lungs and heart," Amy said. "The disease is progressive in that it will continue to cause a narrowing and stiffening of the veins overtime making it increasingly more difficult for Ellie to breathe and retain oxygen in her blood. As the pressure in her heart remains at moderate to severe levels, overtime this disease will cause right heart failure."
She continued, "Once diagnosed, within a number of days and at barely four years old, Ellie was seen by the nearest pediatric PH specialists in Houston, TX, underwent cardiac catheterization, and was placed on triple drug therapy. The harsh reality we are faced with is that pulmonary arterial hypertension (PAH) in children carries a particularly poor prognosis. In the NIH registry, the median untreated survival for children after diagnosis of idiopathic PAH (IPAH) was reported to be 10 months as opposed to 2.8 years for adults. IPAH has no cure, other than undergoing a lung transplantation. While transplantation should remove PAH Ellie's body, the overall survival rate of a child after a lung transplant is an average of 5 years due to common infections in children and higher risk of organ rejection long-term. Ellie would also need a follow up surgery post-transplant to close her congenital heart defect. Our hope is in the research being done, by organizations like the Barst Fund, on new therapies and devices that can help lower the severity of Ellie's symptoms and slow the progression of the disease before transplantation becomes Ellie's only option and officially starts the clock on her life expectancy."
---
---
"Ellie has endured many different combinations of triple therapy from diagnosis to present day. She now wears a pump that subcutaneously administers one of her medications 24 hours a day 7 days a week. Amongst the other oral meds she takes daily, only one of her medications is actually FDA approved for use in children and many of them are still being researched versus the adult approved medications. As she grows and matures (YAY for growth), dosing her medication is a constant battle in finding the right balance of what her body needs to lesson her PH symptoms but to also continuously balance that with the sometimes severe drug side effects on her quality of life.
Due to the life expectancy for Ellie's disease, we strive to focus on her quality of life. IPAH causes Ellie to suffer from general exercise intolerance, racing heart rate, and low oxygen levels. For a few simple examples, Ellie is unable to walk long distances, run, ride a bike, swim, go to gym class, jump rope, and she is unable to endure extreme temperatures. Simple things for Ellie can be impossible some days such as walking up the stairs in her home, walking down the hall with her class, or playing outside at recess with her friends. Her medications can cause liver damage, dizziness, severe nausea, gastrointestinal discomfort and incontinence, headaches, dehydration, pain, and excess bleeding. Ellie is also dependent on oxygen supplementation during the day as needed for her PH symptoms and hypoxia side effects."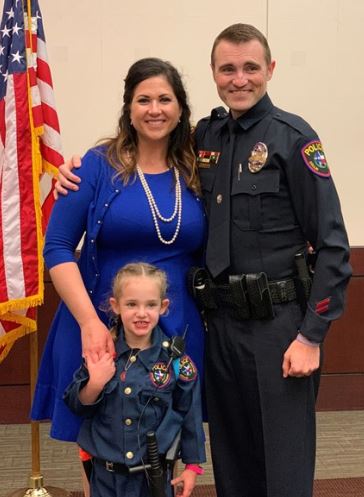 Ellie was also was named the 2019 Lone Star Angel by the Miss Texas Organization, part of the pageant program created to support children with health complications. She recently started learning piano and is taking lessons at Rockwall School of Music.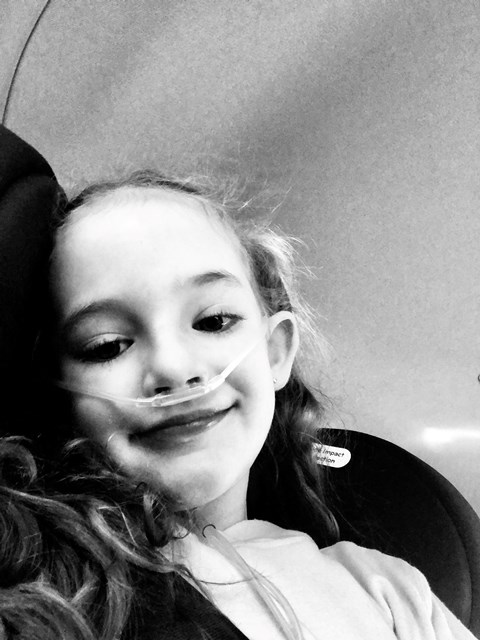 "We want to thank the Rockwall County community including Ellie's school teachers, our friends, our neighbors, and our Holy Trinity church community for the continued outpouring of support, love, education, and relationships you provide to our family and to Ellie," Ellie's parents said. "We hope above all that we can make Ellie's birthday one to remember through this event, while raising awareness and money to help fund research to find a cure our little girl's IPAH and so many other children short on time. We remain faithful and hold on to hope that Ellie's life, spirit, and unending joy will continue to make a difference for others."
By Dawn Redig, Blue Ribbon News. Ellie's story and photos shared with permission by her parents, Amy and Josh Estes of Rockwall. 
---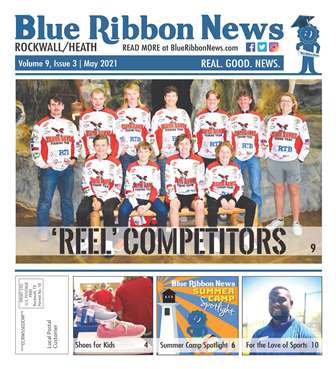 Our print edition is delivered free to ~15,500 homes in Rockwall and Heath, TX.
To share your good news and events, email editor@BlueRibbonNews.com.
Subscribe to our email newsletter here.
Advertising: 214-342-8000 or advertising@BlueRibbonNews.com.