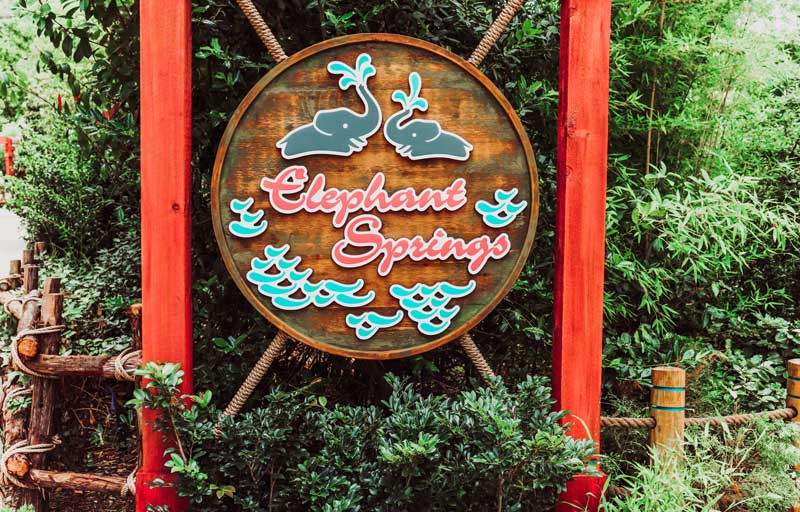 ROCKWALL, TX – June 29, 2021 — Trips to the zoo are one of my favorite summer traditions, and we are so lucky to have some of the best zoos in the country right here in DFW!
Thanks to its unique exhibits and exotic animals, the Fort Worth Zoo has been ranked the Number 1 Zoo in the nation by USA Today and the Best Zoo in Texas by Yahoo Travel. It is home to nearly 7,000 animals that include 540 different species.
It's always a treat to visit the zoo, but this year is extra special thanks to some new interactive exhibits. Here are five of the coolest things we saw on our most recent trip to the Fort Worth Zoo.
---
---
Cool Things to Do at the Fort Worth Zoo

Splish Splash at Elephant Springs
The brand new Elephant Springs exhibit just opened in Spring 2021! Not only do you have a front row seat to observe the elephants as they roam around in their larger habitat, you can actually interact with them.
Elephant Springs is almost triple the size of the previous elephant enclosure, and it includes multiple pools and waterfalls where the elephants can splash and play. Water cannons are mounted along the observation deck, and guests can gently spray the elephants while they're in the pool for extra enrichment. There's also a shaded demonstration area where guests can observe the zookeepers doing training exercises with the elephants.
The habitat is designed to look like a floating fishing village and includes artwork created by zoo staff and local Fort Worth muralist Kristen Soble. It's such a beautiful spot, and it allows you to get closer than ever to the animals.

Giraffe Snacks at the African Savanna
My favorite thing to do every time we come to the zoo is buy a big bunch of lettuce. Why, you ask? So I can feed it to the giraffes!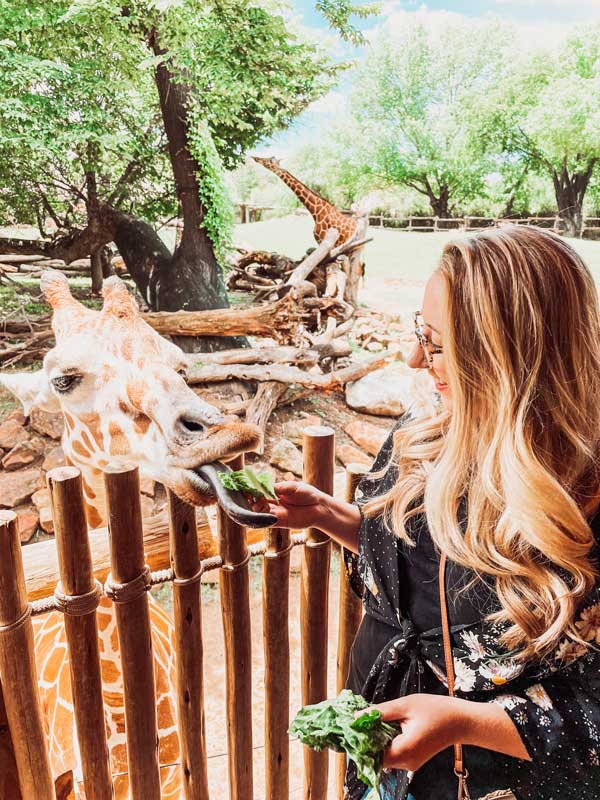 The giraffe pavilion is set up right at eye level for these gentle giants so that they can easily lope up to the fence and take a bite out of the lettuce in your hand. Lettuce leaves cost $6, but the experience of seeing a long, purple giraffe tongue reach out and grab the food you're offering is worth every penny!
---
---

Fish Feeding at Stingray Cove
Back in spring 2019, the Fort Worth Zoo opened a new exhibit for some water dwelling friends. At Stingray Cove, you can pet stingrays as they swim around an enormous pool, and buy small pieces of fish to feed them. The rays will swim right up to your hand and suction up their dinner with mouths on the underside of their bodies. It's a little bit surreal and so much fun.

Trekking Through the Texas Wild
One of the most unique areas of the Fort Worth Zoo highlights all critters that are native to Texas! From prairie dogs, otters, and bats to mountain lions, jaguars, and bears, you'll be amazed at the variety of wildlife we have right here in the Lone Star State.
There's an underground tunnel where you can see creatures like rattlesnakes and naked mole rats, and there's a touch pool where you can interact with horseshoe crabs, starfish, and sea urchins. The Texas Wild area is one of the habitats that sets the Fort Worth Zoo apart, in my opinion.
Sneak a Peek at the Predators
If you visit the Fort Worth Zoo this summer, you might notice that a few of your favorite animals are missing. The lions, tigers, hyenas and zebras are off exhibit right now, but it's for a good reason. A new exhibit called Hunters of Africa & Asian Predators is under construction right now and scheduled to reopen in spring 2023.
This new enclosure will provide the big cats with more space, lush greenery, and beautiful waterfalls with pools for swimming. The zoo also promises there will be more interactive elements for guests, just like at Elephant Springs. You can sneak a peek at the construction and maps of the new territory on your way from the African Savanna over to the middle of the zoo.

Tips for Visiting the Fort Worth Zoo
You can pre-purchase your tickets to the Fort Worth Zoo online, but it is no longer required. Masks are also now optional as you explore the zoo grounds.
If you're thinking about planning a daytrip, consider going on a Wednesday! Tickets are 50% off and cost just $8 for adults or $6 for seniors and kids under 12.
Looking for more fun things to do in Dallas-Fort Worth? Go to LiveLoveLocalBlog.com.
By Julie Anne Wells.