Vandermont School to open this fall to Rockwall County students, host Summer Info Family Bash July 22nd
ROCKWALL, TX – July 19, 2021 — Rockwall County is getting a new school that lets students learn, build skills and discover their true selves by solving real-world problems.
Vandermont, a private non-profit Christian school located at 2816 Winchester Drive in Royse City, will open to Rockwall County-area students ages Kindergarten through 6th grade this coming school year on Sept. 7th.
---
---
At Vandermont, students immerse themselves in a learner-led environment where they work with teachers to create weekly goals – just like work contracts – which are tailored to their own pace of learning. Through a 21st century academic program and project-based learning structure, they build all kinds of valuable life skills such as time management and sticking to commitments.
"I wanted to create a school where there is a floor but there isn't a ceiling; For any student who comes through our program, there is no limit to what they can learn," said Vandermont Founder Mandy Goggans. "If they start showing certain talents or interests, we would truly harness that for them when they're in the school environment just like we would do in our own work environment, and give them the tools they need to flourish and grow into the person that God has designed them to be."
Self-Discovery through Project-Based Learning
Vandermont students will learn new skills by doing, rather than by memorizing a list of facts or texts. A 3,000-square-foot Makerspace invites kiddos to invent, create, design, build, engineer, produce, play, market, and contribute in the Makers program. Using a plethora of tools at their disposal, they can make, take apart, and solve problems using their own two hands. They also get to work their brains using software, 3D modeling, video and sound studios to create in effort to answer driving questions and present through their six to eight week Quests of deep discovery and intentional learning. Seals of Completion are rewarded to the students as they develop and master new skills through their creations.
The school offers three learning studios targeting different age groups. In the Spark Studio for ages 4 years and nine months to 7 years old, kids get a hands-on learning experience where they practice goal setting, complete challenges at their own pace, while also building skills in core subjects such as reading, writing and math. The Spark Studio prepares them to thrive next in the Discovery Studio (ages 8-10), where they receive all academic training while able to also learn life skills, build character, and discover what excites and motivates them.
---
---
Thirdly comes the Adventure Studio, where students ages 10-12 continue collaborating and building friendships as they take on challenging real-world problems while engaging in a rigorous academic program. This Studio allows the students to tap into their natural talents and find their own path to success.
"We do mixed age groups in our studios because we have found that it's very beneficial for them," Goggans said. "The young will go to the older kids for with their questions, and the older kids have that chance to re-teach information, further solidifying the material. So there's a lot of collaboration going on within the studios."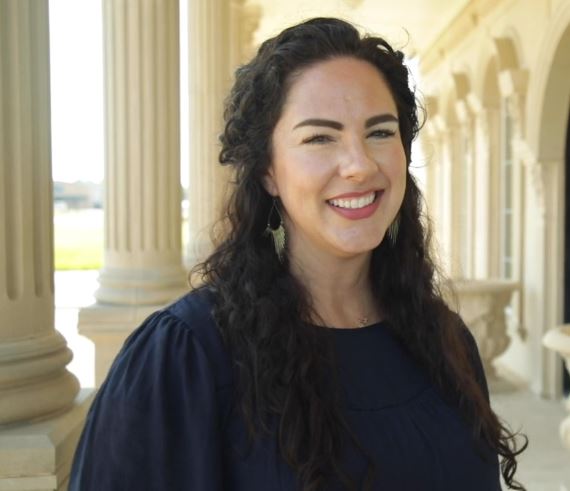 Everything students interact with at Vandermont aligns with authentic  experiences, providing a deeper level of learning. Students will embark on Pride Quests – six-week-long sessions where they collaborate to answer a question or solve a problem based on a real-life scenario.
For example, Goggans tasked her own four young boys with a trial two-week Quest in the spring of  figuring out how to get more people to want to volunteer and donate to a local animal shelter. To solve this problem, they first researched and compiled a list of everything a shelter would need including price points for those items; created a budget for the shelter; and each came up with questions to interview the shelter staff to gain more information. They donated food and toys to the shelter and then used their data to create a commercial and a billboard design to put all their work into action.  They did math, reading, writing, spelling, communications, public speaking, technology, and philanthropy in their work and all of this was in addition to their core skill subject learning.
"Our students have authentic learning experiences through project-based learning which naturally integrates all content areas and creates a dynamic learning environment," said Vandermont Head of School Carrie Koch. "Students have a chance to work with businesses, organizations, community leaders, and experts in their respective fields. They gain valuable skills in today's workplaces and can even develop their own career interests. Educational research has shown project-based learning develops a student's critical thinking, problem solving, and collaboration skills along with providing students a deeper understanding of content knowledge. Project-based learning can also be transformational for students, for their work has a purpose and can have an impact in the community they live in."
A Little City of Learning
The Vandermont campus comes equipped with everything a child would need to encourage imagination, creativity and productivity. Imagine what a Google office might look like, and that's the vibe you get at Vandermont.
Gorgeous cast stone covers the front of the facility.   Large open learning studios greet students as they walk in, with big tables instead of individual desks. All the furniture here is movable and can be reconfigured for group work or independent work.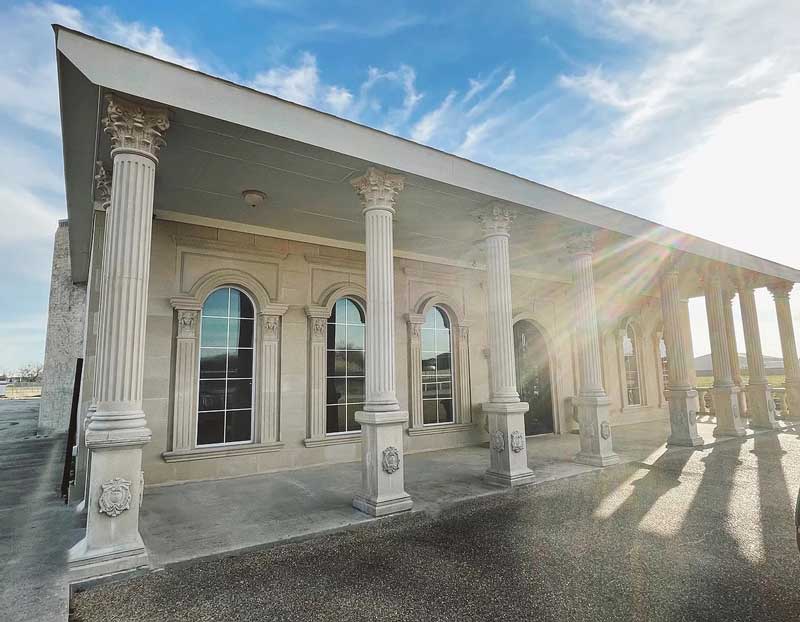 A full-blown kitchen lets kids take lunch and snack breaks, and also serves as another creative learning space. For instance, they can learn to bake cupcakes to celebrate a classmate's birthday. The fun learning extends outside the building as well, with plenty of play areas and tables on which to eat. There will even be a garden which teaches students responsibility as they nurture the plants and flowers on a daily basis and then harvest and cook or take food home to their friends and family.
Goggans said she aims to grow the school for ages K-12th grade, and plans to develop the campus's learning spaces to adapt to these differing age groups as they progress.
"We want to gear all of our spaces towards the developmental ages of all of the different groupings," Goggans said. "We basically wanted to make it like a little city for kids – it's all set up just for them developmentally, and everything that is in that environment can challenge them and also meet them right where they are at."
---
---
Head of School Koch added that the environment is specifically designed to encourage students to reach new heights in their learning and feel prepared for success in the real world.
"Students at Vandermont will be celebrated, honored, and challenged to reach new heights! I am excited to be part of this community that gives students the opportunity to learn in a dynamic environment which allows them to pursue interests, succeed, fail, create, and grow surrounded by caring educators, for it is in this type of environment that positions our children for success in the world beyond school," Koch said.
Summer Bash at Vandermont July 22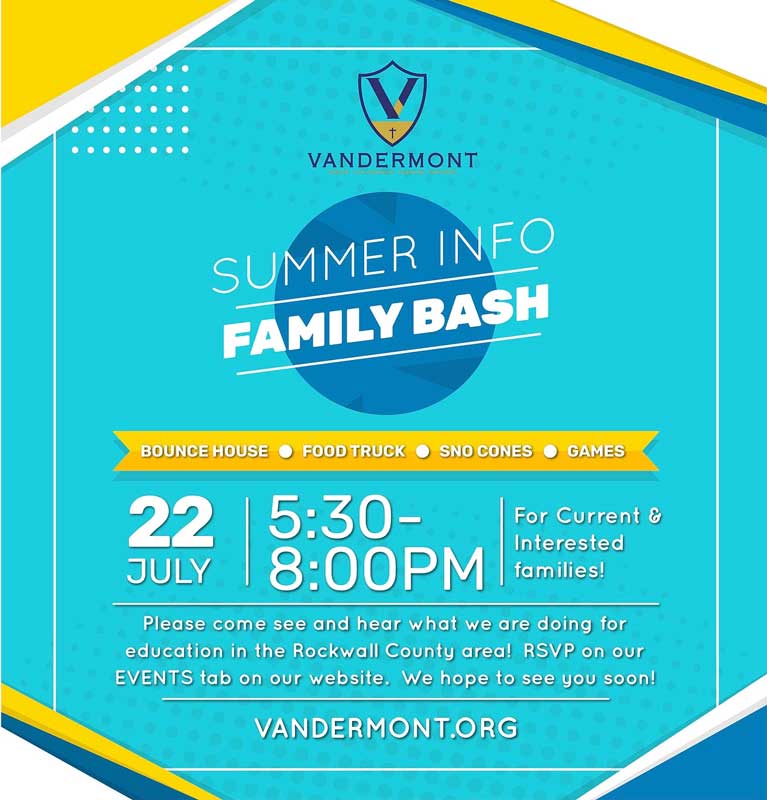 Interested in learning more about Vandermont? Come to their Summer Info Family Bash on Thursday, July 22nd from 5:30-8:30 p.m. Bring the kiddos to enjoy bounce houses, food trucks, sno cones and games, tour the campus and see what Vandermont is doing for education in Rockwall County. To RSVP visit vandermont.org/events.
Story by Austin Wells, Blue Ribbon News. Video and images from vandermont.org. Vandermont School is a Blue Ribbon News advertiser.