ROCKWALL, TX (August 25, 2021) Rockwall Republicans, with the passing of beloved Ken Dickson last week, we want to remember him and all that he contributed to the Republican Party and the many Republicans he influenced in Rockwall County along the way.
The focus of this brief tribute to Ken Dickson is on his work with the Republican Party and not on his years with the Rockwall City Council, Lakepointe Church, or other areas of community service.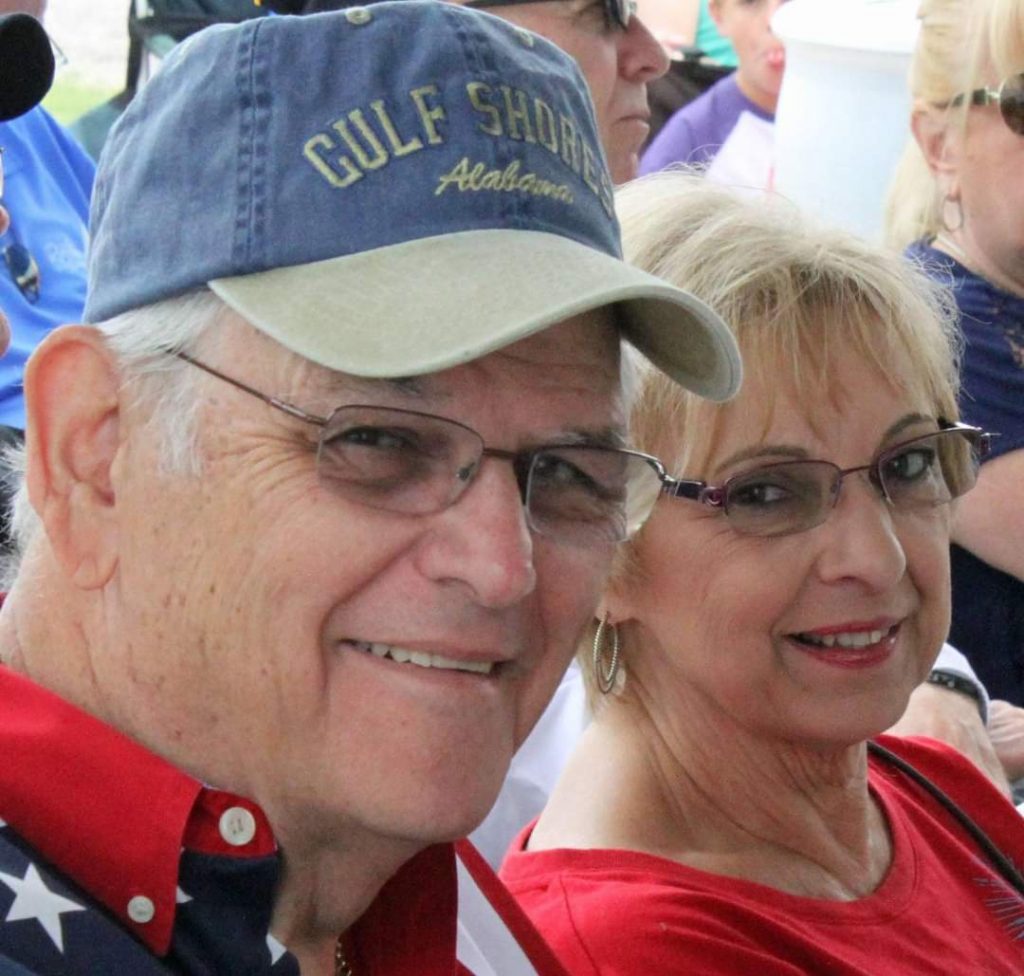 Ken Dickson
1938-2021
Party activist, military veteran, grassroots volunteer, Republican stalwart, ornery Texan, loyal friend.
It was impossible not to notice when Ken Dickson entered a room: his height – far above 6 feet, his cowboy hat, his gait, his way of scrutinizing all those in attendance from afar.  But those things were all prelude, as his attitude and his unfiltered opinions soon followed. His appearance and mannerisms were memorable, but his personality was his most unique trait.
Barbara Sinclair, former County Commissioner, said of him, "Ken was the epitome of a True Texan to me and a good friend. He will be missed!"
As a Precinct Chair for too many years to count, Ken's mission was to keep the Republican Party growing continually stronger, yet never forgetting the party principles that were well-established.  He always welcomed new Republicans into the fold, often remarking "We need to get these young folks active and engaged."
He was a mentor to many, both young and old, and even if you disagreed with Ken's take, you would come away from a conversation having learned something.  Among Ken's many party honors and awards, he was presented the Ralph Hall Award from the Rockwall Republican Party for a lifetime of service and achievement in support of the Republican Party.
"Ken was an important member of this community for so long. His vision for Rockwall will forever guide us as we carry on his legacy to this community. Rest In Peace you will be truly missed," reminisced Jim Pruitt, former Rockwall Mayor.
Even with the energy brought by the Tea Party and the Trump phenomenon, Ken preferred to describe himself as a "Reagan Republican."   He didn't mean that he was a blind or unwavering disciple of the 40th President. He did mean that he was a Republican first, in the style of Ronald Reagan.   Ken knew all too well that slogans, movements, and personalities come and go, but the Republican Party will endure.
As many recall, Ken was not one to guard his tongue when discussing politics and elections.  A few years back when a competitive GOP Primary pitted a candidate from Rockwall County versus an opponent from Collin County, Ken remarked bluntly to the candidate from our sister county, "I don't vote for people from Collin County!"  This was a classic example of his loyalty to his local party and candidates.
Following many years debating agenda items as a member of the Rockwall City Council, Ken took up the battle of ideas at the biennial Republican State Conventions. He never hesitated to take a turn at the microphone to tell fellow Republican Delegates in the Senate District caucus that they were wrong to vote for a particular nominee or that they were misguided in their preference for a certain party leader.  Republican regulars from other counties sometimes sat uneasy when they saw the friendly, dogmatic Ken moving to the front of the caucus room to make a statement or to explain how other delegates were misinformed.
Ken's presence in Republican circles will be greatly missed.  As Precinct Chair Patti Muggeo said, "I'm going to miss Ken Dickson. He was a big guy with a big personality. A true Texan. I admired him greatly."
And Precinct Chair Frances White called Ken, "A fine man who loved his wife and sons, Rockwall, Texas, and the USA. So much can be said about him. He loved the Lord Jesus and is now in His presence."
Ken served as City Councilman in Rockwall, served at Lakepointe Church, and was a devoted follower of Jesus Christ.
He was an active and committed member of the Rockwall County Republican Men's Club for over 40 years. After having been elected as the Men's Club President for two separate terms Ken next served 18 consecutive years as member of the club's Executive Committee – 2004 thru 2021.   At the monthly club meetings, he would be among the earliest to arrive to help set up and rarely departed until cleanup was finished.  At board meetings the experience he brought and wisdom he shared regarding club business were invaluable.
His 18 straight years of service on the men's club board needs a small asterisk.  In late 2006, Ken got a tad fed up with something or someone and declared he was done for good.  Those who knew Ken well predicted that his hasty exit would be temporary. He nonetheless rotated off the board in 2007, but like clockwork was back in 2008, full steam ahead, and served non-stop from then until the day he passed away.  Bridging that 2007 gap year and calling it 18 straight years sounds better than 17 of 18 anyway.
"He was a man that cared about Rockwall, the State of Texas, and the direction of our country, Ken was gruff and gentle at the same time. He was opinionated but loving and truly cared about his friends and their families. He was loved by many. He will be missed." Texas State Representative Justin Holland.
When Ken first took up residence in Rockwall in the 1970s, the county was still led by Democrats, like most of Texas at the time. Ken was a core leader in the transition to a Republican County and yes, the Red State of Texas as well! Well done.
Former Republican County Chair Laverne Kennimer commented on Ken's passing, "Ken Dickson was one of the people whose special insight I valued when I was County Chair.  We did not always see eye to eye, and I knew that I had to have my ducks in a row any time that I asked for his opinion.  Very few people knew that his feelings could be hurt, and you had to avoid that because once that happened, you had a steep hill to climb to get back in his good graces… He was always respectful if he knew that you were honest and loved the Republican Party.  In our last conversation he expressed his desire that, since I was no longer Chair, I have another New Year Eve's party and invite Judy and him.  I told him that I would think it over and, since his untimely death, I have thought of nothing else and wish that I had said 'Of course, I will'.  God rest your sweet soul, Ken Dickson."
From Dalton Kennimer who was Precinct Chair, served in many capacities in the Republican Men's Club and Ken's friend said of him, "Ken Dickson and I had a very special relationship.  We had served together at Fort Polk when we were called to active duty in the 60's and on the Republican Men's Club board for years.  We did not know each other at Fort Polk, but we could discuss situations and people.  He was one of the first people that welcomed Laverne and I to the Rockwall County Republican Party.  I cherished my conversations with him because they were not only political, but personal."
If Ken was reading these words and those written about him online since his passing, there is no doubt he would have some choice words for all of us who have taken part in honoring his memory. It would seem silly to him that folks would be making such a fuss since there's still grassroots work to be done.
We hear you, Ken.  Rest easy friend.
We will take it from here.
~ The Republican Party of Rockwall County
Tribute story submitted by David Peek on behalf of Rockwall County Republican Party, Sharon Henson, Chair.   
---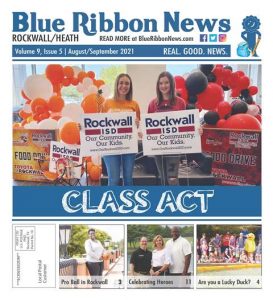 Our

print edition

delivers free to ~15,500 homes and businesses throughout Rockwall County, TX. Click image to view.
To share your good news and events, email editor@BlueRibbonNews.com.
Subscribe to our email newsletter here.
Advertising: 214-342-8000 or advertising@BlueRibbonNews.com.
---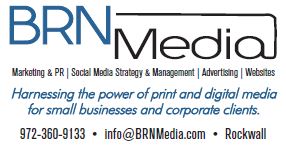 BRN Media is a multi-platform, full-service creative agency offering advertising and marketing services, social media management, and website development throughout Rockwall County and the Dallas area.