ROCKWALL, TX (Sept. 10, 2021) Rockwall County 4-H will host a Kick Off event for the new 4-H year from 9 to 11 a.m. Saturday, September 11.  This year's event will be held on Courthouse Plaza – on the east side of the Historic Rockwall County Courthouse located at 101 East Rusk Street.
Rockwall County 4-H Club leaders and members will be on hand to introduce themselves and tell about what they do.  There will also be project demonstrations being held to help families learn about the opportunities available in Rockwall County 4-H.   Come see what it is all about!
What is 4-H?
4-H, a part of Texas A&M AgriLife Extension Service, is the largest youth development program in Texas. The purpose of 4-H is to provide opportunities for young people to become productive and contributing members of society.
Who are 4-H members?
Rockwall County 4-H is open to Rockwall County residents ages 8 (and in the 3rd grade on September 1) through 12th grade.  They join 4-H because it's fun, it provides opportunities to work and play with friends, to learn about and do interesting things and to develop leadership skills.
What do you do in 4-H?
Members complete learning experiences called 4-H projects.  A project is an area of interest that the 4-H member wants to learn more about.  Youth participate through local 4-H clubs.  Clubs hold monthly meetings and the project meetings are usually held separately.   They participate in community service projects, have interesting speakers and sometimes take fun field trips.   4-H'ers learn leadership skills by planning activities and being officers in their clubs.  4-H members also attend camps, contests and conferences at the county, district and state levels.
4-Her's have the opportunity to learn through hands-on projects.  With many different project areas to choose from, there really is something for everyone!  A few project opportunities include: Agricultural Sciences, Beef, Citizenship, Clothing & Textiles, Communication & Expressive Arts, Consumer Education, Dog, Entomology, Food & Nutrition, Horticulture, Sheep and Goat, Health, Horses, Leadership, Natural Resources/Shooting Sports, Photography, Poultry,  Rabbits, STEM, Swine and Veterinary Science.
What does it cost to join 4-H?
The cost to join 4-H is just $25 per child per year between September 1 and October 31.  After that the price increases to $30.  After you join 4-H, the costs incurred will depend on the project. Some projects like Photography and Veterinary Science are free to minimal cost. Feeding and raising animal projects include a larger financial commitment.
4-H is a great bonding opportunity for the whole family.  Please join us September 11 to learn more! For more information, call 972-204-7660 or email Rockwall@ag.tamu.edu.
Submitted press release by Shelly Spearman, Texas A&M AgriLife Extesnion Service, Rockwall County Road & Bridge, edited for publication in Blue Ribbon News. 
---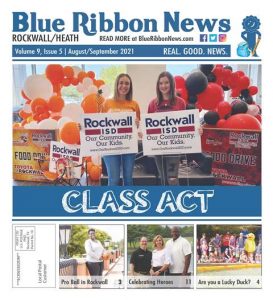 Our

print edition

delivers free to ~15,500 homes and businesses throughout Rockwall County, TX. Click image to view.
To share your good news and events, email editor@BlueRibbonNews.com.
Subscribe to our email newsletter here.
Advertising: 214-342-8000 or advertising@BlueRibbonNews.com.
---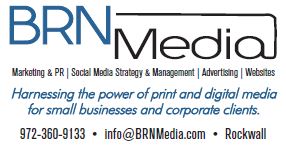 BRN Media is a multi-platform, full-service creative agency offering advertising and marketing services, social media management, and website development throughout Rockwall County and the Dallas area.