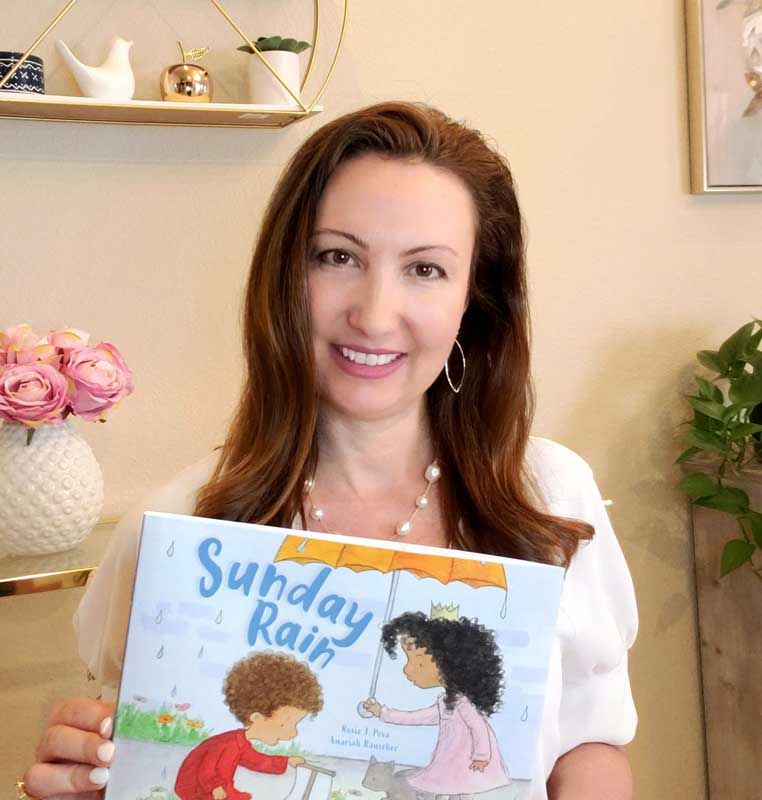 ROCKWALL, TX – October 4, 2021 —Local children's author Rosie Pova knows all too well that when it comes to following your dream, you have to weather your fair share of storms.
Rosie, who has penned several successful children's picture books including her latest, Sunday Rain, grew up in Bulgaria and saw the struggle her family went through having to work hard just to make ends meet.
---
---
"In a communist country, you see how people struggle. I was determined to have a better life for me and my kids," she said.
After moving to the states and having her first child, Rosie began reading picture books to her and fell in love with that genre.
"I have a soft spot for picture books," Rosie said. "I call them little geniuses because they accomplish so much in not a lot of pages. I think they're for children of all ages because they handle every single topic under the sun, and in such an accessible way for everyone."
Rosie's most recently published book, Sunday Rain, touches on the power of imagination, the love of reading and making new friends. The story follows young Elliott, a shy little boy who has just moved into a new house. He spends his days with fictional friends, immersed in a book. One Sunday a rainstorm comes and the other kids on the block start playing in the puddles. Elliott longs to join in the fun, but finds he is too shy. Then he realizes that making new friends is just like finding a new book: you just have to jump into the adventure!
The book was featured in the New York Times earlier this year in "8 Picture Books About Imagination and Identity," written by Jennifer Krauss.
"The message behind the story is to just be courageous – don't be afraid to take the next step and don't be afraid to use your imagination in all kinds of situations," Rosie said.
The idea for the story came from a childhood memory of Rosie's from back when she lived in Bulgaria.
---
---
"The kernel of the story came from a childhood memory, when I was playing in a summer rain," she said. "Back in Bulgaria I lived in a 12-story building and there were a lot of kids always playing outside. All of a sudden one summer it started pouring and everyone ran for shelter. I was the only one staying on the rain and I was really enjoying it. I was feeling really adventurous because it was so warm and it smelled so good."
The road to becoming a successful published author has had many bumps for Rosie, who says she has had her fair share of naysayers and had almost given up on her dream numerous times. But it was her passion for writing and telling stories that allowed her to persevere through those tough times.
"I really have that passion for writing," Rosie said. "It's not something that I can really call work or a job, because it's my life and it's what I do. Even when I tried to quit after receiving numerous rejections, I just couldn't because I love writing so much that I continued to do it."
During visits to schools around town, Rosie loves to share her story and encourage kids to follow their dreams, no matter how many setbacks you may have.
"If I can accomplish what I have accomplished – going from being an immigrant who couldn't speak english correctly to a published author – they can, too, no matter what their goals are or the obstacles they may face," Rosie said.
Look for Rosie's books anywhere books are sold, both in stores and online. See more of Rosie's works plus crafts and activities kids can enjoy on her website, www.rosiejpova.com/.
By Austin Wells, Blue Ribbon News. Courtesy photo.
---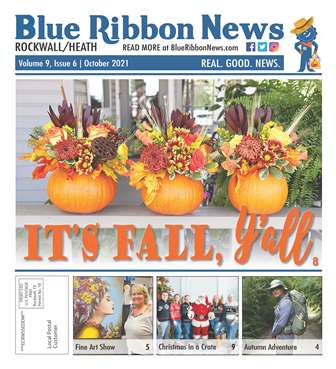 Our print edition is delivered free to ~15,500 homes in Rockwall and Heath, TX.
To share your good news and events, email editor@BlueRibbonNews.com.
Subscribe to our email newsletter here.
Advertising: 214-342-8000 or advertising@BlueRibbonNews.com.