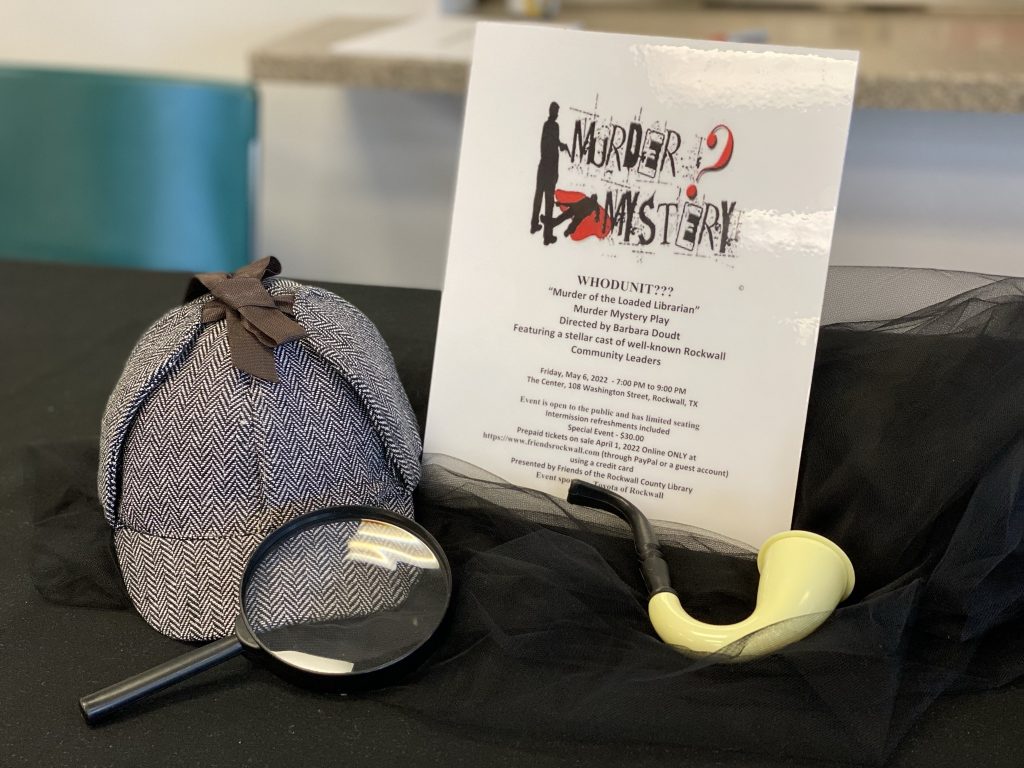 ROCKWALL, TX (May 9, 2022) Delayed since 2020 due to the pandemic, the long-awaited 'WhoDunit' murder mystery play directed by Barbara Doudt and featuring a stellar cast of Rockwall community leaders was presented Friday night at The Center.
Blue Ribbon News had the pleasure of being front row and center to record the two-act comedy – 'Murder of the Loaded Librarian' – which was filled with laughter, drama, wit, and a few improvised lines that added to the hilarity.  (Wish you had gone? You can watch the play in its entirety at the end of this story!)
The event benefited Friends of the Rockwall County Library, and was sponsored by Toyota of Rockwall/Jackson Automotive Group with special thanks to the City of Rockwall.
---
---
Rockwall's Edie Zehr and Milly Cundy produced the show, written by Penny and Tom Warner. Melissa Williams was the pianist who played Henry Mancini's Pink Panther theme, setting the stage for the audience of sleuths to help Inspector Clueseau (aka, Rockwall County Commissioner Lee Gilbert) determine who killed paramour and playboy Rockwall Stallion (played by Rockwall County Judge David Sweet).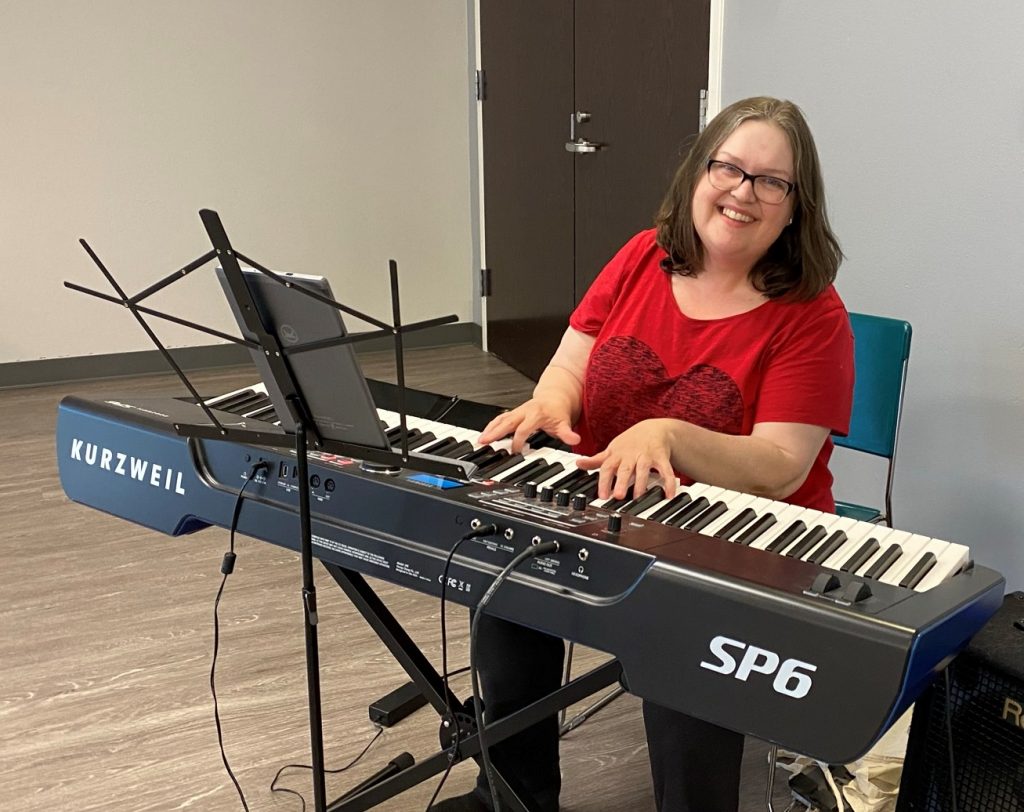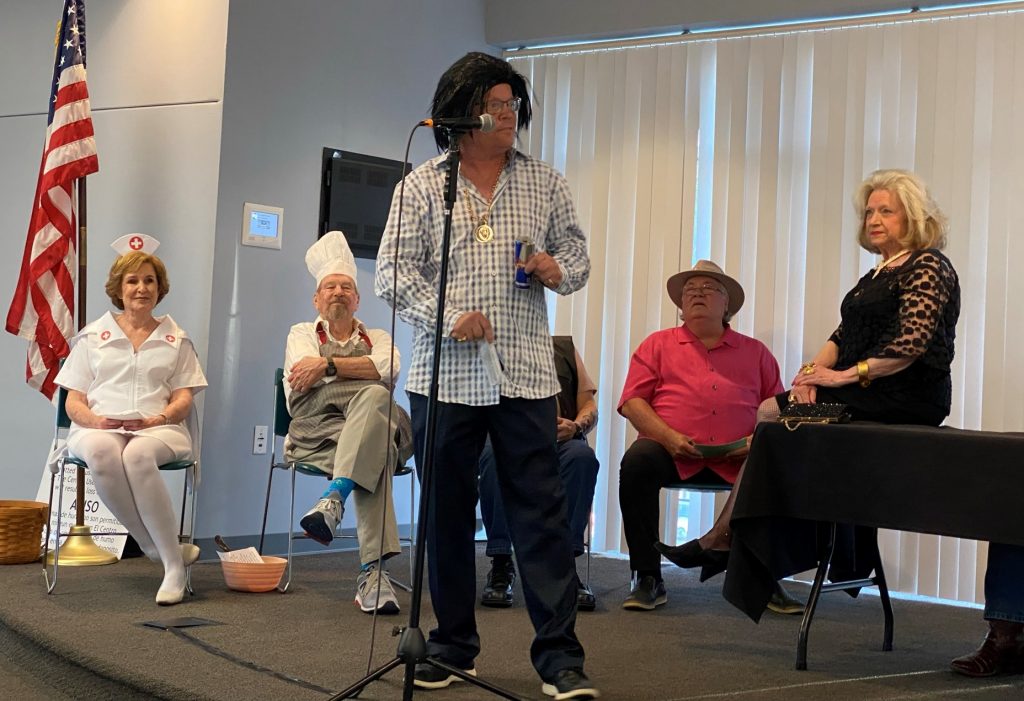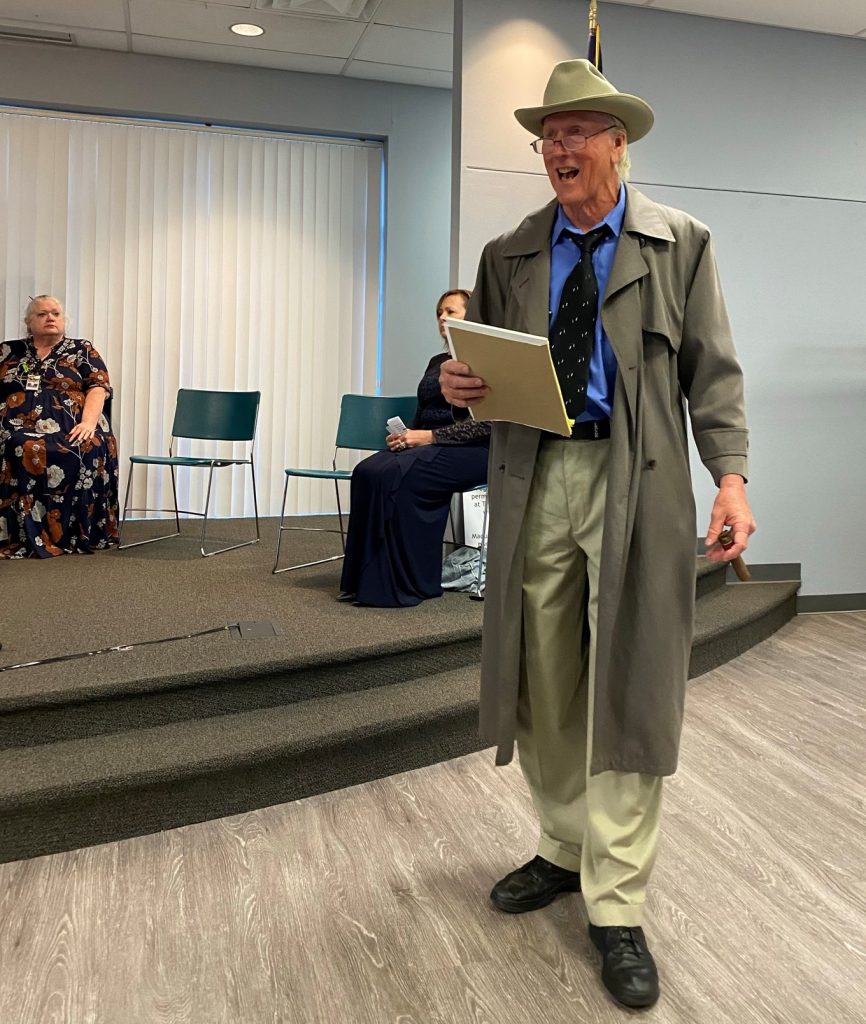 The cast of characters (and we do mean 'characters'!) also included Marcine McCulley, who performed her role as Librarian so expertly that one might think she had done it before….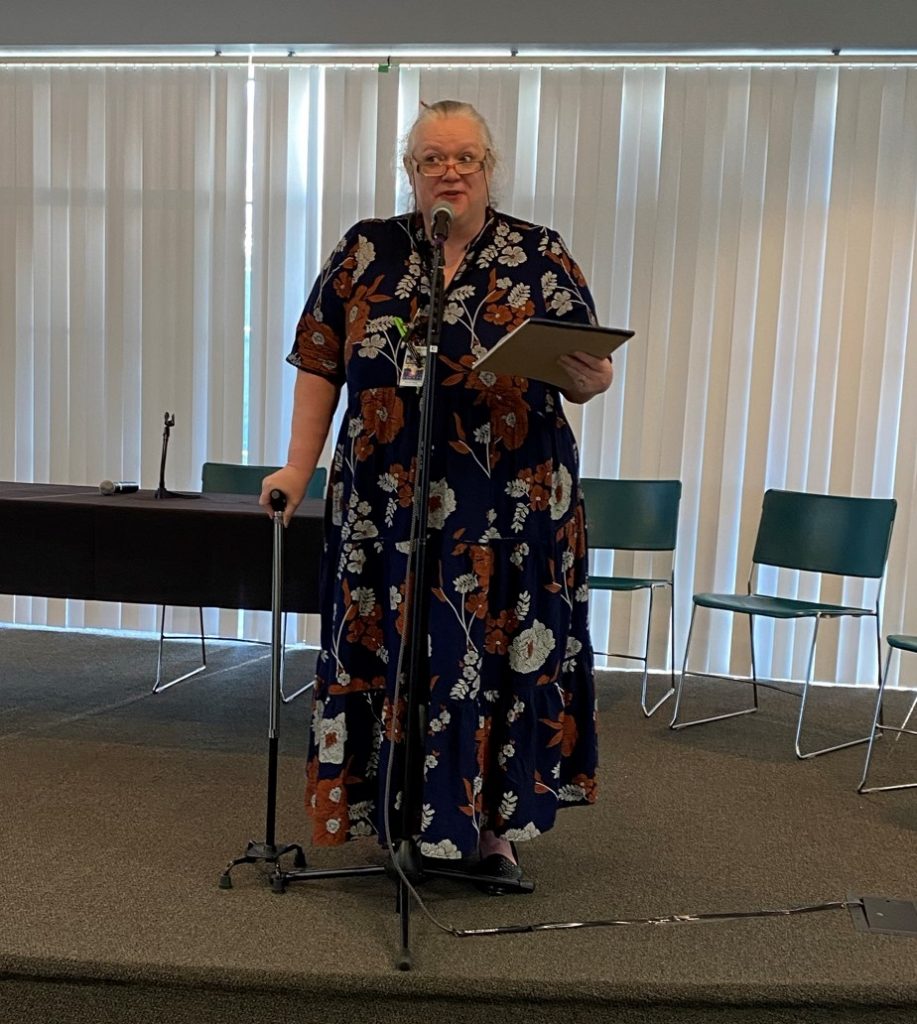 Local attorney and former Heath Mayor Lorne Liecthy played the inept lawyer, Mason Rumpole.  Rockwall County Commissioner Dennis Bailey was Heathcliff Bux; Dr. M. Joan Terry was Madonna Bux; Dr. Jean Conway was Nurse Hatchett; Ed Schwaneke was Chef Porky Prudhomme; Hal Hutchins was Guy Happy; and CPA Mike Conway was Indy Kowalsky (complete with a left nipple ring), and Carrie Pickell was Nanny Jane Bronte.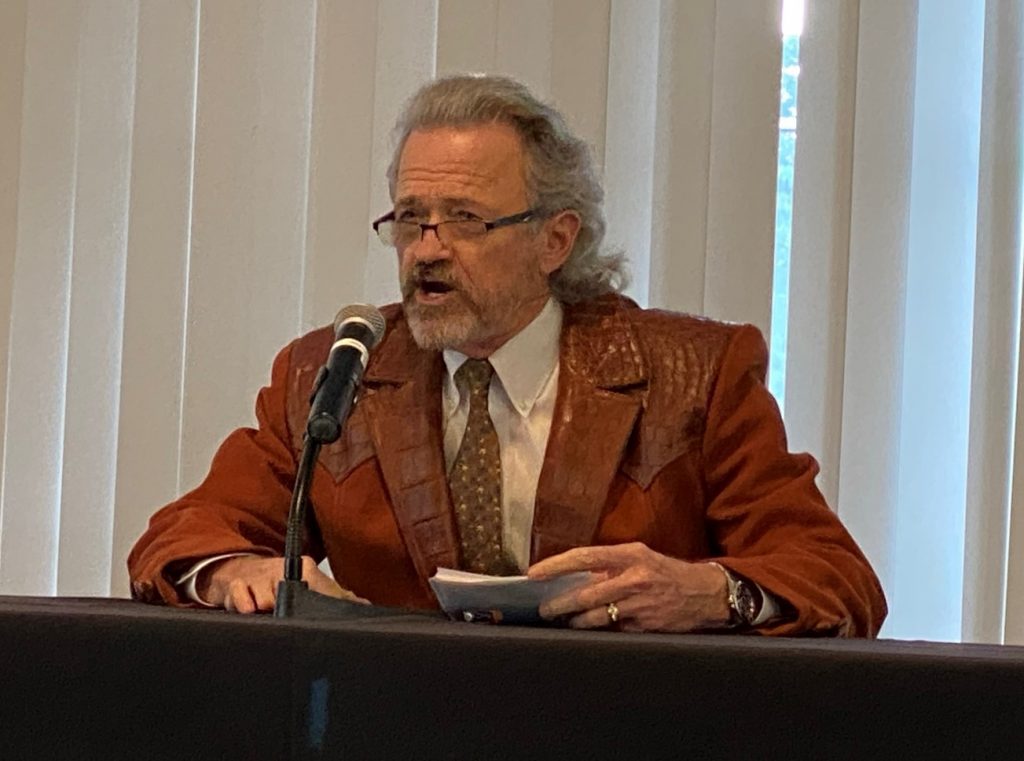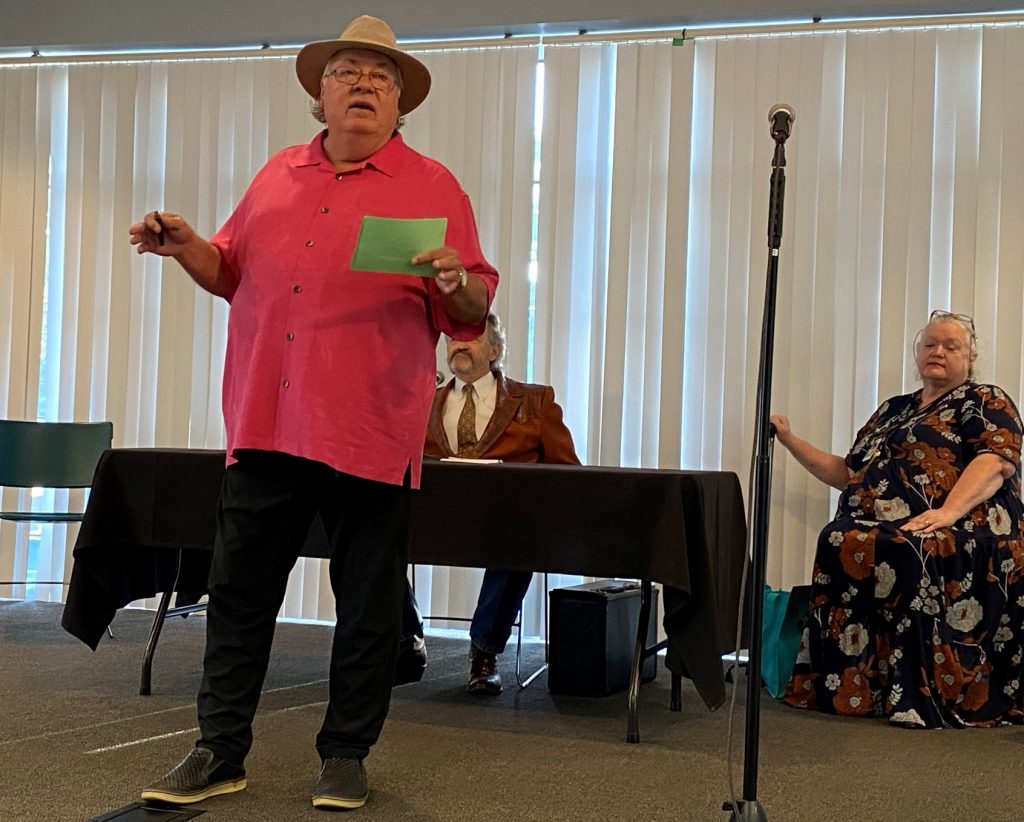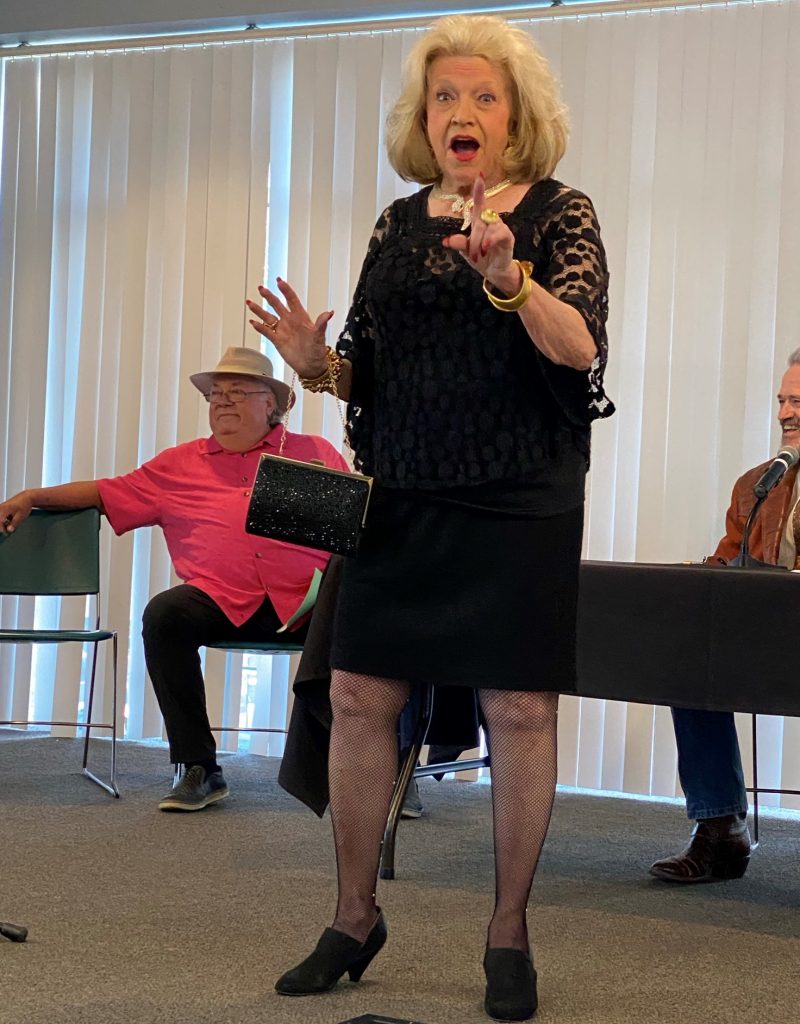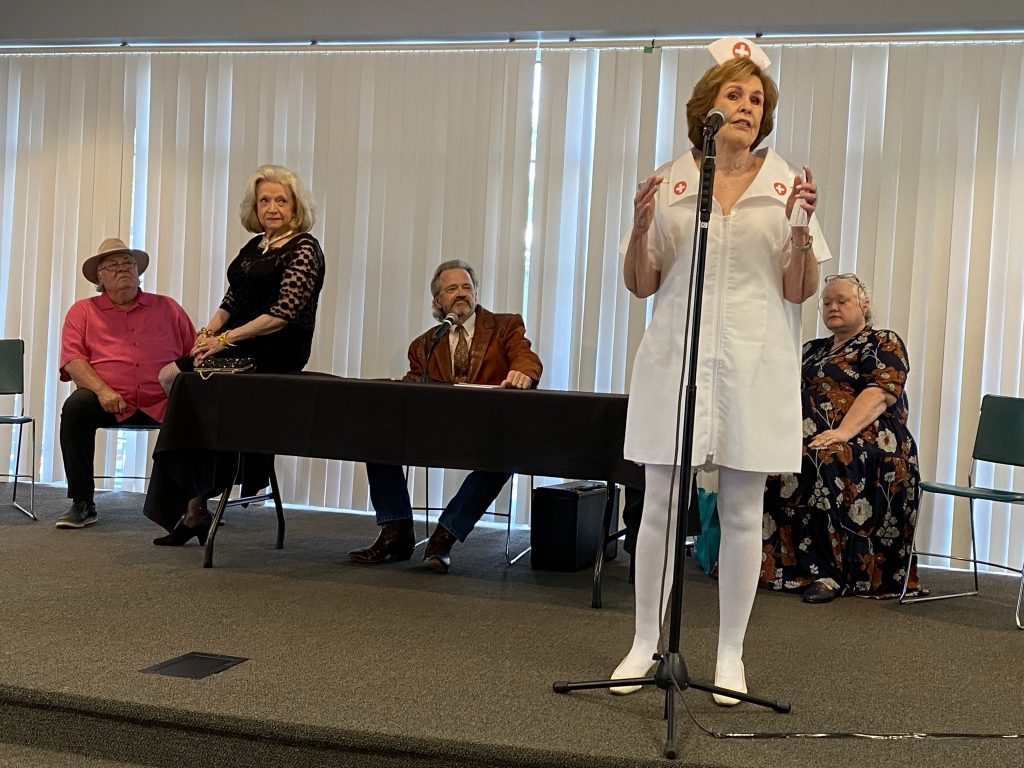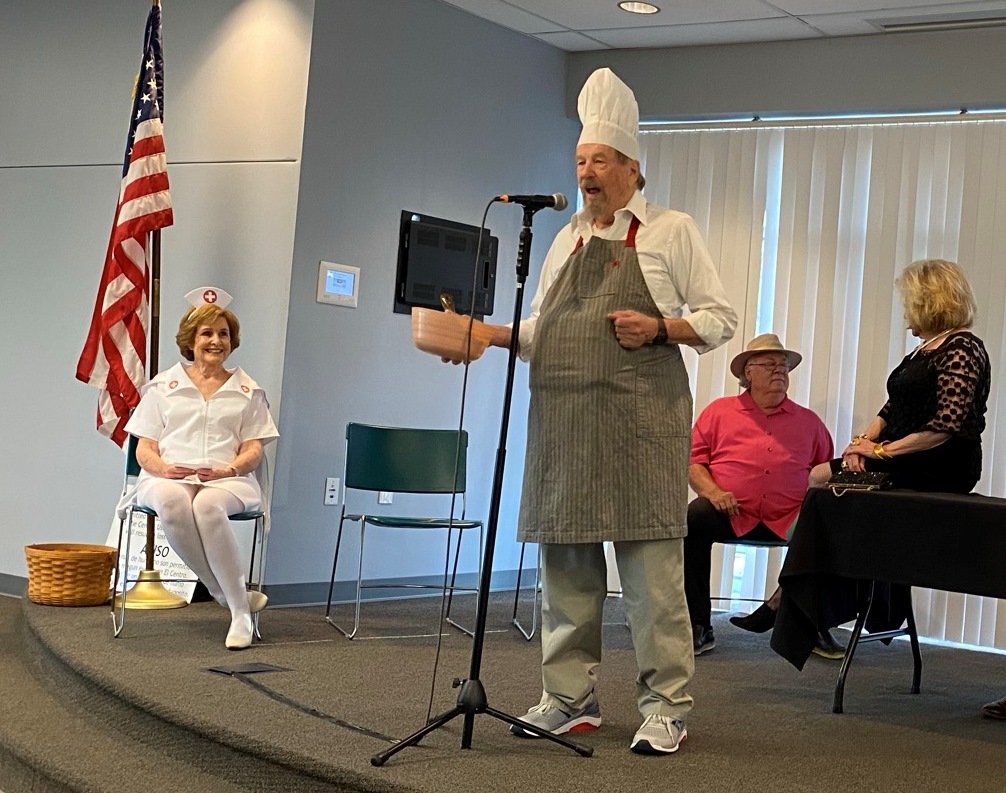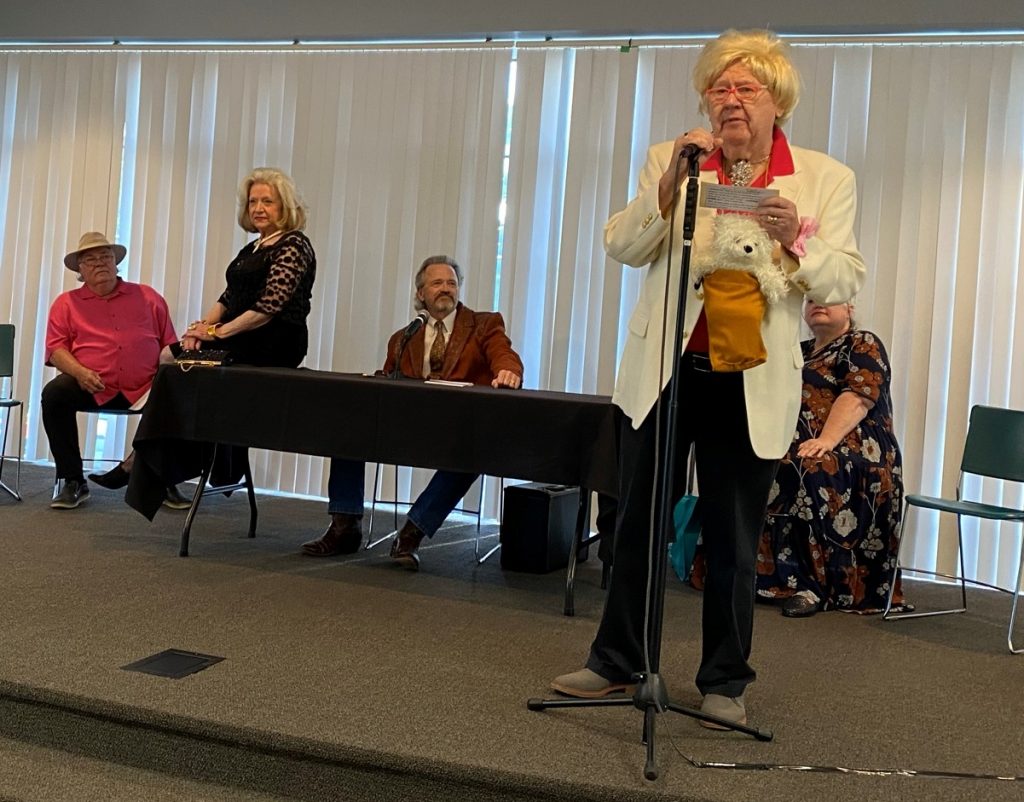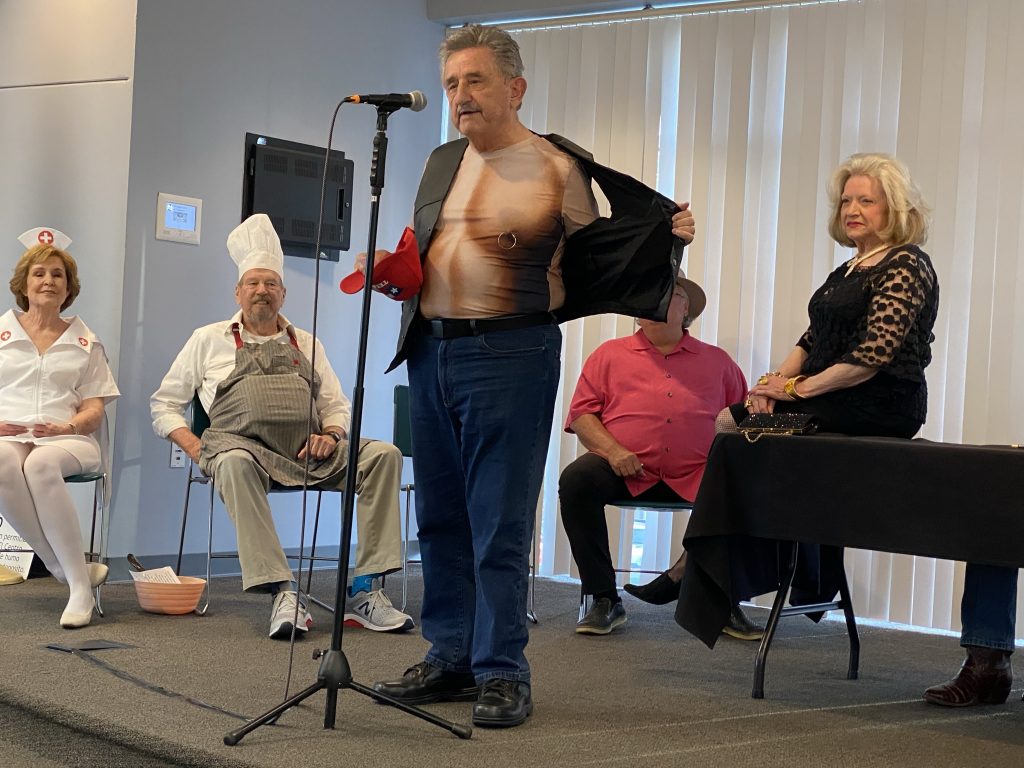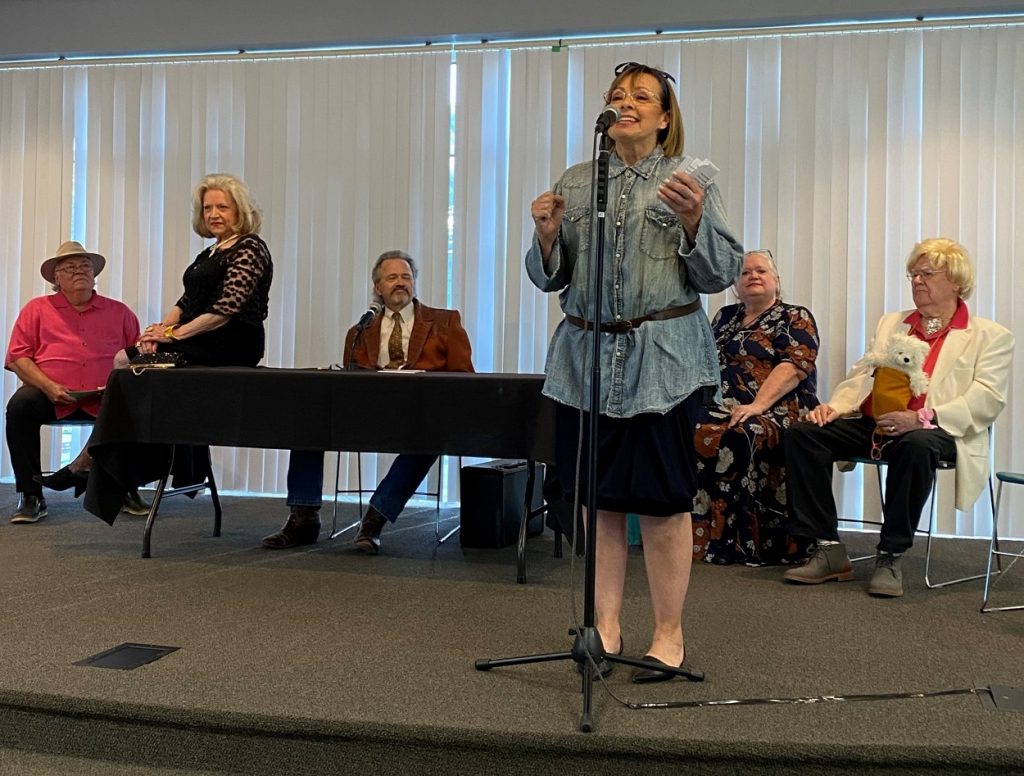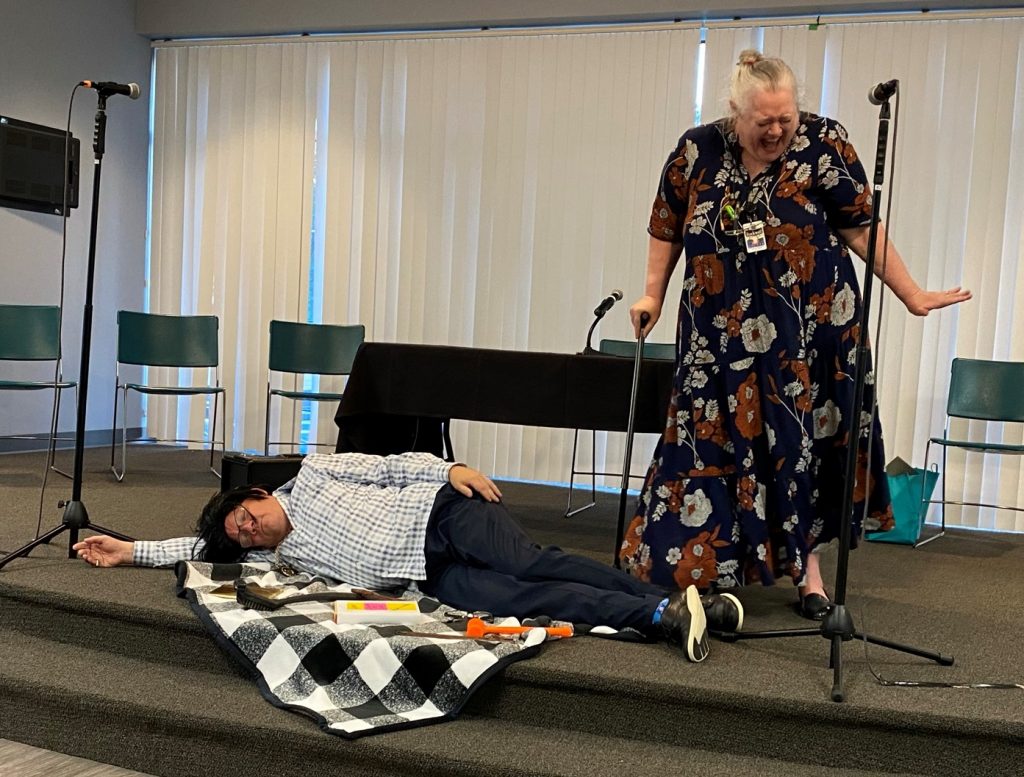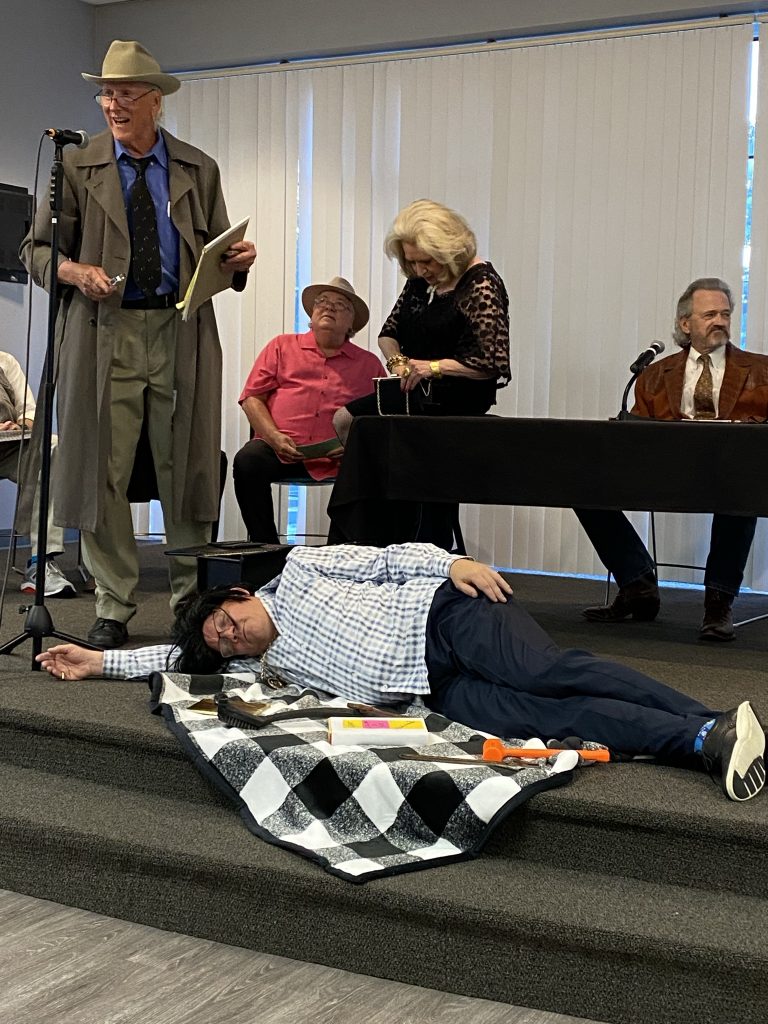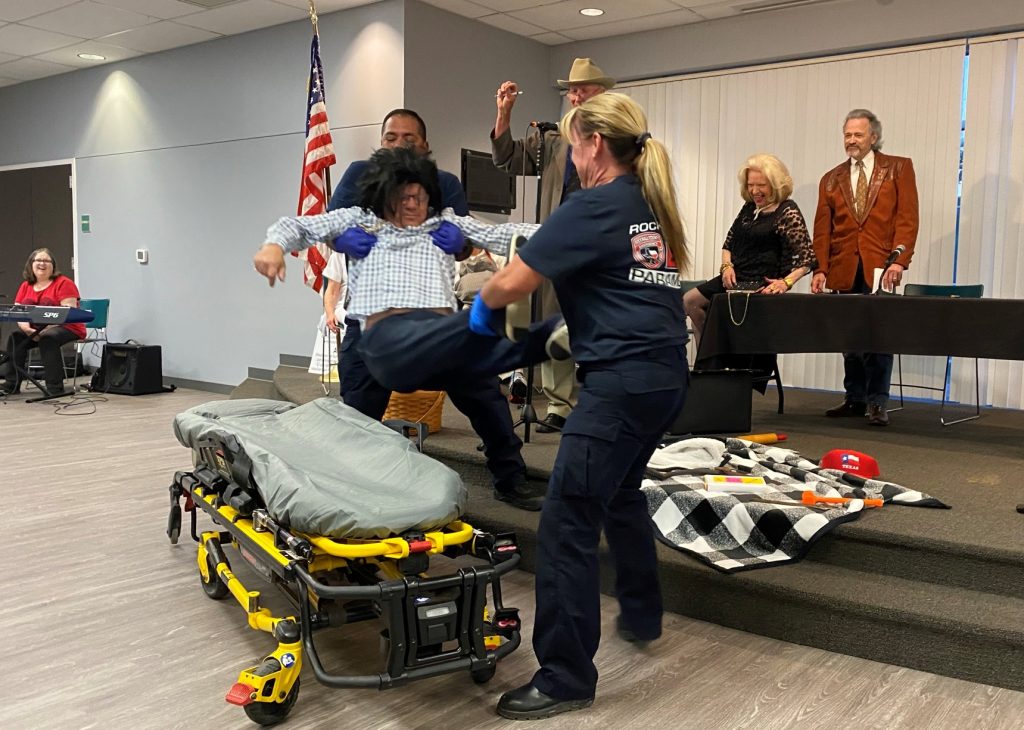 Rockwall County EMS even made a surprise appearance as they wheeled away the deceased body of Rocky Stallion.
Upon the conclusion of the show, prizes were awarded to two audience members for their guesses of 'WhoDunIt'.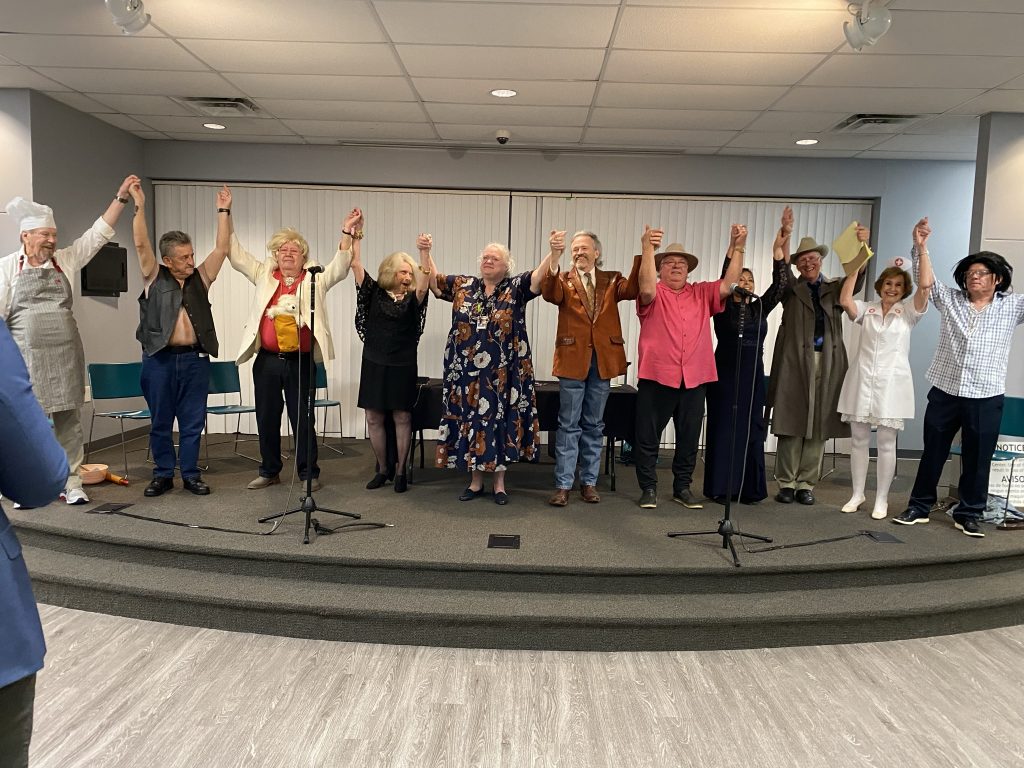 Friends of the Rockwall County Library is the primary supporter of the library in our community. Funds raised and donated by Friends supplement existing library programs and provide additional books, materials and equipment. Become a 'Friend' and learn more at friendsrockwall.com.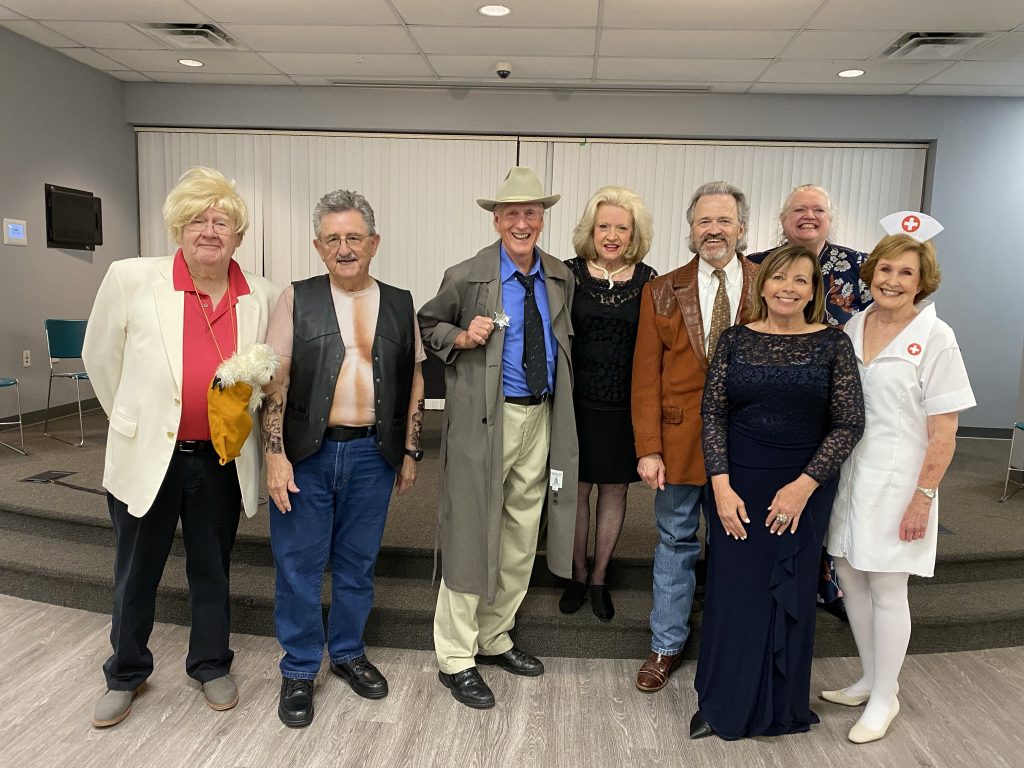 Director Barbara Doudt serves as Vice President of Production at Rockwall Summer Musicals, and encourages everyone to join them for their 2022 season which includes Singin' in the Rain (June 17, 18, 19, 24, 25 and 26) and The Sound of Music (August 5, 6, 7, 12, 13 and 14). Learn more at rockwallsummermusicals.org.
Wish you had gone? You can watch the play in its entirety here!
By Dawn Redig, Blue Ribbon News. Photos and video by BRN Media. Play written by Penny and Tom Warner. 
---
---
Our

print edition

delivers free to ~15,500 homes and businesses throughout Rockwall County, TX. Click image to view our latest issue.

Subscribe to our email newsletter here.
---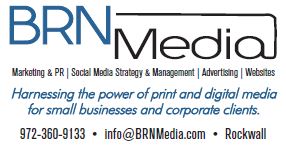 BRN Media is a multi-platform, full-service creative agency offering advertising and marketing services, social media management, and website development throughout Rockwall County and the Dallas area.