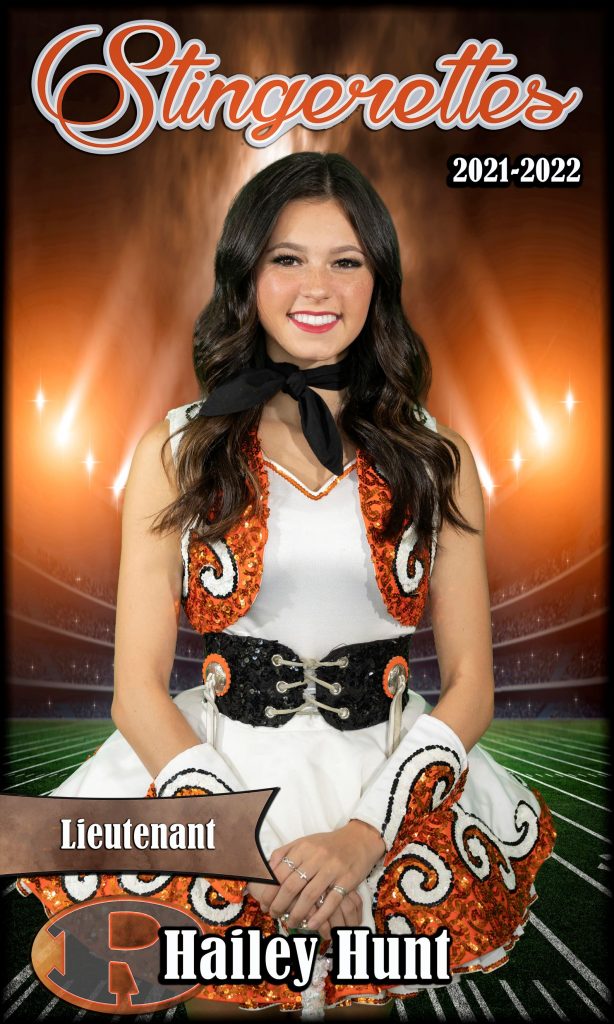 ROCKWALL, TX (May 17, 2022) Our Stingerette Showcase today is Miss Hailey Hunt. Hailey is the daughter of Wes and Valen Hunt.
Hailey is a three-year member of Stingerettes where she currently serves as Lieutenant and New Girl Sergeant. She served as Junior Lieutenant her Junior year as well.
Hailey has been a three-year member of the Elite Team Showstoppers as well as  Kick Company and Hip Hop Company. Her Junior year, Hailey was chosen by her peers as "Most Outstanding Performer".
Her Freshman year, Hailey was a Lieutenant for the RHS JV Jacket Babes and that year was named American Dance/Drill Team (ADTS) "2019 Regional Solo Champion 1st Runner-Up". That same year she also was named Crowd Pleasers Regional "Solo Champion" and Showtime International Regional "Solo 2nd Runner-Up".  Hailey also earned a national title with ADTS in 2019 as "Solo Champion, 1st Runner up".
As a Stingerette soloist, Hailey continued to earn numerous titles. Her Sophomore year she was named Showtime International Regional "Solo Finalist" and ADTS Regional "Solo Finalist".  Her Junior Year she won ADTS Regional "Solo Finalist".
In her final year, Hailey earned the title "Solo 1st Runner-Up" at MA Dance, Showtime International  and ADTS.  She also won "Solo 2nd Runner-Up" at MA Dance Regional. Her finall title earned was ADTS Nationals "2022 Solo Champion 1st Runner-Up".
Hailey shares with her fellow officers the titles, ADTS "National Champion Officers 2022" in Novelty, Lyrical, and Contemporary. She shares with the team ADTS "2022 National Champions" in Elite Jazz, Elite Novelty, Team Lyrical and Team Open.
Hailey had the honor of performing with the Stingerettes in the 2019 Macy's Thanksgiving Day Parade as part of the Spirit of America dance team as well as performing at Walt Disney World in January, 2022. She also performed with the Elite Team in Galveston in March this year.
In addition to the high school drill team, she has competed the past three years with The Dance FX Studio in Garland which was recently named ADTS  "2022 Studio National Champions". In her early dance years, Hailey trained formally for 8 years at Royalty Dance Academy in Rockwall.
Hailey serves her community through the National Charity League, Texas Pearl Chapter, where she has been a member since 2017. She was the recipient of "The President's Volunteer Service Award" 2018 & 2019 for completing over 100 hours of volunteer service hours each year.
Hailey plans to attend the University of Texas Austin to pursue a degree in Film. Hook 'Em!
Submitted by Barrie Glasscock.
Story updated May 17, 2022. 
---
---
Our

print edition

delivers free to ~15,500 homes and businesses throughout Rockwall County, TX. Click image to view our latest issue.

Subscribe to our email newsletter here.
---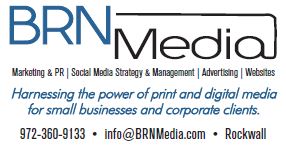 BRN Media is a multi-platform, full-service creative agency offering advertising and marketing services, social media management, and website development throughout Rockwall County and the Dallas area.