Sponsored by the Rockwall Police Department, Texas Automobile Burglary & Theft Prevention Authority and the North Texas Auto Theft Task Force
ROCKWALL, TX (May 10, 2022) Head on over to Dick's Sporting Goods parking lot, 1005 I-30 in Rockwall, from 10 a.m. to 1 p.m. this Saturday, May 14 for free VIN etching services.
What Is VIN Etching?
VIN etching is the process of acid stenciling your vehicle's 17-digit identification number onto the window glass of the vehicle. The stencil is relatively small and does not hamper your view through the windows in any way. Because the etching is done at the bottom of your windows, it is not obviously noticeable and does not take away from the attractiveness of your vehicle. A sample will be available for those of you who'd like to see what VIN etching looks like before you have it done.
Why Should I Have VIN Etching Done On My Car?
VIN etching serves several purposes.
First, many thieves will steal a vehicle and change its identity by removing the VIN plate on the dashboard and replacing it with a different one. They will then sell the stolen vehicle to an unsuspecting buyer. By having the identification number placed on additional parts of your vehicle, thieves who might want to change the identity will be deterred knowing they will also have to change out all the windows in addition to the dashboard VIN plate. This is an investment most thieves will not make.
Second, should your vehicle ever be stolen, law enforcement will have an easier time recovering and identifying your vehicle since the identification number is readily available on multiple parts of the car.
And third, VIN etching qualifies some insurance consumers for a Level I insurance discount, which can result in a 2% to 10% discount on the comprehensive portion of your insurance premium, as long as you don't already have a theft deterrent on your vehicle that qualifies for the Level I discount.
In the true spirit of community policing, the Rockwall Police Department is teaming up with a local business, Archer's Car Care, to offer our citizens an opportunity to have their vehicle identification number etched onto their vehicle's catalytic converter at no cost. There has been a rise in theft of catalytic converters across the nation in the past year. In an effort to combat this crime rise, Archer's Car Care will etch the catalytic converter with your vehicle identification number to make it less desirable to a potential thief.
Shared by the Rockwall Police Department. 
---
---
Our

print edition

delivers free to ~15,500 homes and businesses throughout Rockwall County, TX. Click image to view our latest issue.

Subscribe to our email newsletter here.
---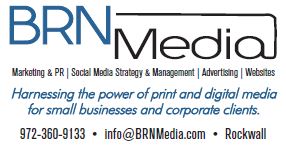 BRN Media is a multi-platform, full-service creative agency offering advertising and marketing services, social media management, and website development throughout Rockwall County and the Dallas area.