Rockwall-Heath senior Hunter Kirk wins BBQ Brisket State Championship
ROCKWALL, TX (May 12, 2022) Where there's smoke, there's fire – and wherever the Pitmasters BBQ Club goes, there are red hot winners!
Under the direction of Rockwall ISD's BBQ Coach Sean Hill at Dr. Gene Burton College and Career Academy, members of Team Smoke and Team Fire of the 205 Pitmasters wrangled impressive wins in the High School BBQ State Championships, held April 29-30 in Round Rock, TX.
The students competed against 85 other teams across the state. In all, 425 entries of beans, chicken, ribs, and brisket were judged. Team Fire finished 4th overall with a 27th place in chicken, 21st place in beans, 6th place in ribs – and a 1st place win in brisket, served up by Rockwall-Heath High School senior Hunter Kirk.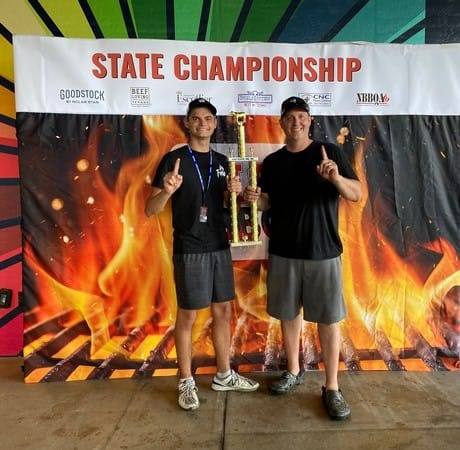 Hunter only began barbecuing at the start of his senior year, after he learned about the Pitmasters BBQ Club from his Virtual Business and Human Resource Management teacher, Coach Hill.
"I was really interested in something that wasn't a standard activity when you think of high school," Hunter said. "I knew this would be perfect for me because I love BBQ, but I had no experience actually making it. I was hesitant to join at first because of my lack of experience, but Coach Hill encouraged me, and I'm beyond thrilled that I did."
As the BBQ Brisket State Champion, it's no surprise that brisket is Hunter's favorite thing to cook. "It feels great to create something that can be enjoyed by the whole team and then some," he said. "In my opinion, brisket is the grand champ of all BBQ foods."
---
---
What's the secret to good competition barbecue? According to Hunter, "Once you find a recipe, stick with that recipe and don't change it up. Different styles of barbecue will do better in some regions than others, and if you keep changing it up, you won't learn who likes what. I cooked this brisket recipe five times before the state competition. Practice makes perfect!"
Coach Hill would agree. He left football, track and basketball after coaching for almost a decade to start the BBQ Club in the Fall of 2020. "It has been the best decision I have made," he said. "I started with four students and no smoker, and this year we have two teams, five Top 25 finishers, and a State Champion!"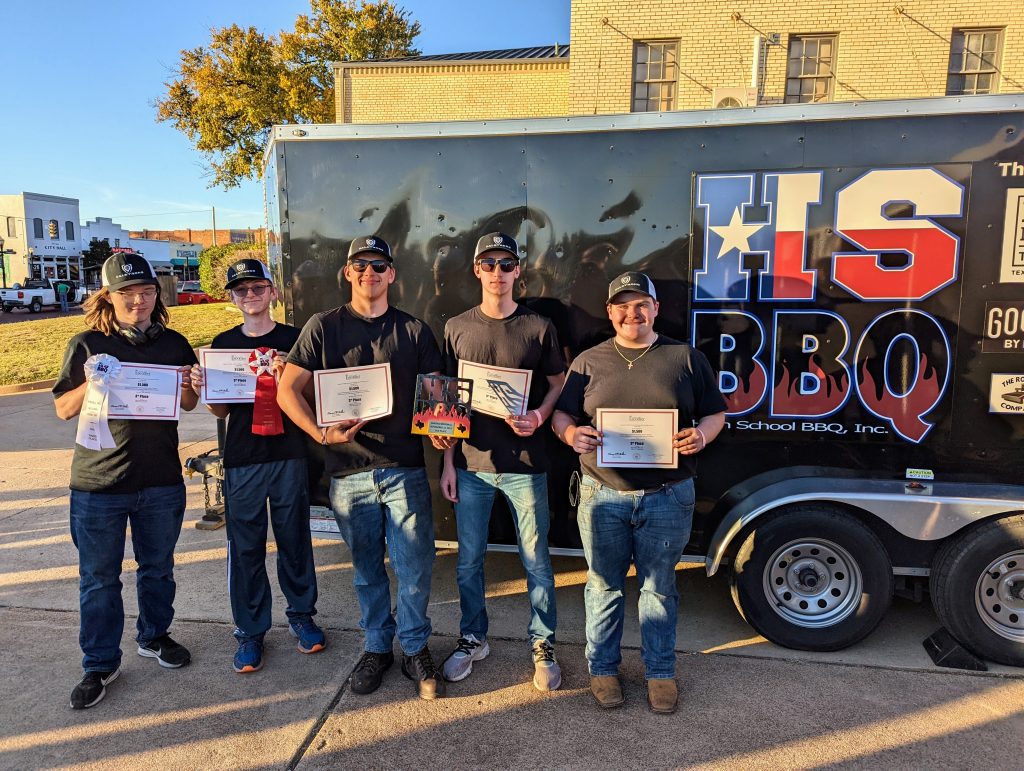 Members of Team Fire include Brisket State Champion Hunter Kirk (RHHS senior); State Finalist Jonathan Chapa (RHS senior), 27th Place Chicken; State Finalist, Top Ten in State Ethan Trammell (RHHS sophomore), 6th place Ribs; State Finalist Jake Jenkins (RHS sophomore), 21st place Beans; and State Finalist Ryker Hayes (RHS sophomore), Dessert.
Members of Team Smoke include State Finalist Larson Trast (RHS junior), Top 20 in State, 14th Place Brisket; State Finalist Josh Griswold (RHS junior), Top 20 in State, 19th Place Beans; State Finalist Ethan Conaway (RHS sophomore), Ribs; State Finalist Isaiah Gosnight (RHS freshman), Chicken; State Finalist Jackson Jeffus (RHS freshman), Dessert.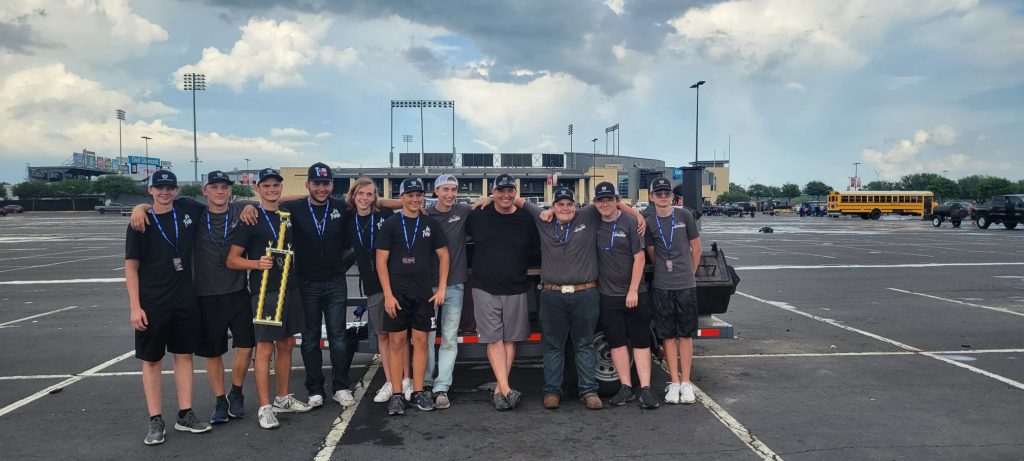 As a former engineering teacher, caterer and barbecue lover, Coach Hill has been able to prepare the students for the challenges of competition, so they can fix things on the fly.  "There's a lot of critical thinking that goes into this. There are obstacles and speed bumps and stuff that happens," he said. "At State, you take a 17 pound brisket and at 6 o'clock in the morning, you have to start trimming and injecting and seasoning it and getting it on the pit. It has to be sliced, presentable, and ready to go to the judges by 3 pm. So you've got nine hours to smoke an award-winning brisket."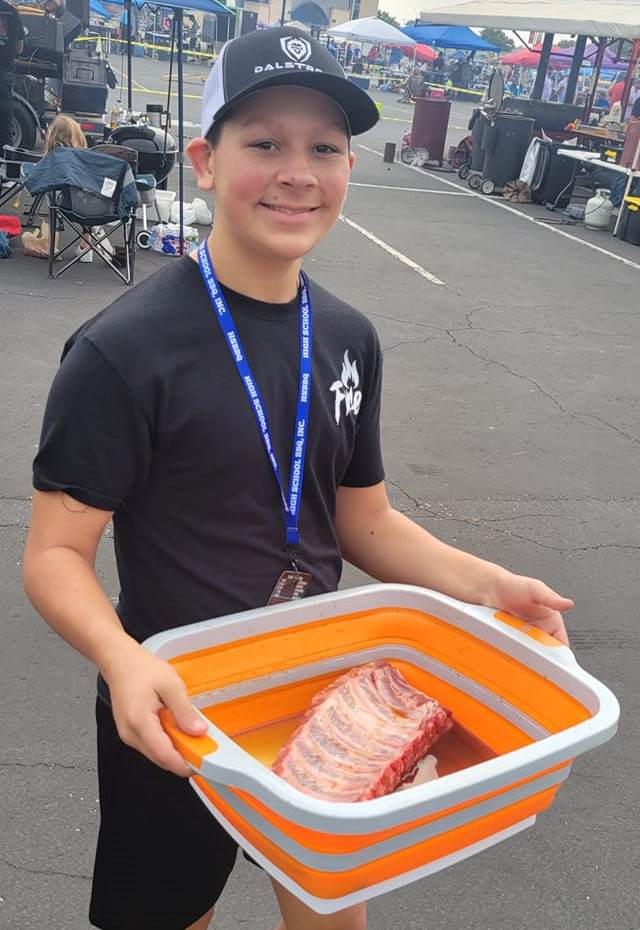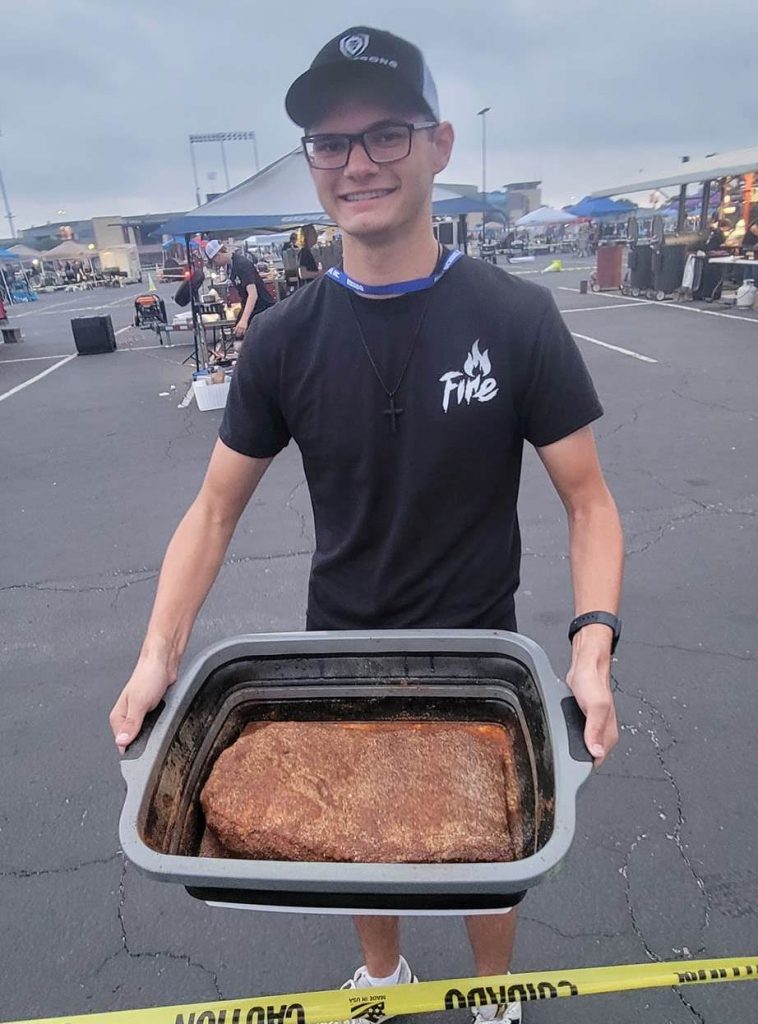 What is Coach Hill's favorite thing to cook? "I like taking pork belly and cubing it up, smoking it, adding a little brown sugar, butter and honey and turning it into pork belly burnt ends," Coach Hill said. "Don't get me wrong; I love brisket. Brisket's a commitment. It's a marriage. That's 14 to 18 hours worth of work. You can get burnt ends done in four to five hours and they're delicious; they're like bacon candy."
As for Hunter, he says he will continue barbecuing through college and beyond. He plans on entering a few competitions soon with two of his current teammates, Jonathan Chapa and Larson Trast.
"My experience with the team was truly remarkable. I went from not knowing how to trim a brisket to being able to cook a state champion brisket all within a few months. I had the most fun I've had in high school, and I'll be forever thankful for my time with team – whether we were cooking or just talking and having a blast."
Hunter gives special thanks to Coach Hill and mentor Cody Malin for giving him the right tools for success.
Malin is an award-winning BBQ cook and founding member of Outlaw BBQ Association, which allows head cooks as young as 14 to compete against professional adult teams. "None of this would have been possible without them!" Hunter said. "I'd also like to thank my family for encouraging me to try something new and different, and for traveling all the way to Round Rock to celebrate our team's victory."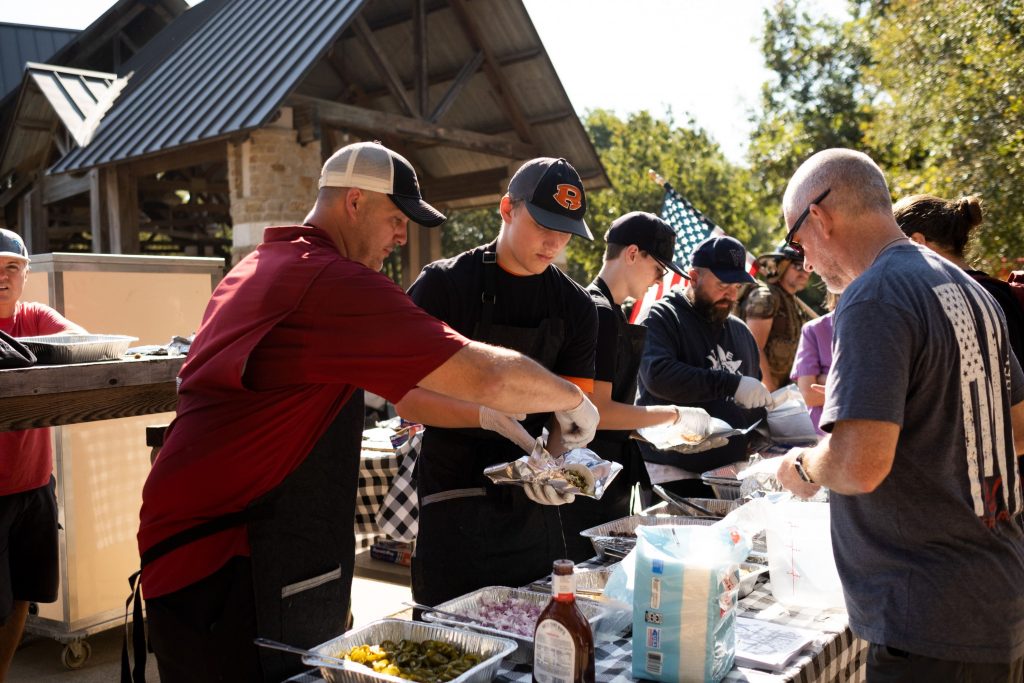 Reflecting upon his State Championship win, Hunter adds, "My best piece of advice is this: If you're thinking of joining something, but you're nervous you won't fit in, go for it anyway! It may be the greatest thing you stumble upon and may be something you can take with you the rest of your life."
Coach Hill echoes that advice, as he would like to see the program grow in the coming school year. Students who are taking classes at the Dr. Gene Burton College & Career Academy or the Ag Barn can be part of the 205 Pitmasters BBQ Club. Coach Hill encourages interested students who are coming into their freshman year, or even in middle school, to contact him at Sean.Hill@rockwallisd.org.  In addition to having a whole lot of fun, "we have to adapt, overcome, and persevere; that's what we do."
By Dawn Redig, Blue Ribbon News. Submitted/courtesy photos.
---
---
Our

print edition

delivers free to ~15,500 homes and businesses throughout Rockwall County, TX. Click image to view our latest issue.

Subscribe to our email newsletter here.
---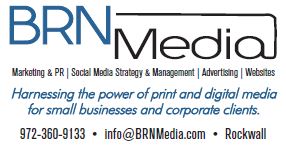 BRN Media is a multi-platform, full-service creative agency offering advertising and marketing services, social media management, and website development throughout Rockwall County and the Dallas area.