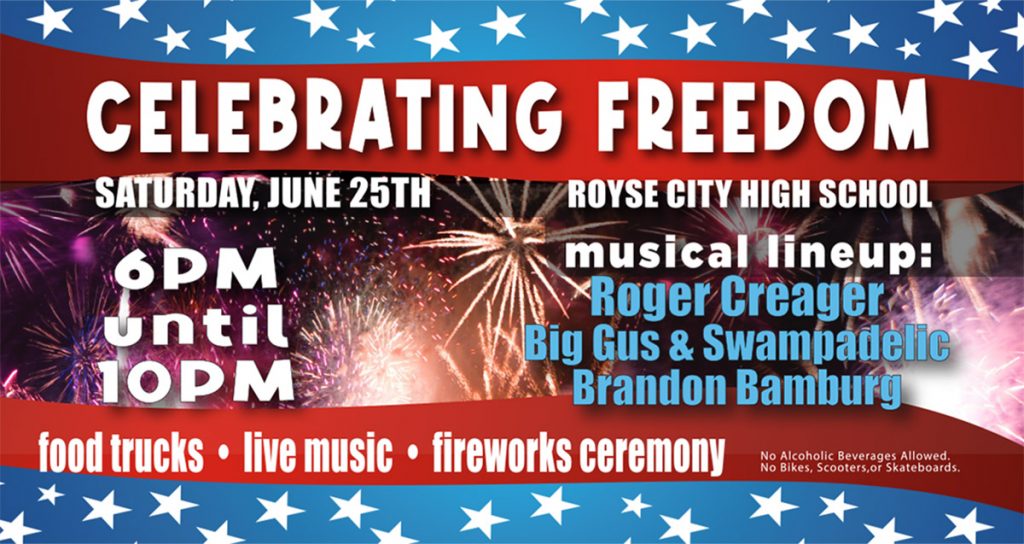 ROYSE CITY, TX (June 5, 2022) Bring family and friends to enjoy Royse City's spectacular 'Celebrating Freedom' event on Saturday, June 25 at the Royse City High School football stadium. There's no admission fee and a variety of food will be available for purchase.
Event starts at 6 PM.
Music line-up is as follows:
Brandon Bamburg 6:00 – 6:45 PM
Big Gus 7:00 – 8:00 PM
Feature Artist: Roger Creager 8:15 – 9:30 PM
Food trucks available from 6:00 – 9:30 PM
Pre-Fireworks Ceremony 9:45 – 10:00 PM
Fireworks begin at approximately 10:00 PM
Vehicles will enter at the entrance located on the north side of the parking lot. Everyone will be directed where to park as they arrive. Once the parking lot is full, no additional vehicles will be allowed to enter.
Due to UIL guidelines no alcohol or tobacco use will be permitted on school property. Also, for the safety of everyone in attendance, we will not be allowing parking spaces to be reserved for tailgating and no skateboards, bicycles, scooters, skates, etc will be permitted.
We also, ask that if you must leave the event prior to the end, that you do so with caution. We've created a large seating area for spectators to safely enjoy the show.