Greg Blair installed as President
Erik Oistad named Rotarian of the Year 
ROCKWALL, TX (July 5, 2022) Rockwall Rotary Club members and guests gathered in the newly renovated Rotary Hall last Thursday to honor outgoing board members and recognize new officers.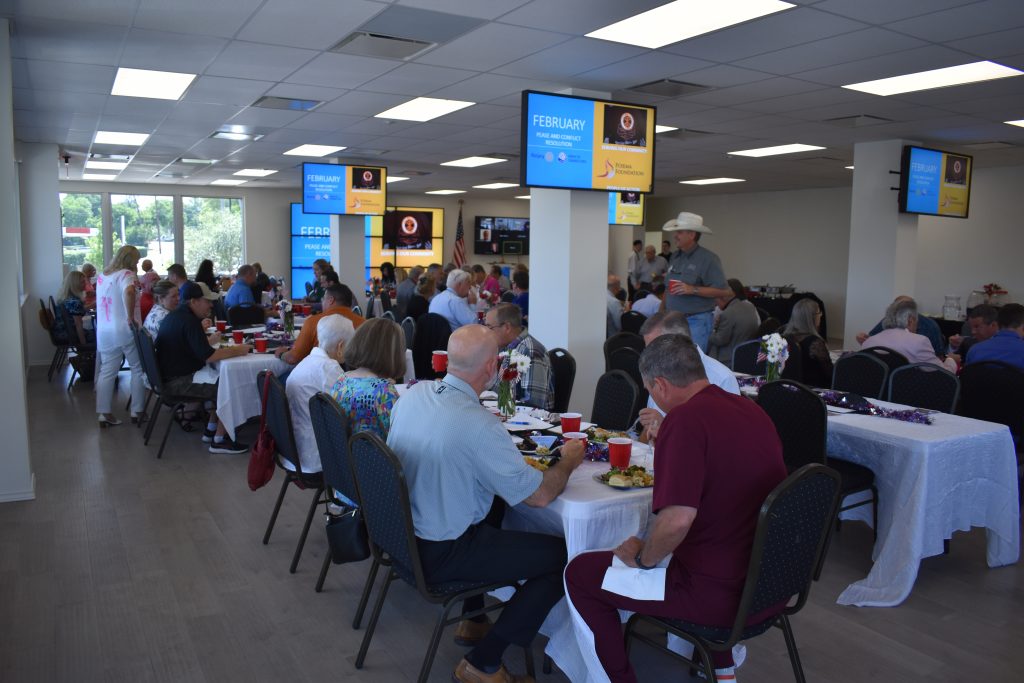 The Annual Changing of the Guard and Installation of Rockwall Rotary Board of Directors began with the Invocation, Pledge of Allegiance and Four-way Test, which serves as the moral code for Rotarians – "Of the things we think, say, or do: 1) Is it the TRUTH? 2) Is it FAIR to all concerned? 3) Will it build GOODWILL and BETTER FRIENDSHIPS, and 4) Will it be BENEFICIAL to all concerned?"
With these guiding principles in mind, Rotary Director-at-Large Leslie Buie and outgoing President Kevin Pate welcomed guests and reflected upon the 2021-2022 Rotary year. Despite the challenges of a global pandemic and being displaced for building renovations, Pate shared positive feedback from Rotarians in which they described the club as "being able to adapt", "stay consistent and steady," and carry out the year's theme: "Serve to Change Lives."
"This was the 81st year of the club," Pate remarked, "and this is a time for celebration. We've touched so many different groups throughout this community. We've become the 'go-to organization' with a heart to serve. And now we have a room that we can grow with."
Pate and Rotarian Dana Macalik recognized the 2021-2022 Officers, Directors and Committees. Robin Chouteau presented certificates to several Rotarians with perfect attendance. Special recognitions and awards were given, including Rotarian of the Year – Erik Oistad.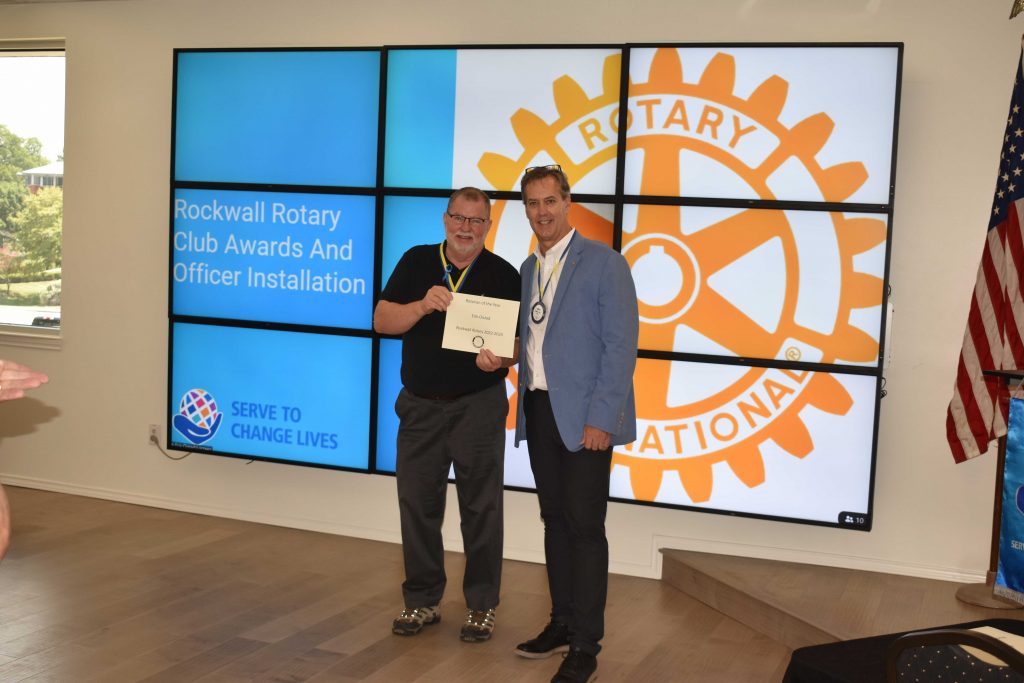 The installation of the 2022-2023 Officers and Director followed, with the passing of the gavel from Pate to 2022-2023 President Greg Blair, who shared an inspiring message about the new year ahead for the Rotary.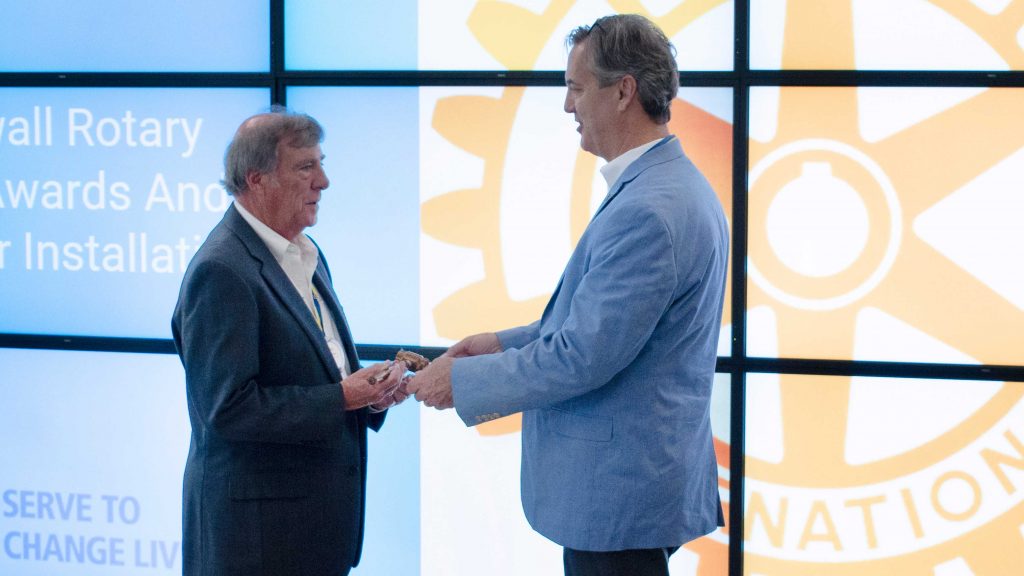 Blair praised outgoing President Pate for his leadership and commitment, adding that "Pate is unquestionably devoted to the ideals" of Rotary. He said "synergy is the ingredient for greatness," and that as a humanitarian organization, the Rotary Club is poised for another great year of 'serving to change lives'.
Special recognition was also given to Dr. Stan Lowrance and Ted Hoisington for their outstanding efforts with respect to the remodel project. Anna Campbell was honored for her role as Interact Sponsor/Youth Services.
Board of Directors 2022-2023
President Greg Blair
President-Elect Lorne Liechty
Immediate Past President Kevin Pate
Secretary Robin Chouteau
Treasurer Kayne Pierce
Sergeant-at-Arms Stacy Massar
Directors-at-Large:
Leslie Buie
Jeff Shell
Bill Sinclair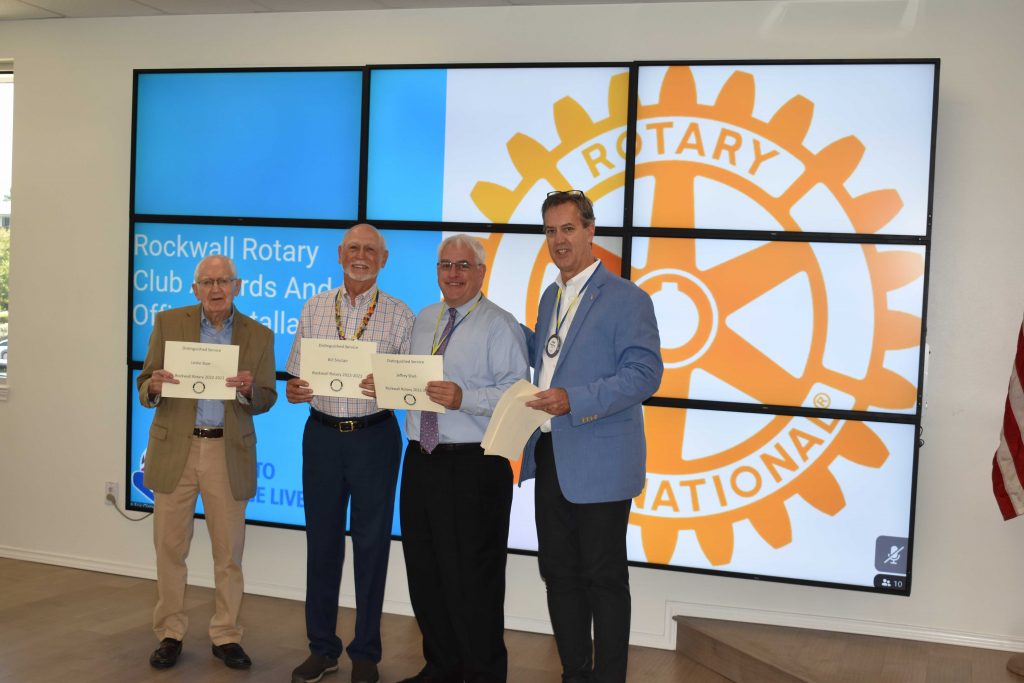 Public Image Lauri Dodd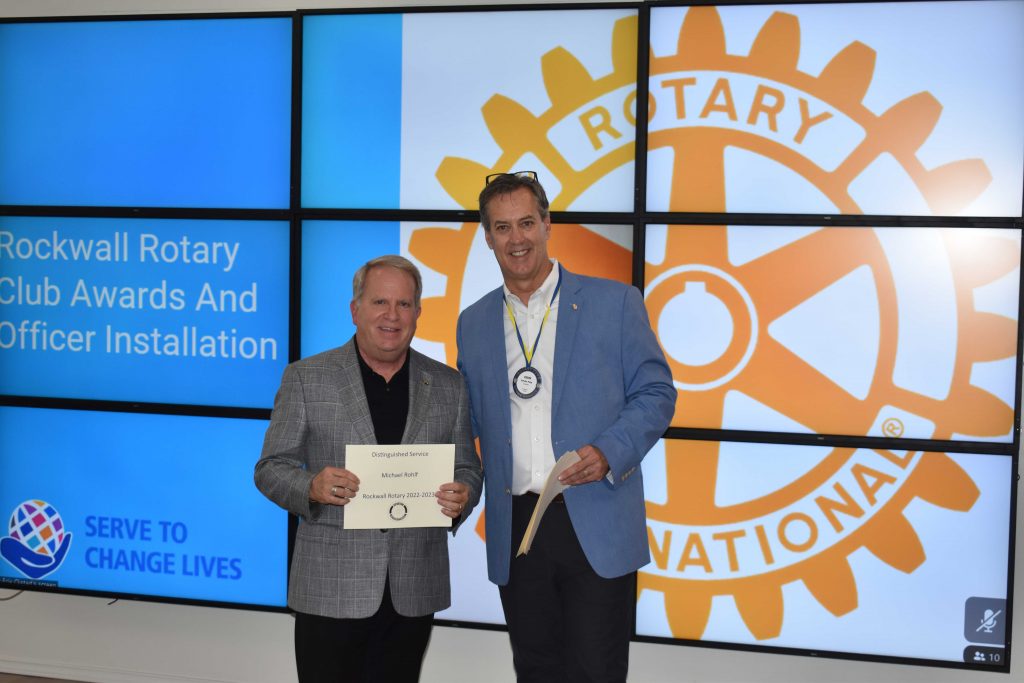 Programs  Michael Rohlf
Membership Gary Vice
Community Service Nancy Parkes
Vocational Service Trevor Reed
Rotary International  Tom Dortch
International Service Beth McCrackin
Youth Service  James Braaten
Fundraising  Mark Kipphut
Rockwall Rotary Foundation  Mark Kidd
Perfect Attendance Awards
Gregory Blair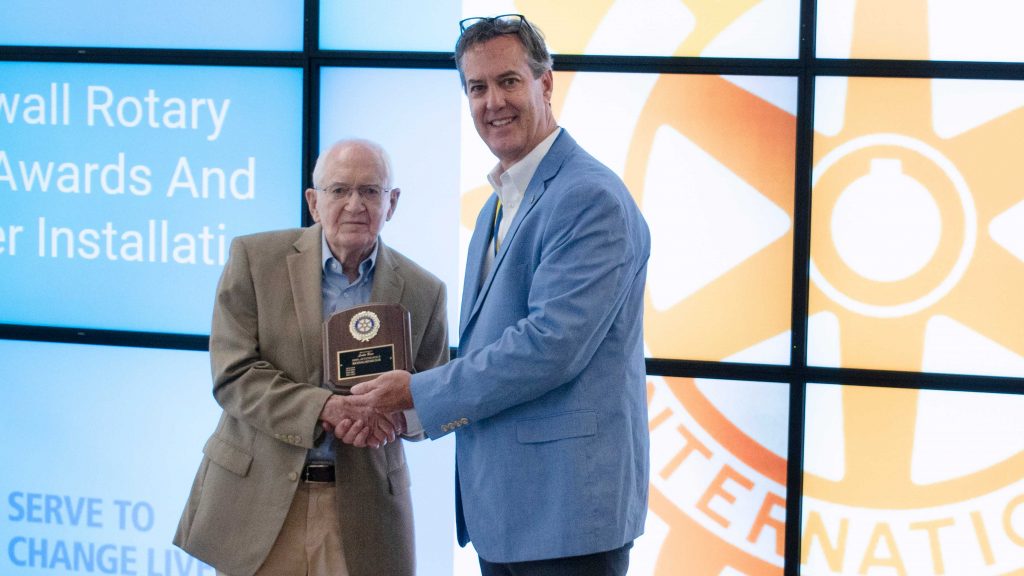 Leslie Buie
Dewayne Cain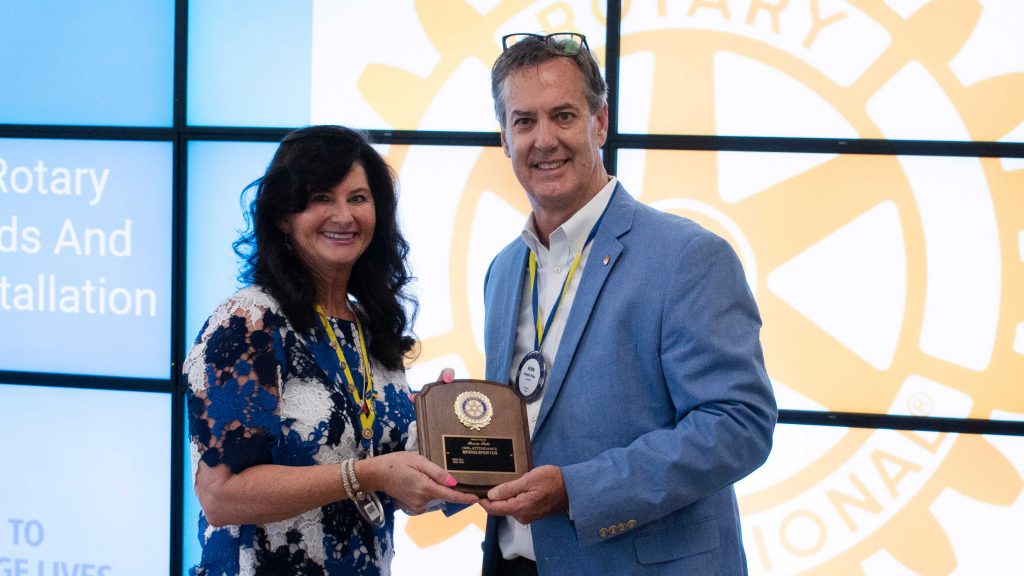 Robin Chouteau
Mike Conway
John Curtis
Lauri Dodd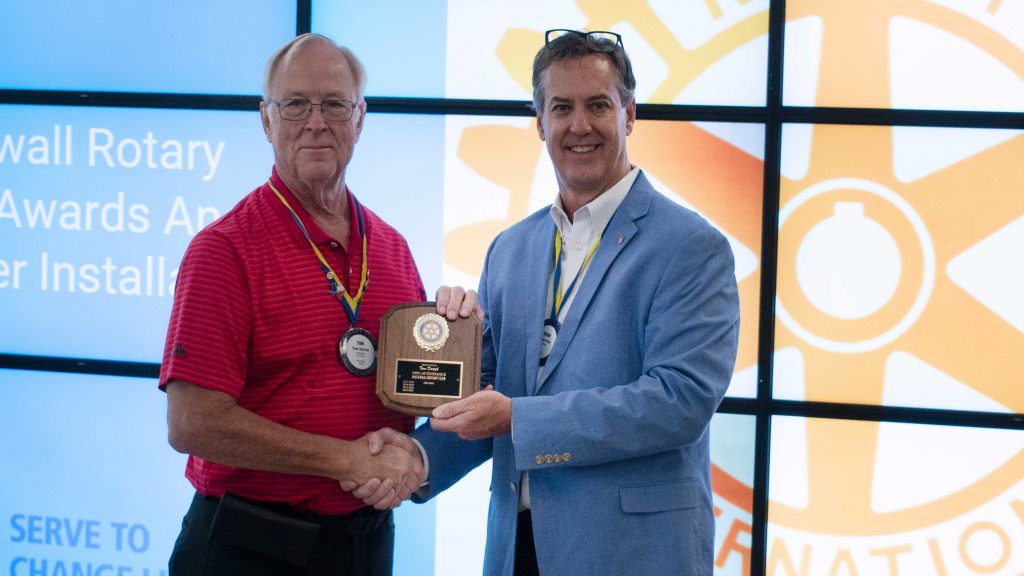 Tom Dortch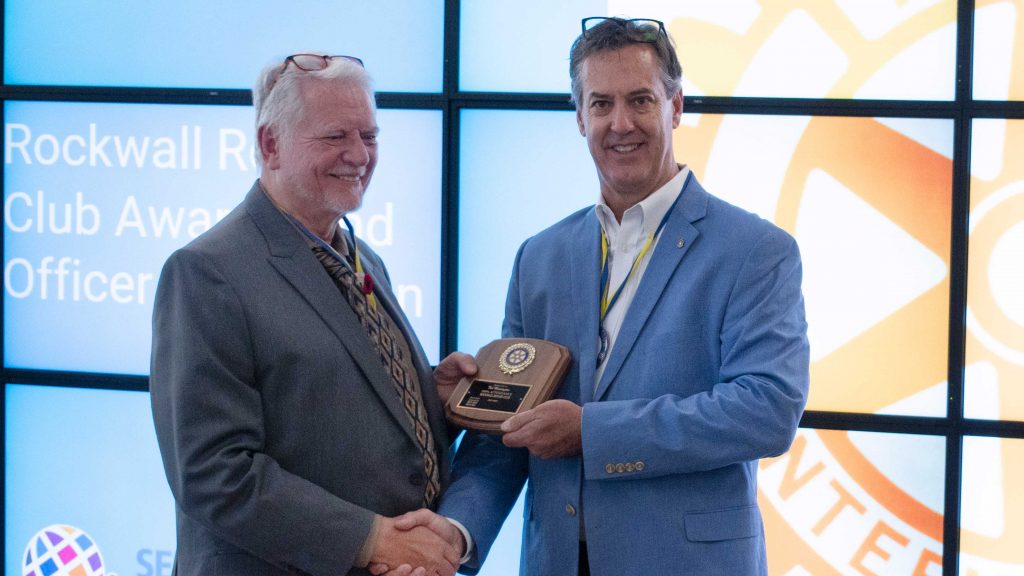 Ted Hoisington
Shane Hollas
Lorne Liechty
Dr Stan Lowrance
Dana Macalik
Stacy Massar
Alma McClintock
Beth McCrackin
Lowell Moon, Sr.
Tom Norris
Erik Oistad
Nancy Parkes
Kevin Pate
Michael Rohlf
Larry Sarratt
Jeffrey Shell
Bill Sinclair
Kent Smith
Pete Snider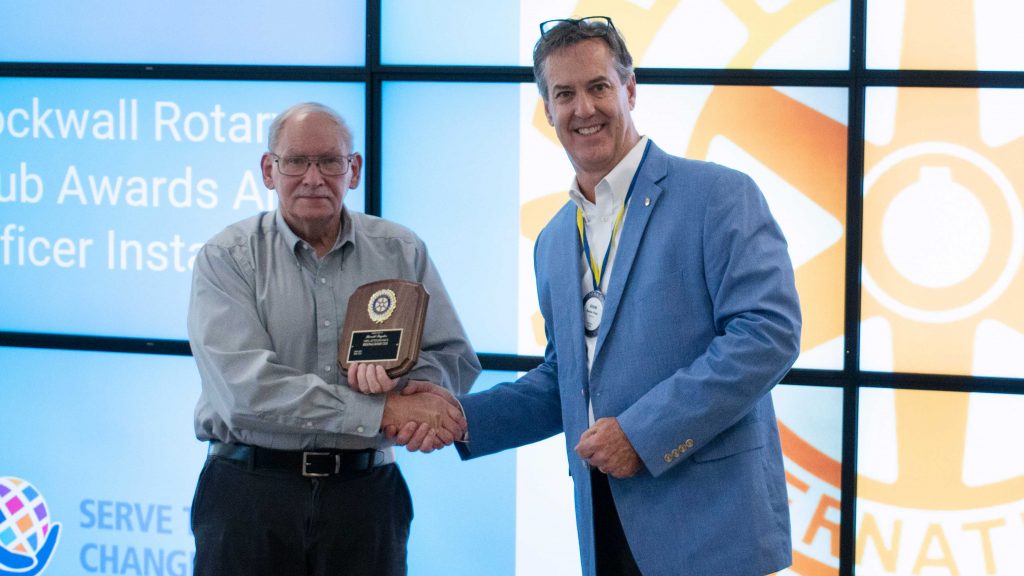 Harold Snyder
Crystal Tatum
RD Vanderslice
Gary Vice
Jerry Welch

Outgoing Board and Committee Recognitions
Director Jeffrey Shell
Director Bill Sinclair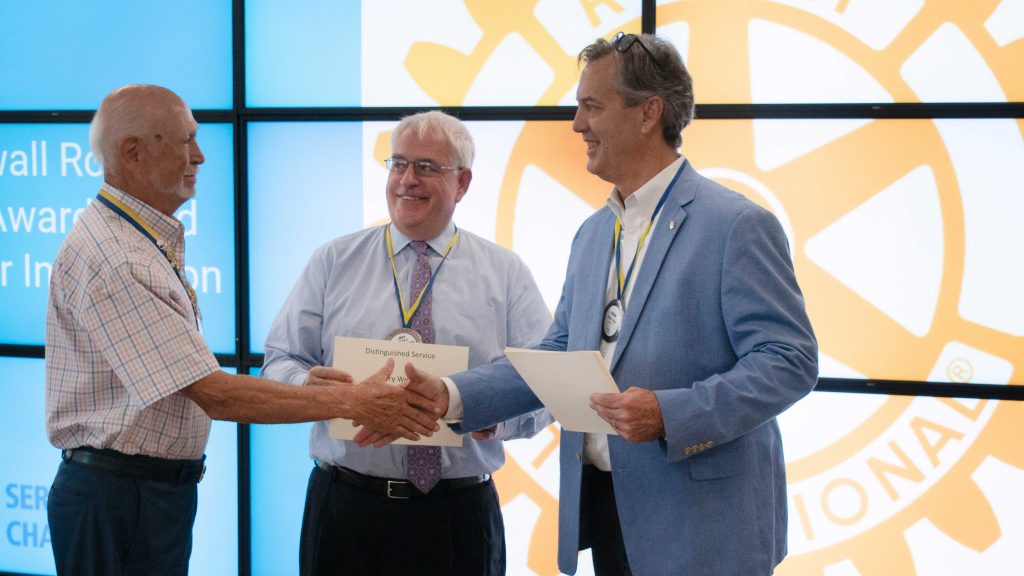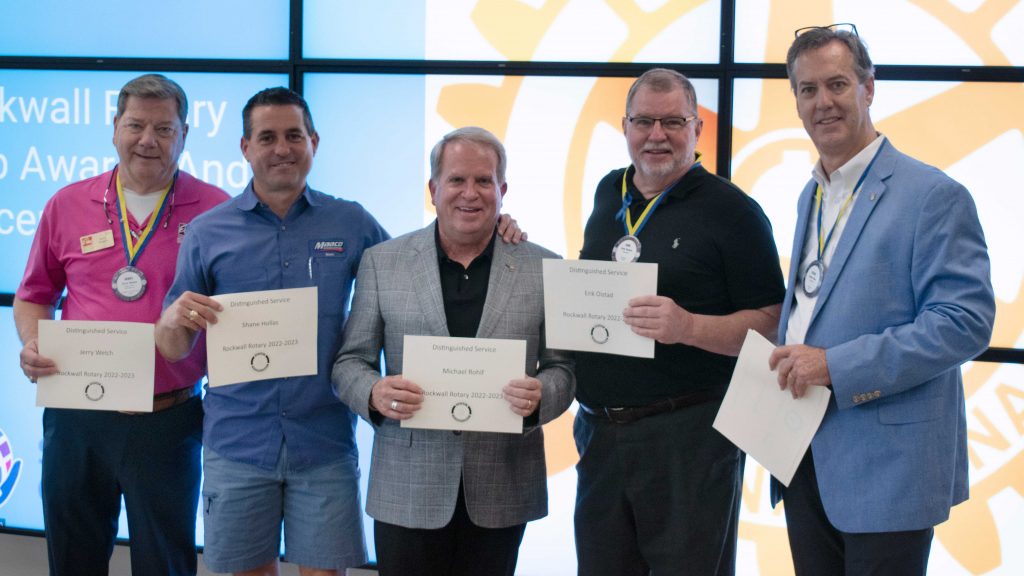 Sergeant-at-Arms Jerry Welch
Community Service Erik Oistad
Vocational Services Shane Hollas
Club Service Michael Rohlf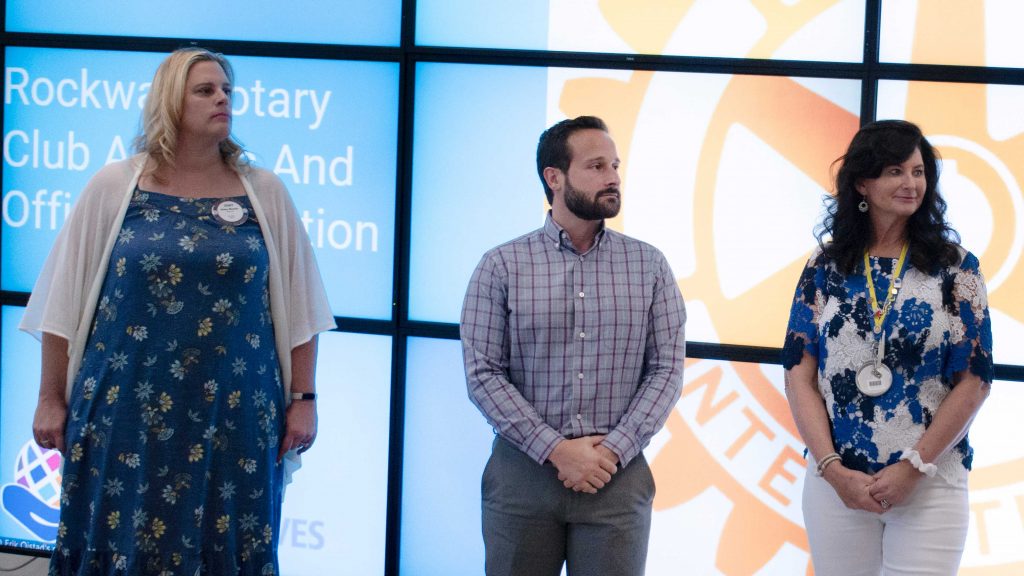 Committee members Stacy Massar, Kayne Pierce, Alma McClintock, Tiffany Miller
Youth Services Anna Campbell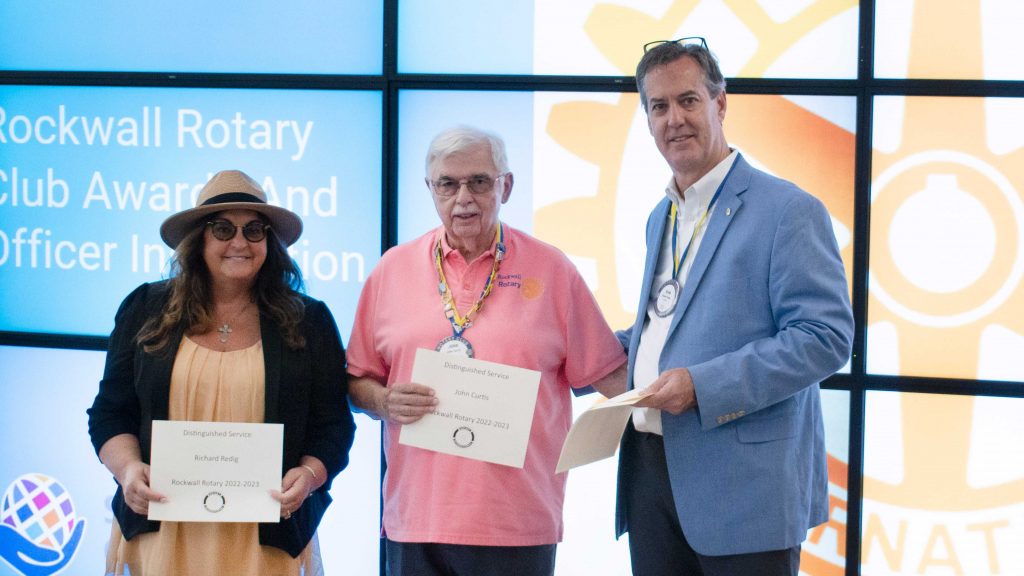 International Service John Curtis
Public Image Richard Redig
Membership Gary Vice
Committee members Steve Wingard, Barbara Wilks, Dana Macalik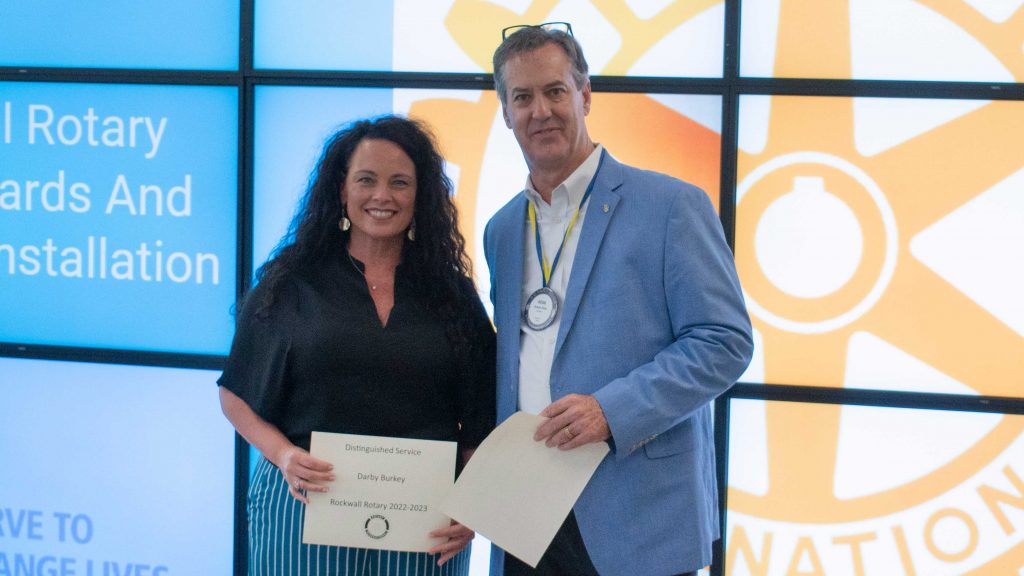 Events Darby Burkey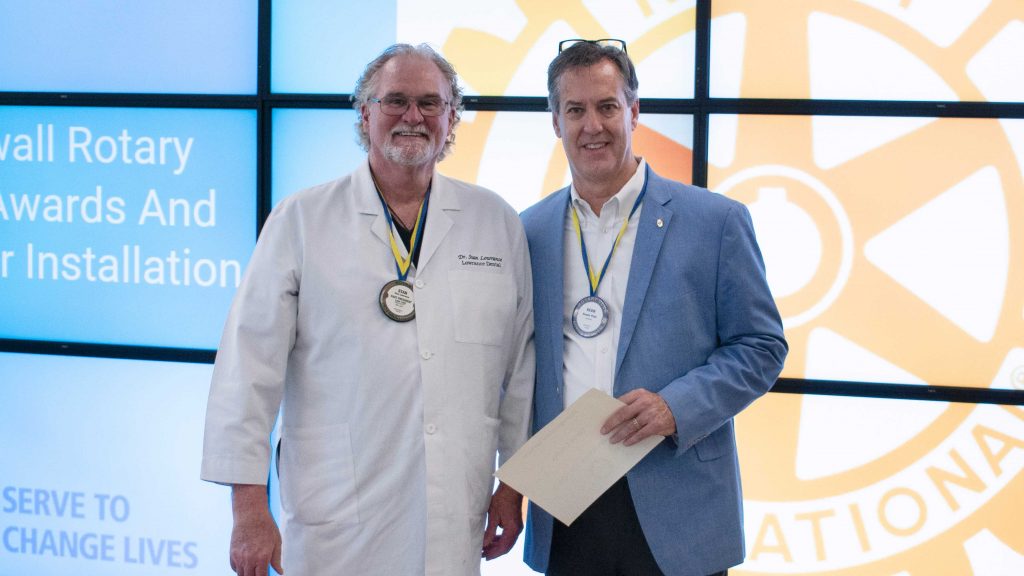 Rotary Club Foundation Stan Lowrance
President Nominee Lorne Liechty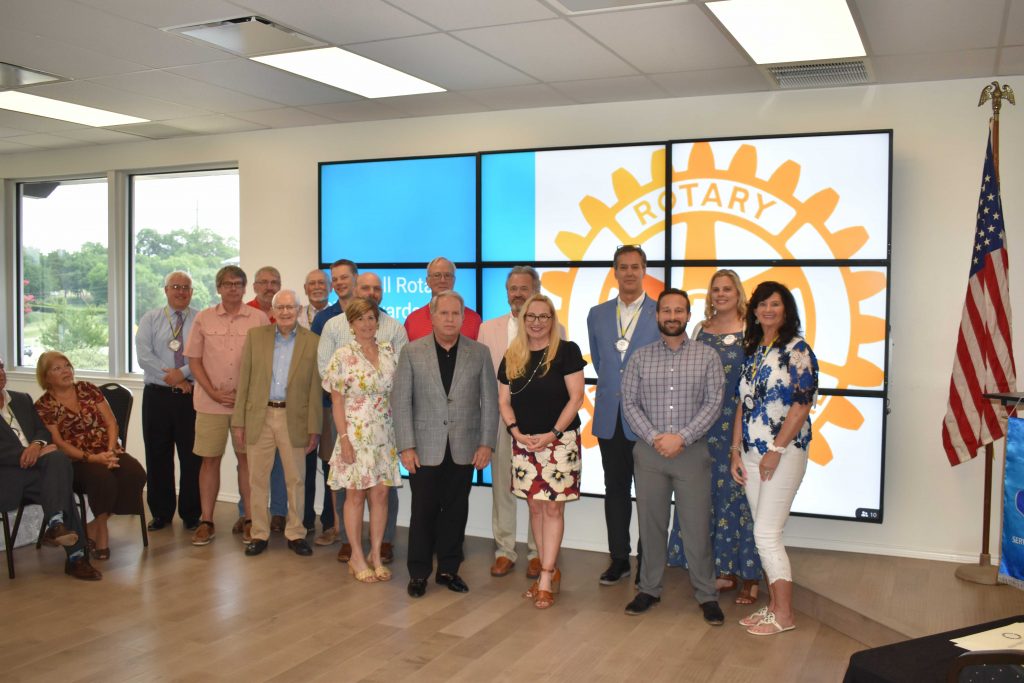 Food Bank/Pantry Committee headed by Tom Dortch
Nancy Parkes
Robin Chouteau
Lauri Dodd
Barbara Wilks
Dan Bruce
Nancy Bruce
Larry Sarratt
Larry Parks
Jake Rathmell
David Ayres
Stacy Massar
James Braaten
Greg Blair
Erik Oistad
Jeff White
Academic Scholarship Committee headed by Kevin Pate
Kent Smith
Greg Blair
Gary Vice
Leslie Buie
Jake Bosse
Jeff White
Larry Sarratt
Tim Hartley
Stan Lowrance
Rick Carroll
Kevin Fowler
Brian Williams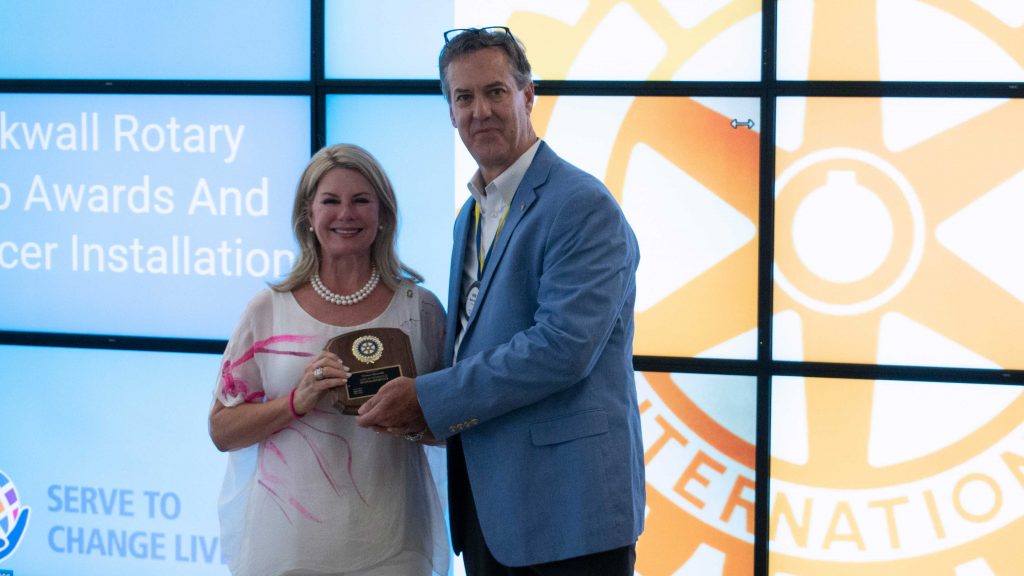 Lipstick Committee headed by Dana Macalik
Darby Burkey
Kathy Howe
Lauri Dodd
Saralyn Hanford
Cathy Penn
Crystal Tatum
Stephani Woodward
Beth McCrackin
Special Mention
Blood Drive Beth McCrackin
Website Harold Snyder
Foundation headed by Stan Lowrance
Mark Kidd
Ted Hoisington
Michael Conway
Nancy Parkes
Pete Snider
Kent Smith
For more information, visit rockwallrotary.org or follow them on Facebook. Stay tuned for Blue Ribbon News' complete coverage of the Rockwall Rotary Club's newly renovated facility!
By Dawn Redig, Blue Ribbon News. Photo by BRN Media.
---
---
Our

print edition

delivers free to ~17,500 homes and businesses throughout Rockwall County, TX. Click image to view our latest issue.To share your good news and events, email editor@BlueRibbonNews.com.
Subscribe to our email newsletter here.
---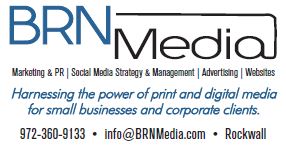 BRN Media is a multi-platform, full-service creative agency offering advertising and marketing services, social media management, and website development throughout Rockwall County and the Dallas area.