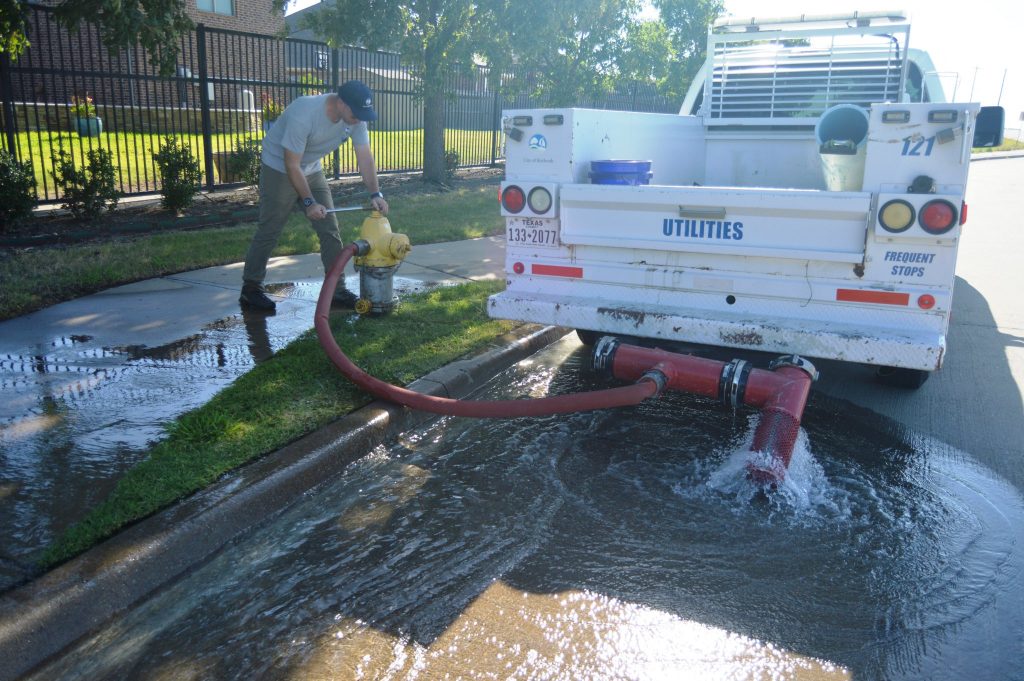 ROCKWALL, TX (July 28, 2022) – While the City of Rockwall's water provider, North Texas Municipal Water District, has been asking residents to conserve water during this extended drought, questions have arisen about the flushing they've seen in the meantime. When people see city employees opening fire hydrants and allowing gallons of water to run onto the street, it appears to be unnecessarily wasteful in a time of elevated conservation.
What's really happening is called flushing, and it's a critical aspect of keeping the city's water supply clean and drinkable. This is a routine process that takes place every year when temperatures rise into the triple digits—and to reiterate the City of Rockwall's water is completely safe. Here is some more information about flushing to help understand its importance:
Flushing hydrants or dead-end water lines is a State of Texas requirement by the Texas Commission on Environmental Quality (TCEQ). Water lines are flushed for these main reasons:
To maintain water quality
The disinfectant, chloramine, becomes less effective as water collects and becomes older. This process is exacerbated in warmer months as rising temperatures can accelerate the degradation of disinfection in the water. If tests indicate that water quality may be affected, cities often flush the lines and dead-end mains so that fresher water with a higher level of disinfectant is present.
To clean water mains
Over time, small particles can build up inside the water distribution pipes and can have an impact of water quality. Water professionals use flushing to pull water at high velocity through pipes to a discharge point. The rapid flow of water scours the insides of the pipes.
To conduct fire flow tests
Fire hydrants are tested periodically to ensure and document proper functioning so they are ready for an emergency.
During Annual Temporary Change in Disinfectant (also known as chlorine maintenance)
Each spring for one month, NTMWD temporarily suspends the use of ammonia and uses free chlorine as the secondary disinfectant to maintain water quality year-round. Local water providers (cities or utility districts) who receive NTMWD water may help move the chlorine-disinfected water through the system faster by flushing water out of fire hydrants. Frequent flushing helps maintain the system, ensure high water quality and reduce the chlorine odor and taste. The temporary disinfectant change is done earlier in the year to maintain the system before hotter temperatures which can increase the potential for bacterial growth in pipes. Flushing the pipes in the spring also helps conserve valuable water that will be needed as water demands increase in the summer months.
Submitted press release by City of Rockwall, edited for publication in Blue Ribbon News. 
---
---
Our

print edition

delivers free to ~17,500 homes and businesses throughout Rockwall County, TX. Click image to view our latest issue.To share your good news and events, email editor@BlueRibbonNews.com.
Subscribe to our email newsletter here.
---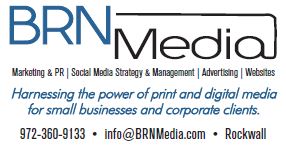 BRN Media is a multi-platform, full-service creative agency offering advertising and marketing services, social media management, and website development throughout Rockwall County and the Dallas area.