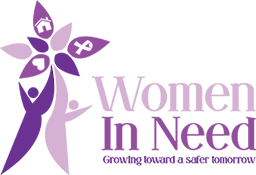 GREENVILLE, TX, AUGUST 1, 2020 – Women In Need (WIN) is busy preparing for an action-packed, fun-filled fall season beginning in August as students return to school. WIN Executive Director, Alan Heath, stated, "As we anticipate the beginning of a new school year, Women In Need is busier than ever planning some great events, providing some amazing opportunities for you to partner with us in our mission to eradicate domestic violence."
The WIN Prevention Education Team will set up meet-and-greet booths at several Hunt, Rains, and Rockwall County Back-to-School events. Director of Prevention, Jeff Landers and his team believe an ounce of prevention is worth a pound of cure. This is apparent in the programming he and the WIN Prevention Team updated over the summer.
According to the CDC, one in 12 teens in the U.S. experience either physical or sexual violence. Because Teen Dating Violence and Intimate Partner Violence continue to plague our teens and young adults, Landers said, "It is critical that young people receive not just knowledge about and skills for healthy relationships, but confidence to make good choices about their relationships today and in the future."
Dating can mean a lot of different things depending on who you ask. This is why Women In Need's Prevention Education Team visit Hunt, Rains, and Rockwall County schools to deliver life-changing information to help students in grades 6-12 navigate family, peer, and dating relationships and answer questions about different aspects of dating.
September will see the launch of WIN's first "Loose Change for Change" activity. Greenville ISD's 6th Grade Center will encourage students to collect loose change from family, friends, and neighbors from September 15 through October 15. Once all donations are counted, the class raising the most money for the campaign will receive a WIN Pizza & Ice Cream Party. Each week, students will receive a fact sheet identifying characteristics of healthy relationships.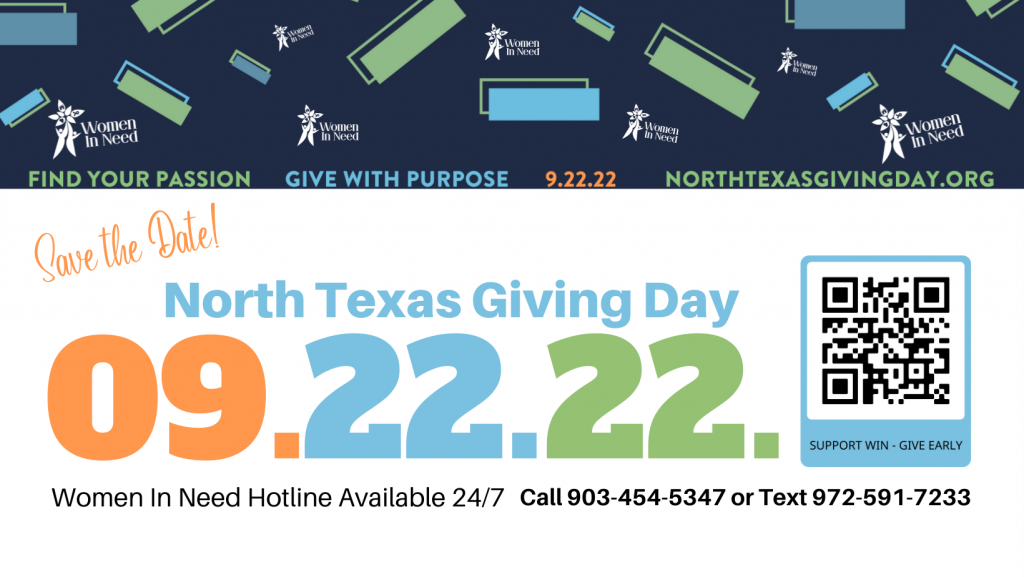 On September 22, communities across North Texas will come together to raise money for over 3,000 nonprofit organizations. Funds raised by Women In Need on NTX Giving Day 2022 will allow WIN to make some much-needed updates to their emergency shelter. WIN's emergency shelter provides refuge and safety while clients receive emotional and advocacy support. Safe shelter allows them to begin taking steps to transform their lives of victimization and abuse to empowerment, independence and a life free of violence. Please visit www.wintexas.org to learn how to support WIN on the largest regional online giving day in the United States.
The fun and opportunities to support Women In Need don't stop in September! October is National Domestic Violence Awareness Month. This year, WIN is moving its annual Glow Run 5K to coincide with DVAM. Moving this popular event to October will allow Women In Need to increase awareness of domestic violence and its prevalence in Hunt, Rains, and Rockwall counties. Nearly 200 Texans lost their lives due to domestic violence homicides in the past year. Hunt, Rains, and Rockwall Counties reported cases of domestic violence incidents are on the rise and the number of clients seeking refuge also climbs to record levels. WIN is tasked with the honor and responsibility to serve individuals and families affected by domestic violence in the tri-county area. As the number of incidents increases and rising costs of goods and services, along with inflation and sky-rocketing fuel prices, it is more important than ever that Women In Need increase its revenue to keep up with the demand for services.
While WIN is always happy to receive monetary support, they are equally happy for the generous donation of time and talent to support the organization. This year has seen the relaunch of the WIN Volunteer Program and new faces added to the Women In Need staff. WIN hopes to finish strong as they close out their fiscal year with NTX Giving Day and kick off the new fiscal year in October with the WIN Glow Run 5K and Family Fun Fest. The goal is to spark a spirit of awareness, generosity, and engagement that will continue well into 2023.
WIN is bringing an entire month of activities, fun, and involvement to you while bringing awareness to the public health crisis that nobody wants to talk about—domestic violence. . There are a host of fun and interactive ways to bring awareness to WIN and domestic violence. Beginning August 15, you can download the DVAM Spirit of Awareness calendar on the WIN website to ensure you do not miss out on any fun.
The Pursuit of Purple Scavenger Hunt will span Hunt and Rockwall Counties and run from October 8 through October 16. Register to participate as a premier scavenger hunt destination by visiting the website and clicking on the OCT is DVAM box to learn how your business, organization, or team can become a POP premier destination. Individuals can sign-up to become hunters or create a team of hunters to participate in this exciting event.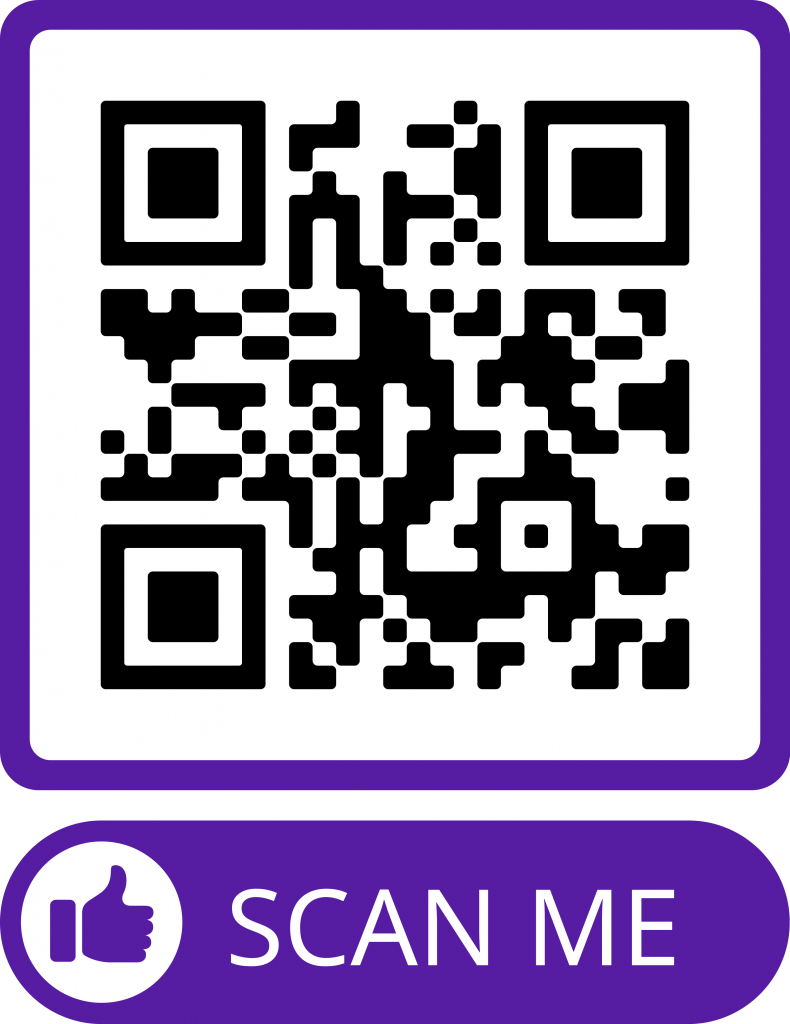 Visitors to the website will learn more about domestic violence and how to help raise awareness throughout the month and beyond. Both Rockwall and Hunt Counties will host DVAM ceremonies in October. These ceremonies will be held on the courthouse steps of each county to celebrate the courage of survivors and to remember those who lost their lives to domestic violence. This year, butterfly tributes are on sale now for $5.00. Pay tribute to your loved one or write an encouraging message to those still active in their survivor's journey. These tribute butterflies will hang on the Wall of Hope displayed at both DVAM ceremonies and at the Glow Run on October 22.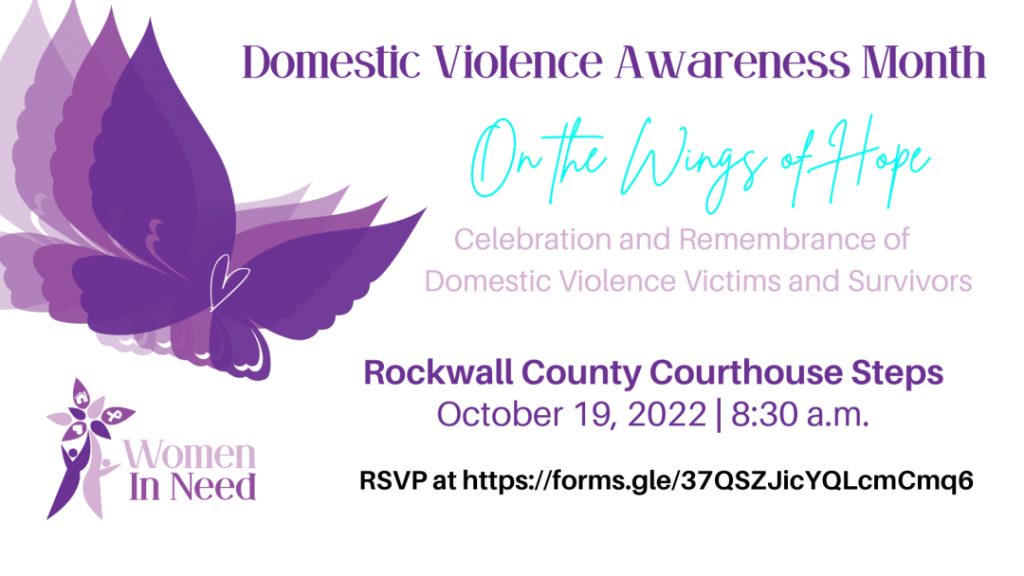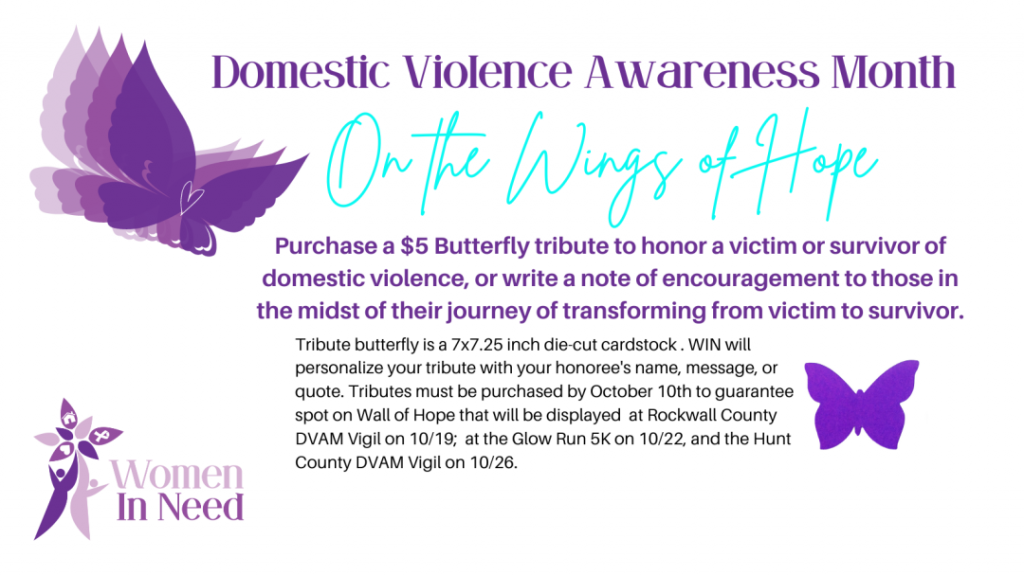 Register for the Glow Run 5K as an individual or create a team to run. Rumor has it that the Rockwall 7ers are putting together a team that will be hard to beat! You can also become a Glow Run sponsor. Visit the WIN website and click on the Glow Run 5K and Family Fun Fest block to learn more about the many opportunities to participate, including being a vendor or entertainment at the event.
Earlier in the year, WIN shared its rebranding project and showcased its new logo. WIN continues to grow its presence so that everyone knows who they are and what they do. WIN Director of Advancement, JillAnn Gamble asserted, "WIN is stepping out from behind the shadows of being a best-kept secret in town to becoming a well-known valuable resource providing advocacy and resources to ensure everyone can live a life free of fear and violence, join us at one of our events to see what all the buzz is about!"
Learn how you can get in on the WIN and help Women In Need grow toward a safer tomorrow.
Submitted press release, edited for publication in Blue Ribbon News. 
---
---
Our

print edition

delivers free to ~17,500 homes and businesses throughout Rockwall County, TX. Click image to view our latest issue.To share your good news and events, email editor@BlueRibbonNews.com.
Subscribe to our email newsletter here.
---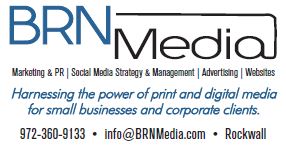 BRN Media is a multi-platform, full-service creative agency offering advertising and marketing services, social media management, and website development throughout Rockwall County and the Dallas area.