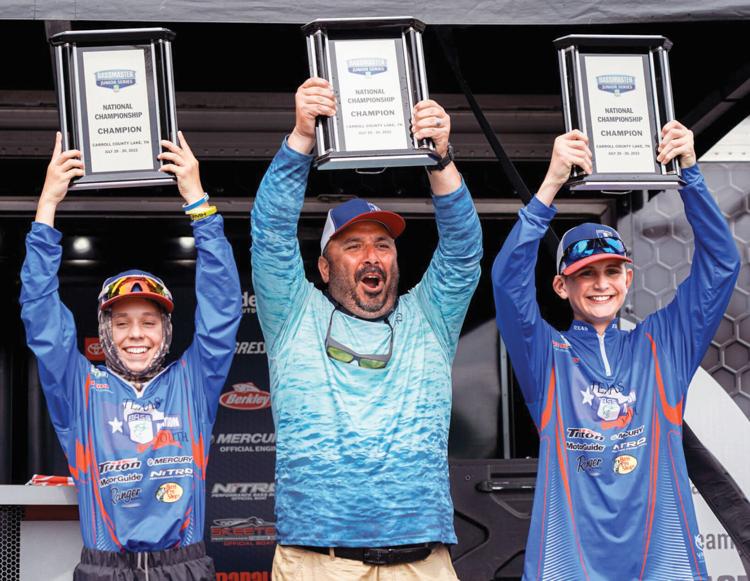 ROCKWALL COUNTY, TX (Sept. 12, 2022) Over the course of just one year, 14-year-old Gus Richardson of Fate has taken his fishing passion from a part-time hobby to a national championship win. Originally from San Marcos, and previously New Braunfels, Richardson and his family relocated to Fate about a year ago so his father could begin post as Senior Pastor at Christ Church Rockwall.
Though somewhat new to Rockwall County, Richardson is no stranger to fishing. Aside from his recent state and national championship wins, he has extensive experience fishing in local South Texas fishing derbies, as well as after school every day and on weekends.
"It's good being out in God's green Earth," said Richardson. When asked what he loves most about fishing, "I've just always loved catching fish. It's a challenge, but it's so satisfying."
Describing himself as almost completely self-taught, Richardson began to fish at the age of four and ventured into tournament fishing about two years ago.
"If you live in Woodcreek you would see him on his bike with the fishing poles in hand, riding to the pond after school every day," said his mother, Robyn Richardson.
After moving to Rockwall County and completing an online search for local fishing teams, Richardson connected with Lonestar Junior Bassmasters – a DFW not-for-profit club encouraging Juniors in Bass Fishing.
"It's a wonderful club," Mrs. Richardson said.
Through the club, Richardson partnered with Mark Cerja Jr. from Aledo, TX. Together, they finished second at the Texas state tournament at Cedar Creek Reservoir with a two-day total weigh-in of 21.95 pounds. They were then awarded the coveted invitation to continue on to nationals the following month in Huntingdon, Tennessee.
"It was a big deal," said Richardson, "not as big as winning nationals but still a lot of fun and hard work."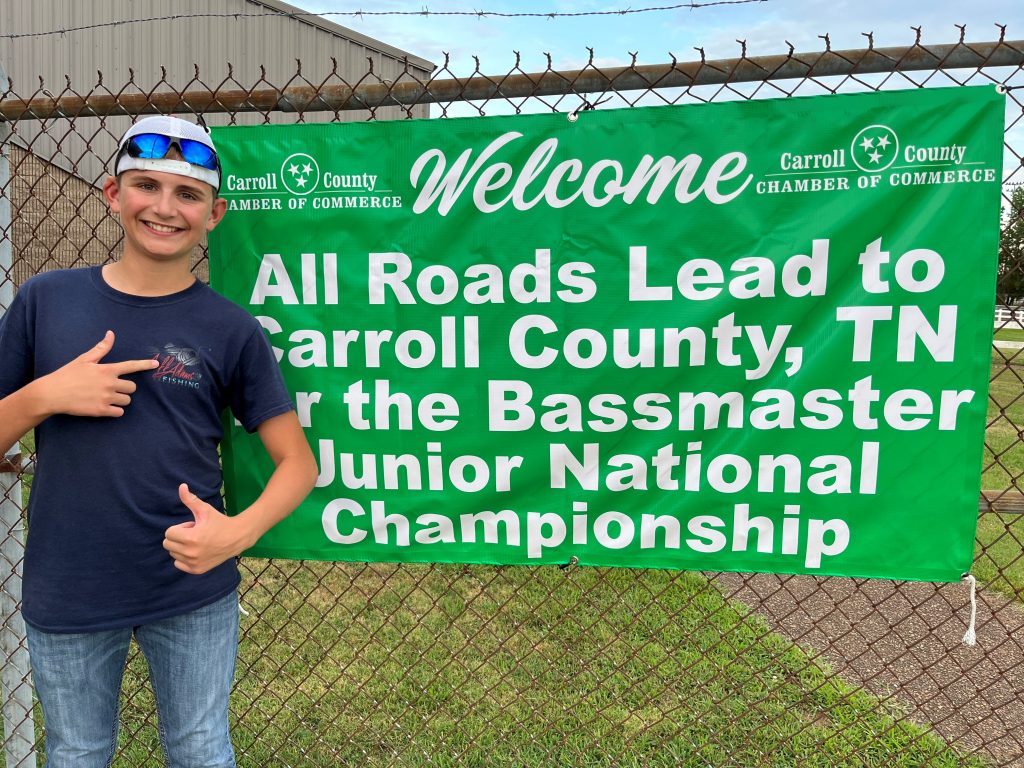 Their hard work and team effort paid off big time when Richardson and Cerja came in first place at the 2022 Bassmaster Junior National Championship. They finished with a total weight caught of 18 pounds, 5 ounces, with Richardson catching the pair's largest fish in the last three minutes of fishing on the first day.
"It was a tough day," explained Richardson, "and the lake was a pretty hard lake. We were working hard and had come up to this one spot and our captain tells us, you have five minutes left. We keep casting, four minutes left. With three minutes left, I felt a fish on, I set the hook and brought out our biggest fish of the tournament which was over four pounds."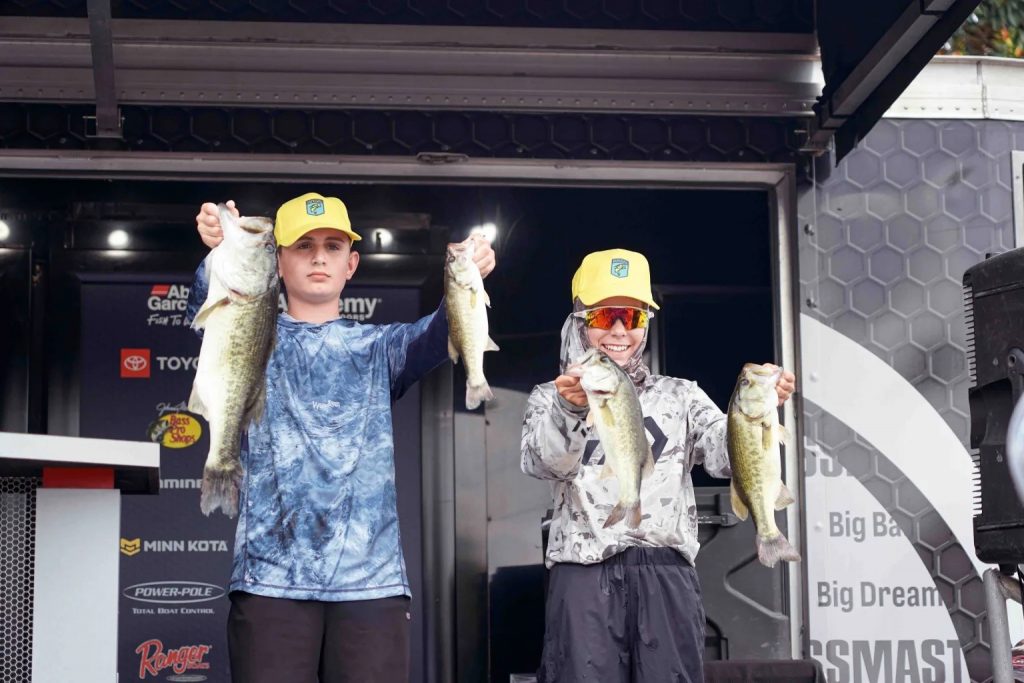 The intensity of the competition didn't stop once the boys got out of the water. Richardson and Cerja were one of the first groups to weigh in that day, which meant the boys sat for a total of two hours in the "hot seats" on the stage waiting for another team to beat their score.
"We think of fishing as relaxing, which it is," said Mrs. Richardson, "but these tournaments are very fast-paced, high intensity. They're fishing and casting all day."
Richardson recalled the combination of stress and enthusiasm that was felt during the weigh-in leading up to the moment that he realized they won.
"It was nerve-wracking," said Richardson, "I remember looking at the scale, when I realized that they didn't beat us, I was just so thankful to God, I couldn't believe my eyes."
In addition to winning the national championship title, Richardson and Cerja were awarded a $2,000 scholarship, which they will share. The duo was also awarded a trip to the Bassmasters Classic on March 24-26 in Tennessee, where they will meet the pros on stage and fish in the high school division.
Gus Richardson is a 14-year-old homeschool student who is looking for a fishing partner from Rockwall County as a part of a school team or independent. Gus' partner Mark Cerja will be fishing for Aledo High School. Contact richardson.robyn@yahoo.com if you are interested in partnering or in helping start a Bassmasters community club.
By Amy Busch, contributing writer/reporter, Blue Ribbon News. Professional photos by Laura Agee, B.A.S.S. and submitted by Robyn Richardson.
---
---
Our

print edition

delivers free to ~17,500 homes and businesses throughout Rockwall County, TX. Click image to view. To share your good news and events, email editor@BlueRibbonNews.com.
Subscribe to our email newsletter here.
---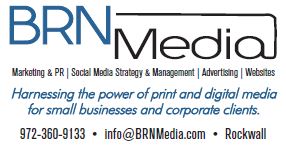 BRN Media is a multi-platform, full-service creative agency offering advertising and marketing services, social media management, and website development throughout Rockwall County and the Dallas area.