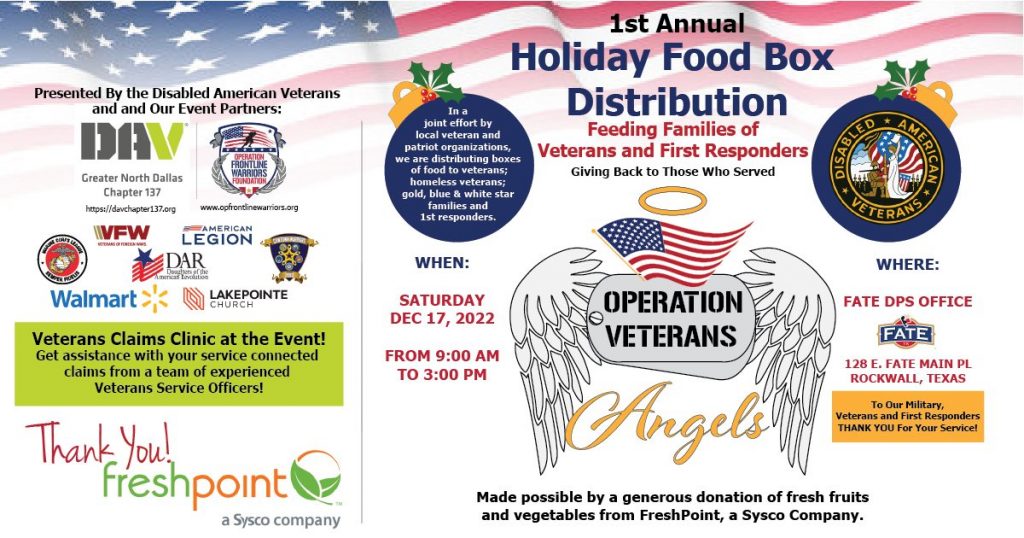 Benefitting Military, Veterans and First Responder Families
FATE, TX (Dec. 7, 2022) –  The Disabled American Veterans Chapter 137 of Greater North Dallas (DAV) is pleased to present Operation Veterans Angels, their first annual holiday food box distribution event.  In a joint effort by local veteran and patriot organizations, the DAV and their Event Partners are distributing boxes of fresh produce to our local military personnel, veterans; homeless veterans; gold, blue & white star families and our first responders.
Operation Veteran Angels 1st Annual Holiday Food Box Distribution
Military and First Responder Families are invited to pick up a complimentary box of food on Saturday, December 17, 2022 between 9:00 AM and 3:00 PM, at the Fate DPS Office, 128 E. Fate Main Pl., Rockwall, Texas 75087, while supplies last. 
According to Bill Connel, DAV Chapter 137 Commander, a retired U.S. Army veteran, "Operation Veterans Angels started as a simple idea that stemmed from a much greater need: to serve our veterans." Connel and Ken Warnke, a lifetime DAV Member and Army veteran himself, discussed the needs of our veterans and how great it would be to give something back to their chapter members.
Warnke explained, "We have a lot of shut-in veterans in our community that could be without food for holiday season."  With the idea of feeding veteran families, Warnke spoke to FreshPoint about making a small donation.  FreshPoint offered to give the organization so much more than they ever imagined!
"We were hoping for 200 bags of food to give away, but the event grew into this enormous act of giving!  With our partnership with FreshPoint, we have 1,200 boxes of fresh fruit and produce to give to our military, veterans, gold star, blue star, white star families and the families of our first responders!"
Because of this generous gift from FreshPoint, the DAV realized they could now reach far beyond just their DAV Chapter, and help veterans throughout a much wider region.  So, the DAV enlisted help from multiple other veterans' organizations and local businesses, and Operation Veterans Angels was formed.
The DAV coordinated Operation Veterans Angels in cooperation with their Event Partners: Operation Frontline Warriors Foundation; the American Legion, Terry Fisher Post; the Veterans of Foreign Wars (VFW), the Marine Corps League; the Cowtown Warriors; the Daughters of the American Revolution (DAR); Lakepoint Church; Walmart Super Center in Rockwall, American Legion Post #100, Royse City, and VFW District 1 and District 3.
These organizations will be providing volunteers to help staff the event, and will be delivering boxes of food to families in their military and first responder communities.
In addition to the food boxes being delivered by the Event Partners, there will be about 500 boxes available for families to come pick up at the City of Fate DPS Office between 9am and 3pm, on a first come, first serve basis.
A Veterans Claims Clinic will be available at the event, where veterans can get assistance with their benefits questions and service-connected claims, from a team of experienced Veterans Service Officers!
"We hope to make Operation Veterans Angels an annual event that grows yearly and encompasses a much broader area in the future," Commander Connel said. "This is our way of serving those who served and just saying thank you to everyone who has sacrificed so much to our country and community. We want to make a difference and say, thank you for your service!"
DAV Chapter 137 of North Dallas wishes to acknowledge and express their deepest gratitude to FreshPoint, a Sysco Company who made this event possible with their generous donation of fresh fruits and vegetables. Thank you for making a memorable difference for our military and first responder families this holiday season.
According to Commander Connel, "many veterans don't realize they have help available to them in their local community.  DAV Chapter 137 has written approximately 7,500 claims over the past 4 years, for local veterans and even veterans from out of state.  Our local chapter has provided over a half million dollars' worth of volunteer hours in service to our veterans. We are here for you and want to help."
Statistically, Rockwall County has the largest veteran population per capita in the state of Texas. However, when you consider the tri-county area of Rockwall, Hunt and Collin counties combined, the trio has the largest veteran population per capita in the United States.  (Per https://veteransdata.info/)
As a Chapter, our local DAV 137 serves this entire region as well as parts of Dallas County. Connel says, "We have about 2,000 members in our roster, and we are always happy to welcome new members."
If you are a veteran in need of assistance with your benefits or service-connected claims, please feel free to reach out to the DAV Chapter 137 of Greater North Dallas.  https://davchapter137.org
DAV Chapter 137 of Greater North Dallas is a non-profit organization dedicated to empowering veterans to lead high-quality lives with respect and dignity.
Submitted press release. 
---
---
Our

print edition

delivers free to ~17,500 homes and businesses throughout Rockwall County, TX. Click image to view.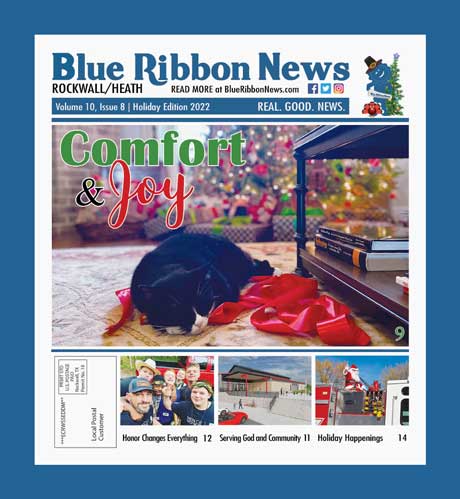 Subscribe to our email newsletter here.
---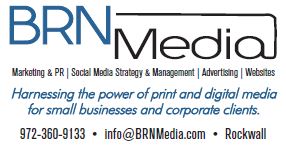 BRN Media is a multi-platform, full-service creative agency offering advertising and marketing services, social media management, and website development throughout Rockwall County and the Dallas area.