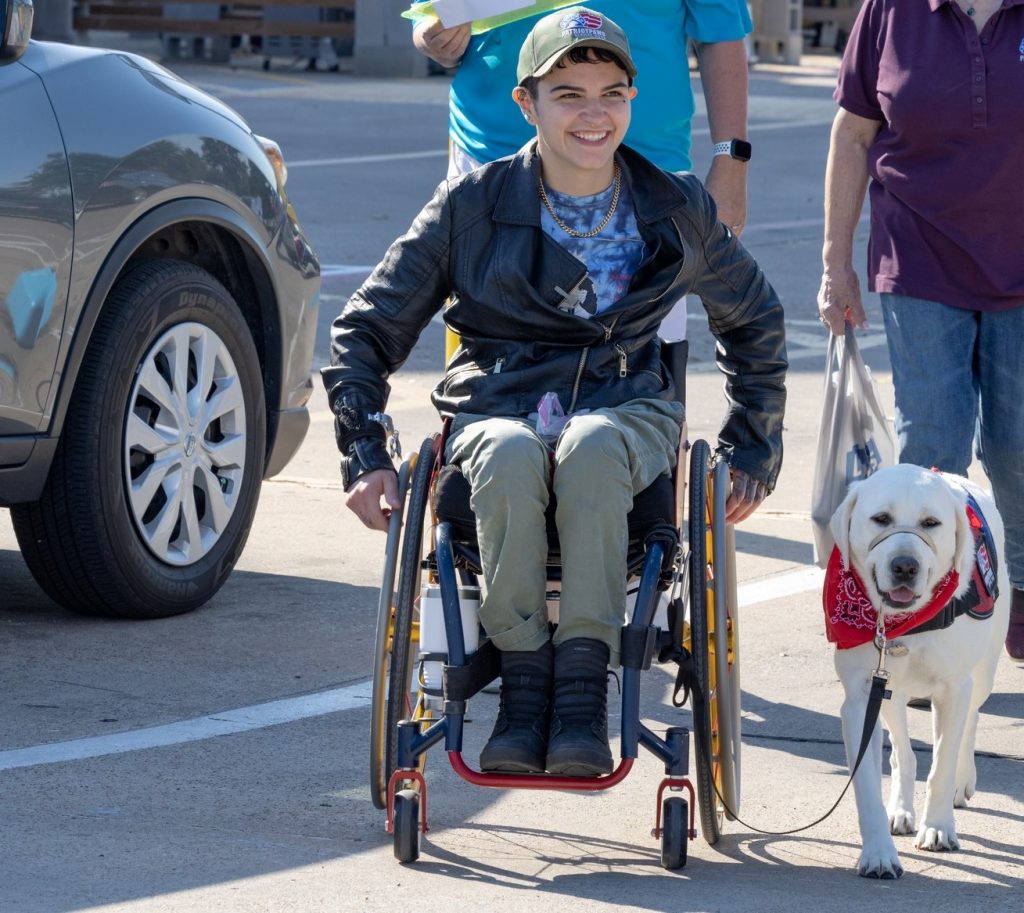 ROCKWALL, TX (Dec. 14, 2022) – Patriot PAWS was honored to place Service Dog, Caliber, sponsored by Caliber Home Loans, with a recent Veterinary School graduate from Texas A&M University.
Founded in 2006, Patriot PAWS Service Dogs trains and provides Service Dogs of the highest quality at no cost to disabled American Veterans, and others, that suffer from Mobile Disabilities, Traumatic Brain Injuries and / or Post-Traumatic Stress.  Patriot PAWS operates through four main programs – Rockwall, TX Headquarters (est. 2006), Inmate Training Program with Texas Department of Criminal Justice (est. 2008), Dallas-Fort Worth Puppy Raiser Program (est. 2012), and a Bryan-College Station Puppy Raiser Program: Patriot PAWS of Aggieland (est. 2013.)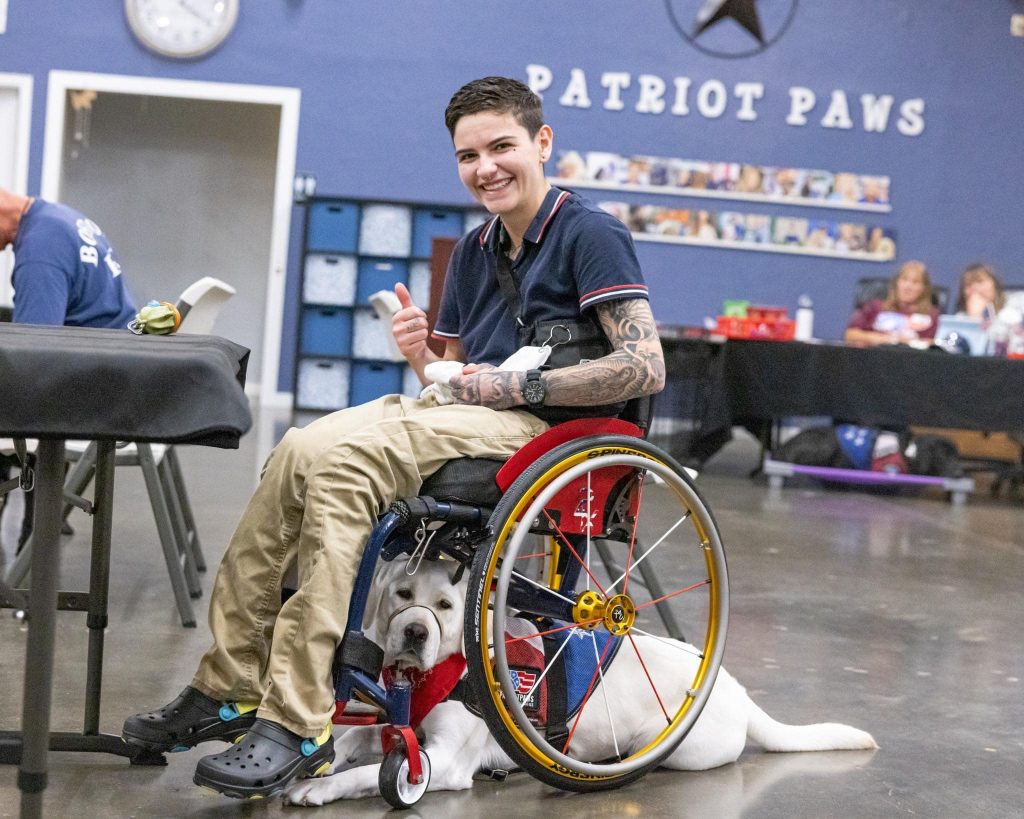 Patriot PAWS of Aggieland started as one Texas A&M University college student wanting to volunteer their time training a Service Dog for the organization.  The enthusiastic student sparked a true ripple effect as there are currently 250+ college students involved with Patriot PAWS of Aggieland as either program Ambassadors or Volunteer Puppy Raisers.  The organization has grown to be a Student Led, University Recognized program and is truly vital to the success of Patriot PAWS Service Dogs.
Having such a close tie to Texas A&M, Founder & Executive Director of Patriot PAWS, Lori Stevens, was very moved when a Service Dog Application was received by a Texas A&M Veterinary Sciences student, Dominique Brasel. In 2020, Dominique was in a Motor Vehicle Accident and, as a result of her injuries, was confined to a wheelchair.  Despite her life altering accident, Dominique still went on to pursue her calling of becoming a Doctor of Veterinary Medicine and officially Graduated from Texas A&M University's Veterinary Sciences Program in Fall of 2022.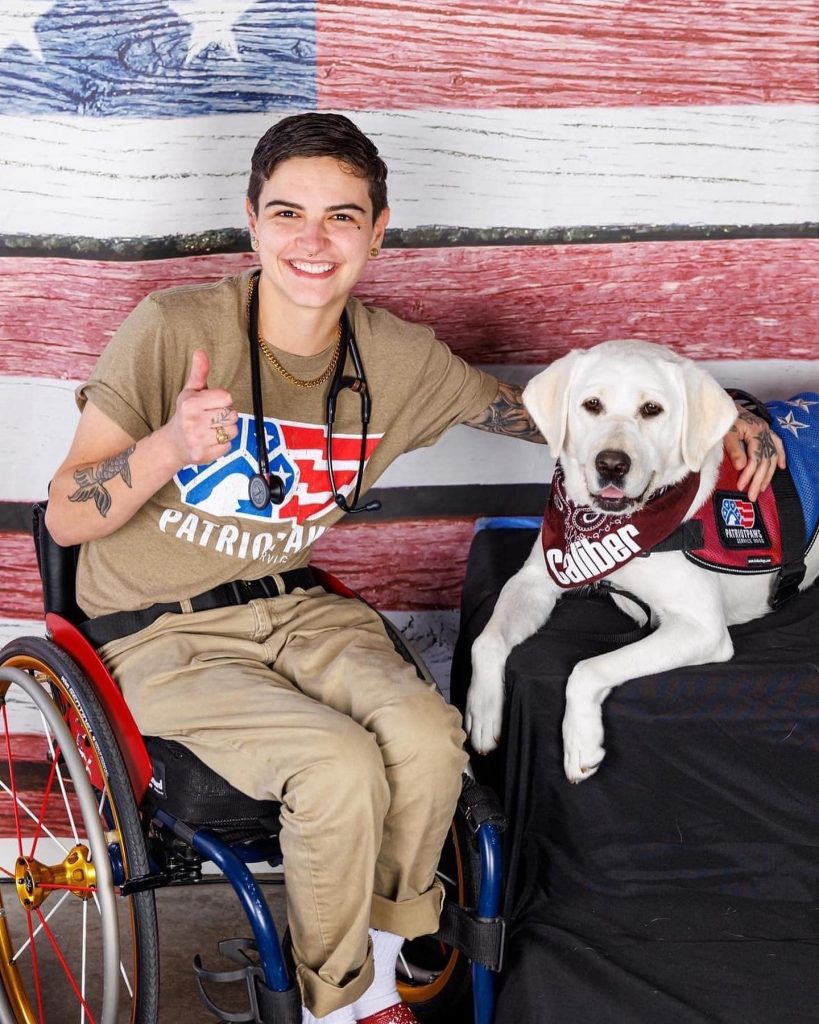 "Dominique has been an amazing young woman to work with." states Lori Stevens, Founder & Executive Director of Patriot PAWS Service Dogs, "Despite everything, she still radiates such happiness.  We know her and her new Service Dog, Caliber, are going to do amazing things on their new adventure together. We're very grateful to our friends at Caliber Home Loans for making this placement possible."
Caliber Home Loans, a leading mortgage company based out of Coppell, Texas, has been a dedicated supporter of Patriot PAWS' mission for years.  "During the COVID-19 pandemic, we couldn't host in-person Graduation Ceremonies, but that didn't stop Caliber Home Loans from still finding a way to support us, "says Stevens. "They came to our drive-thru ceremonies with their cars decorated in red, white, and blue patriotic décor!  It meant so much to our recipients as well as our staff."
"It's an honor to partner with Patriot PAWS and have a front-row seat to the incredible support that their Service Dogs provide to so many Veterans," said Bryan Bergjans, SVP/National Director of Military & Retail Lending at Caliber Home Loans. "We're so touched to see the bond between our sponsored Service Dog Caliber (nicknamed Callie) and her perfect human match, Dr. Brasel.  Today, they are thriving together as Dr. Brasel recently earned her Doctorate of Veterinary Medicine from Texas A&M University with her No. 1 fan, Callie, by her side to support her."
About Patriot PAWS Service Dogs     
The mission of Patriot PAWS is to train and provide Service Dogs of the highest quality at no cost to disabled American Veterans and others with mobile disabilities in order to help restore their physical and emotional independence. Patriot PAWS intends to build partnerships with state and community organizations to help develop and support this goal. For more information on Patriot PAWS Service Dogs, please visit www.patriotpaws.org.
About Caliber Home Loans    
Caliber is a proven leader in the U.S. mortgage market with a diversified, customer-centric, purchase-focused platform with headquarters in Coppell, Texas. Caliber is an approved Seller/Servicer for both Fannie Mae and Freddie Mac, an approved issuer for Ginnie Mae and is an approved servicer for FHA, VA and the USDA. Caliber carries multiple servicer ratings from Standard & Poor's, Moody's, Fitch and DBRS. Caliber is headquartered in Coppell, Texas and is a member of the Rithm Capital family of Companies.
Submitted press release. Photos provided Courtesy of Donna Dicksson Photography.
---
---
Our

print edition

delivers free to ~17,500 homes and businesses throughout Rockwall County, TX. Click image to view.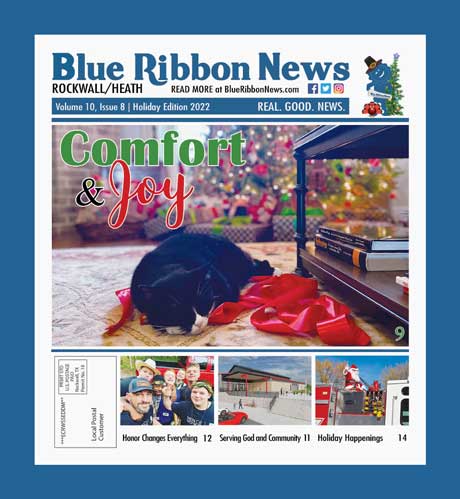 Subscribe to our email newsletter here.
---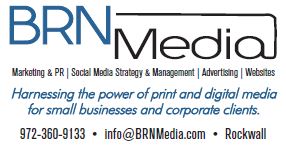 BRN Media is a multi-platform, full-service creative agency offering advertising and marketing services, social media management, and website development throughout Rockwall County and the Dallas area.