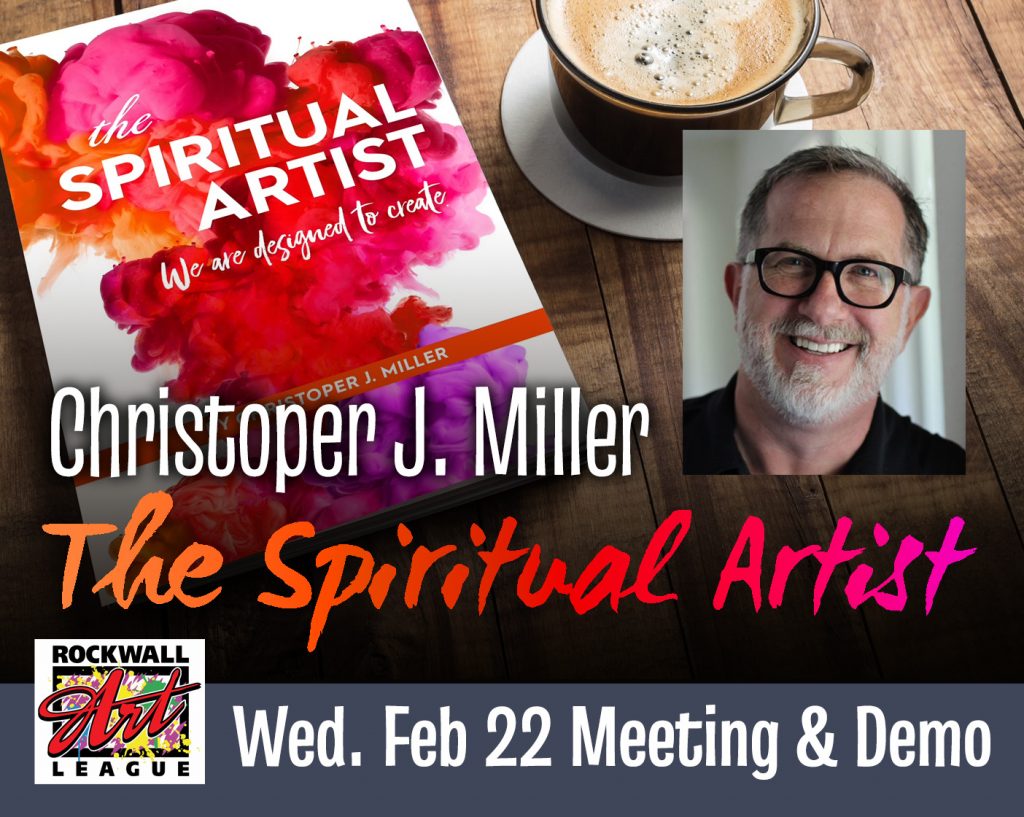 ROCKWALL, TX (Feb. 17, 2023) Please, join Rockwall Art League for our free Member Meeting on Feb. 22. Author and artist CJ Miller will be speaking on the topic of his book The Spiritual Artist. It will be enlightening.
CJMiller began producing The Spiritual Artist Podcast and released his first book, "The Spiritual Artist." in 2020. The Spiritual Artist podcast series shares stories of enlightenment and growth from conversations with today's spiritual artists and thought leaders. Conversations with guests explore how making art engages us in emotional, holistic, and spiritual development. Listen to episodes at https://thespiritualartistpodcast.buzzsprout.com/
Christopher John Miller has provided creative communications for almost 25 years as founder and owner of Rainmaker Advertising. (www.rainmakeradv.com)
Under the nom de guerre CJMiller, Miller first broke onto the Dallas art scene with his 2002 show, "Flora & Fauna: Digital Impressions."
Inspired by the disappearance of stars in the city skyline, Miller's 2009 show "Starry Nights" reflected his transition into expressionism and his exploration of acrylics with other mediums.
In March 2011, "Silence Between the Sounds" was featured at the WaterTower Theatre's Out of the Loop Fringe Festival in Addison.
Beginning September 6, 2013, his show titled "Square One" was featured at the Visit Addison Center in Addison, Texas.
Several paintings were selected by The Small Gallery as part of their "Works on Paper" exhibit in Dallas, Texas, in September 2014.
In March 2015, his series titled "Resonate" was featured at the WaterTower Theatre.
See his work at https://urbanartistmarket.com/store/cjmillerart/
In October 2018, he founded the Urban Artist Market. This local show features more than 70 artists from diverse art disciplines, including pottery, painting, sculpture, mosaic, fused glass, leather goods, fiber art, jewelry, and much more.
In October 2019, CJMiller's solo show, "Defining Edges," was featured at the Charles W. Eisemann Center in Richardson, Texas.
The meeting will take place on February 22 from 6:00pm to 9:00pm at Harry Myers Community Center, 815 E. Washington St., Rockwall, TX 75087. The public is welcome.
To see more about Christoper, visit CLMillerArt on Facebook.
During the program, Rockwall Art League will be answering questions about becoming a RAL member, upcoming exhibits, and the Annual RAL Fine Art Show. Follow the RAL at https://www.facebook.com/rockwallartleague and www.rockwallartleague.org.
Submitted press release by RAL. 
---
---