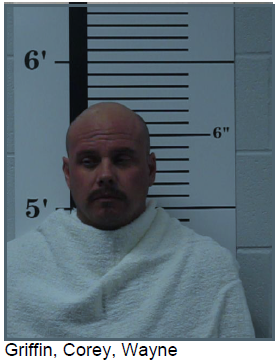 ROYSE CITY, TX (Feb. 17, 2023) On February 16, 2023 at 12:08 PM, the Royse City Police Department responded to a residence in the 2500 block of Perdenales Drive on a welfare check. Upon entering the home, officers immediately noticed signs of a struggle such as broken glass and overturned furniture. Officer continued the search and discovered a body of 37-year-old deceased female lying in the kitchen of the home. The female was identified as the homeowner, Chelsie Loren Griffin.
During the course of the investigation, officers were able to identify Corey Wayne Griffin has a suspect in the homicide. Corey Griffin was the estranged husband of Chelsie Griffin. Corey Griffin was soon located in Rockwall and arrested. Corey Griffin was taken to the Rockwall County Detention Center and is being held on the charge of Murder, a First-Degree Felony.
Submitted press release by Royse City Police Department.