Where healing begins…
ROCKWALL, TX (March 28, 2023) Every April during Child Abuse Prevention Month, the Children's Advocacy Center for Rockwall County initiates a Go Blue for Kids campaign that engages the entire community. Proclamations are issued, families gather for a kick-off event, local businesses offer "go blue" specials – even the pages of Blue Ribbon News "go blue" to raise awareness about the prevalence of physical and sexual abuse in our hometown.
This year's campaign culminates with a CACRC fundraising gala on April 29, but the nonprofit's work continues year-round, 24 hours a day. Their dedicated team of forensic interviewers, family advocates and therapists – along with their partner agencies – stand ready to begin the process of hope and healing the moment a child makes an outcry.
"The Children's Advocacy Center is the only agency of its kind in our community. We work collaboratively with partner agencies to streamline an often complex and disturbing process," said Patricia Mejia, President and CEO of the CACRC. "An abused child often carries a tremendous amount of shame, guilt, and fear. When they find the courage to finally make a disclosure, they want nothing more than for the abuse to stop. The Children's Advocacy Center offers a safe, secure, and confidential environment – a place where children are seen, heard, and believed. The CAC is where healing begins."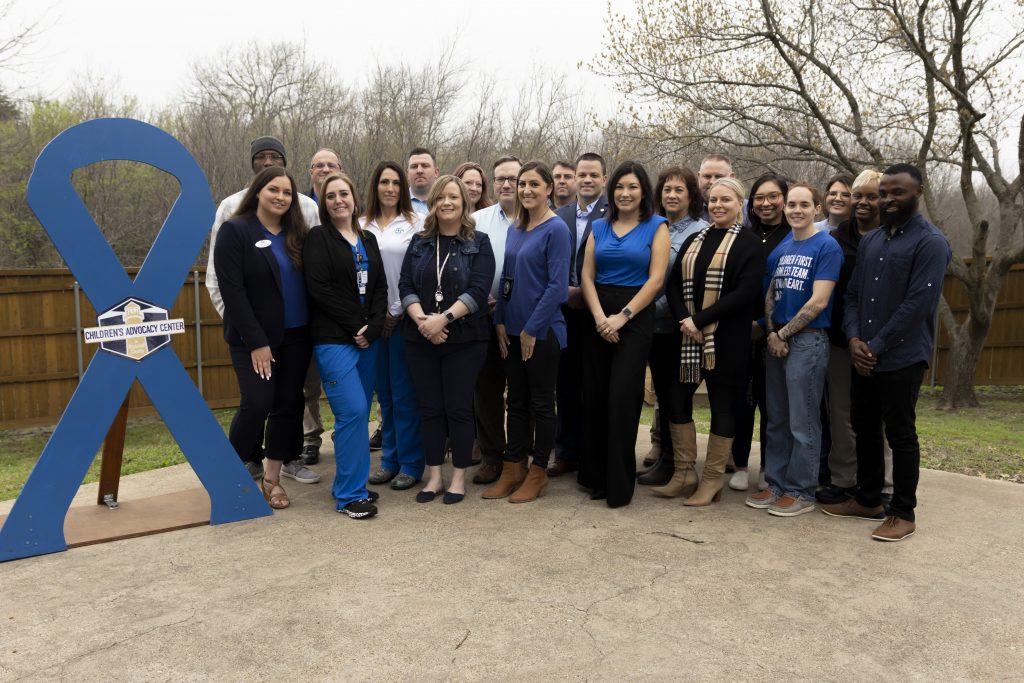 CACRC partner agencies include law enforcement, Child Protective Services, the District Attorney's office, medical and mental health professionals. Together they reduce re-victimization of the child, remove barriers to investigation and treatment, and enhance criminal prosecution with a distinctive multidisciplinary and united approach.
Kenda Culpepper, Rockwall County DA and CACRC Director Emeritus, said, "The DA's Office is proud to work alongside the CAC. As a co-founder of the CAC eight years ago, I had hoped to improve services to children affected by abuse by helping to coordinate medical services, forensic interviews, and counseling. The CAC has delivered on these hopes and gone so much further than I ever knew to be possible. Not only have they hired top notch staff to provide needed services, but they have also worked hard to increase awareness in our community, improved collaboration with law enforcement partners, and helped to provide a safe place for children and adolescents to talk and heal."
Rockwall County Sheriff Terry Garrett, who also serves on the CACRC Board of Directors, said, "The formation of the CAC has been a partnership that has been long needed in our community. The commitment to providing a consistent, trustworthy service to the children of our community has been a force multiplier in the investigation of crimes against children."
Texas Health Hospital Rockwall is home to a Safe Suite and Sexual Assault Response Team in Rockwall.  Baylor, Scott & White-Lake Pointe also partners with the CAC. "We take the role of protecting the health and wellbeing of children very seriously. An important part of that commitment is our collaboration with the CAC and our support of their Go Blue for Kids Gala. Additionally, we are ambassadors and advocates by being a SAFE-Ready facility and by providing level III trauma care, pastoral care and more," BSW-LP said in a statement.
---
---
"We hope all of Rockwall County will go blue with us," Mejia said. "We couldn't do what we do without a caring community, generous donors and dedicated volunteers – not to mention our partner agencies, a heroic staff, and our powerhouse of a Board. We also have a growing team of 'Blue Tie Guys' – colleagues in the community who serve as champions for children in Rockwall County by speaking out about child abuse dynamics."
The CACRC Executive Board comprises President Rick Carroll, Regional President of Inwood Bank; Vice President Felicia Oliphant, Rockwall County DA's Office; Treasurer Kevin Hadawi, Wells Fargo; Secretary Dawn Redig, Blue Ribbon News; Parliamentarian Gary Freedman, the "Voice of Rockwall"; and Past President Cindy Lindley, Soroptimist International of Rockwall.
Directors include John Beaman, Merchant Masters; Mayor David Billings, City of Fate; Donas Cole, President, Baylor, Scott & White-Lake Pointe; Karen Coughlin, Oldham Goodwin Group; Taryne Dismuke, Royse City ISD; Terry Garrett, Rockwall County Sherriff; Eva Hummel, Atmos Energy; Janet Nichol, Rockwall County Commissioner; Leigh-Ann Riley, DFPS CPI Program Administrator; Sheri Starkey-Parks, SMU; Cindy Tayem, Oncor; JJ Villarreal, Rockwall ISD Superintendent; and Director Emeritus, Kenda Culpepper, Rockwall County DA.
"Our community has beautifully coalesced around the CAC, supporting it with their prayers, time and gifts," Culpepper said.
Among the ways to show your support: attend the kickoff party and gala; shop local "go blue" business supporters; buy a "go blue" t-shirt or yard sign; attend Pinwheels for Prevention from 6 to 7 p.m. April 6 at the Rockwall Courthouse; wear blue on Friday, April 7, Go Blue Day; participate in Prayer Sunday on April 30; and tie a blue ribbon around your mailbox, tree, or car antenna. Learn more at rockwallcac.org.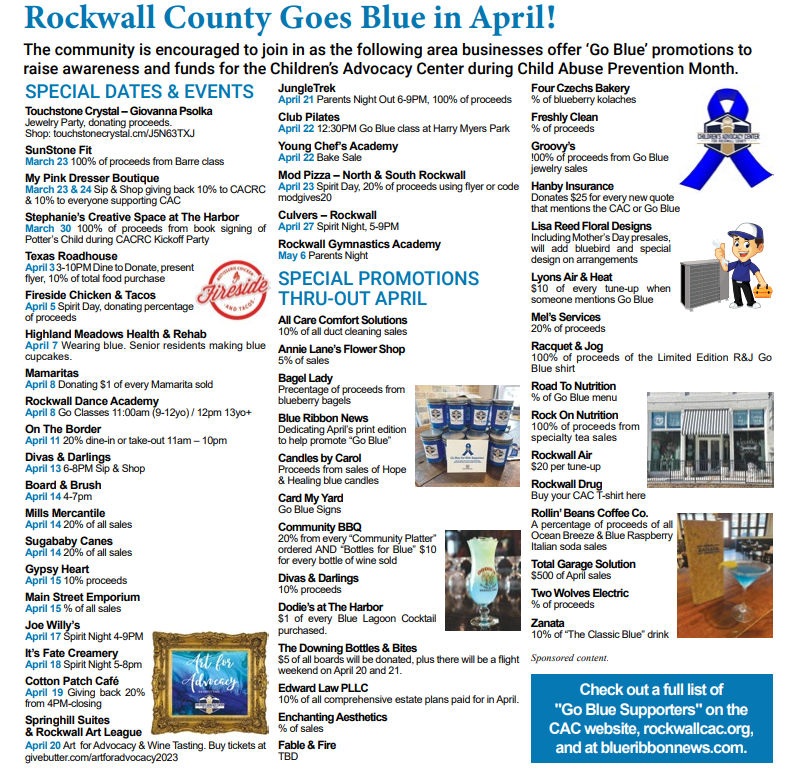 Growing Demand
The CACRC has served over 2,438 children and their families since opening its doors for full services in 2018. Unfortunately, as the population of Rockwall County grows, so does the need for services.
"The number of kids served by the CACRC has increased dramatically – from 179 children in 2018 to 857 last year," said Mejia. "Our current space – the "Soroptimist House" in Rockwall – has served us well. But as the size of our staff has grown to meet the demand, the size of the facility has remained the same, challenging our ability to provide a trauma informed approach."
The CACRC is in the beginning stages of planning for future growth, so that no child in Rockwall County is turned away.
---

---
Go Blue for Kids Kickoff Party 
As Go Blue for Kids Kickoff Chair, Rachael Schmidt is responsible for coordinating the Go Blue for Kids Kickoff Party. The family-friendly event will be 3:30 to 7 p.m. Thursday, March 30 at Standard Service in Heath.
"This year will be our biggest kickoff event yet," said Schmidt. "Our Kid Zone, sponsored by White Star Logistics, will include a bouncy slide, rock wall for climbing, balloon artists and more. There will be a photo booth sponsored by Lithic LLC, cotton candy sponsored by Graves Roofing & Restoration, and performances from Rockwall Dance Academy, Greater Rockwall Youth Symphony, and an acoustic set by Johnny Lyons. We want to give a huge thanks to Frost Bank who serves as the kickoff event's Title Sponsor."
While there, stop by the Teddy Bear Mobile Booth where folks will be making stuffed animals for purchase. You may choose to donate a bear back to the CAC!
---

---
Go Blue for Kids Gala
Tickets and sponsorships are available for the CACRC's signature event, the 7th Annual Go Blue for Kids Gala, on Saturday, April 29 at The Venue at Boyd Farm. The evening will include dinner, drinks, live music, silent and live auctions, dancing, and fireworks.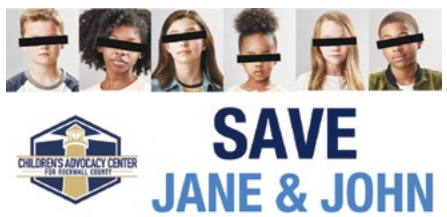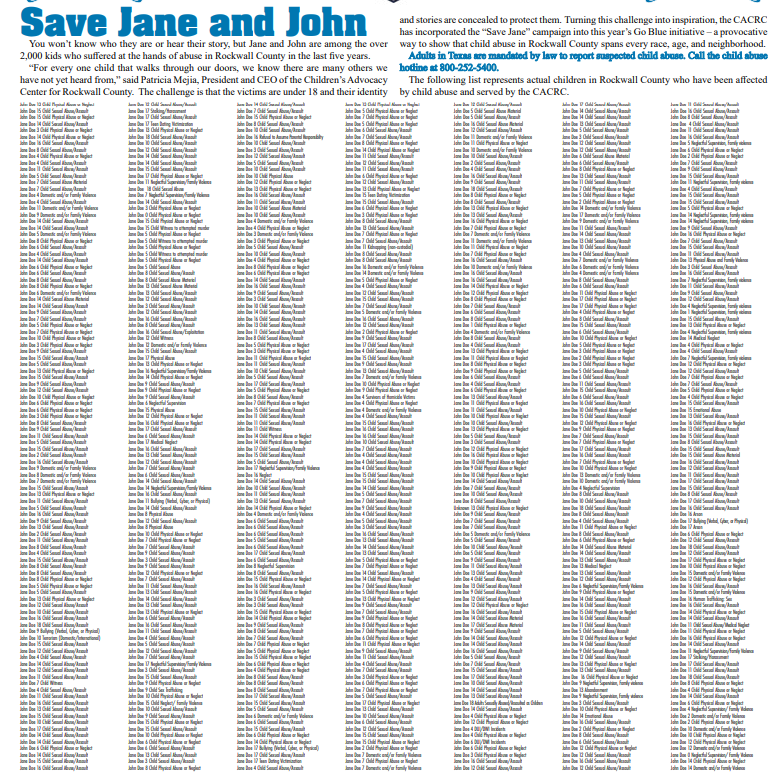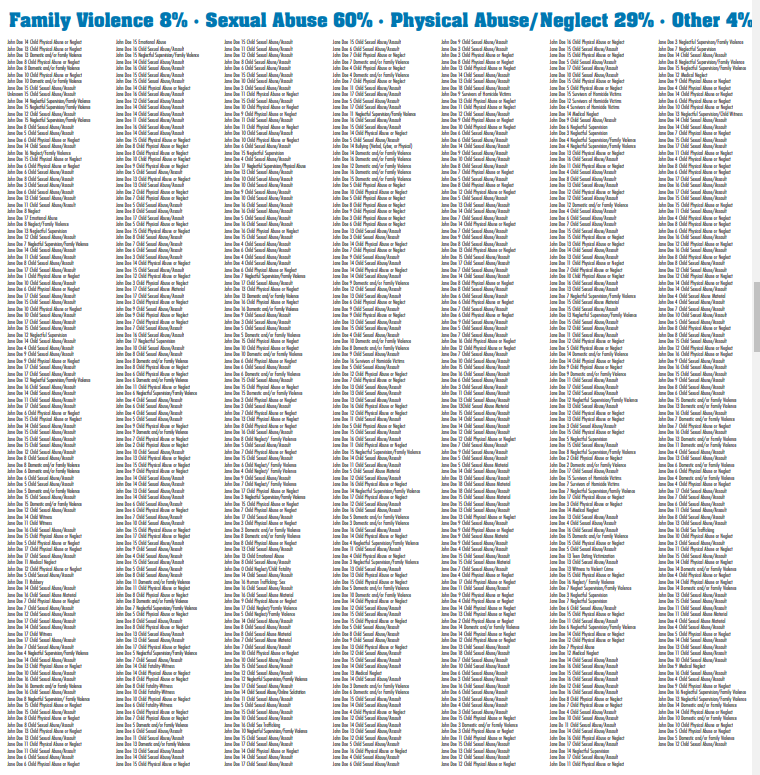 Sponsored content. Blue Ribbon News is the proud Media Sponsor of the Go Blue for Kids Gala.
---
---