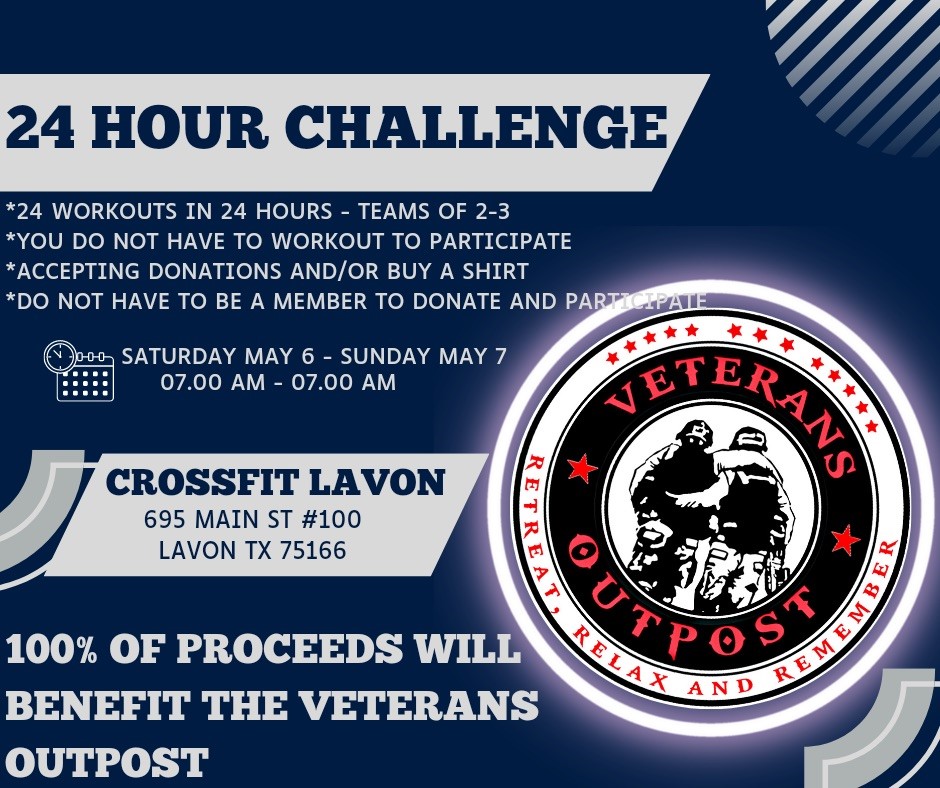 ---
---
UPDATE (11am May 5, 2023) – The 24 HR Challenge has been postponed to May 13th.  Sadly, Captain Jamie "Bill" Graham with the McKinney Fire Department died in car accident on Wednesday. He was a member of CrossFit Lavon and was going to participate in this event.
Staff Sergeant retired Jason Morgan with the Air Force Special Operations Command said, "I loved working out with Jamie. I didn't know Jamie very long, but he had a huge impact on my life, he was very inspiring and will be missed by so many. We are going to start off the challenge with all the coaches doing a workout in his memory."
---
---
ROCKWALL, TX (May 5, 2023) CrossFit Lavon is hosting 24 Workouts in 24 Hours to benefit the Veterans Outpost. CrossFit Lavon will be donating 100% of the proceeds to the Veterans Outpost.
Event: May 6th – May 7th, 7am till 7am. Participation is not required and the event is free. Come alone or get a 2-3 person team to workout at your choosing.  The CrossFit classes will start on the hour.
The main event at the 24 hour challenge is the Marc Lee Hero workout starting at noon on Saturday, May 6th. Petty Officer 2nd Class Marc Alan Lee (March 20, 1978 – August 2, 2006) was a United States Navy Seal.  He was the first SEAL to lose his life in Operation Iraqi Freedom when he was killed in a fierce firefight while on patrol against insurgents in Ramadi. Lee was posthumously awarded the Silver Star, the Bronze Star Medal with Valor and the Purple Heart. On March 20, 2013, the Marc A. Lee Training Center building was dedicated at the Naval Amphibious Base Coronado.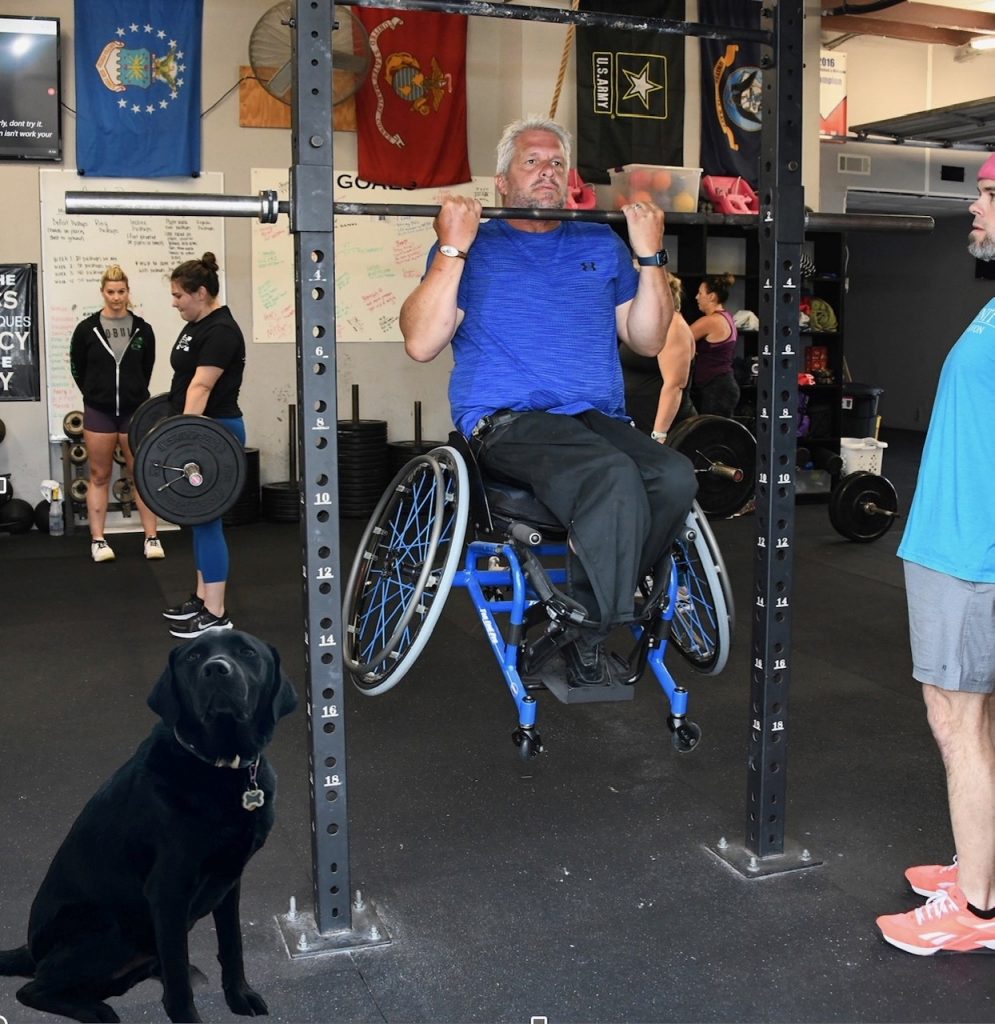 We wanted to include Marc Lee's family as we honor Marc and the ultimate sacrifice he made for our great country.  Therefore, we will be playing a short video from the family of Marc just before the workout.  Veterans Outpost board member and retired Navy Seal Floyd McLendon will be joining the Marc Lee hero workout. Veterans Outpost co founder and retired Air Force Staff Sergeant Jason Morgan will also be joining this workout from his wheelchair. Floyd spent 25 years in the Navy and 15 years on Seal Team One and retired as a Chief Petty Officer.   Staff Sergeant retired Jason Morgan was with the Air Force Special Operations Command who was nearly fatally wounded in 1999 on a counter narcotics mission in South America that left him paralyzed from the waist down.  In 2012, Jason had his leg amputated due to a severe bone infection. To view more info on Jason's story from a short IMAX movie visit:  https://youtu.be/QyYPfjIki6c 
After this emotional and patriotic workout, a Texas flag flown over the Texas Capital will be presented from the office of Senator Bob Hall to Crossfit Lavon owner Cole Taylor.  Jason Morgan and Floyd McLendon from the Veterans Outpost and USAF retired Lt General John Campbell will help present the Texas flag. There will be an additional and very special presentation to Cole Taylor from the family of Marc Lee.
CrossFit Lavon owner Cole Taylor and Co Founder Jason Morgan of the Veterans Outpost vowed to dye their hair pink if the monies raised from this event exceeded $15,000. More than $14,000 has already been raised so most likely their hair will be dyed pink immediately following the Marc Lee family and flag presentation.
The Dallas Sidekicks professional indoor soccer team (10am – 2pm) and puppies in training from Canine Companions will also be present showing off their future service dogs.  Jason Morgan will have his Canine Companions service dog Yago with him for the entire 24 hours.
The Veterans Outpost is a nonprofit organization dedicated to enhancing the lives of our military and first responders catering to those with significant disabilities and those suffering from PTSD. The Veterans Outpost promotes fellowship, camaraderie, family bonding and supports their journey towards inner peace by providing family retreats on 46 beautiful acres located in Greenville, Texas.
We will be grilling hamburgers, selling event t-shirts and a bounce house provided for the kids.
For more information on the event and how to donate, visit CrossFitLavon
For more information on the Veterans Outpost visit www.VetOutpost.org
For more information on Jason Morgan, his service dog Yago or his best selling book, visit https://www.ssgtjasonmorgan.com/
Submitted press release.