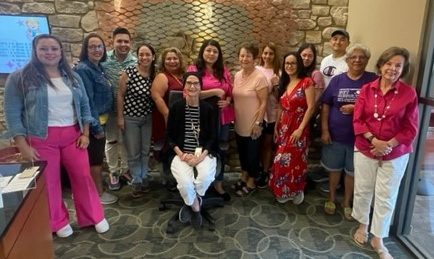 Rockwall, TX (August 25, 2023) – Students of the Rockwall Adult Literacy Center's English as a Second Language (ESL) class held a special presentation on August 24, 2023 to honor Carol Cease, Director of the Literacy Center. Mrs. Cease does an extraordinary job working with the teachers and students and is known to be hardworking, dedicated and loved by all. For these reasons, the class wanted to show their appreciation for her and all she does in making learning assistance available.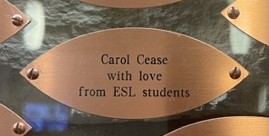 The class donated $250 to purchase a Bronze Leaf for the Giving Tree with an inscription reading, "Carol Cease, With Love, ESL Students". This beautiful sculpture, located in the library, is a way for individuals, groups, and businesses to honor those they care about. The Giving Tree is sponsored by Friends of the Rockwall County Library and the donations go towards needs of the library and literacy center.
The Literacy Center is open to all and offers ESL classes, as well as GED and Citizenship preparation classes.
Submitted by Evelyn Mann