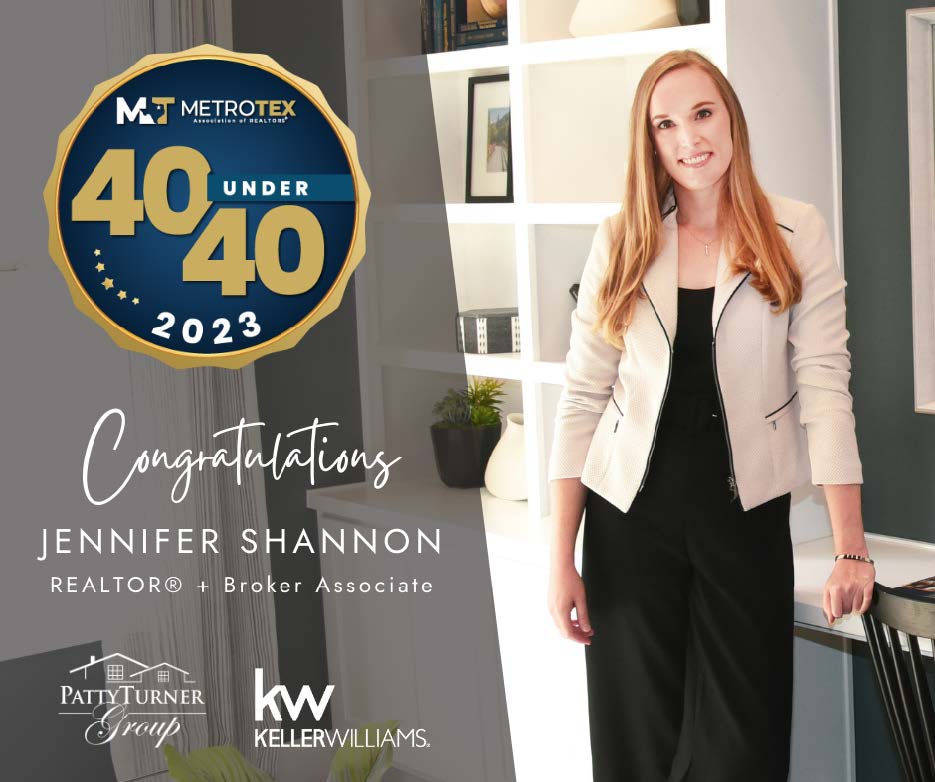 Rockwall, TX (September 8, 2023) – The MetroTex Association of REALTORS® Young Professionals Network (YPN) has named Jennifer Shannon with The Patty Turner Group at Keller Williams Rockwall to receive its 40 Under 40 awards in real estate.
Mrs. Shannon was chosen from applicants across the state of Texas. Selection to the 40 Under 40 is based on excellence in leadership, community involvement, and 2022 sales data.
"These young leaders stand out through their commitment to their clients and the real estate industry," says MetroTex President Belinda Epps. "I could not be prouder to congratulate our 40 Under 40 winners on their success and professional growth."
As a Texas REALTOR® licensed since 2005, the ever-changing landscape of the real estate industry has allowed Mrs. Shannon to develop and fine-tune innovative solutions to meet her clients' needs and create ways for more people to become homeowners through education. Most recently, to serve the increasing market of women home buyers, she launched Home Buying for Women to give step-by-step guidance, support, and resources to help them achieve their goal of homeownership.
"I'm so honored that the Association recognizes the importance of the work I'm doing to educate current and aspiring homeowners on the real estate market so it can be more approachable and level the playing field for everyone interested in purchasing a home," commented Mrs. Shannon. "Homeownership should never be out of reach. The recent launch of the Home Buying for Women platform is my professional pride and joy as I share my experience and knowledge as a REALTOR® and single-mother home buyer myself to teach others how they can do it too. Historically, women haven't been equipped with the tools and resources to overcome the emotional and financial hurdles associated with buying a home. My work with Homebuying For Women and the tireless work of others in this space is just a small step toward righting that wrong. I want to teach other women all I learned plus a lot more so they can make this dream their reality too."
Submitted press release