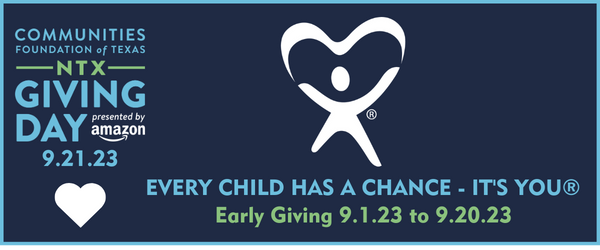 Rockwall, TX (September 8, 2023) – North Texas Giving Day, the largest community-wide giving event in the region, is set to rally support and raise funds for non-profit organizations that are making a significant impact on the local community. Taking place on September 21, 2023, this annual event provides a unique opportunity for individuals, businesses, and foundations to come together and support the causes they care about.
Lone Star CASA will once again be participating with North Texas Giving Day, which serves as a powerful platform to share our mission, stories, and the positive changes that we are making in the community. By harnessing the collective generosity of donors, the event can help Lone Star CASA raise vital funds to amplify our impact.
Here are a few ways you can help Lone Star CASA on North Texas Giving Day:
Make a Donation: Visit the North Texas Giving Day website on the designated day and make a generous donation to Lone Star CASA. Your financial contribution will directly support their efforts in providing children in foster care with CASA volunteers and advocating for their best interests.
Spread the Word: Help raise awareness about Lone Star CASA and North Texas Giving Day by sharing information on social media platforms. Use hashtags like #NTxGivingDay and #SupportLoneStarCASA to encourage your friends, family, and followers to get involved and make a difference.
Volunteer as a CASA: Consider becoming a Court Appointed Special Advocate (CASA) yourself. Lone Star CASA is always in need of dedicated volunteers who are willing to advocate for the educational rights and overall well-being of children in foster care. Visit their website or contact them directly to learn more about becoming a CASA volunteer.
Engage Your Network: Reach out to your personal and professional networks and encourage them to support Lone Star CASA on North Texas Giving Day. Share the organization's mission, impact, and the importance of their work in the community. Encourage others to make a donation or volunteer their time to support this worthy cause.
Corporate Matching Gifts: Check if your employer offers a matching gift program. This allows your donation to have an even greater impact by doubling or even tripling the amount contributed. Contact your Human Resources department to inquire about matching gift opportunities and guidelines.
Host a Fundraising Event: Consider organizing a fundraising event in your community or workplace to support Lone Star CASA. This could be a bake sale, a charity run, a silent auction, or any other creative event that brings people together to raise funds and awareness for the organization.
Remember, every contribution, no matter how big or small, makes a difference in the lives of children in foster care. By supporting Lone Star CASA on North Texas Giving Day, you are helping to provide these children with the advocacy and support they need to thrive.
For more information on how you can support Lone Star CASA, visit lonestarcasa.org or donate today through September 21st using the North Texas Giving site at: northtexasgivingday.org/organization/lone-star-casa
Submitted press release