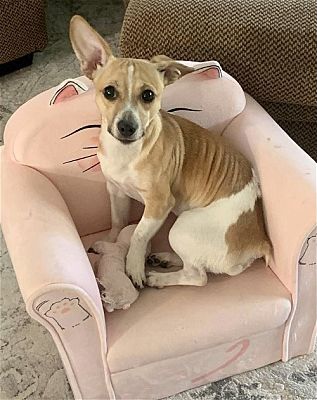 Rockwall, TX (September 12, 2023) – Hi, I'm Vito! I am a 1-year old Dachshund mix pup. I'm just a little guy, only 14 pounds, so I'm learning about the big world and that it's not a scary place after all. I'm getting more and more confident every day, and I know that with the right family, I'll get over all my little fears. Especially if you have another dog who can help me, you know…be a dog!
Some things I'm really good at are being adorable, cuddling in my person's lap, sleeping quietly in my crate, walking on a leash, and ZOOMIES!  I'm actually an expert at zoomies, and you'll be lucky to catch me once I get going! I'm a young pup so some things I'm still working on are potty-training, chewing, basic commands, and feeling comfortable around new people. In my foster home, I'm happy-go-lucky, dog-friendly, cat-friendly, full of energy, funny and an all-around a good boy! I am current on my vaccines, microchipped, and neutered.
Contact info@rockwallpets.com for more information or to arrange a meet and greet!
Submitted by Shari Thompson

Our Blue Ribbon News Pet of the Week is proudly sponsored by Erin Neill, Agent, Hanby Insurance. Connect with her at 972-771-4110 or email erin@hanbyinsurance.com.
---