(Grapevine) The largest wine festival in the Southwest will celebrate its 25th anniversary with award-winning wines, culinary delights, the ever-popular GrapeStomp competition, Midway rides and live entertainment Sept. 15, 16, 17 and 18 in Historic Downtown Grapevine.
GrapeFest 2011 – "A Wine Experience" – will highlight Australian wines and culture, with food and wine experts serving up culinary presentations throughout the weekend in the Cotton Belt Depot District.  Festival-goers will revel in the People's Choice Wine Tasting Classic, touted as the nation's largest consumer-judged wine competition, and a Champagne Cork Shoot-Off.
The annual event also includes a KidZone, presented by Baylor Regional Medical Center, and the Legoland Discovery Center's Junior Builder Contest.
On Stage
Live entertainment will fill six stages across the festival grounds. Included in the lineup are:
Professor D  (9 to 10:30 p.m. Thursday on the Gaylord Texan Stage)
Frank Sinatra Music  (10 a.m. to 6 p.m. Thursday on Champagne Terrace Stage)
Tommy Alverson  (8:45 to 10 p.m. Thursday on the Bud Light Stage)
Downtown Fever  (10 to 11:30 p.m. Friday on the Gaylord Texan Stage)
Railhead  (8:30 to 9:45 p.m. Friday on the Bud Light Stage)
Le Freak  (10 to 11:30 p.m. Saturday on the Gaylord Texan Stage)
Mark McKinney  (10:15 to 11:30 p.m. Saturday on the Bud Light Stage)
TIZER  (10 p.m. to 11:30 p.m. Friday on the Gazebo Stage)
GrapeStomp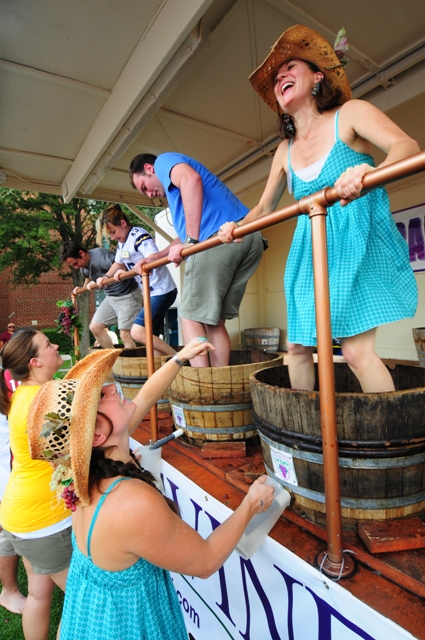 The Chrysler Group will present the GrapeStomp competition, with two-person teams stomping about 20 pounds of grapes for two minute periods. The extracted juice will be measured by officials and recorded throughout the weekend. Purple Foot awards will be handed out following the Grand Champion StompOff on Sunday.
Grapevine Vintage Railroad
During GrapeFest, young and old alike will enjoy riding the rails as the Grapevine Vintage Railroad offers daily round-trip excursions to the Fort Worth Stockyards.
GrapeFest Golf Classic
Golfers can get into the swing of things early when the Grapfest Golf Classic tees off at 8 a.m. Monday, Sept. 12 at the Grapevine Golf Course.  The cost to enter the four-person scramble is $125, which includes breakfast, golf cart, lunch and prizes.  The event is produced by the Grapevine Golf Association, and proceeds will benefit the Grapevine Historical Society.
GrapeFest Tennis Classic
Also complimenting GrapeFest 2011 is the 19th Annual GrapeFest Tennis Classic, presented by Hilton DFW Lakes, on Sept. 16, 17 and 18. Everyone is welcome to come watch the action.
GrapeFest Dates, Times & Admission
GrapeFest runs from 10 a.m. to 10:30 p.m. Thursday, Sept. 15; 10 a.m. to 11:30 p.m. Friday, Sept. 16; 10 a.m. to 11:30 p.m. Saturday, Sept. 17; and 11 a.m. to 6 p.m. Sunday, Sept. 18.
Admission is free all day on Thurday and from 10 a.m. to 5 p.m. on Friday. The cost of admission during other times is $8 for adults; $5 for seniors age 62 or older; and $5 for children ages 6 to 12. Children 5 and under are admitted at no charge. Weekend passes are available for $18; and Souvenir weekend passes are $23.
Directions & Parking
GrapeFest is celebrated in Historic Downtown Grapevine. Named for the wild mustang grapes that once blanketed the land when settlers first came to the area in 1844, Grapevine is the perfect backdrop for the largest wine festival in the Southwest. Once in Grapevine, signs will direct festival-goers to the parking areas. Free shuttle buses will provide service between the free parking areas and festival gates. Paid parking is also available within walking distance of the festival, with proceeds benefitting youth, civic, and service organizations.
Grapevine Mills Mall, SE parking lots
3000 Grapevine Mills Parkway
Shuttle drops off and picks up at the North gate near the carnival.
Grapevine Convention Center/Library East Parking lots
1209 South Main Street
Shuttle drops off at the South gate near the Cotton Belt Depot at the railroad tracks and Main Street.
There are a limited number of handicap parking spaces near the Grapevine Vintage Railroad Train Yard at the south entrance and behind City Hall.
GrapeFest sponsors and partners
Among GrapeFest 2011's sponsors and partners:
BudLite, Chrysler, DrPepper Snapple, Statewide Remodeling, Gaylord Texan, Baylor Regional Medical Center at Grapevine, Texas Toyota at Grapevine, WFAA Channel 8, Adam Smith's Texas Harley, Legoland, Hilton DFW Lakes and Dairy Max;
Allied Waste, Club Car, Dallas Child Magazine, Dennis Electric, Fort Worth Child Magazine, Fox Rental, Grapevine Courier, Grapevine Golf Cars, Legacy Texas Bank, Northstar Bank of Texas, North Texas Child Magazine, Oncor, Panda Embroidery, Reliant Energy, Silverleaf Resorts, Southern Journeys, Southwest Dairy Farmers, Star Telegram and VMC  Landscape Services.
For more information, visit the Grapevine Convention & Visitors Bureau website or call 800-457-6338.
Click here for GrapeFest hotel rates and packages.
To submit your news and events, email editor@BlueRibbonNews.com.