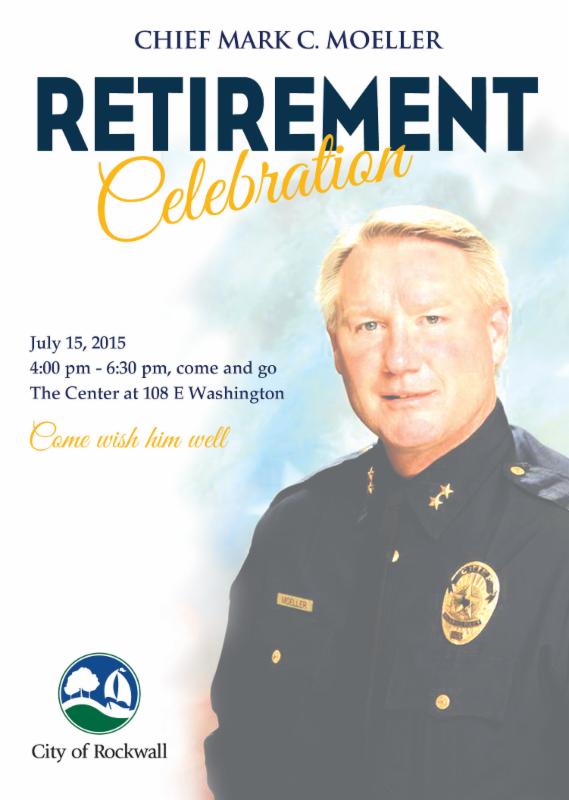 (ROCKWALL, TX – July 7, 2015) Rockwall Police Chief Mark Moeller is retiring this month after 13 years of service to Rockwall and 38 years in law enforcement. The community is welcome to join his retirement celebration from 4 to 6:30 p.m. Wednesday, July 15 at The Center, 108 E. Washington.
Chief Moeller began his career as a patrol officer in the Dallas Police Department in July, 1977. He rose to the rank of Lieutenant, holding supervisory positions in multiple divisions within the department before coming to lead the Rockwall Police Department in April, 2002.
"It's been great, really nice," he said of years with RPD. "This is a great community. In fact, Debbie and I are going to stay here." He and his wife Debbie have two grown children and three grandchildren – and a fourth due in June.
Among his plans is "to work on my golf game!" He also plans to do some volunteer work with his church and possibly with the city. He is currently a member of the Rockwall Area Chamber Board of Directors.
Although Chief Moeller said he will not be "actively" looking for employment, "I will keep a small window open," he said, nothing that serving as Interim Chief with the Texas Police Chiefs Association "may be possible."
Chief Moeller has guided RPD through many changes. The department has grown from 45 officers and 18 civilian personnel to 79 officers and 22 civilians while the city's population grew from 23,000 to more than 43,000.
He holds a B.S. in Criminal Justice Administration from Central Missouri State University and an M.S. in Human Relations and Business from Amber University.
He was honored with the Outstanding Leadership Award from the TPCA in 2011. He is Regional Director of TPCA and was President of the North Texas Police Chiefs Association from 2012-13.
"Most importantly, our department attained Recognized status by the TPCA Best Practices Recognition Program in 2011 and was Re-Recognized this year," Moeller said.
To share your good news and events, email editor@BlueRibbonNews.com.
Please click here to LIKE our Facebook page, so we can reach more people with news like this!