(ROCKWALL, TX – Nov. 12, 2019) Growing up, I remember my mom making holiday treat boxes for all of our friends and family. Every year between Thanksgiving and Christmas she would spend days working on them. All surfaces of our kitchen would be covered in little red and green plastic boxes, colored tissue paper, chocolate covered peanut butter balls drying on big sheets of wax paper, little loaves of sweet breads wrapped in cellophane and tons and tons of sugar cookies covered with sparkling sprinkles. She would put each box together individually. A plastic box, lined with tissue paper, filled with two loaves of bread, a handful of peanut butter balls, a stack of cookies, some rice crispy treats and a few wrapped candies thrown in, just for fun. These boxes would go out to my dad's coworkers, to his boss, to the lady that answered the phone. They would go to friends at church, the bank, the mailman. Each one of my family members would get one as a gift on Christmas. And of course, I would get to take them to my teachers at school. I was always so proud to walk in with that treat box made with love by my mom.
As I got older, maybe around 10 years old, I wanted to make my own treats to pass out to all of my friends. I'd take my mom's treat box to the teacher…but I wanted my own homemade treat to take to my friends. We'd load up and go to the Woolworth's at Big Town Mall and my mom would let me buy whatever I wanted for my friends. One year I made little trains out of candy. A Lifesaver roll was the body, peppermints were the wheels and a Hershey's kiss was the little stack of smoke on top. Another year I bought little red and white stockings and put each of their names on it then filled it with candy and treats.
Homemade gifts are a lost art. Especially for teachers, people in the community and friends. Does your family celebrate those around you? Do you still leave a little box of goodies out for the mailman like they used to in years past? Expressions of kindness and gratitude are so needed around the holidays. Especially in the form of a homemade gift. Taking the time and energy, two things most of us consider hot commodities, to craft a gift for someone else is not lost on the receiving end.
My mom stopped making those treat boxes 9 years ago, when my dad passed away. I've missed them every year…until last year. I started my own tradition. At 40 years old, I started a holiday tradition. My friends, it is never too late. I went to Hobby Lobby and bought these cute little red and green boxes, colored tissue paper and some holiday ribbon. I went to the store and stocked up on everything I needed for baking.
At first, I couldn't decide exactly what to put in them. And then I began to think…what was my dad's favorite treat in my mom's boxes? Chocolate covered peanut butter balls.  What was Evan's favorite holiday treat growing up? Mini Pecan Pie Muffins.  What is Micah's favorite holiday treat? Puppy Chow.  What does Ethan love? Oreos. And Emily, fudge. And there it was. My first ever Tate Treat Box. I added in a holiday recipe from one of my favorite food writers and an old timey candy from a friend's grandmother and it was complete. I put each box together by hand and typed up a little note that attached to each one. A note telling of how the box was made…what each treat was and who's favorite it had been. I think I made 50 boxes last year and that wasn't even enough! As you begin to give them out and see people's reaction you just want to give out more!
DIY Holiday Treat Box Party
This year, I am hosting a DIY Holiday Treat Box Party on December 7 here at the farm. I will be making tons of treats. Some easy, some a little on the advanced side, some you bake, some you don't, some chocolate, some gluten free, some nut free…all the options and all with recipe cards included!
I will provide a variety of boxes and tissue paper. Each person will make their own box to take home as a template. From there, you can give that one box to someone special or you can keep it for yourself and use the recipe cards provided to make your own Holiday Treat Boxes to pass out to those in your life. I hope you'll join me.
All proceeds from this year's DIY Holiday Treat Box Party will go towards completing the renovations to Smirl Chapel here at Tate Farms. Tickets are $40 each and include snacks, beverages, treat box instruction, including how-to make your treat box note, treat recipes, and one completed treat box. To register for the event, go to Facebook and search "DIY Holiday Treat Box Party". And just to get you started, I'd like to share Micah's favorite from our Tate Treat Boxes.
Enjoy,
Melissa Tate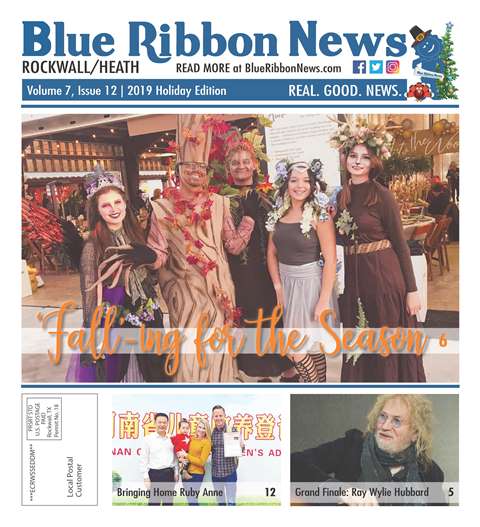 Our monthly print edition is delivered free to ~15,500 homes in Rockwall and Heath, TX.
To share your good news and events, email editor@BlueRibbonNews.com.
Subscribe to our email newsletter here.
Advertising: 214-342-8000 or advertising@BlueRibbonNews.com.