(ROCKWALL, TX – Nov. 19, 2019) Rockwall resident Jared Guynes, who many in our community know and love as a three-time Guinness World Record holder, social media guru and administrator of the Rockwallian Facebook group, has announced he will sell off his massive Nerf collection this Saturday, Nov. 23 during a "Nerf Garage Sale" at Wells Cattle Co. in downtown Rockwall.
Over 1,000 Nerf Blasters of every size, shape, and type will be up for grabs from 2:30 to 4:30 p.m., with 100 percent of the proceeds benefiting the LukeStrong Foundation, an organization that's close to Jared's heart. The nonprofit provides Nerf parties at children's hospitals for pediatric cancer patients.
In addition, restaurant owner Lee Wells has agreed to donate 20% of the entire day's food sales to LukeStrong.  Garage-sale goers are encouraged to eat some burgers, fries, and pie while shopping for Nerf items and giving back to a good cause. All donations to LukeStrong are tax deductible. (And Nerf blasters make great Christmas presents for all ages!)
"I have a LOT of Nerf, and basically I'm donating all of it," Jared told Blue Ribbon News. "The collection ranges from 2011-2019 and has hundreds of blasters of all types, including Elite, MEGA, Vortex, and RIVAL. Prices will be very low on all items and the intent here is to get all the blasters to new good homes AND raise some serious money for the foundation."
Jared's collection was amassed at various events he's hosted over the years. The "epic party-thrower," as the Dallas Observer dubbed him, filled AT&T Stadium back in March with a record-number of foam dart-flinging followers for a Nerf Battle of epic proportion.
Jared explains he's been a fan of Nerf ever since he got his first Bow & Arrow in 1992, and he hasn't been without Nerf since. "It's Nerf or nothing," he says, repeating the company's tagline.
As for the LukeStrong Foundation, a young boy named Luke Grumbles bought a ticket to one of Jared's Nerf parties in 2017, but was diagnosed with Acute Myeloid Leukemia and passed away before he could ever attend. One of Luke's wishes was that his mother would start a foundation to throw Nerf parties in hospitals so patients can experience joy in that scary time. Today, the LukeStrong Foundation also delivers Christmas blessing bags to pediatric cancer families that will be in the hospital on Christmas Day.
"We are dedicated to minimizing the burdens that so many families face during their battle with childhood cancer," the website, lukestrong.org, says. "Through Luke's journey with cancer, God did great things through Luke. One of those things was the desire to help others in the hospital."
"During Luke's hospital stay, he started a Nerf gun collection. When he realized Nerf guns brought him so much happiness, he decided when he was released from the hospital, he wanted to have a LukeStrong Nerf Gun Party. He wanted to bring enough Nerf guns where kids could pick out 2-3 of them. His favorite food was pizza, so he wanted to provide pizza and Nerf guns. He wanted it to be a huge party," the website explains.
As a result, Luke's mom, Cherie Grumbles – who is traveling from Palestine, TX to personally attend Jared's Nerf Garage Sale – started the LukeStrong Foundation in honor of her son.
All ages are welcome at the charity garage sale hosted at Wells Cattle Co., located at 206 N. Fannin St. in Rockwall.
"It's an honor to be part of such a great day for LukeStrong," said Lee. "This event will help so many kiddos have some fun at a time when they need it most. They deserve it, and Wells is happy to help."
The restaurant will be open from 11 a.m. to 9 p.m. Saturday. The Wells family cattle is raised in a free-range pasture environment with a strict diet of grass, hay, and high fat/low grain supplement during the winter months. They serve whole ground beef – no scraps – just the finest loin, brisket, and ribeye. They also offer numerous health-conscious and gluten-free dishes, and you can order premium beef to take home.
By Dawn Redig, Blue Ribbon News. Courtesy photos used with permission.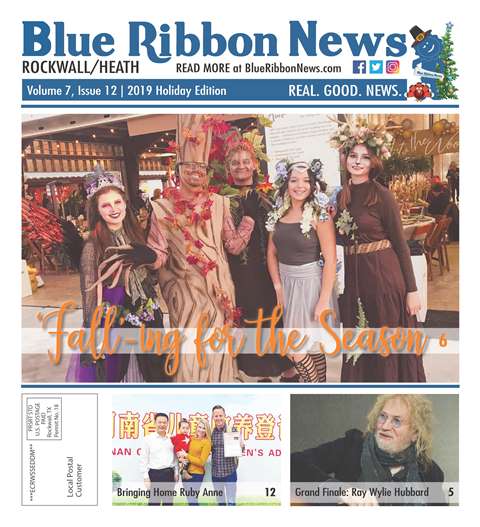 Our monthly print edition is delivered free to ~15,500 homes in Rockwall and Heath, TX.
To share your good news and events, email editor@BlueRibbonNews.com.
Subscribe to our email newsletter here.
Advertising: 214-342-8000 or advertising@BlueRibbonNews.com.