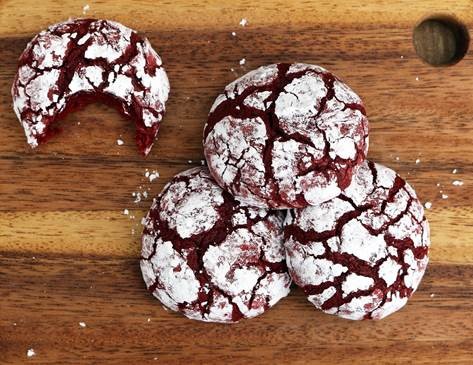 I always wanted a relationship like my parents. My dad passed away when I was 31 years old and I can truly say, I never once heard my parents fight. Not bicker, not argue, nothing.They were teammates, friends, partners, pals. They really didn't have reason to argue. I told a therapist once that my parents marriage screwed me up… but not in the way most other kids would say their parents' marriage screwed them up. Their relationship gave me unrealistic expectations of my partner and myself. They made it seem effortless. What I had never considered when comparing my relationships to theirs is that they had lots of time to practice marriage before my sister and I were of an age to really observe and appreciate the way they treated each other.
The hard part of second marriages or any relationship as an adult, is that you have more eyes on you as you work through that stuff. Your desire is for it to be perfect from the start and that just isn't realistic. Evan was the first man I dated that had been previously married and had children. It took many, many conversations for us to realize that along with love, fun, laughter and companionship, we both brought some guilt, shame, insecurities and unrealistic expectations into our relationship. One of the things I admire most about Evan is his ability to see past the present. His ability to be incredibly hopeful for the future. It has taken us years of honest, truthful, raw, open communication to break down some walls we had built. And you know what  I found on the other side of those walls? A relationship just like my parents'.
I sat down with the intention to write this super happy and shiny post about love. But in reality, whether you are single or dating, married or divorcing, love can be complicated. What I've learned in the past several years is relationships take work. They take effort and time and energy and the extension of grace. We just have to all do the very best that we can. Treat our people the very best that we can in that given moment. Sometimes that means not saying a word, and sometimes that means saying all of the words! However you celebrate this Valentine's Day, I hope it's peaceful and easy and a reminder that relationships are such a special thing. Whether past or present, they are all part of our story.
I adore a cute and easy holiday recipe. These Red Velvet Cake Mix Crinkle Cookies are just that. I found this recipe on the side of a Duncan Hines box a while back. It's perfect for Valentine's parties, a get-together or just an easy festive dessert at home.
Enjoy,
Melissa Tate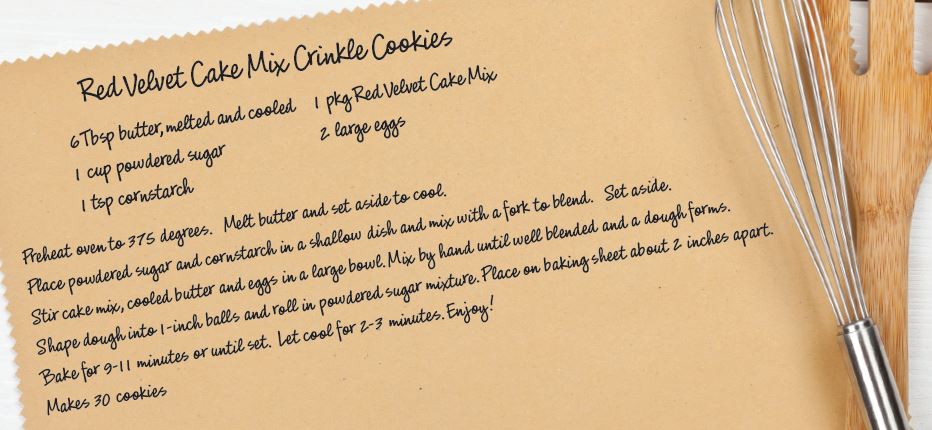 Red Velvet Cake Mix Crinkle Cookies
Makes 30 cookies
Ingredients:
6 Tbsp butter, melted and cooled
1 pkg Red Velvet Cake Mix
2 large eggs
1 cup powdered sugar
1 tsp cornstarch
Directions:
Preheat oven to 375 degrees. Melt butter and set aside to cool.
Place powdered sugar and cornstarch in a shallow dish and mix with a fork to blend. Set aside.
Stir cake mix, cooled butter and eggs in a large bowl. Mix by hand until well blended and a dough forms.
Shape dough into 1-inch balls and roll in powdered sugar mixture. Place on baking sheet about 2 inches apart.
Bake for 9-11 minutes or until set.
Let cool for 2-3 minutes.
Enjoy!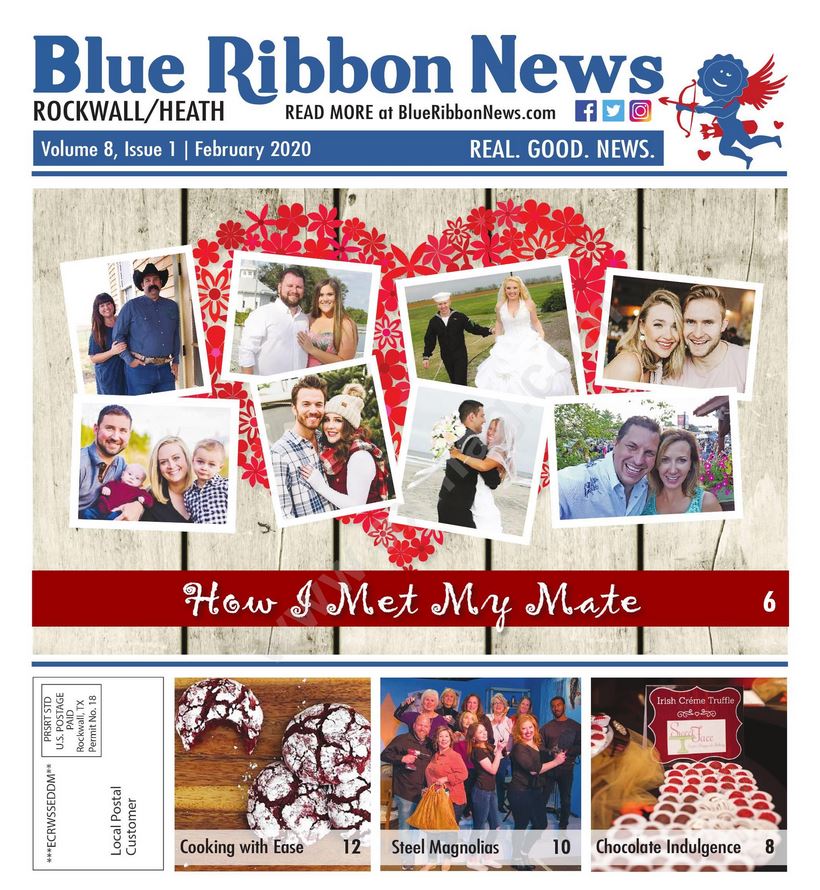 Our print edition is delivered free to ~15,500 homes in Rockwall and Heath, TX.
To share your good news and events, email editor@BlueRibbonNews.com.
Subscribe to our email newsletter here.
Advertising: 214-342-8000 or advertising@BlueRibbonNews.com.