(ROCKWALL, TX- April 18, 2020) Congratulations to Rockwall resident Cindy Lindley who was recently named the 2020 Lou Kirby Woman of the Year for the South Central Region by Soroptimist International.
Cindy was nominated for this prestigious honor by fellow members of Soroptimist International of Rockwall. The South Central Region includes that states of Texas, Oklahoma, Missouri, Arkansas, Louisiana, Kansas, and a portion of Illinois.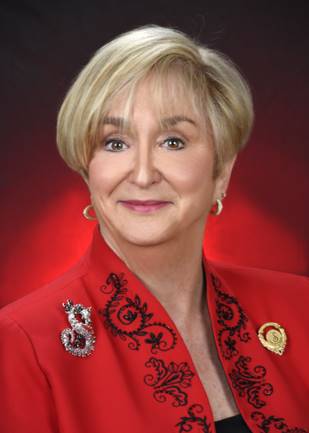 This award recognizes a special club member who has made an outstanding contribution to Soroptimist over the years. To be eligible, the nominee must: be a member in good standing; be a member for a minimum of three years; be active with recruitment and retention; serve on a club committee; have attended a minimum of one District Meeting and one Region Conference in the last five years; be actively involved in their club's service project(s); demonstrate the sincerity of friendship, the joy of achievement, the dignity of service, the integrity of profession, and the love of country.
Cindy's contributions were highlighted in this glowing nomination letter written the club:
"Soroptimist International Of Rockwall is proud to nominate Cindy Lindley for the 2020 Lou Kirby Woman of the Year Award. Cindy has been an active member of our club since 1997. She was President twice serving two year terms each time. She also served twice as vice president serving two year terms as well. During her 22 years as a member of the Rockwall  Club, she also served as secretary and numerous times as delegate and director. She has always spearheaded the planning and execution of the two District Meetings and two Region Conferences our club hosted and served as chair for each of them.
Cindy was voted by the club to receive the prestigious Eloise Cullum Soroptimist of the Year Award five different times which is more than any other member.
Cindy's passion, selflessness, energy and generous nature motivate her to identify needs in our community and create solutions. She defines a need and motivates club members to make a difference. She has been responsible for developing projects to assist the elderly, children, the less fortunate, and animals in our community.
As an active member of our club, Cindy created and chaired a project called START (Saving Today and Recovering Tomorrow). The club members filled totes with about $60 worth of products needed by a woman when she leaves a domestic violence shelter. The large totes were stored at Cindy's house and distributed as needed to two Domestic Violence Shelters in neighboring towns. Cindy wrote three grants and received a total of $19,000 for this project from Federation. The club continued this project for 15 years and distributed over 600 totes.
Cindy also created and continues to chair another club project called STARS (Soroptimist Toasting Area Retired Seniors). This project helps the 45 seniors living in a low cost housing unit in Rockwall whose annual income is under $15,000. The club provides a themed luncheon every quarter to present those who had birthdays during that time with a $50 WalMart gift card.  Each resident is given a gift bag at that time consisting of hygiene, cleaning, or paper supplies. There is also a Christmas luncheon and the residents are each given a $100 WalMart gift card. The club has given over $50,000 in gift cards and provided other services such as dental procedures, purchasing a freezer for a disabled couple lessening their trips to the store, clothing, and furniture over a 15 year period. As a result of the club's involvement, two of our members were instrumental in having their leadership group renovate the common living areas of this housing unit which did wonders for the residents' morale.
Our Club has owned a house in Rockwall since 1986 and Cindy has been a member of the board of directors, the governing body of the Soroptimist House, since 1998. When our District Attorney wanted to utilize this house for the Children's Advocacy Center, Cindy immediately volunteered to help. She became the spokesperson for the Club, a leader on the Task Force, spearheaded fundraising efforts, worked on every organizational committee and worked very closely with the DA about what needed to be done to provide the needed services for the abused children in our community.  Cindy is currently the Vice President of the Children's Advocacy Center for Rockwall County Board of Directors and remains very involved in the day to day activities of the CAC by working closely with the CEO.  Cindy doesn't just get involved with a project, she becomes ONE with the project.
Cindy has also held Region offices for the Soroptimist South Central Region. She was the Chairman of the Communicate and Grow Award, Region Secretary, Region Governor –Elect for 2 years and Region Governor for 2 years. She is currently Region Membership Chair.
As Region Governor, Cindy decided that everyone in the Region needed to "Ride The Dragon".   She distributed over 400 Dragon Bracelets to South Central Region members, Governors of other Regions, Federation Board Members and the staff at SIA headquarters.   She hoped this would inspire the membership to take a chance and do something they might normally say "no" to.  Her motto was "If you confront the dragon, he will eat you.  If you try to fight the dragon, he will overpower you.  But if you ride the dragon, you take advantage of all his strength and might".
Cindy is also an active participant in other Community organizations. She has been on the Rockwall PAWS Board of Directors for seven years in support of their mission to fund the treatment of adopted heartworm positive shelter dogs and served as their secretary. She is also a member of the Daughters of the American Revolution, and was it's Good Citizenship Chairman for 17 years.  She was recently awarded the National Society Daughters of the American Revolution Excellence in Community Service Award. Cindy has also received the Meals on Wheels Senior Services Award three times.
Cindy Lindley is passionate, selfless, and generous, donating hundreds of hours with seemingly endless energy. She continually demonstrates the highest degree of volunteerism, humanitarianism and good citizenship.
Cindy has been married to her husband, Denny, for 50 years, has 2 sons, and one grandson."
Blue Ribbon News staff report.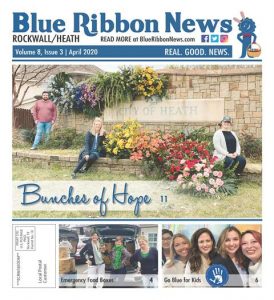 Our print edition is delivered free to ~15,500 homes in Rockwall and Heath, TX.
To share your good news and events, email editor@BlueRibbonNews.com.
Subscribe to our email newsletter here.
Advertising: 214-342-8000 or advertising@BlueRibbonNews.com.