When the staff at J.E.R. Chilton YMCA at Rockwall learned that one of its senior members, Sue N., was having trouble meeting her basic needs, like buying groceries, they knew it was time to come together and support a member of the Y community in more ways than one.
"As a charity organization, we rely heavily on members and volunteers who donate their time, talents, and treasure in support of the cause of the YMCA," said Clint Elliott, district executive director at the J.E.R. Chilton YMCA. "I immediately knew we needed to make this happen for Sue.  It wasn't a matter of if; it was a matter of how."
After Sue had sent the YMCA a list of essential food items she needed, the Y reached out to a longtime member Jim Turner, who had been collecting hard-to-find grocery items to donate to his local church. After driving as far as Terrell, and providing a few items out of his personal stock, he had found everything on Sue's list. He brought the items to the Y, and from there, Elliott and Membership Director Jocelyn Craig delivered the items to Sue's home.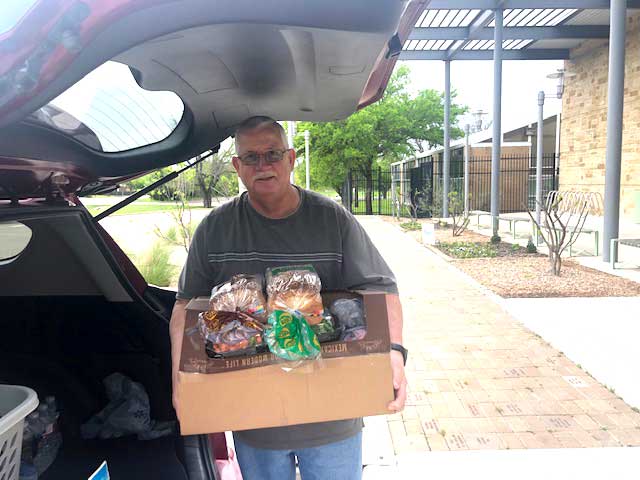 They made sure to maintain social distancing, greeting Sue through her window and dropping the items on her porch.
Sue was overjoyed when she saw the groceries they were able to provide her. She said it was like they had looked in her pantry and knew exactly what she needed, down to her favorite brand of bread.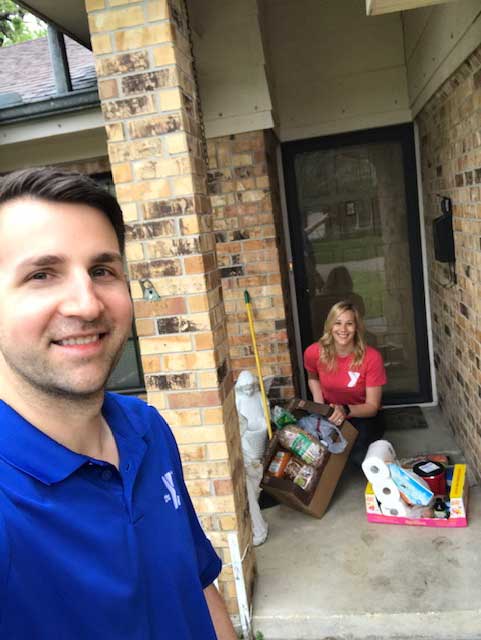 When Sue had first reached out to the Y, Executive Director & VP of Operations Suzana Delgado-Gray said learning of Sue's struggles prompted her and her Rockwall YMCA friends to action.
"The most amazing part was talking to Sue about her daily struggles: car payment, insurance, water bill, taxes, etc. on a fixed income and was worried about making ends meet. It brought me to tears last night thinking about the thousands of older adults out there suffering alone and don't speak up. Sue felt her food challenges were small in comparison to others. She hesitated sharing what she needed because she knew when we figured out she lived outside of Rockwall – who would come out to help her? Clearly, she did not know Clint and his volunteers at the Rockwall YMCA! Kudos to all of them for their help!"
Sue's story is just one example of how the Rockwall YMCA has stepped up to provide for its members during the coronavirus outbreak, even while having to close off access to their gym and workout rooms. The Y has regularly reached out to senior members to make sure they have what they need, as they are the most at risk for the more severe symptoms of the virus.
"The COVID-19 crisis is a time of extreme economic hardship for everyone. But stories like this prove there is good to be found right now," said Jocelyn Craig. "Good can't be measured. It's like love – it's unconditional. No matter how big or small the deed, you can always do good, even when times are tough."
That kind of effort to help others in need, regardless of the circumstances, embodies the very spirit of community found at the Rockwall YMCA.
"We are so much more than a fitness center, pool, or gymnasium. The Y is a conduit for community support and a resource for those in need," Elliott said. "These are extraordinary times that have brought about extraordinary circumstances for most.  However, what hasn't changed is the caring and generosity that I've had the opportunity to see first-hand every day at the YMCA. Although our doors are temporarily closed, it's uplifting to see that same spirit is alive and well in the Rockwall community."
By Austin Wells, Blue Ribbon News. Courtesy photos.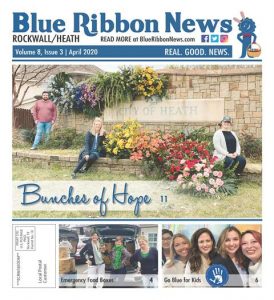 Our print edition is delivered free to ~15,500 homes in Rockwall and Heath, TX.
To share your good news and events, email editor@BlueRibbonNews.com.
Subscribe to our email newsletter here.
Advertising: 214-342-8000 or advertising@BlueRibbonNews.com.