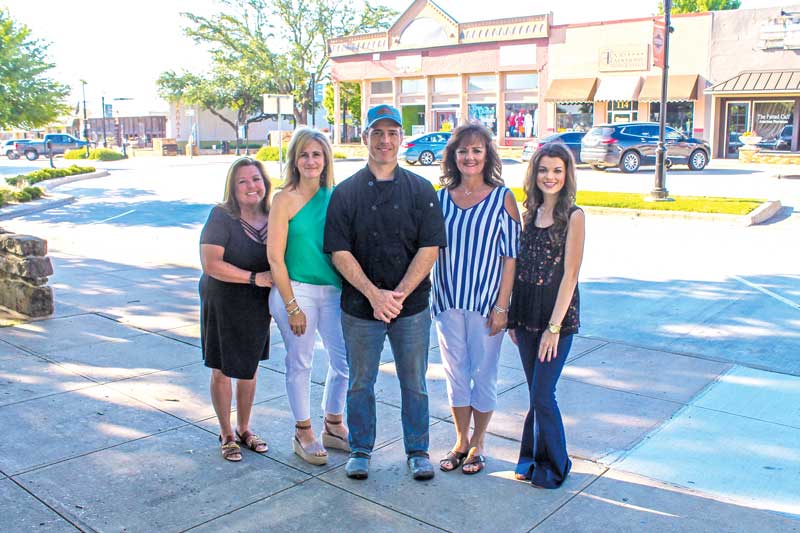 (ROCKWALL, TX — June 29, 2020) With the phased re-opening of the Texas economy amid the COVID-19 pandemic, many struggling local businesses are breathing a collective sigh of relief as they try to return to a new normal. Although area restaurants and small businesses are heavily impacted by COVID-19, many around the county are better able to weather the storm thanks to big time support from their communities, city and county leadership, and their local Chambers of Commerce. The Rockwall Area Chamber of Commerce has helped encourage folks to shop local in support of their hometown businesses by creating a Rockwall Restaurant, Retail and Resource group on Facebook. The group welcomes local retail to post about their business, and restaurants to post about curbside to-go and delivery options, family meals, and daily specials.
Through this unprecedented time, the local business community is doing its best to persevere and discovering several innovative ways to expand their business model to provide excellent service in a safe way.
---
---
Kaitlin Leahy, Simply Kate
"To say the least, COVID has had such a huge impact on small businesses as a whole. Through this difficult time, however, we have seen our community's love and support carry us through. We have been able to assist our customers through online shopping, curbside pickup, and local delivery. And we are so grateful now to be able to serve our customers in our storefront under social distancing measures and guidelines. It's such a blessing to be able to open our doors again and welcome in our customers that we have missed seeing on a regular basis, and even new faces that our showing their "shop local" support through these difficult times. I can't thank everyone enough for continuing to support my dream as a small business owner through such difficult times!"
Tammy Sharp, Downtown Merchants Association President
"We are fortunate that most of the downtown businesses are members of our Downtown Association.  We are individual merchants, restaurants and businesses, however, having a support team sure helps.  Many of us went to online shopping, curbside pickup and even home delivery.  As occupancy requirements have increased, we continue to change our business models.  It really has been a daily evaluation of how to operate.  Just like everyone else, we've never quite experienced anything quite like this. The bottom line is this, without overwhelming community support, many would not have made it.  Thank you for your continued support, patience and willingness to adapt to our continued changes.  Looking forward to seeing you soon!"
District Executive Director Clint Elliot, J.E.R. Chilton YMCA at Rockwall
"We are so excited to welcome the community back to the YMCA. This summer, we are offering swim lessons and youth sports programs including flag football, youth baseball and T-ball. We recognize how important it is to the community to have a place where they can come to not only engage in physical exercise, but to feel connected with one another. Our members have missed that sense of camaraderie they found here at the Y. Now thanks to new social distancing measures, we can provide that while keeping everyone safe."
Dan Keils, Dodie's Cajun Diner at The Harbor
"We want to thank everyone for their support during this time. With the increase in occupancy for restaurants, we're taking care of the community by having all of our staff wear masks, providing hand sanitizer and adhering to the 6-foot social distancing guidelines. We're trying to keep everything as normal as possible in terms of providing great food and excellent service. We provided curbside to go to make it easier and safe for people to get their food. Having a business in Rockwall has been a blessing because it's a community that stands behind its businesses, and we love being able to stand behind the community as well."
Tim Hartley, Rockwall County Criminal Defense Attorney
"Currently cases which are set for a plea can be brought before the court. My biggest focus right now is to keep my clients informed throughout as we go through this pandemic, and let them know what's going on with their case every couple of weeks. It gives them peace of mind knowing that I'm looking out for them. No one likes to be kept in the dark on what's going on. If there's a case that's ripe for a plea, I'm reaching out to prosecutors to negotiate a plea deal on my client's behalf."
Jim Pruitt, Rockwall Mayor
"I want to thank our local businesses for hanging in there during these most trying times. It is now time to support these great businesses as they reopen."
Russ Porter, Rockwall School of Music
"I wanted to expand our scope of lessons to include online lessons but never made time to expand our business model in that direction until COVID-19 hit. We had no choice but to move lessons online. Thanks to Zoom, we were able to very quickly move almost 600 weekly lessons from in-person to online lessons in the span of one week. COVID-19 made us make that change. Something that we initially saw as a health hazard to our community was used to expand our business model in several amazing ways. Not only can we reach people outside our geographical area with online music lessons but parents can Zoom in for lessons rather than having to call in absent."
Breean Nugent, Bin 303
"As a family-owned business, we've faced so many obstacles over the years, but COVID-19 was something that none of us had ever seen before. We immediately started focusing on providing to-go and online orders in ways that were new and fresh. We were so blessed to be able to give back to the community we love even while times were hard. Over the Easter holidays, we teamed up with Bonafide Betties Pie Company and Popcorn Papa to provide family meals. We also partnered with Chefs' Produce to provide a box full of fresh produce which families could drive by and have delivered directly to their car. One of the biggest blessings was being able to protect the livelihoods of our staff. We were able to keep every single employee on payroll and that's due to the tremendous support from the community. We're very thankful to live in a community that will get us through this, and we'll do whatever we can to support it."
Lee Wells, Wells Cattle Co.
"When the news came down that our dining room would be closed due to COVID-19, I immediately called a team meeting. We discussed ways that we could use this time to improve. We began by reevaluating the way our orders were taken, how the kitchen was laid out, how orders were packaged, and how orders were delivered to the customer. We found ways to improve on every process that continue to help us be more efficient today. This year has been a blessing, even though it has also been extremely trying. One of the best things we learned from this crazy time was that we are blessed with the best customers in the world. We are thankful each day for their continued support. Our goal was to emerge from this season better, faster, and more organized, and we feel like we have done all of that and more!"
Story and photo by Austin Wells, Blue Ribbon News.
---
---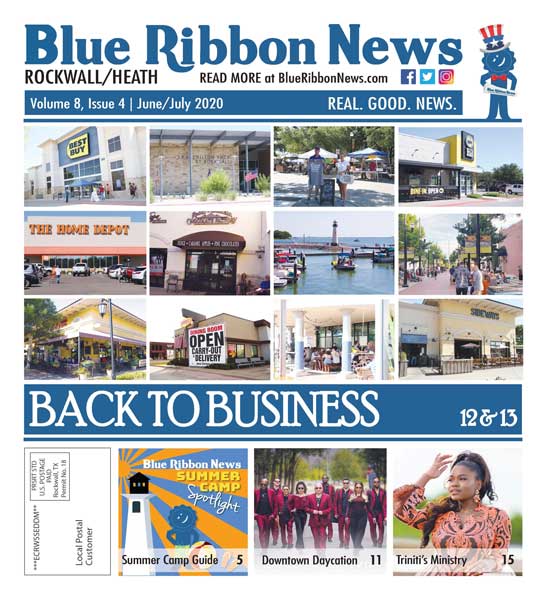 Our print edition is delivered free to ~15,500 homes in Rockwall and Heath, TX.
To share your good news and events, email editor@BlueRibbonNews.com.
Subscribe to our email newsletter here.
Advertising: 214-342-8000 or advertising@BlueRibbonNews.com.