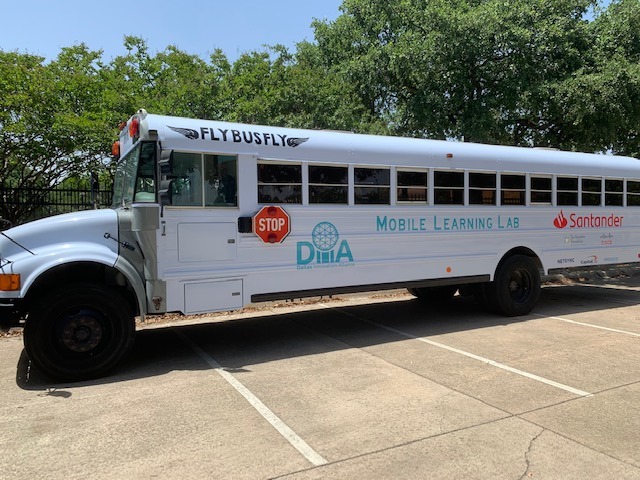 DJuly 14, 2020 (DALLAS) – The Dallas Innovation Alliance recently partnered with the Dallas Independent School District, Fair Park First, and Spectra to launch its Mobile Learning Lab at Fair Park. The Mobile Learning Lab is a converted school bus that provides various summer programs and a footprint of 200-300 feet of free Wi-Fi coverage.
"Digital inclusion is one of the most critical issues of our generation, impacting all areas of our lives, including education, healthcare, and access to opportunity," said Jennifer Sanders, Executive Director of the Dallas Innovation Alliance. "This program is designed to aid in providing access to resources as organizations across the city work together to design long-term solutions."
The Mobile Learning Lab will be stationed at Fair Park all summer from Monday through Friday from 9 a.m. to 3 p.m. Attendees can find the sky-blue painted bus just inside Gate 5 at the corner of Second Avenue and Grand Avenue.
"When we asked our neighbors what they want to see at Fair Park, one of the top answers was free Wi-Fi," said Spectra's Peter Sullivan, General Manager of Fair Park. "When the Dallas Innovation Alliance approached us with this initiative, we saw this as another opportunity to support our surrounding community."
When school buildings closed due to COVID-19 in March, an estimated 36,000 DISD households had no Internet connectivity. Currently, over 40 percent of residents in Dallas lack in-home connectivity, according to research conducted by the Federal Reserve Bank of Dallas, and a recent DISD survey found that nearly 30% of students do not have internet access. Superintendent Michael Hinojosa led the charge, known as Operation Connectivity, and believes providing broadband internet connectivity to all DISD families is a social justice issue that must be addressed.
"Having broadband internet is not a luxury; it is a necessity," said Superintendent Hinojosa. "Internet connectivity should join water, electricity, gas, and wastewater as an essential service."
Various summer programming for DISD students includes tutoring, experiential learning opportunities, financial and digital literacy, and more. For parents, resources including job application assistance, access to online services, workforce development, among others, will be available. Days, hours, and the location inside of Fair Park could vary based on availability and weather. Please visit the DIA Mobile Learning Lab Facebook and website for up-to-date information and a list of programs throughout the summer. Programming for the week of July 13 will be on Wednesday and Friday from 11 a.m. to 1 p.m. with partner Project Still I Rise and focused on learning about building and flying model rockets and airplanes.
In the interest of public safety, social distancing will be in effect, and masks are required. A mask will be provided for attendees who do not have one. Please visit Fair Park's website for Fair Park's safety precautions.
FlyBusFly generously provided the bus to DIA. Other partners include Santander Consumer USA Foundation, The Meadows Foundation, Cisco, Capital One, Netsync, and Presidio.
About the Dallas Innovation Alliance
The Dallas Innovation Alliance (DIA) is a 501c3 public-private partnership dedicated to supporting the design and execution of a smart cities plan for the City of Dallas. The DIA defines a smart city as one that lives at the intersection of community, data and technology to improve quality of life, inclusive economic growth and resource efficiency. In 2017, the DIA launched the Smart Cities Living Lab, comprised of 10 integrated projects in downtown Dallas, and is the fastest-to-market smart cities initiative in the country. Partners of the Dallas Innovation Alliance include City of Dallas, Dallas County, Dallas Area Rapid Transit (DART), Dallas Regional Chamber, VisitDallas, Dallas Entrepreneur Center (DEC), Downtown Dallas Inc., The Real Estate Council (TREC), Texas Research Alliance, AT&T, Toyota, Santander, Capital One, Cisco, Netsync and Wells Fargo. For more information, please visit www.DallasInnovationAlliance.com or follow the DIA on Twitter @DallasSmartCity and Facebook at DallasInnovationAlliance.
About Fair Park First
Fair Park First's mission is to restore, revitalize, and renew the 277-acre National Historic Landmark known as Fair Park to attract visitors from across the region and the country. The Dallas-based nonprofit has developed a new master plan for Fair Park with a focus on increased greenspace connections within the campus and enhanced connectivity with the surrounding area; recognizing and enhancing the value of historic assets; establishing a healthy mix of nonprofit and commercial uses for underutilized buildings; and driving increased attendance with new events and world-class entertainment. The goal for the Park is a sustainable year-round operation, supported by large-scale annual events, as well as daily attractions and programming. Fair Park First's priority is to reestablish Fair Park as one of Dallas' premier visitor and leisure destinations.
About Spectra
Spectra is an industry leader in hosting and entertainment, partnering with clients to create memorable experiences for millions of visitors every year. Spectra's unmatched blend of integrated services delivers incremental value for clients through several primary areas of expertise: Venue Management, Food Services & Hospitality, and Partnerships. Learn more at SpectraExperiences.com. Follow Spectra on Facebook, Instagram, Twitter, and LinkedIn.
Blue Ribbon News staff report. 
---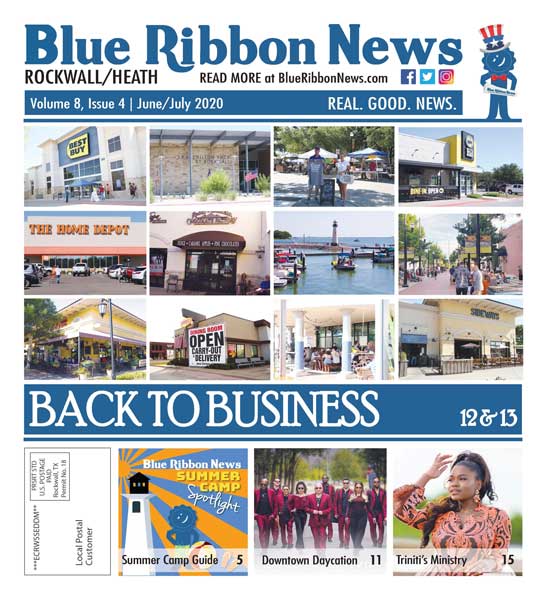 Our print edition is delivered free to ~15,500 homes in Rockwall and Heath, TX.
To share your good news and events, email editor@BlueRibbonNews.com.
Subscribe to our email newsletter here.
Advertising: 214-342-8000 or advertising@BlueRibbonNews.com.