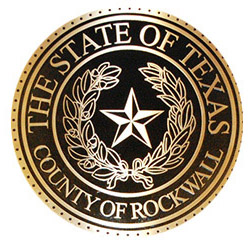 ROCKWALL COUNTY, TX – July 1, 2020 – NOTICE IS HEREBY GIVEN THAT THE ROCKWALL COUNTY COMMISSIONERS COURT WILL MEET IN A SPECIAL MEETING ON JULY 2, 2020, AT 1 PM AT THE ROCKWALL COUNTY HISTORIC COURTHOUSE, 3rd FLOOR, 101 EAST RUSK, CITY OF ROCKWALL, FOR THE PURPOSE OF
CONSIDERING THE FOLLOWING:
A) INVOCATION; Judge Sweet
B) PLEDGE OF ALLEGIANCE TO THE AMERICAN FLAG; Commissioner Bailey
C) PLEDGE OF ALLEGIANCE TO THE TEXAS FLAG; Commissioner Bailey
AGENDA:
1. PUBLIC FORUM: (This is the public's opportunity to address the Commissioners Court about County matters. During this meeting, the Commissioners Court will not discuss, consider or take action on any item not included on this meeting's agenda. We respectfully ask that anyone stepping forward to speak during the Public Forum to please limit remarks to three minutes or less.)
2. Discuss/Act on the appointment of a Local Health Authority for Rockwall County, and all related issues; (Judge Sweet)
3. Discuss/Act on Coronavirus (COVID-19) and its potential effects on the operation of Rockwall County government, as well as Rockwall County's response, and all related issues; (Judge Sweet)
4. EXECUTIVE SESSION: The Commissioners Court of Rockwall County reserves the right to adjourn into Executive Session at any time during the course of this meeting to discuss any of the matters listed in this agenda, in the order deemed appropriate, as authorized by Chapter 551, Open Meetings, Texas Government Code, Sections 551.071, 551.072, 551.073, 551.074, 551.0745, 551.075 and 551.076, or to seek the advice of its attorney and/or other attorneys representing Rockwall County on any matter in which the duty of the attorney to the  Commissioners Court under the Texas Disciplinary Rules of Professional Conduct of the State Bar of Texas clearly conflicts with chapter 551 of the Texas Government Code or as otherwise may be permitted under chapter 551.
a) Pending or Contemplated Litigation and Attorney-Client Information:
b) Real Estate Matters:
c) Personnel Matters:
d) Advice of Counsel:
e) Security Related Matters:
f) Contract Deliberations:
g) Economic Development Prospects:
5. RECONVENE IN OPEN SESSION: Pursuant to the Open Meetings Act, Chapter 551, Texas
Government Code, Section 551.001, et seq., the Commissioners Court will reconvene into Open
Session to take any action necessary on matters discussed in Executive Session.
6. COMMISSIONERS COURT REPORTS:
Pursuant to Texas Government Code Section 551.0415, the County Judge and the County
Commissioners may report on the following items: (1) expression of thanks, congratulations or
condolences; (2) information about holiday schedules; (3) recognition of individuals; (4) reminders
about upcoming County events; (5) information community events; (6) announcements involving an imminent threat to public health and safety.
7. ADJOURN
NOTE: THE COMMISSIONERS COURT RESERVES THE RIGHT TO CONSIDER AND TAKE ACTION ON THE ABOVE AGENDA ITEMS IN ANY PARTICULAR ORDER. THE ROCKWALL COUNTY COMMISSIONERS COURT COMPLIES WITH A.D.A. REQUIREMENTS. IF YOU PLAN TO ATTEND THIS PUBLIC MEETING AND YOU HAVE A DISABILITY THAT REQUIRES SPECIAL ARRANGEMENTS AT THE MEETING, PLEASE CALL IN ADVANCE OF THE MEETING AT (972) 204-6000.
Blue Ribbon News staff report. 
---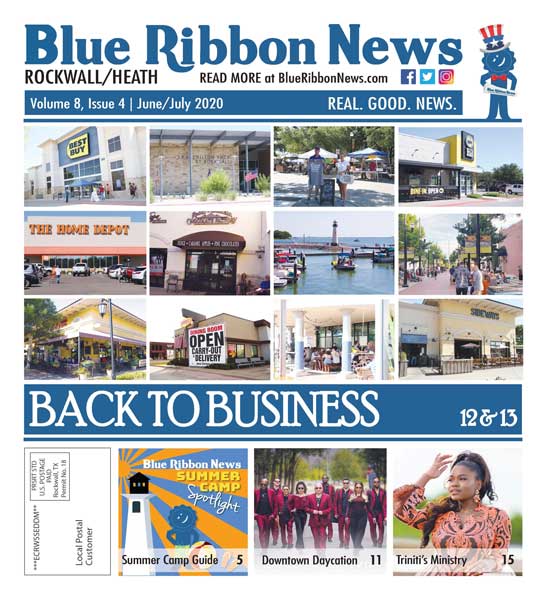 Our print edition is delivered free to ~15,500 homes in Rockwall and Heath, TX.
To share your good news and events, email editor@BlueRibbonNews.com.
Subscribe to our email newsletter here.
Advertising: 214-342-8000 or advertising@BlueRibbonNews.com.