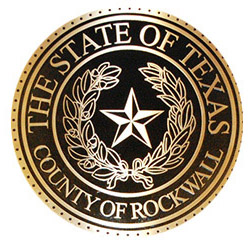 ROCKWALL, TX – July 4, 2020 – The Rockwall County Commissioners Court called a special meeting Thursday, July 2 to welcome public comments, address matters regarding the COVID-19 pandemic, and to discuss the appointment of a local Health Authority following the recent resignation of Dr. Gary Bonacquisti. The meeting was recorded live and is available to the public here.
"Dr. Bonacquisti, a local physician who serves as Chief Medical Officer at Texas Health Hospital Rockwall, has volunteered his time as Rockwall County Health Authority for the past 14 years, and I want to thank him publicly for his dedication and service," Rockwall County Judge David Sweet told Blue Ribbon News.
Judge Sweet referenced Chapter 121 of the Health and Safety Code which addresses the responsibility of local entities in terms of essential public health services. "Counties and cities can have individual health departments, health districts, or they can appoint or employ health authorities," Judge Sweet explained. "Throughout the state of Texas, only 60 counties have their own health departments. Rockwall County, along with 36 other counties, is supported by the Department of State Health Services Region 2/3 as our health department, and Dr. Bonacquisti has served very well as our local Health Authority," Judge Sweet said.
Bonacquisti tendered his resignation as Rockwall County Health Authority on June 26, but agreed to continue serving until a replacement is found. Sweet said that Bonacquisti cited two reasons for his resignation: an increased workload in his private practice and at the hospital, as well as strong reservations he holds about public events with large gatherings being hosted in light of the COVID-19 pandemic. Bonacquisti shared some of his concerns when he addressed the court during the special meeting.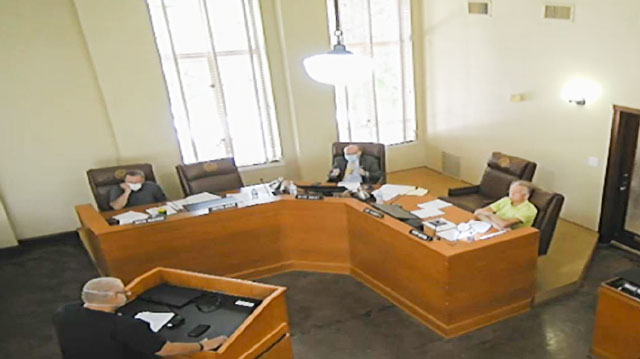 "The [COVID-19] numbers are under-reported across the Unites States. It's even getting worse over the last two weeks because our health department in the state of Texas is overwhelmed with this pandemic, and underfunded in my opinion," Dr. Bonacquisti said.
Dr. Bonacquisti emphasized the importance of looking at the case fatality rate, in addition to the overall death rate. He explained that the case fatality rate takes into account only those that are symptomatic – "so you remove the asymptomatic individuals that test positive and you just look at those people that are symptomatic. The case fatality rate right now in the U.S.  is 4.8 percent. In Rockwall County, the case fatality rate is 4.27 percent. That means that 4.27 percent of the patients that are presenting with symptoms and testing positive, are fatalities. Let that sink in," he said. "This is not the flu. The flu doesn't come anywhere close to this."
Bonacquisti added, "I don't know how this became a political issue that has totally destroyed our approach to this virus…I don't think we should have to mandate masks; I think we should do it because we care about each other."
"Every hospital in the DFW Metroplex is getting prepared. We're running about 7-10 days behind Houston with our data on this virus spread. Houston's ICUs were full last Thursday. They're transferring COVID-positive patients to MD Anderson because they're out of beds. If that doesn't give you a reality check about what we're dealing with, I don't know what else I can say."
Dr. Bonacquisti concluded by saying, "I'm pleading with the county of Rockwall as your Health Authority to make the choice to protect each other."
Bonacquisti's comments, as well as others who addressed the court, can be heard at this link.
The Rockwall County Commissioners Court unanimously authorized Commissioner Lee Gilbert to work alongside Judge Sweet to identify individuals who are interested in serving as the Rockwall County Health Authority, and to present a recommendation to the court for consideration and approval. The position includes a $500 per month stipend plus additional $500 per month during a pandemic for whomever is appointed by the court to serve in that role.
COVID-19 REPORTING UPDATE  
Judge Sweet expressed the county's ongoing concerns regarding the need for more timely and accurate COVID-19 reporting.
"I've had several conversations with Dr. Joel Massey, Region 2/3 Medical Director; Nim Kidd, Chief of the Texas Division of Emergency Management; David Gruber, Associate Commissioner of Regional and Local Health Operations for the State of Texas; as well as a host of other emergency management and public health leaders, emphasizing the need for reliable, timely and accurate information," Judge Sweet said. "About two weeks ago, the Texas Department of State Health Services, which serves as the health department for Rockwall County as well as 36 other counties in North Texas out of Region 2 and Region 3, made the decision to transition reporting to the Texas Health Trace System," he said. "Rockwall County was identified as a test county for the region, and this week they've begun providing the daily information for the other counties."
Sweet added, "This is still very much a work in progress. Barbara Neville, RCOEM Coordinator; Jarod Rosson, Deputy Emergency Management Coordinator; and I are working diligently with Jim Knickerbocker, GIS Coordinator for Rockwall County, to ensure going forward that the cases reported are accurate."
During Thursday's Commissioner's Court meeting, there was a full discussion of the processes that the RCOEM uses to determine case counts, which can be reviewed at this link, starting at 1:34:00.
17th Fatality Reported
Rockwall County received information Friday (July 3) of a 17th COVID-19 fatality – a 52-year-old female who resided in an unincorporated portion of Rockwall County (within the Fate ETJ). Although this fatality is not reflected in the RCOEM's graphic below, the graphic comprises the latest, confirmed information as of June 29, 2020, as presented at Thursday's meeting.
"Rockwall County has noticed errors from DSHS in the cities that cases are reported in. Rockwall County GIS is correcting the errors. When we can ensure the errors have been corrected, we will share the updated case counts and breakdown in ages and cities," said Rosson.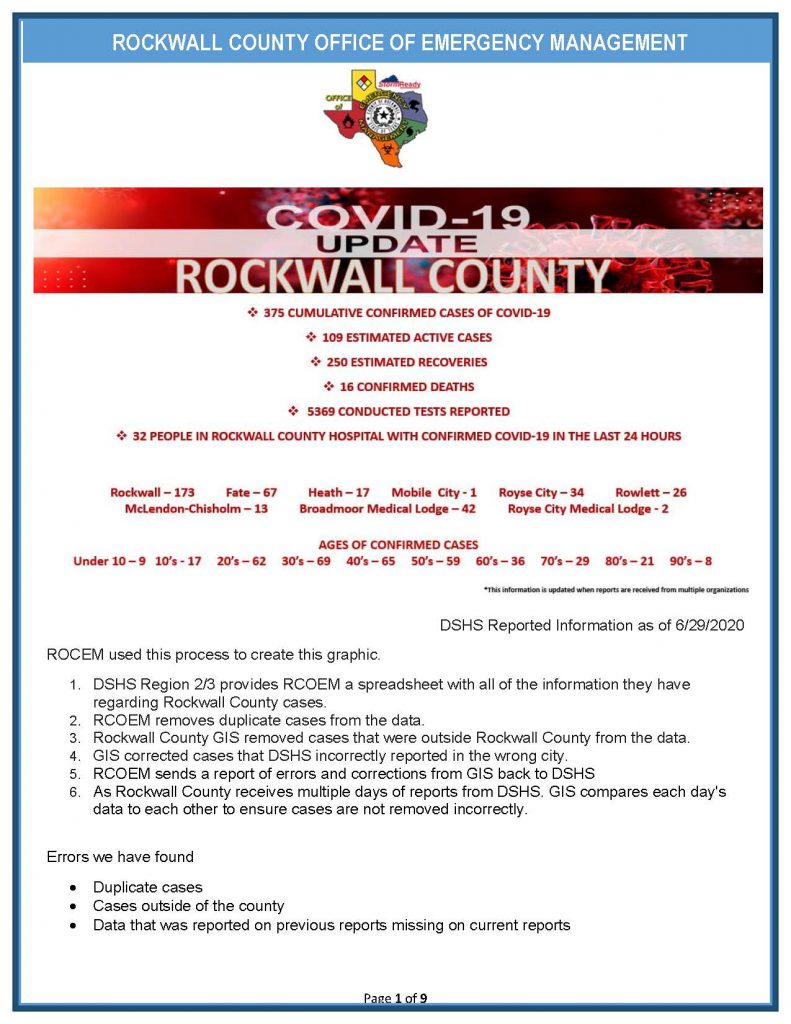 Rosson's full report to the Commissioner's Court meeting, which includes hospital data as reported by the North Central Texas Trauma Regional Advisory Countil (NCTTRAC), can be reviewed here.
"Another task that we have identified is keeping an accurate report of the conditions of long term senior facilities and daycares in the county. Barbara, Jarod and I are in constant communication with several of the facilities and they check with all and update the information weekly or bi weekly," Judge Sweet said.
COVID-19 PUBLIC TESTING UPATE
"Another initiative we're working on is ensuring that public testing is available. Rockwall County Emergency Management has worked tirelessly in ensuring that public testing is available in partnership with the Texas Department of Emergency Management, Texas National Guard and Lake Pointe Church. To date it is the second busiest testing location in the region," Judge Sweet said.
Free COVID-19 testing at Lake Pointe Church July 7
The next free, drive-thru site is 10 a.m. to 4 p.m. Tuesday, July 7 at Lake Pointe Church in Rockwall. The mobile testing site performs a nasal swab test which shows active infection. Results are usually returned in 3-5 days. There is no cost to be tested at the mobile testing site. The testing is open to everyone but is currently limited to one person per household; the person does not have to be symptomatic.
Registration opens 24 hours before the site opens, so appointments may be scheduled beginning Monday, July 6 at www.txcovidtest.org or call 512-883-2400.
As of Thursday's meeting, the RCOEM reports that 703 people have been tested at Lake Pointe Church. Twenty seven have tested positive. Five test results are indeterminate.
GOVERNOR ABBOTT'S STATEWIDE FACE COVERING REQUIREMENT AND PROCLAMATION TO LIMIT GATHERINGS
The Commissioners Court was addressing the matter of mandating face masks for the county when Governor Abbott issued an Executive Order mandating a statewide face covering requirement and proclamation to limit gatherings.
Just prior to receiving word of the Governor's order, Judge Sweet was sharing his concerns about the implementation of a mask order by the county. His concerns were based upon previous statements the Governor had made indicating he wasn't going to mandate individuals to wear masks and that he wasn't going to allow local governments to do so either. Sweet pointed out that in response to these statements by the Governor, other cities and counties, including Dallas County, then issued an order requiring businesses to post policies within five days of the issuance of that order requiring individuals to wear face masks in their businesses, and put the responsibility of enforcement of that order on the backs of those businesses.
"Any executive order without enforcement provisions means nothing, and to drop the responsibility on businesses to require masks is unacceptable – dismissing for a minute whether governments at any level can even issue such orders requiring a face mask in the first place," he said.
Judge Sweet emphasized that the Court does not want to be confusing or send mixed messages. "The fact is we've got to be responsible and we've got to have personal disciplines in place to help keep us safe," he said. "We're doing the best we can with respect to people's liberties and freedoms while not putting impossible pressure on businesses to manage such a mandate without the means to enforce it."
Members of the Commissioner's Court expressed their views as well, echoing concerns about implementing a mask mandate and the challenges associated with enforcement.
Commissioner Lee Gilbert told the Court, "I feel pretty strongly about the use of masks…however under the circumstances, with absolutely no enforcement mechanism in place, and our governor handing it off to local entities, I for one, don't want to see in Rockwall County what I'm seeing on YouTube of people challenging people not wearing masks and being assaulted…I would encourage each and every one of else to wear a mask out in public." He encouraged businesses in town to follow the lead of Ace Hardware and Costco and other businesses who are advocating masks.
Commissioner Dennis Bailey put forth a suggestion about a public messaging campaign regarding the importance of wearing masks, when Judge Sweet received a text about the Governor's Executive Order mandating the statewide face covering requirement, taking the issue out of the Court's hands.
The Governor's Executive Order, which went into effect at 12:01 p.m. Friday, requires all Texans to wear a face covering over the nose and mouth in public spaces in counties with 20 or more positive COVID-19 cases, with few exceptions. The Governor also issued a proclamation giving mayors and county judges the ability to impose restrictions on some outdoor gatherings of over 10 people, and making it mandatory that, with certain exceptions, people cannot be in groups larger than ten and must maintain six feet of social distancing from others.
"Wearing a face covering in public is proven to be one of the most effective ways we have to slow the spread of COVID-19," Governor Abbott said in a press release. "We have the ability to keep businesses open and move our economy forward so that Texans can continue to earn a paycheck, but it requires each of us to do our part to protect one another—and that means wearing a face covering in public spaces. Likewise, large gatherings are a clear contributor to the rise in COVID-19 cases. Restricting the size of group gatherings will strengthen Texas' ability to corral this virus and keep Texans safe. We all have a responsibility to slow the spread of COVID-19 and keep our communities safe. If Texans commit to wearing face coverings in public spaces and follow the best health and safety practices, we can both slow the spread of COVID-19 and keep Texas open for business. I urge all Texans to wear a face covering in public, not just for their own health, but for the health of their families, friends, and for all our fellow Texans."
View the Governor's Executive Order.
View the Governor's Proclamation.
Blue Ribbon News staff report. 
---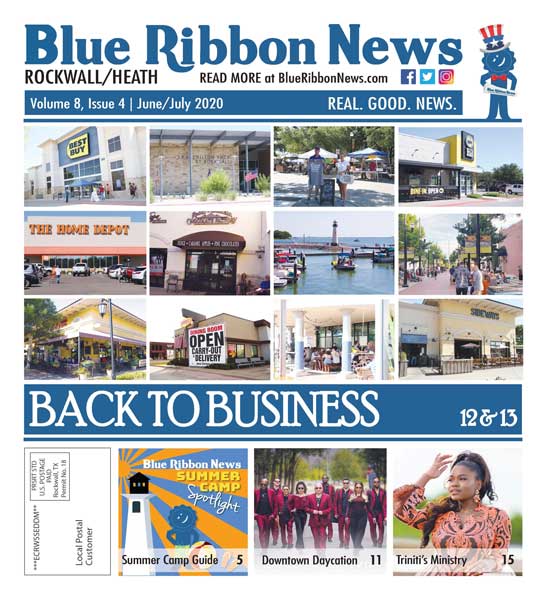 Our print edition is delivered free to ~15,500 homes in Rockwall and Heath, TX.
To share your good news and events, email editor@BlueRibbonNews.com.
Subscribe to our email newsletter here.
Advertising: 214-342-8000 or advertising@BlueRibbonNews.com.