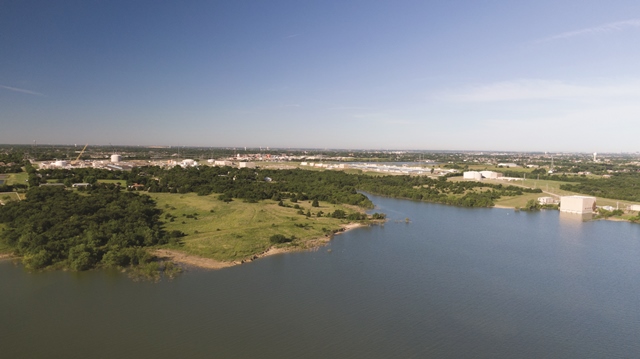 September 2, 2020 – As North Texans enter the month of September, the final month of peak water usage, and prepare our landscapes for the fall, it is important to take the necessary steps to properly conserve water. In the state of Texas, July-September is considered the peak months when customers see spikes in their water usage due to outdoor watering practices. Water bills are typically higher due to soaring temperatures, while conservation of this natural resource is typically lower. As homeowners and residents close out the summer and enter the cooler months ahead, here are three simple ways to know more, and water less.
Understanding where the majority of your water usage occurs
It is a common misconception that the majority of water usage comes from indoor needs — bathing, cooking, drinking water, etc., when it is actually the opposite. The overwhelming majority of water is used for outdoor purposes. Many homeowners use substantial amounts of water for their lawn, to refill a pool and/or hot tub, or to maintain their landscaping and gardens. Nearly 50 percent of landscape water is wasted due to overwatering, inefficient watering practices, or broken and poorly maintained sprinkler systems.
It is important to understand where the largest portion of your monthly water usage comes from to understand the need to conserve the water that North Texans rely on. Consider ways to limit outdoor water usage, like creating a consistent schedule for watering your lawn, landscape, and gardens. The most optimal time to conduct lawn watering is before 10 a.m. and after 6 p.m. through the months of April through October to minimize evaporation. While most homeowners believe they need to water daily, you generally only need to water once or potentially twice weekly. Should weather predict a rain shower in the forecast, skip your watering day and then determine if a second day is needed. With North Texas clay soils, water your lawn deeply and infrequently to help the roots grow deeper into the soil. This cycle-soak method provides a hardier lawn.
Small changes can also be implemented indoors to use water efficiently. Purchasing low-flow fixtures for your bathroom and WaterSense labeled clothes and dishwashers will contribute to reducing water usage. Additionally, utilizing your dishwasher instead of washing dishes by hand will decrease the amount of water being wasted in the kitchen.
Make seasonal changes to your water usage routine
Your wardrobe shouldn't be the only thing that changes with the season. Proper water usage needs to be refreshed as we move from the summer into fall.
As lawns go dormant with the cooler weather, homeowners can turn off their sprinkler systems until spring. Seasonal temperatures and rain make it possible to pause on all irrigation. Additionally, only potted plants and other winter annuals need occasional watering during the colder months.
The colder seasons are also a great time to examine your irrigation system and indoor appliances. Consider upgrading to more water-efficient products and appliances while they are being used less frequently.
Maintaining proper water conservation practices for years to come
Water is a resource that many take for granted. At the rate the North Texas area is growing, the population is expected to double in 50 years, making water conservation that much more important today. Conservation stretches the use of existing supplies – when you use water wisely and efficiently, it allows water districts to delay or fully eliminate costly projects.
Water consumption in North Texas has increased significantly in the last two years. Based on reports from the North Texas Municipal Water District, water consumption volumes are up 13.5 billion gallons from 2018-2019 to 2019-2020. If every household saved just 20 gallons of water, which is equivalent to a roughly four to five-minute shower or running your faucet for 10 minutes while doing the dishes, North Texas would save 36 million gallons of water per day. Every drop counts!
There are also free tools that consumers can utilize. For example, the Texas A&M Extension Service recently launched the WaterMyYard app available for download on Google Play and iTunes. The WaterMyYard app helps homeowners keep track of when and how much to water in order to maintain a healthy lawn.
Water conservation is an important resource that all North Texans should be proactively thinking about daily, not just during the peak water usage months or when the area is in a drought. It is up to us as homeowners and residents to ensure that our natural resources are sufficient for years to come. Head to www.NTMWD.com to learn more about what you can do in the short and long-term to conserve water for your community.
Written by North Texas Municipal Water District's Water Resource & Public Education Manager Denise Hickey, for publication in Blue Ribbon News. Submitted photo of Lavon Lake with Wylie Water Treatment Plant courtesy of NTMWD.
---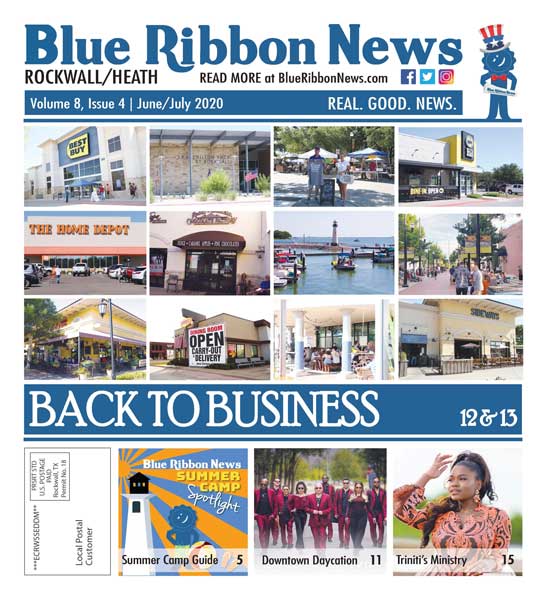 Our print edition is delivered free to ~15,500 homes in Rockwall and Heath, TX.
To share your good news and events, email editor@BlueRibbonNews.com.
Subscribe to our email newsletter here.
Advertising: 214-342-8000 or advertising@BlueRibbonNews.com.