Immersive Movie Experience pays Tribute to Black Aviators, Oct. 28-Nov. 1 
TERRELL, TX Oct. 18, 2020 – The story and legacy of World War II's famed Tuskegee Airmen – America's first Black, military pilots and their support personnel – is vividly told in "Rise Above: Red Tail Triumph Over Adversity ". The Commemorative Air Force's traveling exhibit will be located at Terrell's No. 1 British Flying Training School Museum, 119 Silent Wing's Boulevard, Oct. 28 – Nov. 1.
"We are so excited to offer this immersive experience to families in Terrell and surrounding communities," explained Rudy Bowling, executive director of the Museum that is dedicated to the World War II pilots from Britain and Canada who trained in Terrell. "This message of character, courage and the ability to triumph over adversity is a message to all ages who seek to accomplish personal goals."
Housed in a climate controlled 53' semi-trailer with expandable sides, the 160 degree panoramic screen allows visitors to experience the feeling of being in the cockpit soaring about the clouds in a P-51C Mustang during the movie. Each showing lasts 30 minutes. Visitors are required to wear masks and maintain social distancing. Visitors can enjoy visiting the BFTS Museum before or after their movie experience.
None of the World War II heroes were experienced pilots, though all had some college education. What they had in common – and what made them ultimately succeed – was the ability to recognize that all the obstacles they faced could be overcome with hard work and dedication. WWII was the era of military segregationist policies where many believed that Blacks were inferior and would never be capable of learning to fly or contribute to the war's air power efforts.
These timeless lessons were reflected in their six guiding principles – Aim High, Believe In Yourself, Never Quit, Be Ready To Go, Use Your Brain, Expect to Win. Each visitor will receive a dog tag emblazoned with these guiding principles.
The Commemorative Air Force (CAF) honors the men and women who built, maintained and flew airplanes during World War II. The CAF ranks as one of the largest private air forces in the world as they collect, restore and fly vintage historical aircraft. The CAF's Red Tail Squadron maintains a fully restored P51-C Mustang whose paint scheme, with its distinctive red tail, represents the four squadrons that made up the famed 332nd Fighter Group.
Located at 119 Silent Wings Blvd. Terrell, the exhibit will be open from 10 am – 6 pm Wednesday – Sunday.  For information or group reservations, call 972-551-1122 or visit www.bftsmuseum.org.
About the No. 1 British Flying Training School Museum
The No. 1 British Flying Training School Museum was established in 1987 to house, collect and display memorabilia related to the operation of the flying school at the Terrell Municipal Airport during World War II. One of only six flight schools in the country set up by the U.S. military, civilian instructors at the flying school taught more than 2,000 young, English and American aviators to fly from 1941-1945. The Terrell community welcomed the young airmen, offering home-cooked meals and transportation, forming life-long friendships and continuing to care for the graves of 20 cadets and instructors who died during training exercises. The annual Remembrance Day ceremony that honors the fallen aviators is set for 3 pm on November 8, 2020.
---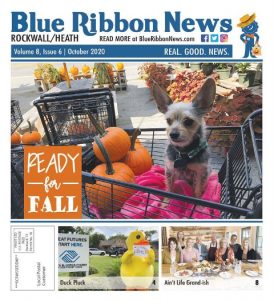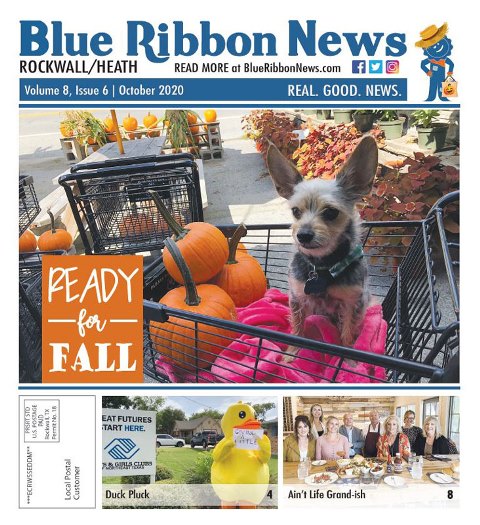 Our print edition is delivered free to ~15,500 homes in Rockwall and Heath, TX.
To share your good news and events, email editor@BlueRibbonNews.com.
Subscribe to our email newsletter here.
Advertising: 214-342-8000 or advertising@BlueRibbonNews.com.