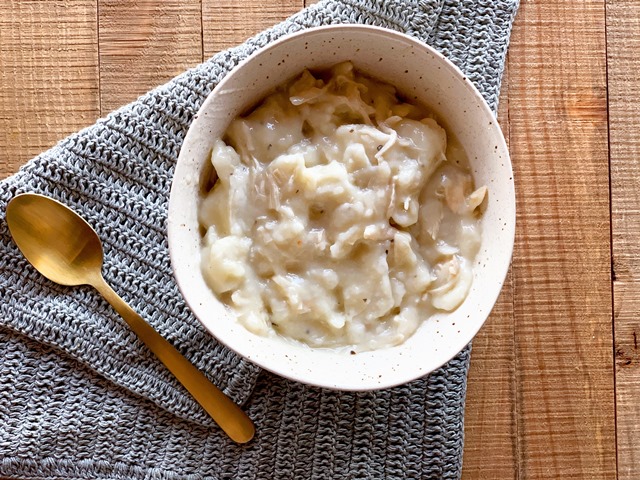 ROCKWALL, TX – Nov. 23, 2020 – This time of year is what I like to call Chicken and Dumplings season. They are fitting for any occasion these days. Chicken and Dumplings can warm a cold body or a worried soul. They are perfect to share with family during the holidays. The best door step drop-off dinner for a friend. And they make wonderful leftovers for any meal the next day.
I had not made Chicken and Dumplings from scratch until a few years ago. I order them in a restaurant anytime I get the chance but I had not realized how easy they are to make at home. It took trying a few different recipes and some tweaking of my own to really land on the recipe I loved most.
This recipe calls for boneless, skinless chicken tenders that you boil to cook but you can also use shredded chicken from a pre-cooked rotisserie chicken. If doing this, just omit the chicken tenders and chicken flavored bouillon from the recipe and add in 2-3 cups of your shredded rotisserie chicken.
A lot of times I have a great story to go along with my recipes. This month, I really don't. I think I need to just let the food do the talking. It's been a year for all of us and we are almost at the close. We have made it through so much in 2020.
My suggestion: get in your kitchen and make something that takes a little extra work. Something that gets your hands dirty. Something like Chicken and Dumplings. Find someone to share them with or have a seat all by yourself and enjoy.
You deserve it. We all deserve it. The end of the year brings a lot with it and I think this year, even more.
So just enjoy. In whatever way you choose…but hopefully with Chicken and Dumplings.
Love,
Melissa
Tate Farms Chicken & Dumplings
Ingredients:
2 lbs boneless skinless chicken tenders, about 8 tenders
2 Tbsp Knorr chicken flavored bouillon
2 quarts chicken broth
2 cups flour, plus more
1/2 tsp baking powder
1 tsp salt
1/2 Tbsp Tate Farms Steak Shake (salt, garlic powder, onion powder, pepper, red pepper flake)
2 Tbsp butter, cold or room temp
1 cup milk
Directions:
Fill large pot with water, 6-8 cups, and stir in 2 Tbsp chicken flavored bouillon.
Place chicken tenders in water and cook over medium/high heat until tenders are cooked through.
Remove tenders from water and let cool in a covered bowl. Reserve water that tenders were in for later.
In the same large pot, bring 2 quarts of chicken broth and 1 cup reserved water to a boil.
While bringing broth to heat, begin dumplings.
In a bowl or stand mixer, mix flour, baking soda and salt. Cut in butter and mix thoroughly.
Add 1 cup milk and combine until dough forms. Heavily flour countertop or rolling mat and flatten out dough using
rolling pin and as much flour as needed to prevent sticking. Roll dough into a think sheet, 1/4 inch or less.
Cut dough into strips, about 1 inch long and 1/2 inch wide. When broth begins to boil, start dropping strips into boiling broth one at a time.
Gently stir to keep them from sticking. Excess flour helps to thicken up the broth. Once all dumplings are in, cook on medium heat for 15 minutes.
While dumplings are cooking, shred chicken strips. Add to pot after 15 minutes, combine and continue to cook on low.
If chicken and dumplings are too runny, add more flour. If too thick, add more water from the chicken tender reserve.
Add more salt and pepper at this time, if needed.
Cook on low 10-15 more minutes and serve!
By Melissa Tate of Rockwall, as published in Blue Ribbon News November/December holiday print edition.

RELATED STORIES
Cooking with Ease by Melissa Tate: Chocolate Chip Cookie Skillet
---
Our print edition is delivered free to ~15,500 homes in Rockwall and Heath, TX.
To share your good news and events, email editor@BlueRibbonNews.com.
Subscribe to our email newsletter here.
Advertising: 214-342-8000 or advertising@BlueRibbonNews.com.