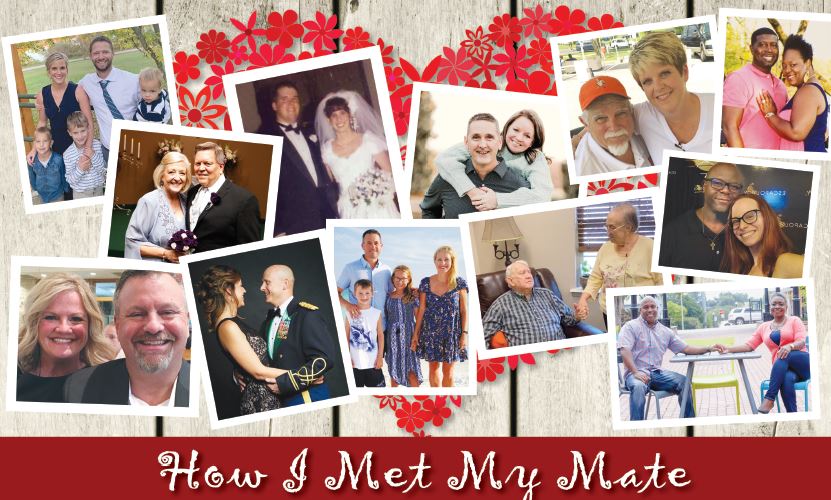 ROCKWALL, TX – February 1, 2021 — Each year for Valentine's Day, Blue Ribbon News asks local couples to share stories about how they met. Their tales of true love are sweet, funny, and sometimes quirky – and always a big hit among our readers. This year we received a record number of submissions!
Five lucky couples were randomly selected from among this year's submissions to win prizes from several local businesses. Congrats to the following winning couples:
Couples Massage from Rockwall Body & Soul Massage with wine, hot stones and oil — Jason & Lakisha Moore

$50 gift card from Dodie's — Casey & Marvin Washington

$50 gift card from Samee's Pizza Getti — Becky & Jimmy Neeley

Free night stay with a bottle of champagne/wine at The Hyatt Place Dallas/Rockwall — Chelsea & Josh Acree, Kate & Dave Wilke
If you missed the opportunity to submit, please email your story, in 250 words or less, to editor@blueribbonnews.com and we will do our best to share them here and/or our on our Facebook page at www.facebook.com/blueribbonnews, throughout February. 

Kate and David Wilke
My husband David and I met in 1995. We were both in downtown Dallas at a restaurant called Enchiladas. David was having lunch with about 25 guys from work, and I was having lunch with my cousin. As soon as I walked in, I spotted him in the middle of the table. I couldn't take my eyes off of him. My cousin and I went and sat down at our table. My back was to his table, but that didn't stop me from turning back to look at him, which I did through the entire meal. My cousin and I finished our meal, and got up to leave. As we left, I looked at David and he and I locked eyes as I walked out of the restaurant. I knew I had to meet him.
Normally, I would have walked over and given him my phone number, because that's my personality, but this time, for some reason, I was a bit intimated. So, I found a lady who cleaned the building and I paid her $5 to walk over and give him my number. I hid around the corner and watched him. All the guys at his table were trying to look, but he was very private about it, which is totally his personality. He looked up and had the best smile. A few days later, he called me, and we went on our first date. I was 20 years old, and I knew he was older than me (I later found out he was 30), so I brought my cousin (same cousin as before) along. Which was probably a dead give away that I was young. Haha! We all hung out for a little while, and then once I felt safe, my cousin left. From then on, he and I were inseparable for about 3 years. He and I sadly broke up a couple of times for short periods. But I always stayed in his sight. I would go hang out at places he hung out, and 'accidentally' run into him. After doing that a few times, he realized I wasn't going anywhere and that we were meant to be together – something I knew from the first day I locked eyes with him. It's been 26 years, and we have been together ever since!
We have three beautiful sons. Ben is 18 and goes to Texas Tech; Will is 16 and in the 10th grade at Rockwall High School; and Andy is 13 and in the 7th grade at Williams Middle School. Every day I count my blessings that I found my one true love!
Submitted by Kate Wilke.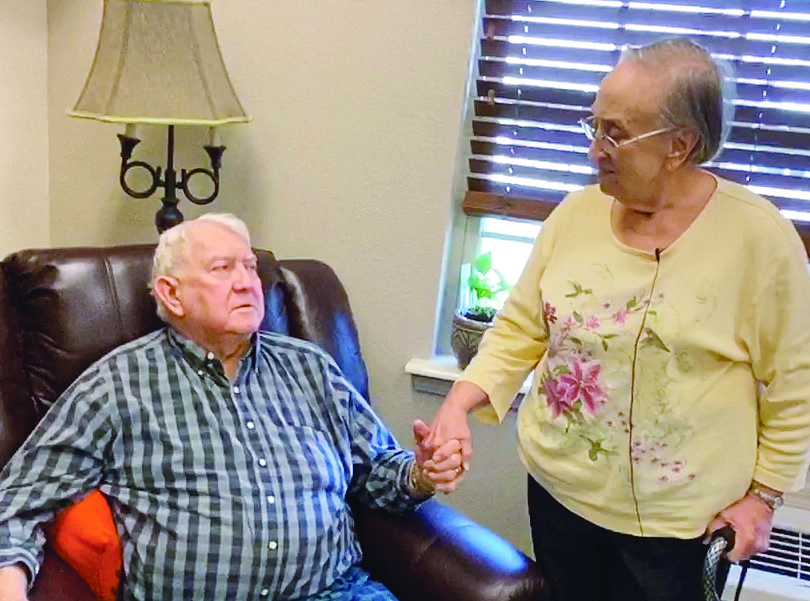 Norman and Carolyn Patton
Norman and I met at church. Norman was my pastor and he was attracted to me, but he was scared to ask me out on a date. Norman decided to go to my parents to see if it was ok to ask me out on a date.
We dated for two years before marriage. Norman proposed to me one day while hugging on me, telling me, "I'm gonna marry you," and I delightedly said yes!
We have been married for 59 years.
Norman and I say that to maintain a long-lasting marriage is to do a lot of praying and trusting the Lord. We had a family of six including ourselves and four children – two boys and two girls.
Norman chose to be a pastor, because God called him on it, but he always wanted to be a mechanic because he was good at it.
We are so much in love! Do we always agree? No, but I wouldn't trade him in for the world. We love each other so much!
Submitted by Carolyn Patton. Carolyn and Norman are residents at Highland Meadows Health & Rehab in Rockwall.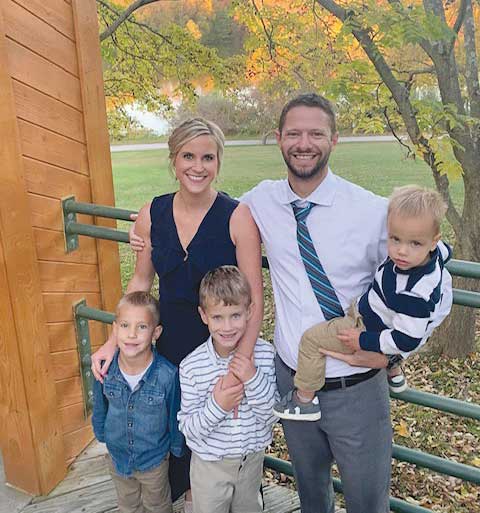 Chelsea and Josh Acree
I met my husband Josh when I picked up a shift in the ER. I usually had worked in the ICU, but the ER needed an extra hand. Who knew I would work with the most handsome medical student. Too shy and not "dressed up" to meet Mr. Right, I didn't say much to him.
Fast forward six months later, LUCK was on our side.  On St. Patrick's Day we ran into each other at one of our favorite hole-in-the-wall bars in Scottsdale, Az.  We recognized each other instantly. He had an extra ticket to a spring training baseball game for the next day (with his mom and Aunt) and asked if I would like to join. Who knew first dates with his family could be so much fun!? We went on an official date a week later. I can't say how lucky we feel running into each other on St. Patrick's Day.
We've been married eight years and we have three amazing little boys.  We have lived all across the country but decided to make Rockwall our home. We've been here for three years and love all Rockwall has to offer for our family!
Submitted by Chelsea Acree.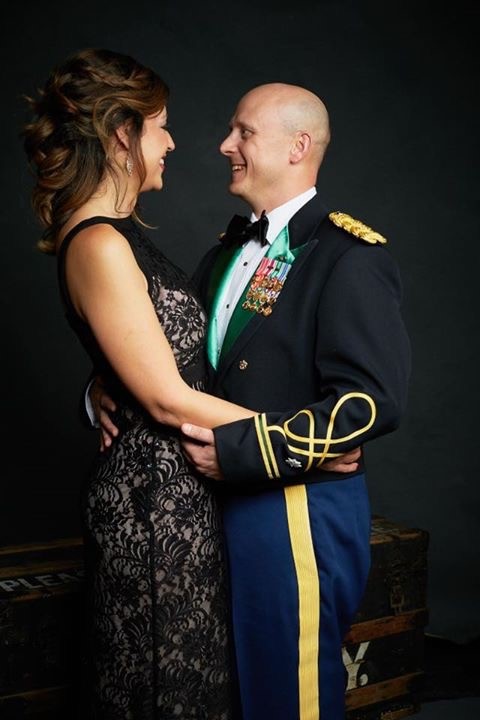 Amy and Donnie LaGrange
Friday, 20 March '98: Will Smith's "Gettin' Jiggy Wit It" and Usher's "Nice & Slow" topped the charts when my friends and I headed to Panama City Beach for spring break our senior year of college in NY. We had a blast that week and for our last night in town, we decided to go back to the place we'd enjoyed most: Harpoon Harry's. Amy and her bestie were juniors at Texas A&M who had road tripped from College Station to Orlando and Daytona Beach for the week. They decided to stop for the night and grab a drink at a place next to their hotel, Harpoon Harry's.
With a Cuervo t-shirt over my shoulder from a contest I had just won, I waded through the crowd looking for my friends to show off my hard-earned prize. I spotted Mark and Tony talking with a couple "beautiful bunnies" (a nod to the movie Swingers). I pressed my way into the small circle, looked Amy square in the eye, and said, "Do you believe in love at first sight, or do I need to walk by again?"
She and her friend laughed. We talked and danced a bit and then they decided to turn in before the 12-hour drive the next day. I couldn't let Amy go without getting some digits, but when I asked, she just shrugged and said she didn't have a pen or paper (this was before cell phones or Myspace, kids). She was able to produce an Ice Breakers gum wrapper from her pocket. I borrowed a pen from someone, wrote the number on the gum wrapper and returned the pen.
I didn't wait seven or even three days, either of which would have been pretty money; I called Amy Sunday night.
We were engaged about a year later on Valentine's Day 1999 in Mesquite Texas, and married in Dallas on March 18, 2000. Over the past 20 years with my Army career, we lived in Salado and Cedar Park in Texas (Hood, UT Grad School), Seoul and Pyeongtaek, Korea, West Point and Fort Drum in New York, Colorado Springs, Colorado, and Joint Base Lewis-McChord, Washington. We spent nearly six years apart due to mission requirements that included Bosnia/Kosovo, Korea, Afghanistan, NTC and JMRC rotations, etc. Two of our kids were born overseas and the third in Austin. After missing six of Luke's first 10 birthdays, I Army-retired and began my second career as a Wealth Advisor here in Rockwall. Through it all, I still have that Cuervo shirt, the Ice Breakers wrapper, and the love of my life.
Submitted by Donnie LaGrange.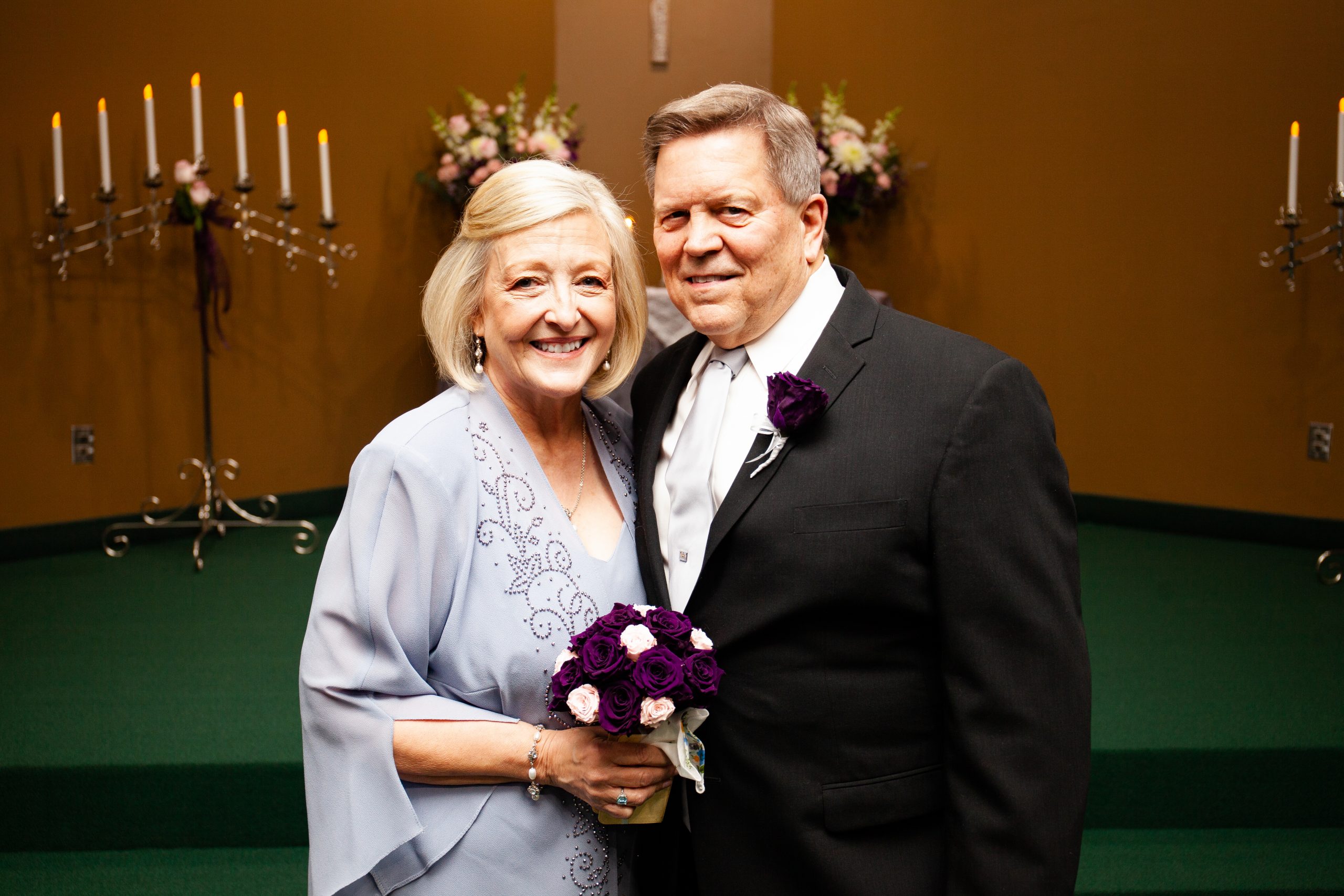 Becky and Jimmy Neeley
While students at Longview High School in the fall of 1969, I met Jimmy in Spanish class! I was 14 at the time and he was 17. He asked me to go on a date. I said no, I couldn't go on date until I was 15. So after my 15th birthday, Nov. 17, we had what was our first solo car date. He drove a Mustang. So did I! A few dates later, Jimmy graduated and shipped out joining the Navy in the summer of 1970.
Jimmy and I became 'pen pals' writing letters, and had dates when he'd be back in Longview on leave. I was young, continued to date others. He was away, perhaps more focused on 'love' growing from our correspondence. When he was back home on a leave near Thanksgiving 1971, Jimmy took me out to his parents lake house at Lake Cherokee outside of Longview. He made a cozy fire outside. Then to my surprise, he pulled out a ring box! I never even looked at that ring inside, but responded with "Are you crazy?" when he asked me to marry him. I was barely 17, about to graduate in 1972, and wanted to get a college degree to become a Kindergarten teacher.
Jimmy later said he got the dreaded "Dear John" letter. We parted ways…
Forward to April 2019 (47 ½ years later): After 43 years of marriage, my husband, Steve, passed away due to cancer (Oct. 2017). After 34 years of marriage, Jimmy's wife, Kay, passed away due to lengthy illness (Jan. 2019).
Although hesitant, I made a Facebook account as a way to stay informed. Jimmy, who uses Facebook regularly, reached out to me to confirm a "friend" request. I accepted, and my friends assisted me in writing a personal message to Jimmy on Messenger. We learned a lot about each other and that we had a lot in common: we both lived in Rockwall (only four miles apart!), attended Lakepointe Church, and our deceased spouses had worked at the same small Southwestern Bell Telephone office in the mid-1970s.
We met for coffee on April 10, 2019. A few months later, I noticed a small wooden (handmade type) church bank at Jimmy's house. I had an identical one given to me during my childhood by an elderly woman in Longview, Texas. He told me his was given to him when he was a small boy by his grandmother from Bullard (Tyler), Texas. This symbol, which we believed to be from God above, was a real, divine message – we were meant to be together … again!
On August 14, Jimmy's 67th birthday, he took me to Lake Cherokee near the site of that first cozy fire, and proposed again. This time I said, "Yes!" We were married on Feb. 14, 2020 surrounded by family and friends in the chapel of Lakepointe Church. We will soon celebrate our first wedding anniversary!
Submitted by Becky Neeley.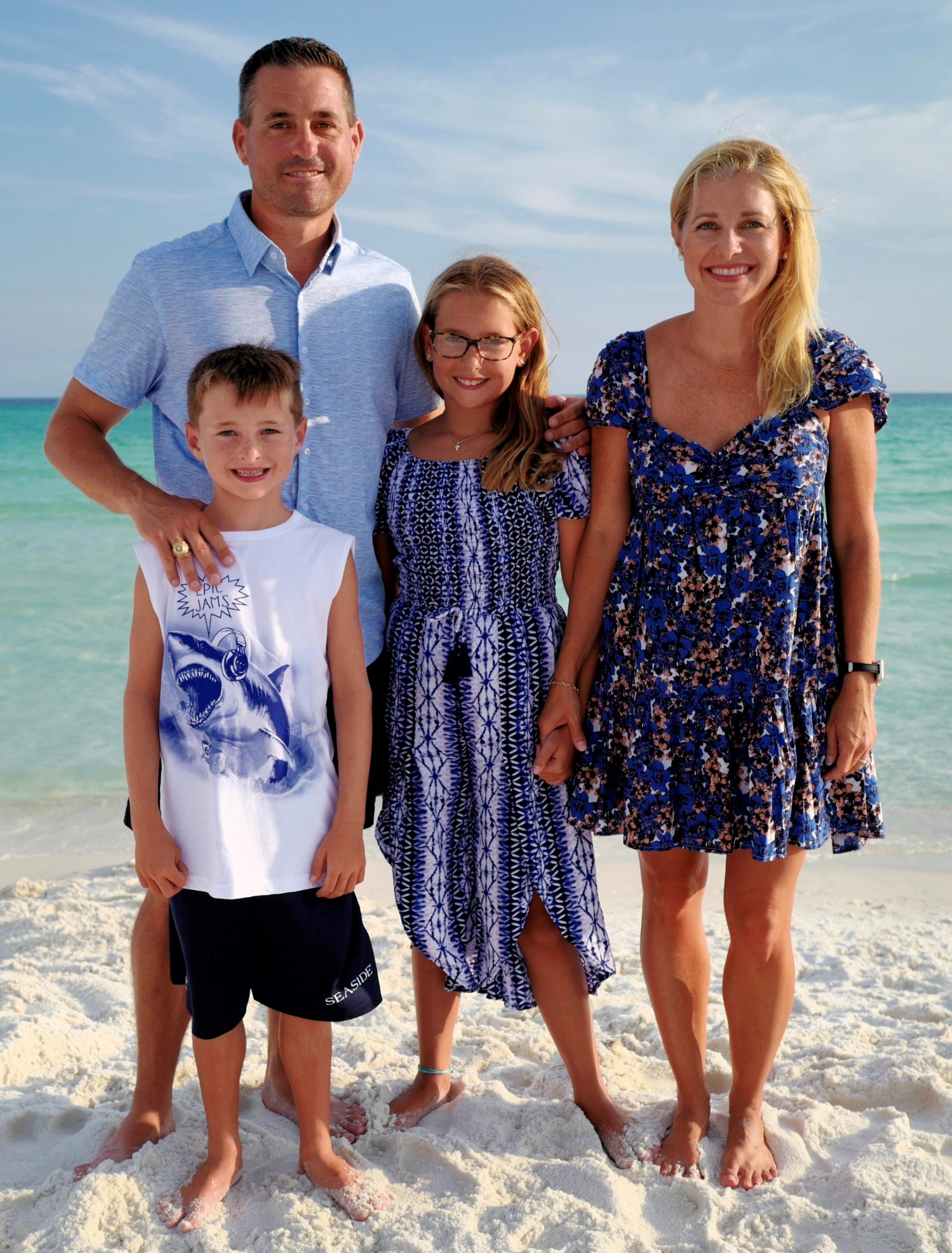 Shane and Ashleigh Hollas
Ashleigh and I met in San Francisco while working in the technology business.  I grew up a country boy in Schulenburg, got an Engineering degree from Texas A&M in College Station and upon graduation moved to Silicon Valley for work in January 1999.  Ashleigh is more of a city girl from Mesquite, got an Electrical Engineering degree from UT Austin and after graduation moved to Silicon Valley for work in January 2000.  Even though we had a ton of mutual friends and realized we had even been at some of the same parties, we didn't meet until July 2004.
In true Texas fashion, we met at a happy hour…  A guy was new to town and asked some people to help set up a happy hour to expand his network.  Ashleigh and I got invited.  I meet the new guy, told him I'm from Texas and an Aggie (cause that's what we do) and he says, "Oh, you should meet Ashleigh.  She's from Texas too." He walks me over to this super-hot blonde and says "This is Ashleigh. She's from Texas and went to UT."  I say "Nice to meet you.  I'm from Texas too and went to A&M." Her first words to me are, "Oh, I'm sorry."
I'm thinking, great, I have to come to California to find a smart-aleck UT superfan.  I told her it was nice to have met her and walk off.  A couple of weeks later, I saw her at another happy hour and avoided her.
Fast forward to December.  I rented a house with some friends in Lake Tahoe for the ski season.  First trip up there I'm asked to drive some folks because I had four-wheel drive. So of course I said yes, even though I didn't know who they were. Here are the three people that showed up:  A guy I despised, a girl I didn't know, and Ashleigh the UT superfan. Of course, Ashleigh jumps in the front seat. It's a five-hour drive…
I didn't say a word for three hours. We stopped for gas/restroom break.  I looked in the bathroom mirror and said to myself, "You are going to be in a house with these people for five months. Be a man and suck it up." We get back on the highway.  I looked over and said, "So Ashleigh, how you doing?" We talked and laughed the rest of the ride and that was that.
We got engaged a year later and were married a year after that on May 26, 2007.  We moved back to Texas in 2009.  We have two kids Skylar (11) and Connor (8).  We had a lot of fun in California and many great memories, but Texas is home.
Submitted by Shane Hollas. Ashleigh and Shane own Maaco of Rockwall (car repair and paint) and Rooster Meat Co. (sausages), and Ashleigh works in sales at Texas Instruments.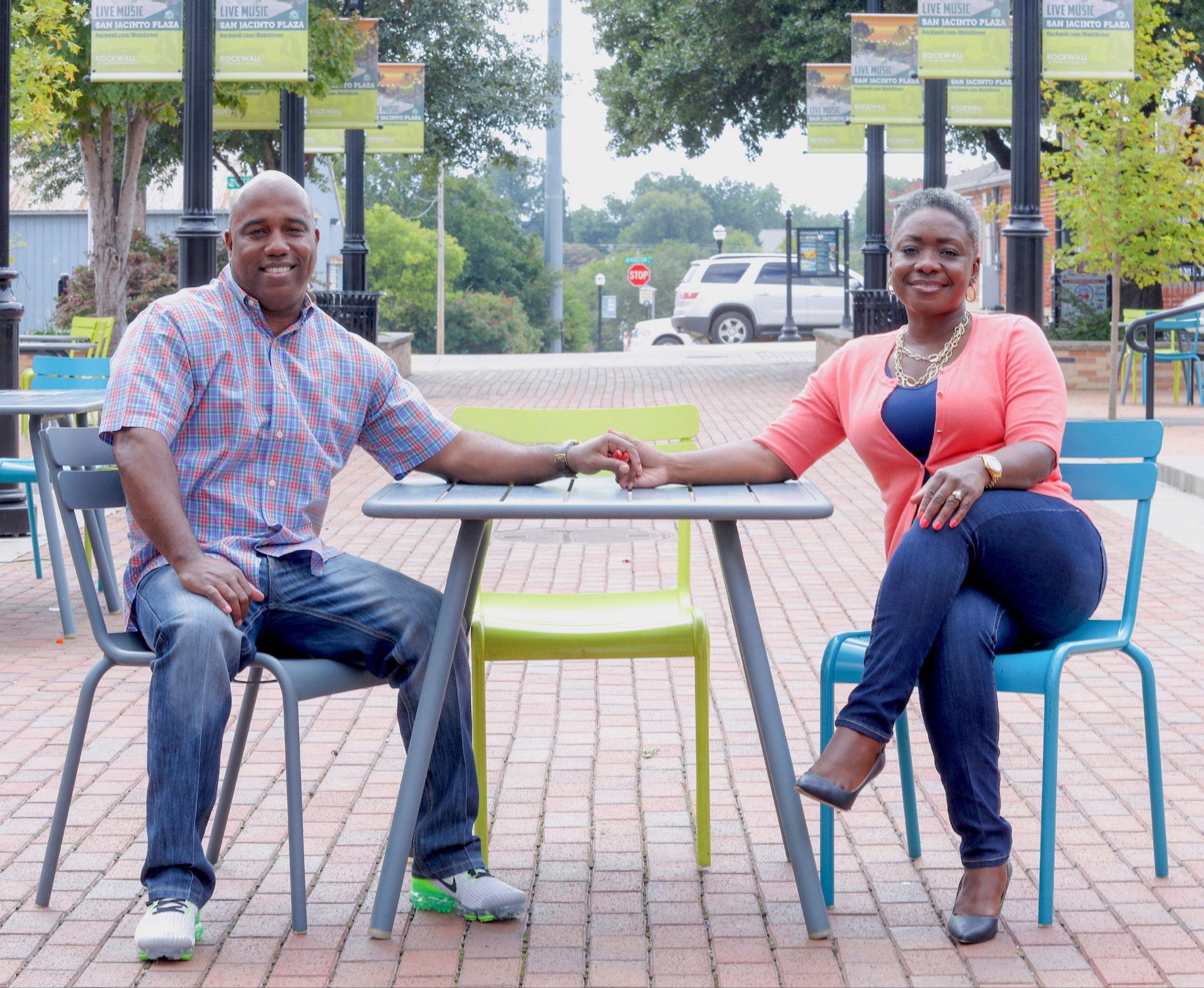 Jason and Lakisha Moore
Our story starts back in February of 2015 – the first winter Jason and I enjoyed together. We were snowed in for days like a state up north. Going into the new year, the Lord had affirmed that 2015 would be a year of "New Beginnings" for us; experiencing the great white snow of our first winter together was a first of many confirmations of our new beginnings.
Our connection started with a phone call to me from a mutual friend. This friend said, "Kisha, there's a guy I want you to meet. He's moving to Dallas and I know that y'all will be good for each other. He'll be preaching in Waxahachie; we can go." My response to her was, "No ma'am, I am not talking to no preacher!"
I remember those words like it was yesterday. Seven years later, three adult children, five grandkids, a few businesses, a church, ministry, and first-time homeownership together shows that I ate my words!
My friend was persistent, and her persistence won. I told her to give Jason my number and sent a pic to send to him. We spoke for the first time on April 10th, 2014, had our first date at The Harbor in Rockwall (not knowing this would be our home and the place God would have us plant Gathering on The Rock Church), then were married by July 3rd, 2014. From that moment on, we became best friends.
Submitted by Lakisha Moore. Jason Moore is the Founder and Senior Pastor of Gathering of The Rock Church in Rockwall, and Lakisha is the Director of Operations of the church.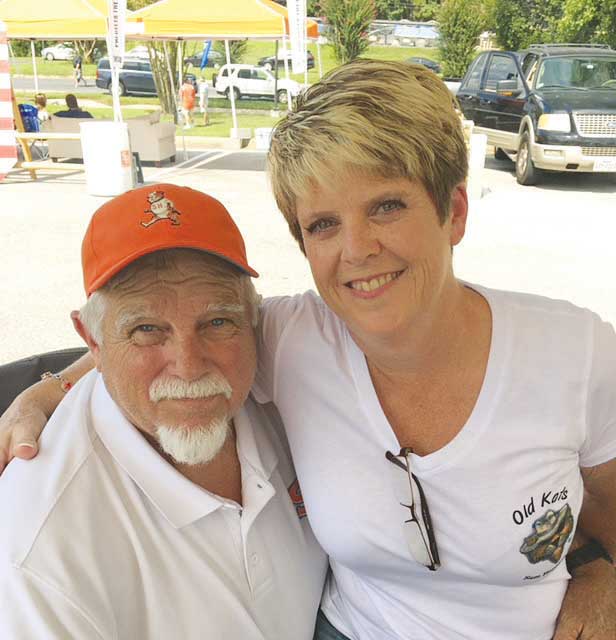 Randy Talley and Elizabeth Ann Crosby
In the summer of 1981, I was 29 years old and playing golf in Richardson with a fellow coach from Berkner High School. I was asked if I was ever gonna get married. We were on a portion of the course that was adjacent to Spring Park Riding Stables. Pointing to a young lady training a barrel horse I said, "If I could meet a girl like that, I'd marry her tomorrow."
I played a lot of baseball & softball during the summer back in those days.
I had asked the wife of one of my teammates, Becky (an accountant) to be on the lookout for a possible match I might be interested in.
Then one night following a game, Becky brought a young lady with her to watch the game. When she left the crowd I inquired, "Why haven't you introduced us?"
Becky replied, "That's my sister, she's 20 years old!" To which I replied, "I'm 29, that's not that big of a gap!"
The introduction was made, but coaching high school football leaves little time for dating and two-a-days was in full swing. September rolled around and one of my History students delivered a message that Beth had told her to say hey. I called to ask her out and she accepted. On our second date, I asked Beth, "What are you doing the next 60 or 70 years? Want to spend 'em with me?"
I often describe our short period of dating as switching from black & white to full living color! You just know. Beth said yes and on November 14, 2020 we celebrated 39 years of marriage.
Submitted by Randy Talley.
Marvin and Casey Washington
A week before my husband Marvin met me, he had sworn off finding a woman, unless God literally pushed her into his life.
"I had been the trusted, nice guy and was in everyone's friendzone. I tried being the bad guy, but it only lasted a few days. It's just not who I am," Marvin explained. "I told God that, if He wanted me to get married, she would have to be the one to ask me out."
I transferred to Texas A&M-Commerce about two weeks before I met Marvin. I had dated several bad guys and was over trying to be Florence Nightingale. I had even seen a therapist to break my habit of trying to heal broken, dangerous boys. I arrived in Commerce armed with a literal check-list of qualities a guy had to have before I would even agree to a first date.
We met in a field dubbed Pikeland, where college kids would go to drink. Not my kind of place, but I felt like I was supposed to stay. I was new and trying to make friends. Marvin was a social hub and gave me his number, just to help me find friends. A week later, we ran into each other at a local bar and ended up talking until 4 a.m. I had memorized my checklist and asked him the questions on it. He was ticking all the boxes. He was stable and I felt safe. I blurted out if he would go on a date with me mid-conversation.
"A week ago I was resigned to Bachelorhood, unless God had a woman ask me out," Marvin said. "Here I was talking to a beautiful woman, about real things, and she just asks me out directly. I couldn't say no. She impressed me by sharing some of her past and what she was doing to ensure a healthier future."
Marvin and I have been married for 14 years, have three kids and still make each other a priority.
Submitted by Casey Washington. Casey and Marvin are residents of Fate.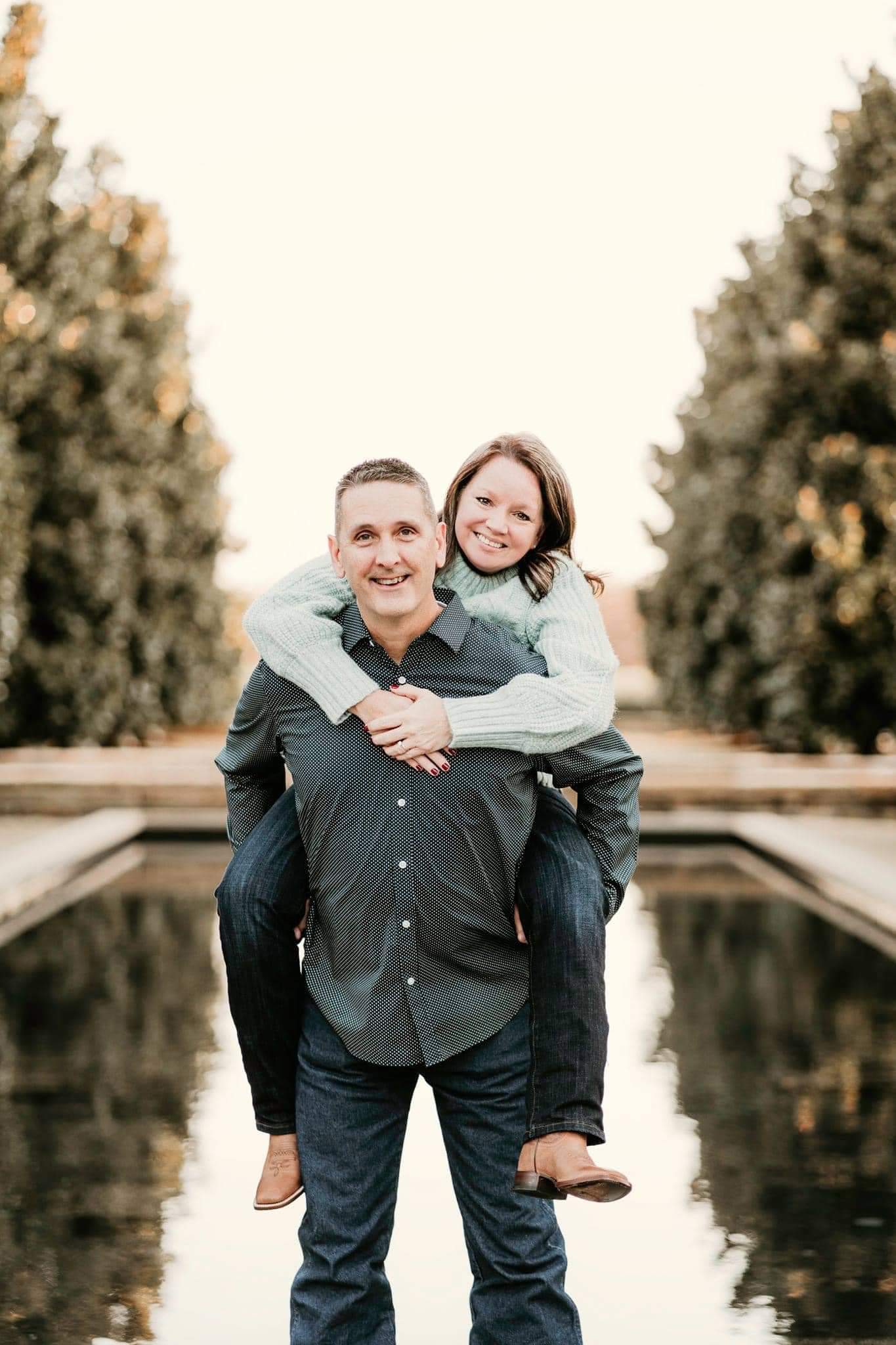 Chuck and Doni Todd
We met at the jail, Lew Sterrett that is. It was a cold November evening before Thanksgiving roughly 13 years ago. My wife was there with her daughter and boyfriend bailing out her son.
My ex-wife called me that same day and told me that her son had been arrested, that she wanted to bail him out, but didn't want to go alone. I agreed to go with her. Her son was 3 years old when we met and we had a daughter together.
Once bail was taken care of, all we had to do was wait for them to be released.
My wife's daughter overheard my ex-wife and I talking about our daughter's school. She told her mom that we were from the same area of town. Her mom came over and we all started talking. It was a long night. At the end of the night, my ex-wife and my wife exchanged contact information and told each other to keep in touch. We all went on our way.
Fast-forward three months, my ex-wife broadcast an email about how her son was doing. Both of us were on the email list. My wife replied to all "Glad to hear he is doing well."  I replied to her, "How are you doing?" She asked, "Would you like to meet for a beer sometime?" I replied "Sure". It just so happened to be a Friday. We met for "one beer" and listened to live music. The rest is history. We were married on February 10, 2010.
Submitted by Chuck Todd.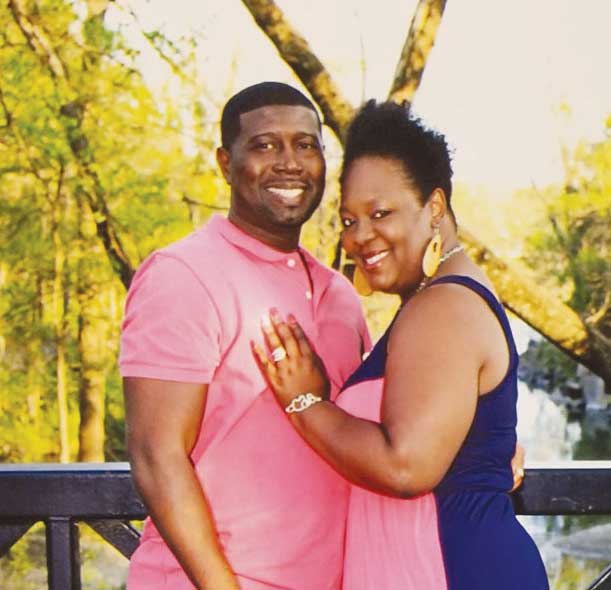 Phillip and Tyra Fort
Upon graduating from high school and heading to college, I never thought I would meet my "husband." As an incoming freshman attending East Texas State University (now Texas A&M University-Commerce) I met Phillip Fort while on a journey to the emergency room. See, Phil had a car, and we did not, and our mutual friend needed medical assistance; so, he transported us. During our time here, Phil thought I was mean and blunt. I am quite sure his story will be somewhat different. Phil and I talked here and there when we saw one another on campus or at gatherings.
Time goes by and now we are both in the same wedding. Yes, that mutual friend was marrying his best friend. Phil and I hit it off as if we did not miss a beat. I guess during this time, I am no longer the mean person. Again, we kept in touch here and there and tried the long-distance thing.
Well guess what? Phil graduates and move to the Dallas Ft. Worth which is where I am from. I find out he is now closer and give him a call. That call I shall say was one of the best calls I have ever made. I met Phil at age 19. We have been together for 25 years, married for 20. We have two wonderful sons, 25 & 21. Not only did I meet my husband in college but I met my best-friend.
Submitted by Tyra Fort.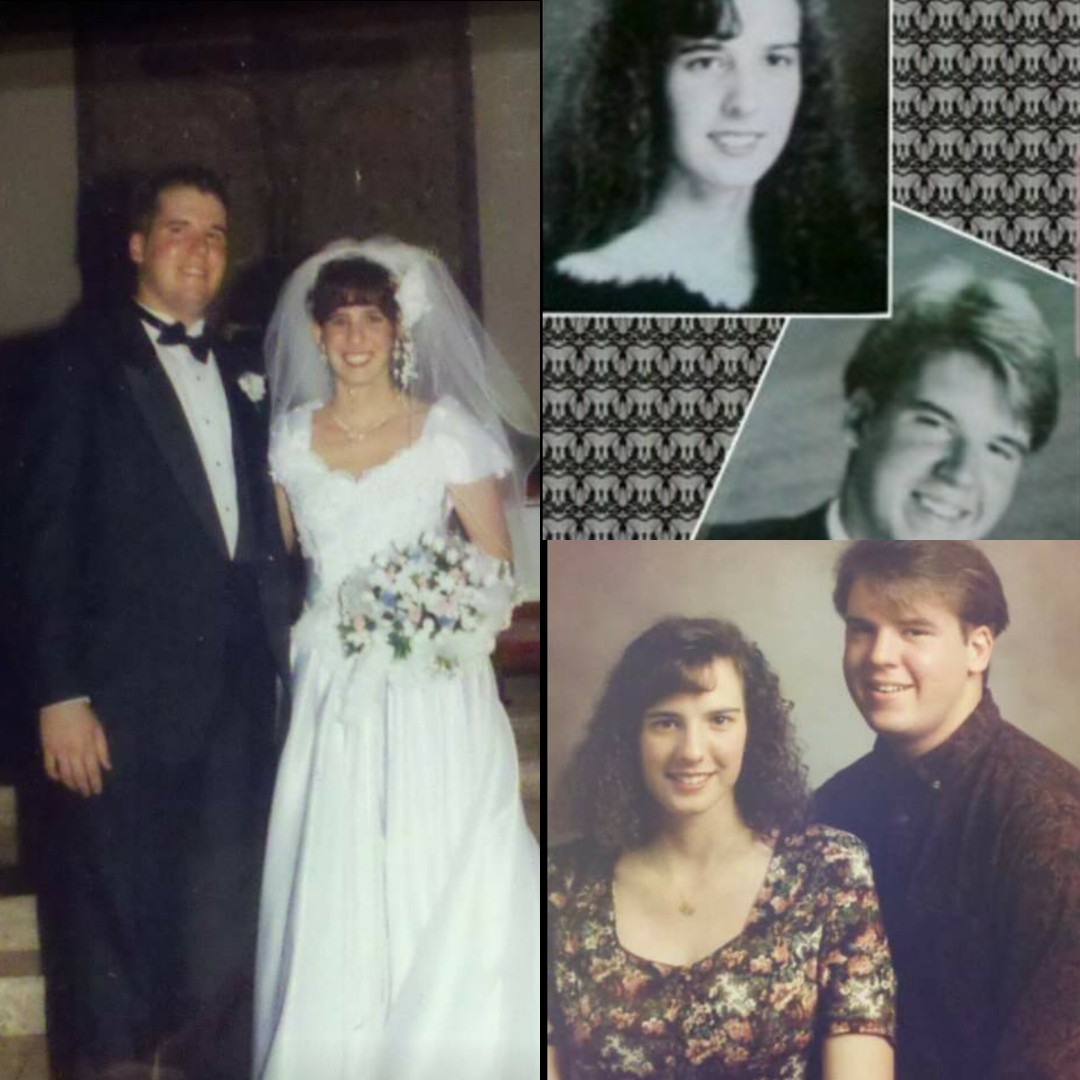 Clara and David Pearl
Envision high school English class, junior year. Now, let's recall this is before cell phones and text messages. The classroom was divided into random pairs for a folklore writing assignment by our very own Cupid. Little did we know we were actually writing our own story.
We have never forgotten our first encounter that evening at the city library. We were shushed by a ten-year-old boy surrounded by a tower of books, which only ignited our laughter further. When departing the library we drove in opposite directions at the four way stop, watching tail lights in our rear view mirrors, knowing a tale had just begun.
We spent the next several weeks learning more about one another than our assigned topic. The day of our oral presentation our paper was nearly blank and we took improvisation to the next level, but we were awarded with more than a high grade. Our Cupid watched our relationship grow, was invited to our wedding and met our first child at an alumni homecoming event. We have been together ever since, nearing 30 years this June. Not to say there hasn't been obstacles but certainly more treasured moments and triumphs.
As we continue to write our story, we are now on a new chapter. We have two amazing adult children who make us proud daily and it is just beginning to be all about us again. I am excited to see how the tale continues to unfold and wouldn't change a thing.
Submitted by Clara Pearl.
---
CHECK OUT THE COUPLES WE'VE FEATURED IN YEAR'S PAST (click links):
---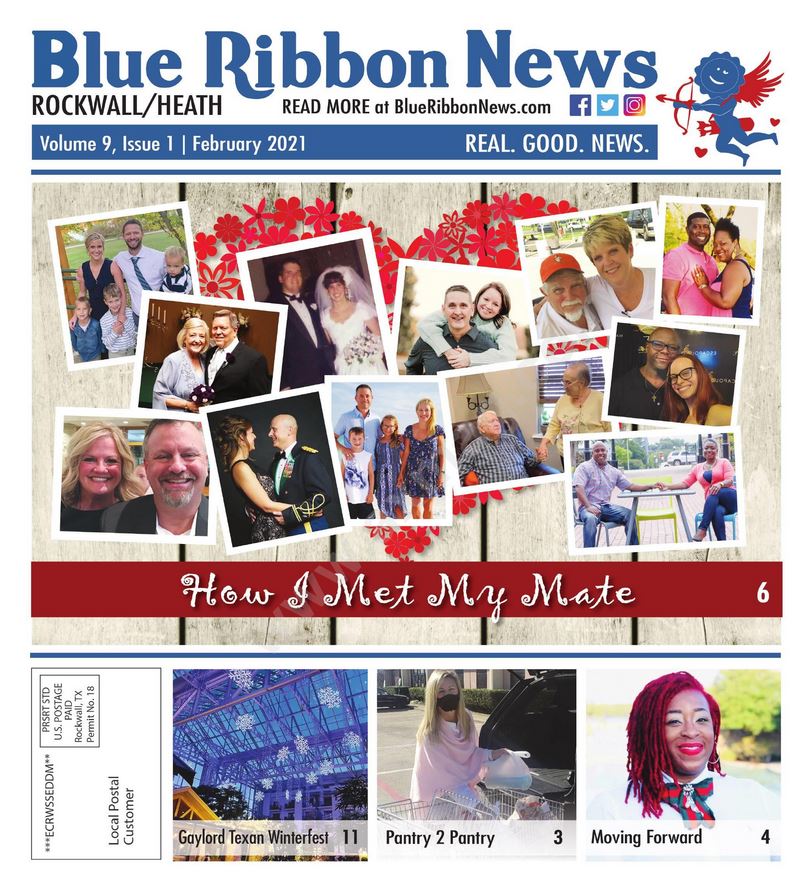 Our print edition is delivered free to ~15,500 homes in Rockwall and Heath, TX.
To share your good news and events, email editor@BlueRibbonNews.com.
Subscribe to our email newsletter here.
Advertising: 214-342-8000 or advertising@BlueRibbonNews.com.