Each year before Valentine's Day, we ask local couples to share stories of how they met. Their stories are often sweet, funny, and surprising. Sharing their tales of true love has become one of our favorite traditions – and one of our most wildly popular features.
Three lucky couples will be selected from among this year's submissions to win: Couples Massage from Rockwall Body & Soul Massage with wine, hot stones and oil; $50 gift card from Dodie's; or $50 gift card from Samee's Pizza Getti. Like and follow Blue Ribbon News on Facebook for the announcement to come soon!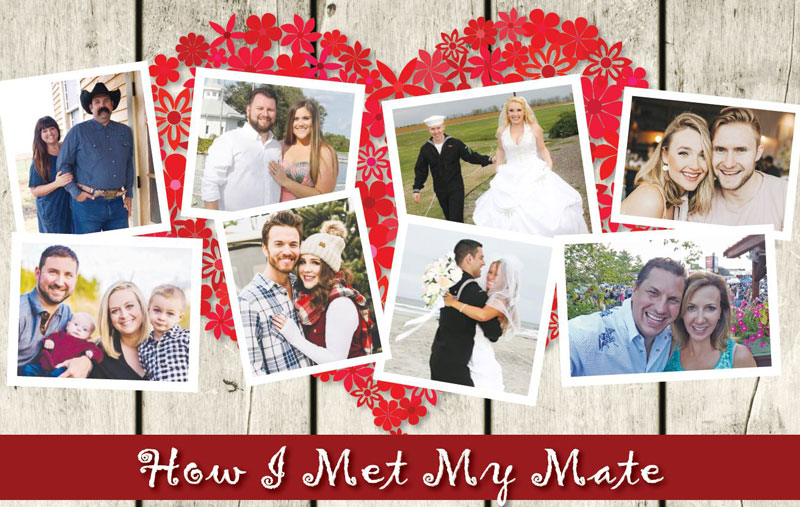 If you missed the opportunity to submit, please email your story, in 250 words or less, to editor@blueribbonnews.com and we will do our best to share them here and/or our on our Facebook page at www.facebook.com/blueribbonnews, throughout February.  

Lacey and Josh Odom
In 2002, we were both in Hawaii (me on vacation and him at football camp). We met, hit it off, but we were high schoolers so when we left that was it (we were from different parts of Texas).
Fast forward six years, I noticed his leg tattoo walking one day to class at Texas State University and contacted him through Facebook. We were friends all through college, but never dated. Around 2010 after we both graduated college, Josh contacted me because he was in Dallas for a work training. We got married in 2015 and now have two daughters with a third on the way! 💕
Submitted by Lacey Odom. 

Andrew and Jennifer Ainsworth 
I met Jennifer while attending Texas A&M University in College Station. We met through common friends and overtime we became best friends. We would attend mass together, play sand volleyball, and somehow she even convinced me to study. Studying always provided a nice ulterior motive to spend more time with her. My family could quickly tell that Jennifer was special to me, probably because most of the stories I would share from school involved her. Every year we would attend a music festival in the spring called "Chilifest" out in Snook, TX. It was at Chilifest that a well-timed kiss (by yours truly) changed everything.
I was offered a full-time position with Rockwall Parks & Recreation Department the week before I graduated in 2011. I moved to Rockwall and would drive back to College Station to see Jennifer at every opportunity. Then on Sept. 18, 2011 while visiting her I asked her to take a walk with me. We strolled near Century Tree on A&M's campus, and then we walked under Century Tree. As a side note, Century Tree is a giant Live Oak in the middle of the campus where it's said that you if you walk under Century Tree you'll marry that girl. (This will make more sense to Aggies). She was nervous as we turned onto the path leading under the tree, and under the white bench beneath the tree was a ring box. I asked her to pick it up for me, and when she did I hit my knee, helped her open the box, and asked her to marry me.  (I didn't notice the onlookers that were now applauding, but Aggies know what's about to happen if a couple is headed under Century Tree).
We just celebrated our 7th wedding anniversary. We have two boys, Dylan and Hunter. I've worked for the Parks & Recreation department for over 8 ½ years now, and my wife works for Blue Cross Blue Shield. We're very happy to have ended up in Rockwall and look forward to the years to come.
Submitted by Andrew Ainsworth.
---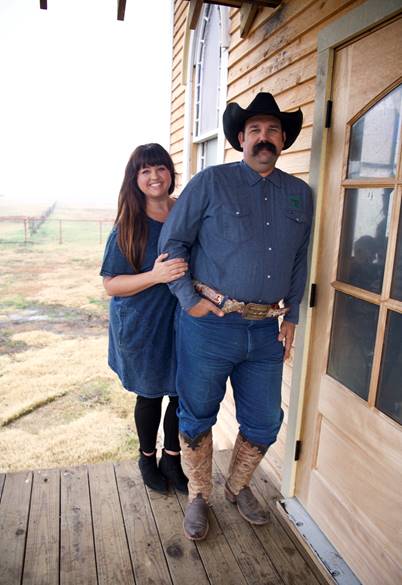 Melissa and Evan Tate
The story of how Evan and I met is one of my favorite stories to tell. A friend of mine's family owns a ranch in Palo Pinto. Every spring they host a cowboy gathering and in 2014, Evan was invited by one of the other men. Even that story is a good one…a few months prior, Evan was sitting alone at the bar in his brother Nathan's restaurant. A guy approached him and struck up a conversation about horses. They became friends and he is the one that invited Evan to my friend's ranch. So, when my girlfriends got back from the gathering we were looking at all of the pictures from the weekend and I pointed to Evan and said "Who is that?" I had never seen him in any of the gathering photos and he had a unique look that I found interesting. My friends went on to fill me in on him and tell me how we should meet, would love each other, live near each other, etc. After that night, we never talked about him again.
Three months later, I spotted someone whom I thought was "Evan Tate" at an event I was working with the Photo Wagon. I honestly thought nothing of it. He didn't know me. I didn't know him so I went on about my business. As I was leaving the event, my same friend whose parents host the cowboy gathering called to chat. I mentioned that I thought I had seen her friend inside. She said, "Go back in! Ask him if his name is Evan Tate! I'll come meet you guys!" And so I did. I should have known I was in trouble when walking up to him at the bar and saying "Is your name Evan Tate?" didn't make him suspicious. He answered with, "Yes ma'am it is" and a tip of his hat. My gal pal met us up there and we casually hung out for the next couple of hours. When I was ready to leave, Evan asked if I needed help hooking up my trailer. I answered him with the same answer I give every other man that offers to help. "No thanks." I think that answer shocked him a bit! He asked for my card in case he needed a photo booth and we parted ways.
A couple of days after meeting, I got a call from him. He was asking all sorts of questions about Photo Wagon. I answered all of his questions and that was it. But to be honest, I was so excited he called. It was just for the photo booth, but he called! A few minutes later, he called again. More questions about the photo booth. After that, another call… more questions. Finally, I said "I literally can't answer any more questions about the photo booth but if you'd just like to hang out, my friends and I will be at The Foundry tonight." I had no idea if he'd show up. But he did… about three hours late. Which I know now is "Tate Time". We stayed out till the wee hours of the morning. Not partying hard or closing down the bars, just hanging out. We would go on to date for a bit, spend a little time apart, date some more then get engaged, married and throw the best wedding either of us could have imagined. Oh and, that guy Evan met at his brother's restaurant that night… he got ordained just to perform our wedding ceremony.
My parents were high school sweethearts. They met in the 10th grade at Mesquite High School when my dad swung a classroom door open and hit my mom in the head! They dated for the rest of their high school days and wed after graduation. They were married 38 years when my dad passed away. I always wanted a love story like theirs. Mine and Evan's is a bit different but the end result has been the same. Because we were older, because we brought in some of our own issues; the road hasn't been as easy but I can honestly say, without a doubt, I met my match when I met Evan Tate – my best friend, my partner, my support, my brainstorming buddy and my number one adventure companion.
Melissa Tate is our Blue Ribbon News Cooking with Ease columnist and owner of Photo
Wagon, and helps Evan run Tate Farms.
---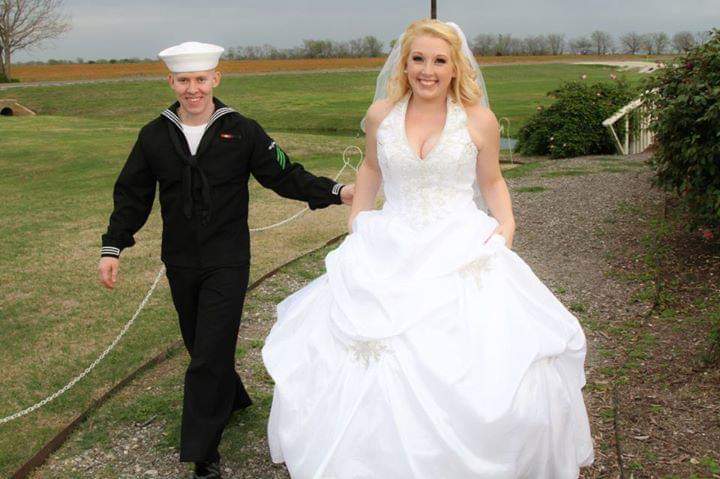 Shelby and Danny Huckaby 
My husband and I met as teenagers at our best friend's house. We knew of each other for years – perks of living in a small town, and our paths crossed so many times in insignificant ways. We have dozens of stories that end with, "You were there too?!" Our best friend Travis introduced us two weeks before Danny left for basic training in the Navy. We were young and just knew it was fate. We spent every single one of those days together. We wrote letters back and forth for two months before his graduation in Illinois. Only so many family members could come and his family was amazing and let me take one of those coveted spots.
Straight after boot camp he went to Florida for training for six months. We skyped, texted and called every day until he came back. In true military fashion, he came home with a ring.
We've been married almost eight years, together 10. We have two beautiful children and every day is the best adventure I could ask for. ❤
Shelby and Danny Huckaby are longtime Rockwall County residents. 
---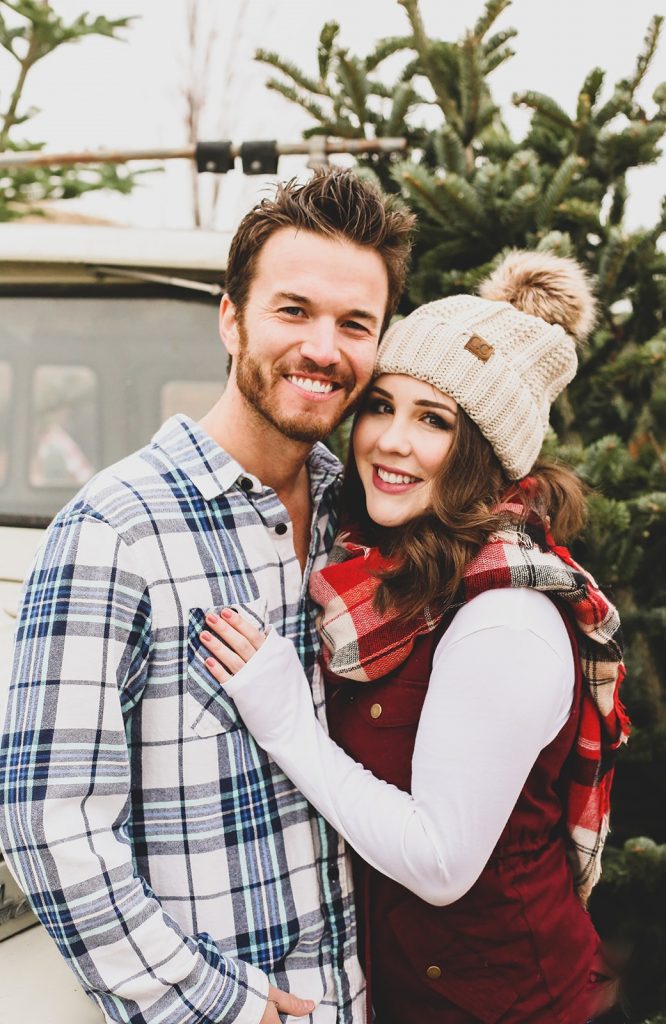 Nathan and Rebecca Fast
The year was 2010. It was a warm July in Boise, Idaho and I was young, single…and pregnant. Because of this, I was without any interest at all in dating. Or so I thought.
One evening my younger sister showed me a picture of a group of her friends from the Twilight: Eclipse movie premier at a local theater. There was a guy with them. He was CUTE. I told her he was cute. She said "Ew, he's like 25…Nathan Fast. He's the night guy on the radio for Kiss FM." My sister was 17. Fine. Understandable with the age difference there. I was pregnant so obviously I didn't have a chance…but I started listening to this cute radio guy with the name Nathan "Fast" and I thought he was so funny. I started enjoying hearing his voice on weeknights from 7-midnight from then on.
A year later I'm a mom. My sister has become friendly acquaintances with this guy seeing him at events around Boise (she still thinks he's too old) and I very briefly meet him in passing at The Boise Music Festival. I immediately begin my journey in calling in to the radio station to talk to this Nathan Fast person…BECAUSE HE IS EVEN CUTER IN PERSON. I tell you this: I never thought I'd end up with this guy. I was a single mom, seriously over the thought of ever having to DATE someone. But as I started calling Nathan, he started recognizing my voice and my goofball personality. I realized this guy was MORE than just cute. He was really silly, sweet and genuinely a great guy. Well, shoot, now I actually like him.
In November 2012 I convinced him to come take a picture at the Santa Set I was working at as an elf. I bribed him with a free picture with Santa. HE SHOWED UP. That was it. He was there. I felt like a kid on Christmas. Thanks, Santa. I took his picture, he was adorable and some random lady whispered to me "Your boyfriend's really cute!"…HE WASN'T MY BOYFRIEND. (But I didn't tell her that.)
From there a connection was made…Miraculously I managed to do something right to get him to have an interest in me. A friendship that developed into the most incredible relationship – and now, the marriage I had always prayed for. Moving around the country and having lived in Rockwall for the past three years. Today he is my constant support and best friend. He is the most amazing father to our girls…currently in the process of adopting that 9 year old I was pregnant with when I first laid eyes on him.
He is everything. He loves me for the goofy, weird way that I am. And I love him for all that he is. My forever Valentine.
Submitted by Rebecca Fast, Rockwall resident.
---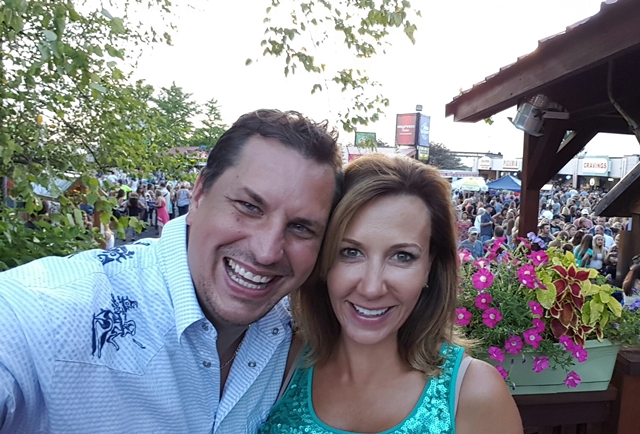 Christine and Brian Bachman
It was 1999. We both were working at a TV news station in Rockford, Illinois. Brian was a sports anchor and I was pounding the pavement as a general assignment reporter. Romantic sparks flew between us at an after-work gathering one evening. But, it was early in our careers. Advancement took us to separate markets. The distance pulled us apart. We moved on as people do. Married others. Divorced. In late 2011, social media reconnected us and we rekindled our relationship. We were married in May 2013 at Beaumont Ranch in Grandview, TX. This time, he got not one, but five lucky ladies — my four beautiful daughters and I. We later had one more child — our darling son. Brian has been an amazing husband and father to all five of our kids. We feel so thankful to have met, and then years later, to reconnect with our soulmate. Here in Rockall, we are blessed with spellbinding Harbor sunsets, delicious restaurants, and the company of friends and neighbors who have made us feel right at home.
Submitted by Christine Bachman of Rockwall.
---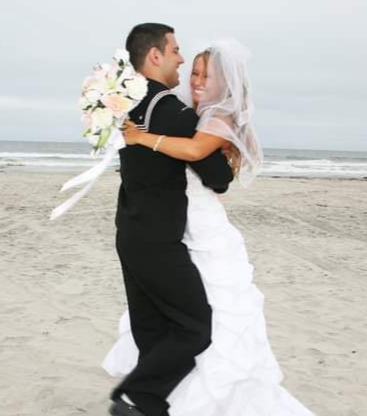 Nate and Jenny Najmabadi
While both serving in the Navy, Nate and I first met on the beach in Coronado, CA through a mutual friend. As we began talking, we learned we were both stationed on the same ship and much to our surprise also in the same department. Nate was an Aviation Machinist Mate and I was an Aviation maintenance administrationman. We were both 22 at the time and our friendship turned into something more very quickly. We shared a bond that was very hard to have with anyone else.
Together we served on the USS Nimitz during both Operation Iraqi Freedom and Operation Enduring Iraqi Freedom. In 2009, Nate's enlistment ended but mine continued. I deployed on WestPac 09. At night while on deployment, I used to sit in the hanger bay next to my favorite jet, look outside at the endless ocean and stare at the sky. I would see the moon and know that Nate was somewhere seeing that same moon. Being young and away from everyone I cared about was hard, but it taught me about service and sacrifice for the greater good.
When I returned from deployment, Nate proposed right away. We were still very young and people doubted our decision, but we didn't care. We knew what we were signing up for and we knew we could face the trials and tribulations of military life, together. We were married in 2010 on the same beach in Coronado where we met.
Shortly after our "I do's" military life did not hesitate to throw us a curveball. Within weeks I received orders to leave for Pearl Harbor, Hawaii. This trend continued throughout the next five years as we moved several times while finishing out my service. The dedication of our service to our country continued as Nate went on to become a fireman and I became a nurse.
We have two incredible young kids and we will celebrate our 10th anniversary this June. I like to think that we proved everyone wrong. We found our forever home in 2013 in Rockwall. We love our community and spend our free time, well, all the free time having kids allows you to have, enjoying all the fun, family friendly events Rockwall has to offer. Rockwall has quickly become our home base. From the Christmas parade, Rubber Duck Regatta, and many charity events of which I love volunteering for alongside the Soroptimists, we've embraced Rockwall and have made lifelong friendships.  Although our days have changed from jet engines and aircraft carriers to play dates and diapers, we continue to grow together and love each other more with each new adventure.
Submitted by Jenny Cook Najmabadi.  
---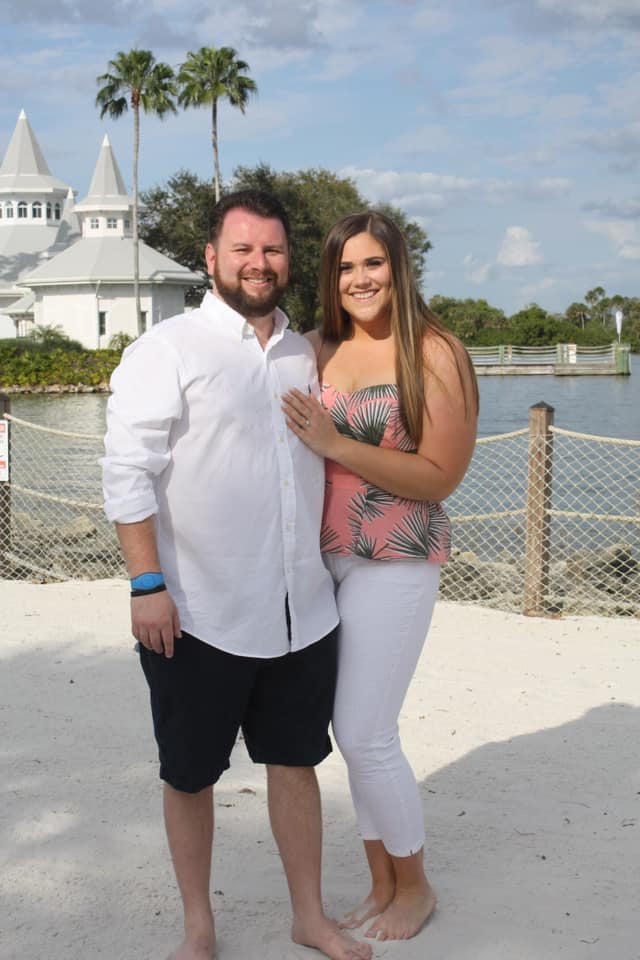 Chris Curtis and Molli Hutcheson
Molli and I met the millennial way from popular dating app Bumble.
We set up our first date at the Gingerman in Uptown. I will always remember walking in "late as usual" and seeing this gorgeous girl in a red sweater. We instantly connected right off the bat. I was making her laugh and she was turning as red as her sweater was with laughter. We talked for hours!
We continued having a few dates leading up to Christmas. I took her to a Stars game and found out she was a Blues fan. That didn't stop me for falling for her even more. (If you know me, you know I am a diehard Stars fan.)
We instantly became best friends. The minute I knew she was "the one" is when she showed up for my 6 a.m. surgery in the winter. That was the moment I knew she was the one!  I bought the ring and decided to take her on a Spring Break trip to DisneyWorld in 2019. I was able to arrange for her parents to be there at the Polynesian Resort. My parents were able to watch the whole thing through Skype. My best friends came to do photos and video. I was nervous as could be during the process, but kept my cool and asked my best friend to marry me on the beach of the Polynesian! She said yes!
We are set to marry on Oct. 3, 2020.
We are proud to be members of this wonderful community. Molli works for a marketing agency in Dallas called Golin and her clientel includes LEGO, Adobe and Purina. Chris is the sports marketing coordinator at Rockwall ISD.
Submitted by Chris Curtis, Rockwall ISD. 
---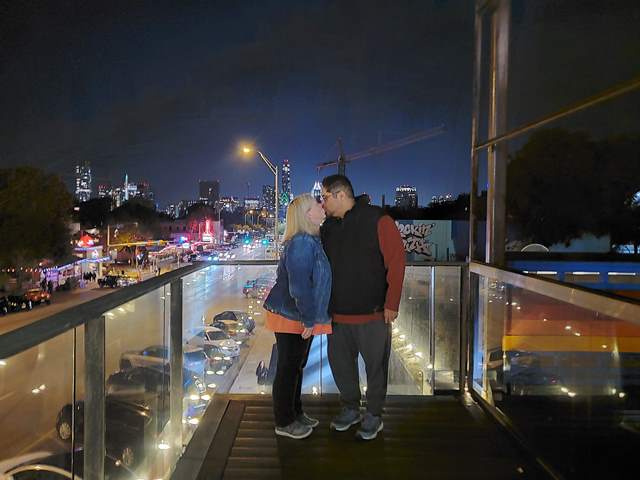 Deidra and Johnny Tomasino   
We met in a bar in downtown Amarillo. I walked up to a pretty blonde standing at the bar and started a conversation. We made each other laugh and at the end of the night I went home with her phone number. I know Deidra wishes we could tell people we met somewhere more respectable like church or school. But our story starts in Brewster's Pub on Polk Street in Amarillo on March 21, 2002, four hours before the start of a Digital Underground concert.
Why Digital Underground, a group led by an MC who often donned a fake nose and glasses mask like a deranged Groucho Marx that peaked with the 1990 funky hip hop classic "The Humpty Dance"? Because Digital Underground wasn't just a one-hit wonder to me. They were funky, over-the-top, profane and hilarious and I was a huge fan. Deidra was there because a nostalgia show by a one-hit wonder was the still the most fun option in Amarillo on a Thursday night in March.
Why four hours early? I had gone straight from work for a happy hour hosted by a young lawyers' group. I didn't even know about the concert scheduled for later that night until I arrived. And Deidra was a country music fan who didn't know the one immutable law of rap concerts – they never, ever start on time. She believed whoever sold her the ticket when they told her to arrive early to get a good spot up front. She and her friend arrived so early they were literally the first fans to arrive.
Deidra and I talked and laughed and flirted. Things were going great between us. Then I made what could have been a fatal mistake. I followed the group of young lawyers to another bar before the concert even started. I soon grew bored and had decided to head home when a friend who routinely gave me terrible advice came through with once-in-a-lifetime insight. He suggested I circle back to Brewster's and look for Deidra. He was convinced she was into me because she was laughing at my jokes and, as he pointed out, I'm just not that funny.
So I went back to the concert, back to Deidra, only to find her talking to another man, a tall, wide-shouldered man who didn't seem happy to see me. I thought I had missed my chance and was about to give up when Deidra gave me a look that said, "Save me". I seized the chance to be her hero and stood by her side until he finally, drunkenly wandered off.
Two nights later we had our first date. A year later we moved to Dallas. Eventually we got married, moved to Rockwall and had two beautiful children. Our lives are full of love and hope and I'm grateful everyday to be married to a beautiful woman who is an amazing mother to our children. But it all started with "The Humpty Dance":
It's supposed to look like a fit or a convulsion
Anyone can play this game
This is my dance, y'all, Humpty Hump's my name
No two people will do it the same
Ya got it down when ya appear to be in pain
Humpin', funkin', jumpin'
Jig around, shakin' ya rump
And when the dude a chump pump points a finger like a stump
Tell him step off, I'm doin' the Hump
Submitted by Johnny Tomasino, Rockwall resident.
---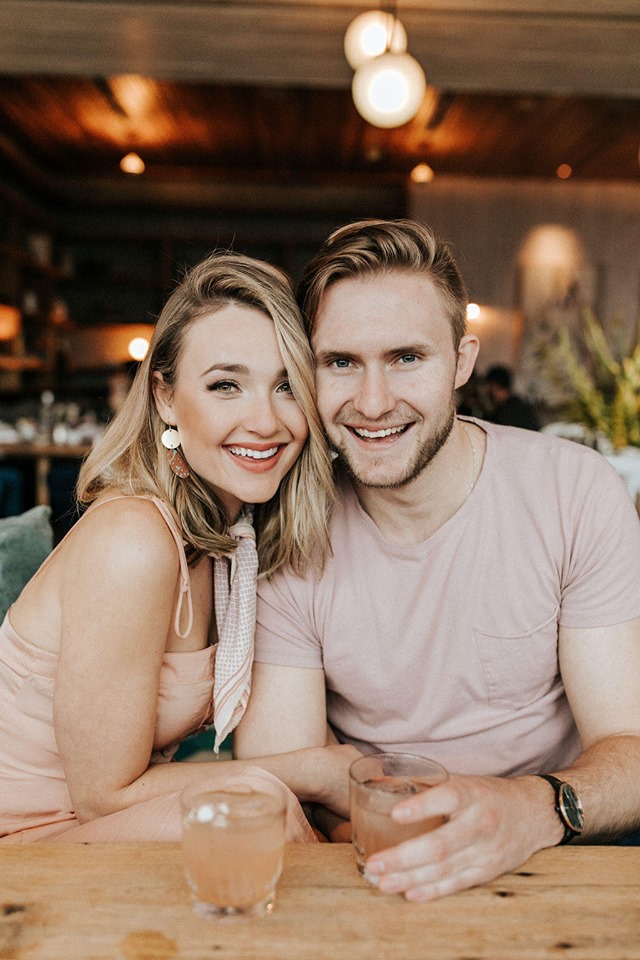 Regina and George Beasley
We met on the set of a commercial for Main Event. It was a magical day looking back. I was at a point where I was fine by myself and didn't need to find a life partner just yet. Regina was in the middle of a relationship that was rocky and on the verge of being over. Regina and I were partnered up as a couple to walk in the background of the different shots for the commercial, so we got to know one another. The great part about it was that nothing was forced. The chemistry was there from the very beginning. It was almost scary, but exciting how easily the conversation flowed between us. Regina is so naturally beautiful that it was hard to keep my eyes off her.
I'm not sure how she felt about me, but we both knew that there was something different about this instant connection. I knew I wanted to share more moments with her, but when I asked for her phone number, she denied me. I was taken back, but I was going to give it one more shot.
Once the shoot was over for the day, I took my wardrobe to my car knowing I would be going back into Main Event to find her. I noticed she was headed to her car and about to leave, so I yelled out her name. I may have startled her, but this was the last time I may have ever seen her again. I was able to get her "Insta" and the rest is history.
Submitted by George Beasley. George works at Toyota Motor North America Headquarters. He and Regina live in Rockwall.  
---
CHECK OUT THE COUPLES WE'VE FEATURED IN YEAR'S PAST (click links):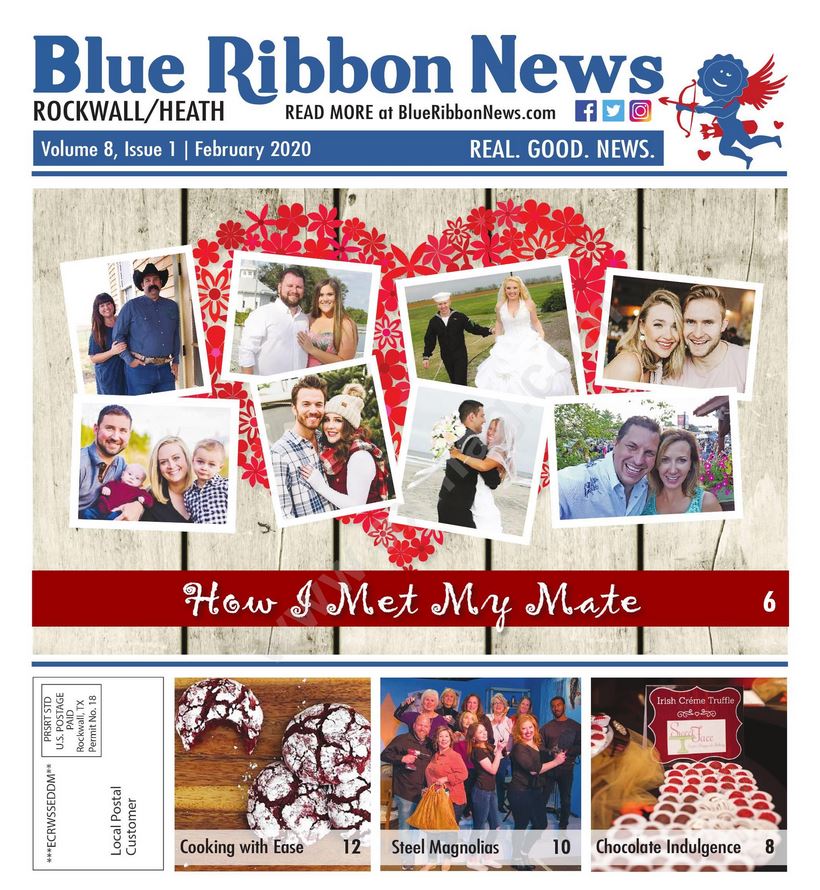 Our print edition is delivered free to ~15,500 homes in Rockwall and Heath, TX.
To share your good news and events, email editor@BlueRibbonNews.com.
Subscribe to our email newsletter here.
Advertising: 214-342-8000 or advertising@BlueRibbonNews.com.