ROCKWALL, TX – May 26, 2021 — The J.E.R. Chilton YMCA at Rockwall Board honored its departing board members and 2020 Annual  Campaign volunteers, as well as its Larry Parks YMCA Service Award winner during a meeting at GMR Protection Resources Inc. in Heath on May 25th. Rockwall YMCA Board Member and and Chief Operating Officer and President at GMR graciously provided the GMR conference room for the meeting. Standard Service, next door to GMR, provided delicious catering for the event.
---
---
The meeting, emceed by Board Chair, YMCA's Sam Winstead Volunteer of the Year award winner and Independent Law Practice Professional Brad Taylor, brought members of the Board together to recognize the outstanding efforts of the Rockwall YMCA's staff, board members and volunteers in helping the Y through a challenging 2020.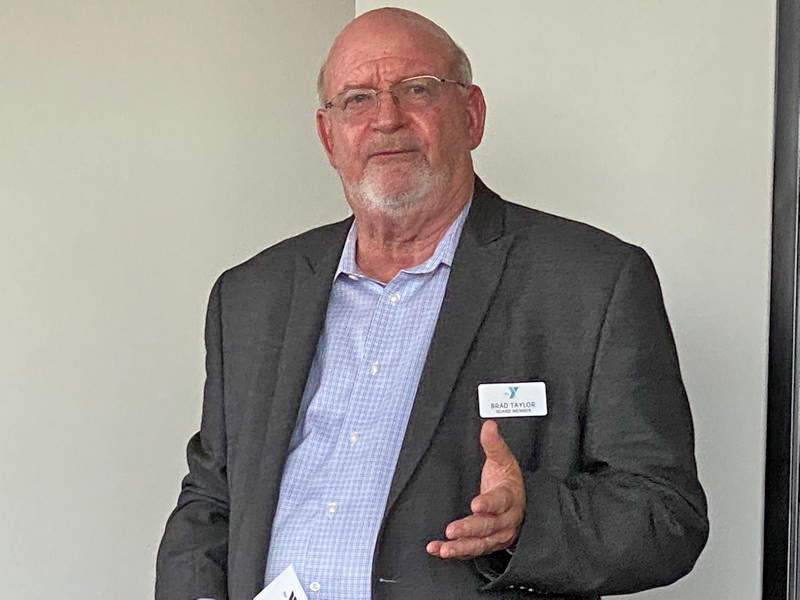 "When we reopened, our numbers were better than almost any Y in terms of the number of people who were willing to come to the J.E.R. Chilton YMCA, because they felt safe," Taylor said. "Our staff did an excellent job of maintaining social distancing and doing the right thing to make people comfortable."
Taylor thanked the Rockwall community for supporting the Y and allowing it to continue its mission of putting Christian values into practice through programs that build healthy spirit, mind and body for all.
"Our community is very special. I think it's unique among Y communities in the Dallas area, and this community came together," he said.
Recognition of Out-going Board Members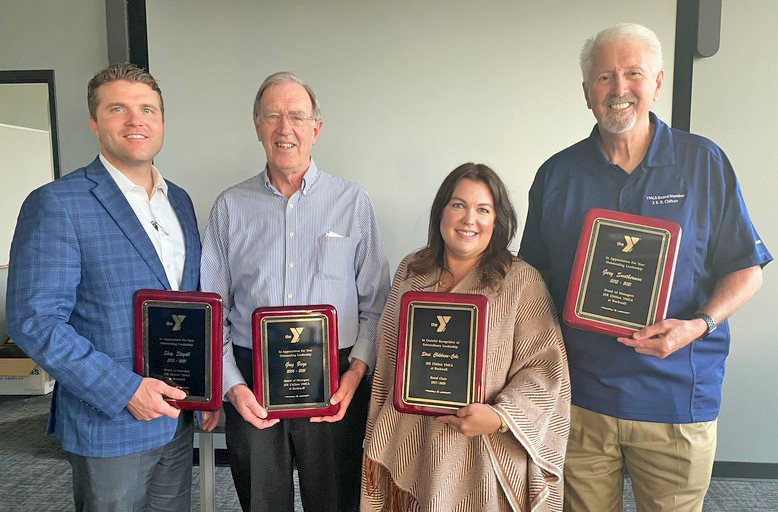 The following departing board members were recognized for their outstanding service to the Rockwall Y:
Greg Broze – Board Member since 1992
As one of our longest serving board members Greg joined the board when Jerry Vincent was the Executive Director of the branch. He has served as Board Chair, Campaign Chair, and the board development committee chair.
Bart Miller – Board Member since 2003
Bart and his family have been long-time members and supporters of the YMCA.  He has served as the Membership Committee Chair where he has helped the Y to grow and built small communities throughout our membership. He is a dedicated volunteer with a willingness to jump in and help with any task asked of him, including trash duty at the Dodie's Crawfish Boil (not pretty).
Shey Stegall – Board Member since 2013
Shey has served as the chair of the Board Development Committee, the Annual Campaign chair, and on the Campaign and Catalyst committees.  In addition to all of that, he somehow finds time to be a dedicated father of four, a successful VP at Blue crest financial, and a consistent 5 a.m. exerciser.
Gary Smothermon – Board Member since 2015
Gary is a regular exerciser at the YMCA, with his first introduction to the Y being a grueling Spin class.  He has served as the chair for the facilities committee, and then moved on to co-chaired the membership experience committee. He has helped the board stay in touch with the younger demographic through insights gained by his hobby of gaming. He is also responsible for recruiting one of our teen board members, Jesus Bermudez.
---
---
Shonte Allen – Board Member since 2016
Shonte is the very definition of a YMCA person. Her involvement with the J.E.R. Chilton YMCA began with her children participating in swim lessons in 2012.  Since then, she has been a dedicated swim team parent, an engaged member, a volunteer swim official, and the Chair of the Christian emphasis committee. In addition, she has encouraged her son Isaac to become a YMCA employee and board member.
Isaac Allen – Board Member since 2016
Isaac was a YMCA kid that has grown to become a successful adult.  He joined our board in 2016 as a teen board member and has also served the YMCA as a lifeguard and swim instructor. Isaac is now pursuing a successful career through FedEx.
Josie Miller – Board Member since 2017
Josie grew up a YMCA kid playing sports through the YMCA. She joined the board as a Teen Board Member in 2017. She has since moved on to attend College at TCU where she plays competitive sand volleyball where she competed in the NCAA national Championships (FYI, she started her volleyball career in the Y).
Isaac and Josie were brought on as "teen members" to the Board to learn the inner workings of a board, and have both provided a fresh and new perspective to areas affecting the Y's operations and how it serves its members.
Awarding Annual Campaign Volunteers
During a pandemic year, the Rockwall YMCA was able to raise $196,000 during its Annual Campaign. That would not have been possible without the hard work and dedication of the individuals volunteering on the Annual Campaign Committee, who were recognized during Tuesday night's meeting.
Also honored were three individuals whose efforts went above and beyond for the Y's Annual Campaign:
Most Gifts/Donations Raised (33 pledges) – Marilyn King
Most Money Raised ($17,363) – Jayson Killough
Staff Campaign Leader Award – Diana Fulton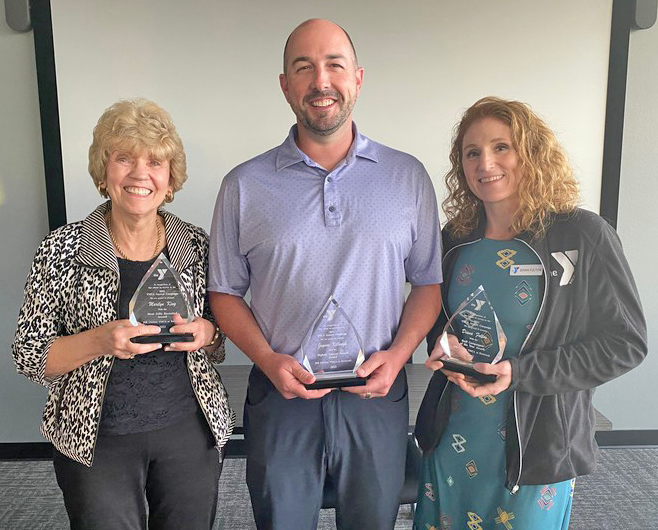 The YMCA Annual Campaign is a yearly fundraising campaign to help communities through outreach programming, access to opportunities, and providing financial assistance to those in need. The Y provides a plethora of programs and services that allow the organization to fill the ever-growing needs of the community – all of which are funded by its Annual Campaign. A couple of examples include the Y's Angel Camp summer program, which provides kids with special needs the opportunity to experience typical day camp activities like archery, riflery (BBs), crafts, swimming, canoeing, group games, field trips and more. With the Y's Safety Around Water program, kids can engage in swim lessons teaching them how to be safe in and around the water, all at no cost to families.
The Annual Campaign supports North Texas community programs and services including:
COVID-19 Pandemic Relief Efforts
Childcare Support
Safety Around Water
Health and Wellness Outreach
Youth Mind, Body, and Spirit Enrichment
Mental Wellness
"We knew we had a lot of challenges – COVID, conferences via Zoom, the economy was uncertain. But we didn't let that stop us. We made strategies, accepted that fact and said we were going to push through. It was a lot of hard work, and everybody involved did a great job," said Annual Campaign Chair and former executive director Mike Atkins.
---
---
Larry Parks YMCA Service Award
The Board recognized Norma Keggaries with the Larry Parks YMCA Service Award. Parks has volunteered countless hours of his decades-long involvement with the Rockwall YMCA, always willing to give his time to serving the Rockwall community. The award was developed to recognize a person exhibiting that same level of spirit, servant's heart and performance within the community.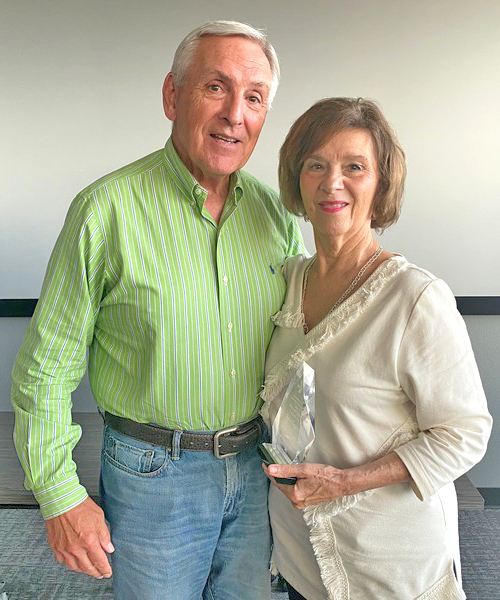 Recognition of Annual Campaign Chair
Atkins was also recognized with a Yeti cooler, in honor of his tremendous efforts in leading a successful Annual Campaign through the pandemic as Campaign Chair. Atkins joined the Board in 2018 and became a part of the Campaign Committee. He was initially approached to co-chair the 2020 Annual Campaign, but without hesitation, stepped up to become the sole chair of the campaign. Atkins was instrumental in developing innovative ways to campaign virtually, including coming up with the board campaign team structure and leading the charge in the OneCause online campaigning. Atkins also served as Executive Director of the Rockwall YMCA for many years.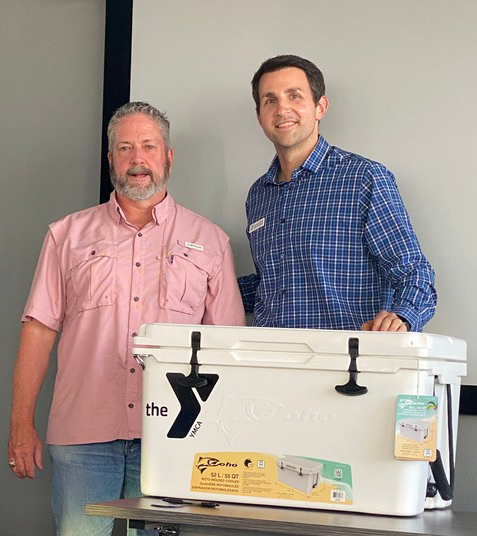 Recognition of Out-going Rockwall YMCA Board Chair
Staci Childress-Cole was recognized for her admirably-selfless spirit in serving the Rockwall YMCA as Board Chair for the past three years. She joined the board as a member in 2012, and became Board Chair in 2017. Childress-Cole headed the Executive Search Committee in 2018 which resulted in bringing Clint Elliott on board as the current Executive Director of the Y. She is also known as a great entertainer, having hosted several board functions at her home. She accomplished all of this while being a working, loving mother of two!
Because Childress-Cole spends much of her time and energy taking care of others, the Board honored her service with a gift card to treat herself to a Spa Day.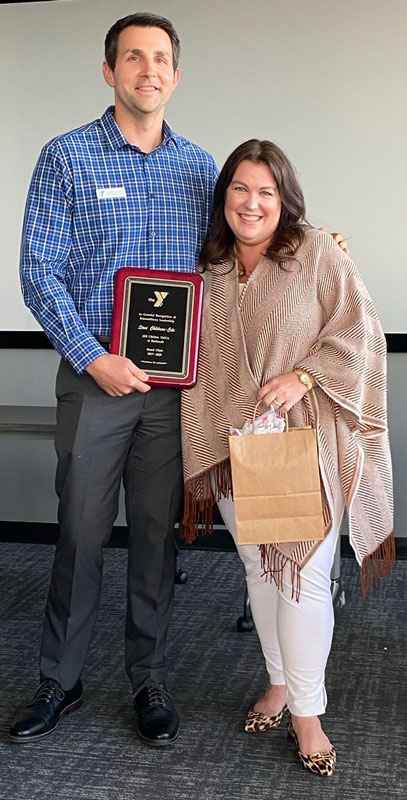 In closing out the meeting, Elliott gave his gratitude to the staff at the YMCA for pulling the organization through the pandemic while embodying the spirit of its mission — to put Christian values into practice through programs that build healthy spirit, mind and body for all.
"We have a powerful group of volunteers and staff members, and everyone here has made us successful through 2020 and the early part of 2021," Elliott said. "I am so thankful for each of you and for all of your hard work this past year."
Story by Austin Wells, Blue Ribbon News.
---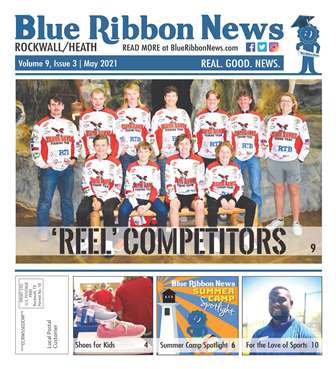 Our print edition is delivered free to ~15,500 homes in Rockwall and Heath, TX.
To share your good news and events, email editor@BlueRibbonNews.com.
Subscribe to our email newsletter here.
Advertising: 214-342-8000 or advertising@BlueRibbonNews.com.