ROWLETT, TX (June 22, 2021) Third Watch Law Enforcement Motorcycle Club and supporters of the #WalktheBridge movement are looking to bring a one-of-a-kind memorial park to the shores of Lake Ray Hubbard. The 22.5-acre park would be the first of its kind in the country – a place of peaceful reflection and healing for families of first responders and veterans who have committed suicide.
"If our vision is complete, there will be nothing else like this in the entire country," said Third Watch LEMC President Brian Wilburn, who also works at Life Message's Veterans Resource and Outreach Center (VROC) located at 4210 Industrial St. in Rowlett. "There are lots of veterans and first responders memorials, but there is nothing like this that brings these elements together: the awareness component of #WalkTheBridge; the counseling, training and alternatives that the VROC provides; and then this 22.5 acres that provides a place of healing and remembrance on Lake Ray Hubbard."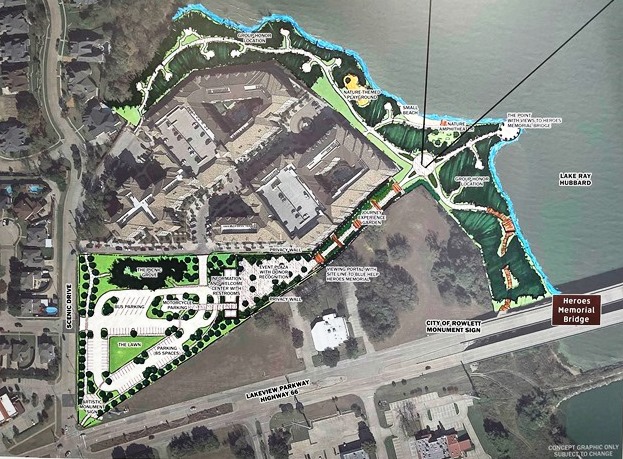 A concept graphic of the park shows a path weaving along the Lake Ray Hubbard shore near the State Highway 66 bridge, recently dubbed the "Heroes Bridge." A big parking lot accommodates motorcycle and RV parking, opening up to the Visitors Center where folks can learn about the mission of #WalkTheBridge and the memorial park. A plaza area sits behind the center, where various functions such as seminars and meetings can be held. Various features dot the main path of the park, including a Journey Experience Garden, viewing portals to a Heroes Memorial, a Nature Amphitheater, a Nature Playground, and a small beach area.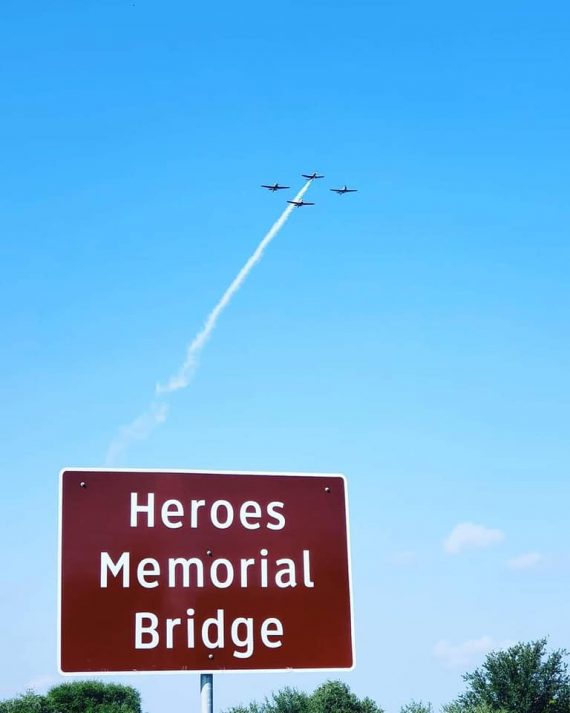 A roundabout will hold a black granite monument with the likenesses of real-life heroes found here locally and around the country, representing the military, detention officers, firefighters, police and EMS. A little further down the path is The Point, a promontory that will offer sweeping views of the Heroes Bridge and Lake Ray Hubbard and serve as a true place of peaceful reflection.
"The first time I ever went out there, I closed my eyes and I could feel the wind on my face and the waves lapping. I got a sense of what the family of the fallen will experience; they will be able to let that go and celebrate that life." ~ Brian Wilburn
So what brought about this vision for such a grand-scale park? Wilburn said it all started three years ago with the #WalkTheBridge initiative. Since 2018, local and state veterans groups, public servants and patriotic supporters have conducted a symbolic 22-mile walk across the then-SH 66 bridge on the 22nd of each month, raising awareness of the on-average 22 veterans and first responders across the nation who commit suicide due to Post-Traumatic Stress each day. On Sept. 26 last year, the State Highway 66 bridge was officially dedicated the Heroes Memorial Bridge. Organizations leading the effort to have the bridge renamed and raise awareness of suicide among veterans and first responders include the VROC; Third Watch Law Enforcement Motorcycle Club; 99% Radio Network; Blue H.E.L.P.; Terry Fisher American Legion Post 117 of Rockwall; Disabled American Veterans Texas Chapter 137; Lake Ray Hubbard Detachment of the Marine Corps League; Rockwall Band of Brothers, Sisters & Friends; City of Rockwall; City of Rowlett; Rockwall County and Dallas County.
The idea behind the concept of the Heroes Bridge Memorial Park is to have a place where people who have lost veterans or first responders to suicide can undertake a journey of healing, reflection and remembrance. And for those veterans and first responders who might find themselves in a bad place following their service, whether from PTSD or the constant stress of the line of duty, they'll be able to know they are not forgotten.
"Our hope is that the family members who take this journey, or people who may be getting counseling who were headed in the direction of taking their own life, they can feel that relief that there's a place for them, that their service to the country and the community is appreciated," Wilburn said.
Statistics show that military veterans, police officers, and other public servants have a higher suicide rate than the general population. Together with the #WalkTheBridge movement and resources offered by the local VROC, Wilburn hopes the park will help break the stigmatism of suicide among veterans and first responders.
"It will have a nationwide reach and effect, and we're determined that we're going to do something about smashing the stigma attached to veteran and first responder suicide, and that we're going to lead the way," Wilburn said. "There are lots of efforts out there to raise awareness and bring attention to it. We're going to try to bring all of these areas together and get something of significance done to address this issue. This park will go a long way towards that, because no one else has something like this."
By Austin Wells, Blue Ribbon News. Courtesy photo.
RELATED NEWS
Rockwall remembers the victims of 9/11 during memorial ceremony at Heroes Bridge
---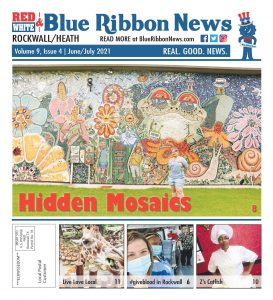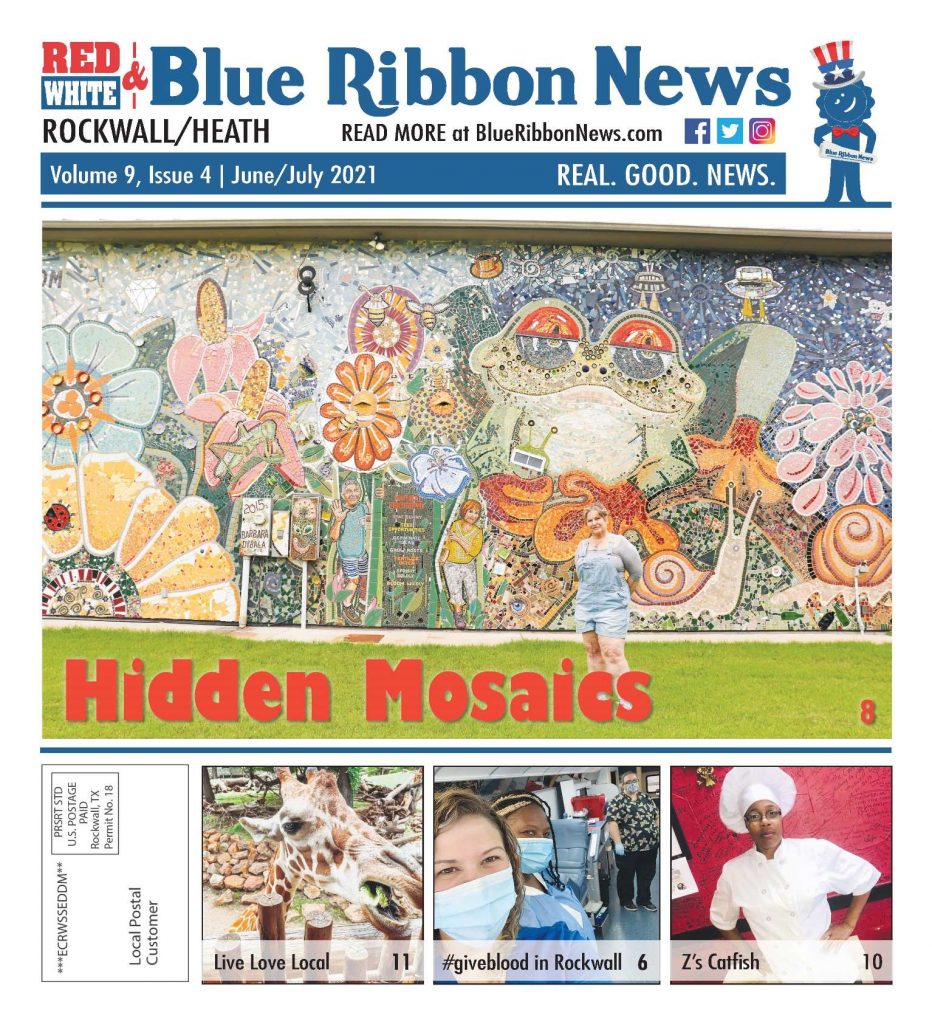 Our print edition is delivered free to ~15,500 homes in Rockwall and Heath, TX.
To share your good news and events, email editor@BlueRibbonNews.com.
Subscribe to our email newsletter here.
Advertising: 214-342-8000 or advertising@BlueRibbonNews.com.