ROCKWALL, TX (June 25, 2021) The Rockwall Rotary Club hosted its Annual Awards Ceremony and Installation of Officers for 2021-2022 on Thursday, June 24.
Robin Chouteau, Secretary, opened the program with the Invocation. Lauri Dodd led the Pledge of Allegiance and Rotary Four-Way Test (1. Is it the TRUTH? 2. Is it FAIR to all concerned? 3. Will it build GOODWILL & BETTER FRIENDSHIPS? and 4. Is it BENEFICIAL to all concerned?) Jeff Shell welcomed everyone and introduced special guests.

Special Recognition & Awards
Outgoing president Dana Macalik and Sergeant-at-Arms Jeremy Neill paid tribute to the 2020-2021 officers and directors for their service, which included:
Immediate Past President, Leslie Buie
President Elect, Kevin Pate
Secretary, Robin Chouteau
Treasurer, Kathy Howe
Directors, Jim Eastup, Betty Fulmer, Lowell Moon, Sr.
Sergeant-at-Arms- Jeremy Neill
Club Administration/Programs, Shane Hollas
Programs, Jessica Metts, Tiffany Miller, Geoffrey Lyons
Social Events, Darby Burkey
Membership Chair, Gary Vice
Membership Committee, Tiffany Miller 
Public Image, Lauri Dodd
Marketing/Media, Jared Schweers
Service Project Chair, Jeff Shell
Avenue of Service Chair – International, John Curtis
Avenue of Service Chair – Community, KC  Ashmore
Fundraising, Kevin Pate, Greg Blair, Mark Kipphut
Avenue of Service Chair – Vocational, Kyle Munn
Avenue of Service Chair –Youth Service, Anna Campbell
RYLA, Ginny Ryan
Rotary Foundation, Greg Blair
Club Foundation Chairman, Stan Lowrance
Mark Kipphut was recognized for his involvement in the Rotary Clay Shoot. As outgoing Rotary President Dana Macalik said, "The Retired US Air Force Colonel successfully commanded military defense programs, so he wasn't going to let a 'Rain Out' and re-rescheduled date put a TRENCH in our club's targets supporting youth scholarships and programs and our Foundation."
Macalik added, "The Tactical SQUAD –  i.e.  Committee – aided by Terry Garrett, Erik Oistad, Robin Chouteau, Darby Burkey, Greg Blair, Kevin Pate, Lauri Dodd, Jared Schweers, and Kathy and David Howe supported and executed this mission beautifully. Yet, our VIP's are each of you for being instrumental in the supporting raffle sales complimenting the success of this event."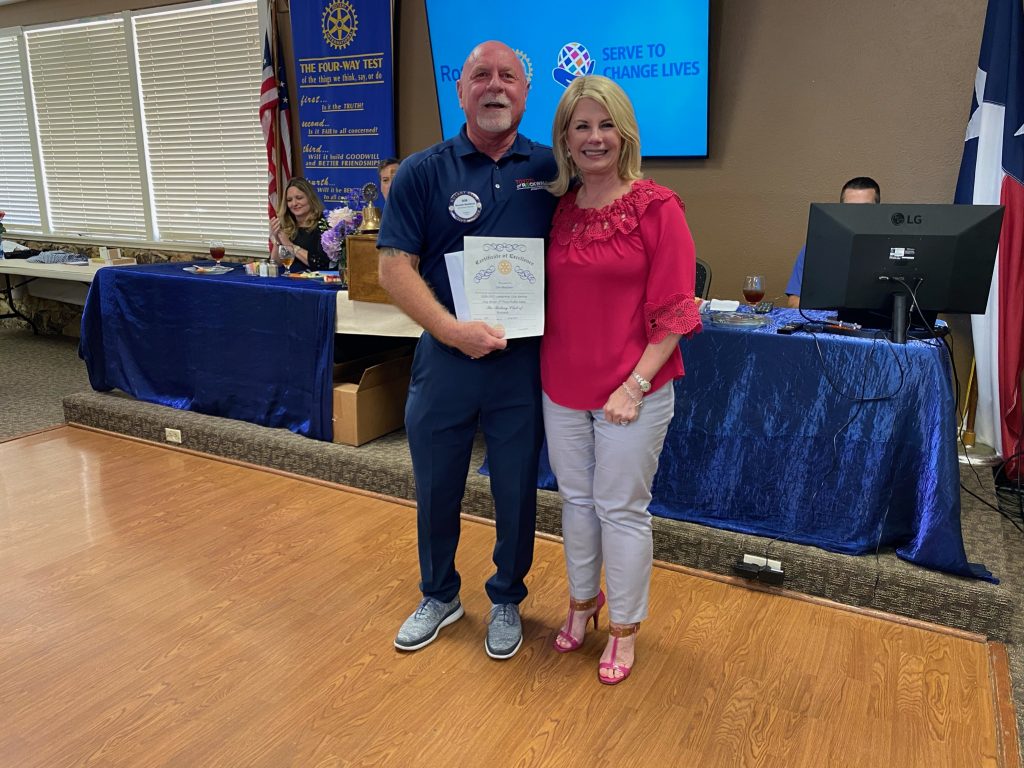 Winners of raffle sales were recognized, including Don Maddran, 1st place (one night staycation and dinner/lunch at the Hilton); Lauri Dodd, 2nd place ($100), and Anna Campbell, 3rd place ($75).
Service Before Self recognition, one of Rotary's highest honors, was given to Greg Blair, Robin Chouteau, and Erik Oistad for volunteering their time and talents to help others, with high ethical standards fostering the ideals of service.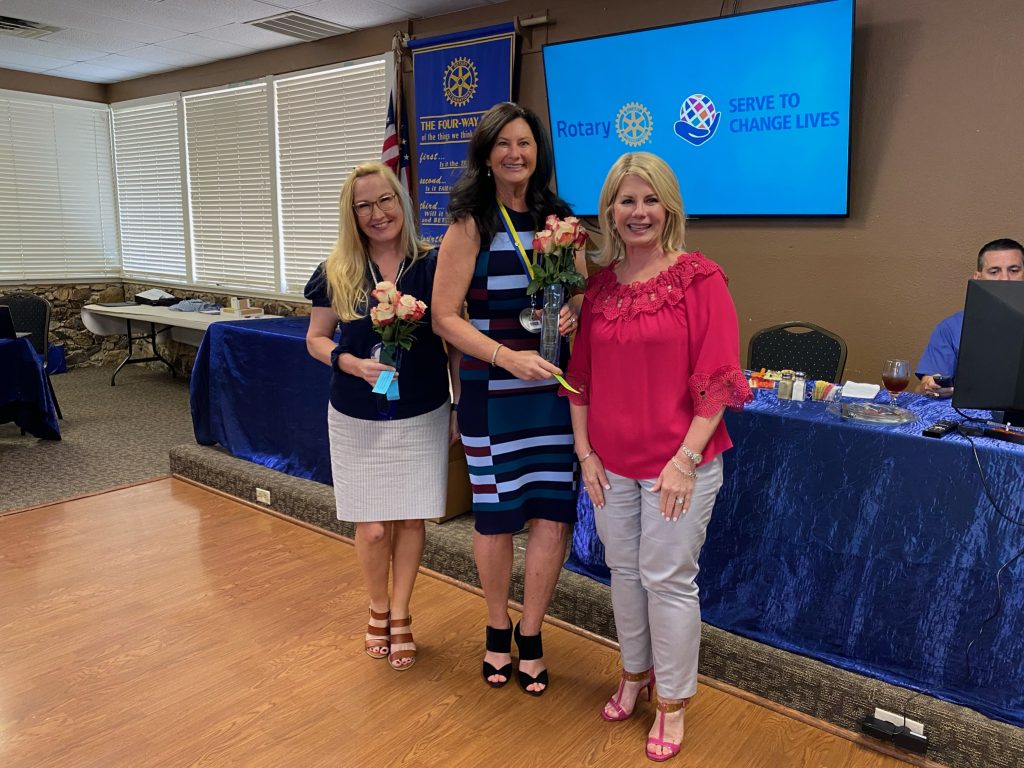 Robin Chouteau and Lauri Dodd were presented with the President's Award for their above and beyond services this past year.
Macalik also thanked Anna Campbell and Ginny Ryan for facilitating the Interact and Rotary Youth Leadership (RYLA) programs.
Perfect Attendance 
The following Rotarians were recognized for perfect attendance for 2020-2021:
Chuck Bealmear
Gregory Blair
Leslie Buie
Anna Campbell
Robin Chouteau
John Curtis
Lauri Dodd
Tom Dortch
Betty Fulmer
Ted Hoisington
Shane Hollas
Kathy Howe
Mark Kipphut
Dana Macalik
Beth McCrackin
Jeremy Neill
Erik Oistad
Kevin Pate
Ginny Ryan
Tom Ryan
Jared Schweers
Jeffrey Shell
Bill Sinclair
Pete Snider
Harold Snyder
Gary Vice
Rotarian of the Year 
The Rotarian of the Year award is presented to a member who exhibits 'Service Above Self' in their daily activities and who promotes Rotary by their actions and involvements. This may be accomplished through one major activity in club service, in multiple activities, or by serving on several committees such as fundraising, community projects, and district meetings. This person also meets professional standards and ethics.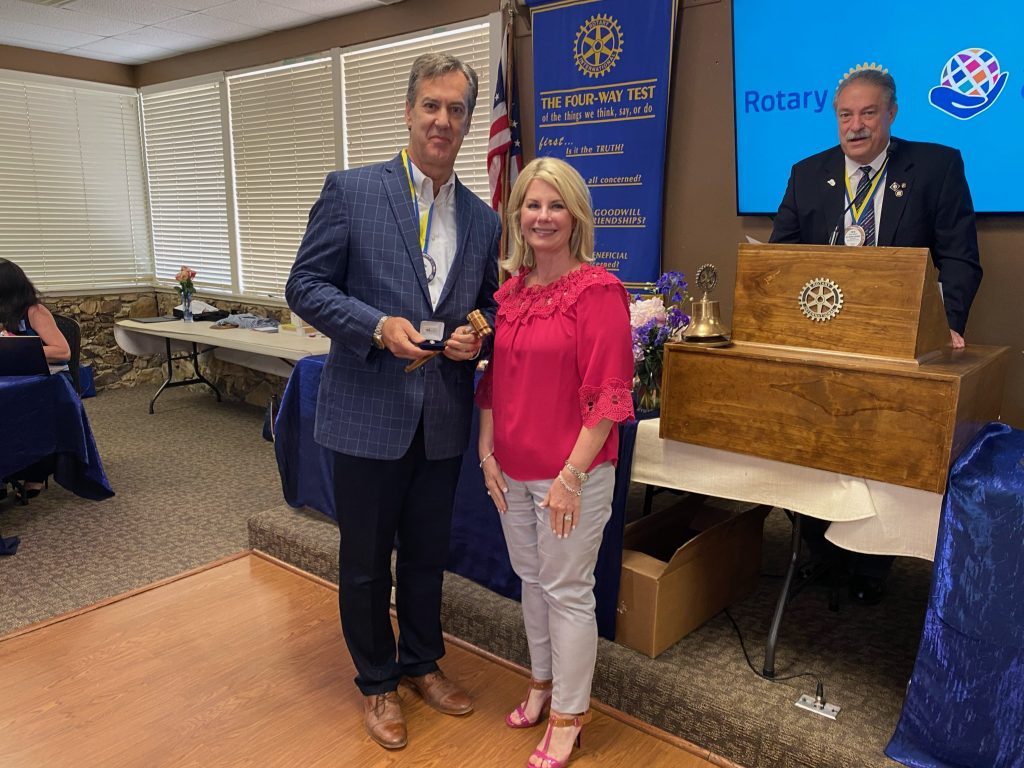 The Rotarian of the Year award was presented to Kevin Pate in recognition of his outstanding demonstration of Service Above Self, his principled commitment to the 4-Way Test; his contributions to the mission and operation of the club through the Rotary Avenues of Service; Community, Vocational; and for promoting Rotary through his actions and involvement in projects.
The Rotary also welcomed the 2021-2022 Board of Directors: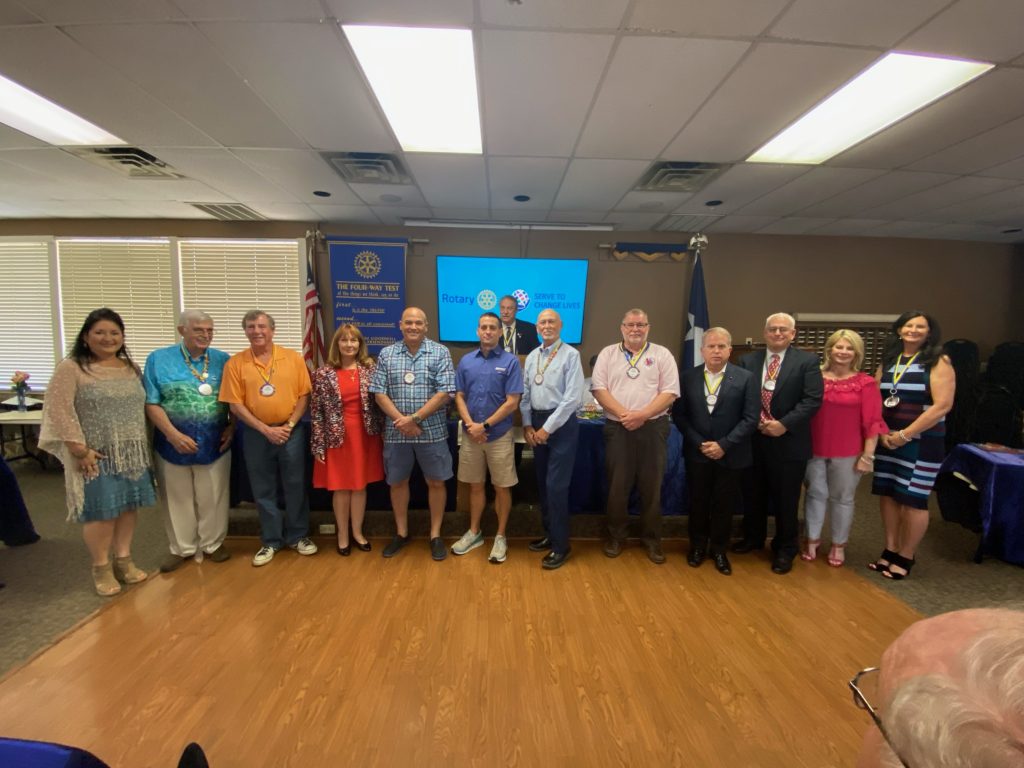 President, Kevin Pate
President-Elect, Gregory Blair
Immediate Past President, Dana K. Macalik
Secretary, Robin Chouteau
Treasurer, Kathy Howe
Directors-at-Large, Leslie Buie, Jeffrey Shell, Bill Sinclair
Sergeant-at-Arms, Jerry Welch
Club Service, Michael Rohlf
Membership, Gary Vice
Public Image, Richard Redig
Avenue of Services
Community, Erik Oistad
International, John Curtis
Vocational, Shane Hollas
Youth Service, Anna Campbell
Rotary Foundation, Susan Satterwhite
Blue Ribbon News staff report. Photos by Jocelyn Keahey. 
---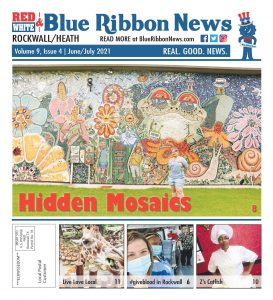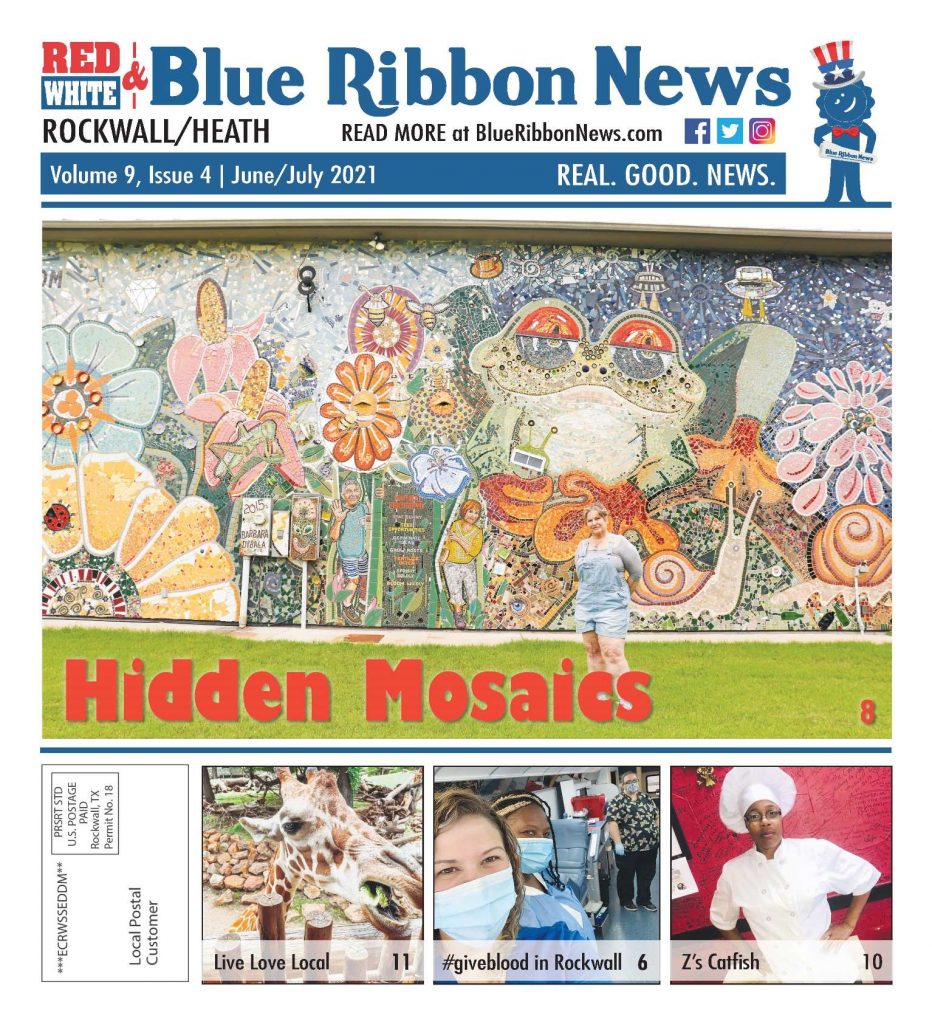 Our print edition is delivered free to ~15,500 homes in Rockwall and Heath, TX.
To share your good news and events, email editor@BlueRibbonNews.com.
Subscribe to our email newsletter here.
Advertising: 214-342-8000 or advertising@BlueRibbonNews.com.